This is an article about Buran snowmobiles by Evgeny and JD
Retroscope Rybinsk snowmobiles
Though, for most time of the year snow covers great vastnesses of Russia, there had not been mass production of snowmobiles until the 1970's, when their making was undertaken by Rybinsk (Рыбинск) motor factory (РМЗ). Now, when most of producers were left in history, the RMZ successor "Russian mechanics" ("Russkaya Mekhanika") having celebrated 40-year anniversary, keeps on going well. That is the…
RYBINSK PHENOMENON
text by Gherman Derunov and Ivan Ksenofontov, photos from authors' archives
During the First World War tzar government adopted a programme for building a net of big automobile factories. One of them should have become "Russian Renault" in the town of Rybinsk. But the automobile production was not established at that time and in 1924 the factory was referred to aircraft industry. It produced motors for reconnaissance planes, fighters and bombers. In 1950's the factory adopted making turbo jet engines.
As with other companies working for the "defences", it was ordered to produce "large-scale consumer goods"…milk separators, tourist axes, skateboards and other minor stuff was made there. But once Pavel Fyodorovich Derunov, a director of the RMZ shined with an idea to produce a much more high-technology goods – snowmobiles. The idea was successfully realised and in 2004 the production separated into an independent company "Russian Mechanics".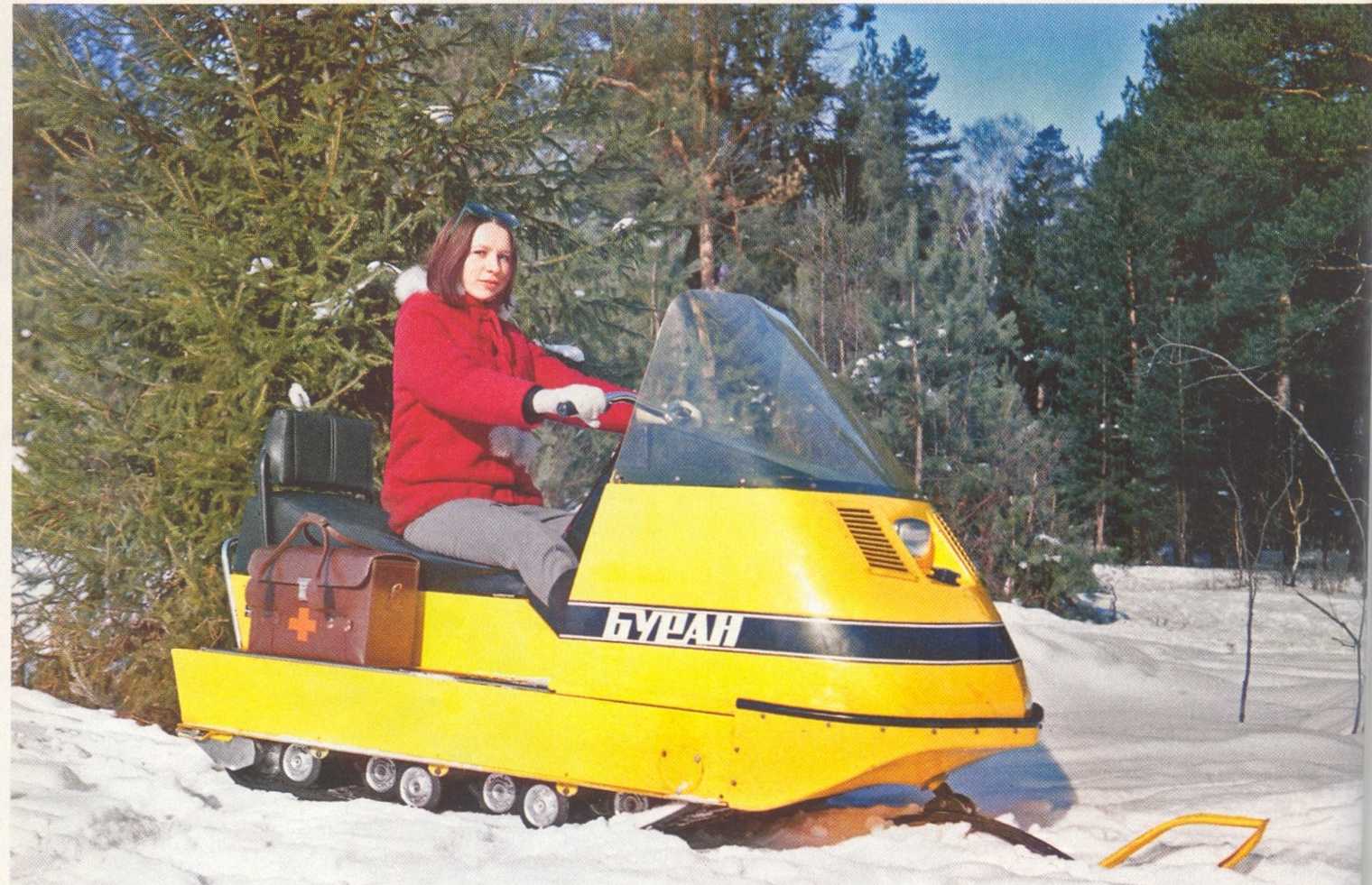 Buran
A full scale dummy model of "Buran" (Бура́н) for advertisement photographs, 1971. Absent gear as: fan cooler, constantly variable automatic transmission, reverse gear and small engine power (18 hp vs 40 hp of "Valmont") of first experimental samples made it to concern a new engine. The protype engine was Rotax of 1969. Two stroke, twin cylinder (635cc, bore x stroke 76x70mm), 8.2:1 compression ratio had output of 27 hp at 5000-5500 rpm. Cooling – by axial fan, V belt driven from crankshaft. Transmission had a reverse gearbox and V belt variable speed drive.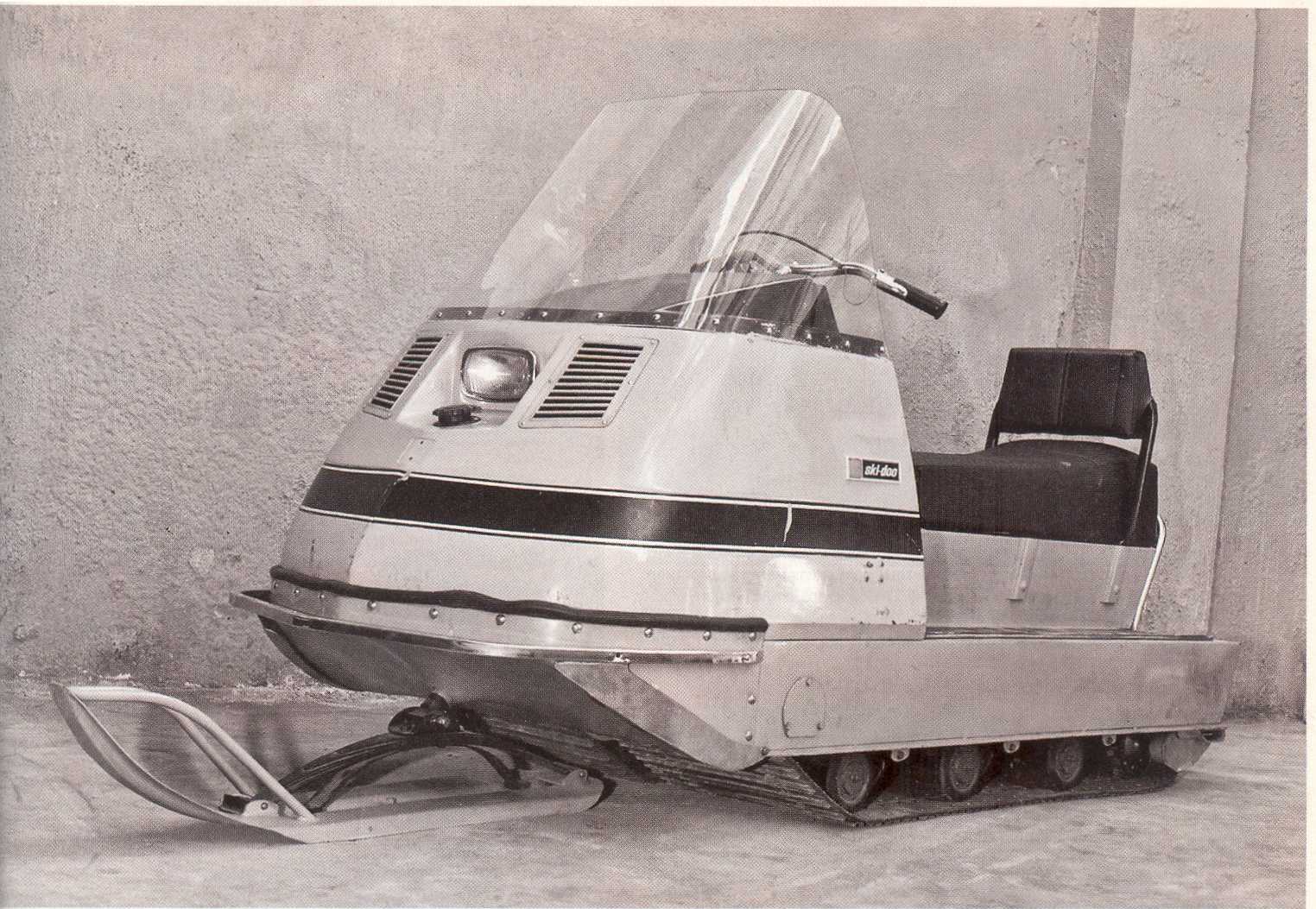 Ski-Doo Valmont 640
A prototype for the first Rybinsk snowmobile was a Canadian machine Ski-Doo Valmont 640. Design scheme "one ski – two tracks" was chosen by Pavel Derunov, director of RMZ, though many specialists insisted on a simple and light twin-ski snowmobile. Derunov reminded: "which motorcycle is the most popular in our country? "Ural" – a powerful heavy work machine. Why make these toys? So, we shall make this" and pointed to "Valmont". In March 1971 three experimental samples rode the factory territory. They were equipped with 18 hp engines from motorcycle "Izh Jupiter", four speed gear box, track was made from conveyor line.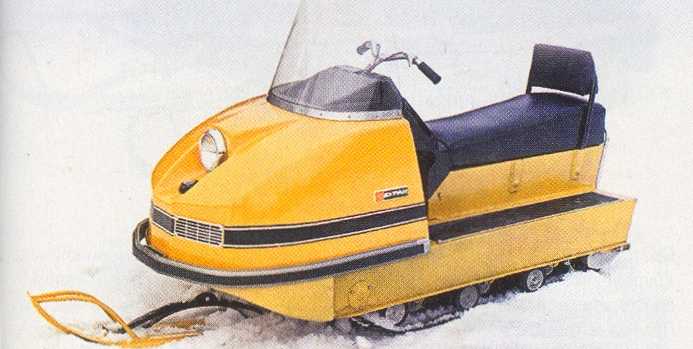 Buran
In February 1973, after interdepartmental test the State commission took the decision for mass production of snowmobile "Buran". By the end of the year, the first thousand of snowmobiles rode out to the greatest vastness of the country. To this day more than 250,000 "Burans" and its modifications were made. But it is not the quantity striking, as it's longevity among snowmobile vehicles. Why was not it included into the Guinness book of records?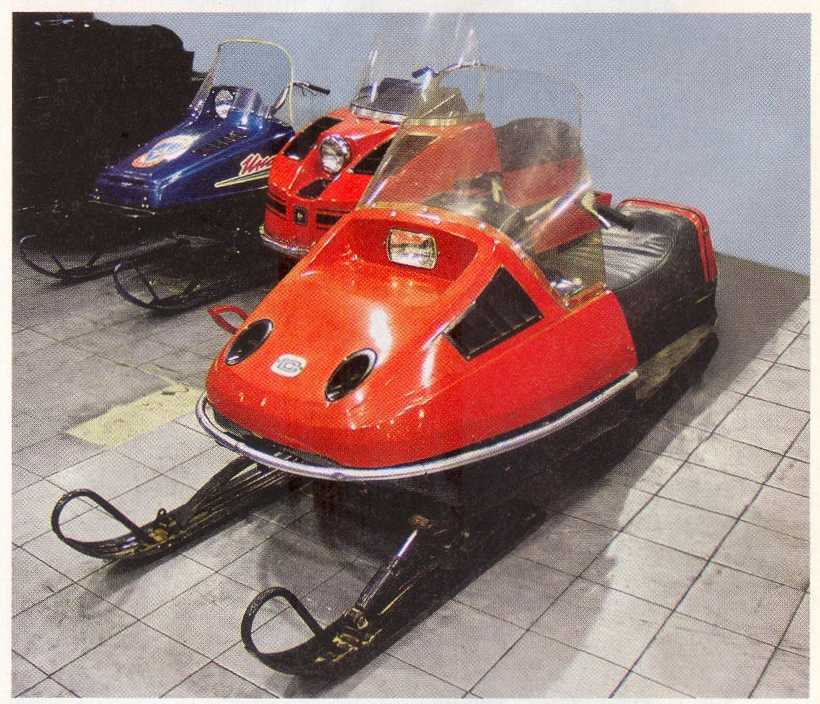 Saturn
Experimental sample of twin-skis "Saturn" snowmobile (1975) equipped with RMZ-640 engine, single wide track (460mm) and two-speed gearbox with reverse gear. This machine having a 45 hp engine could reach almost 100 km/h top speed, with original design and a number of novelties, which other foreign snowmobiles did not have (e.g. floating variator discs, springless suspension and other). The director did not appreciate the machine (thinking apparently: "why one more headache?") and ordered: "Destroy everything, including design schemes!"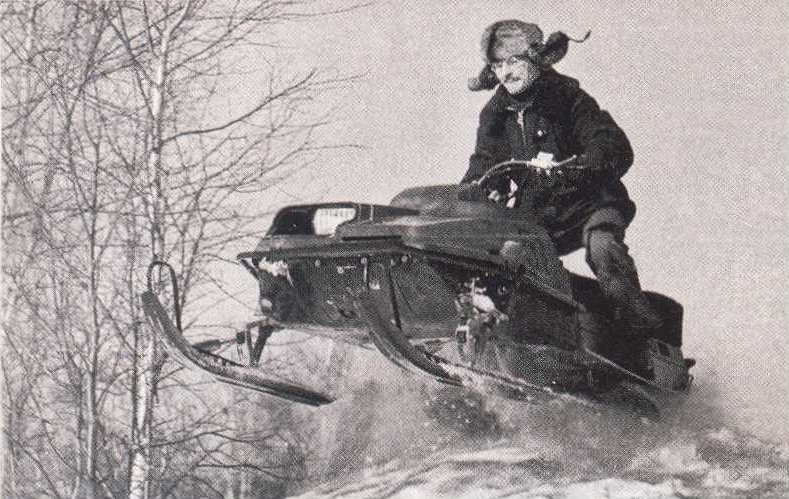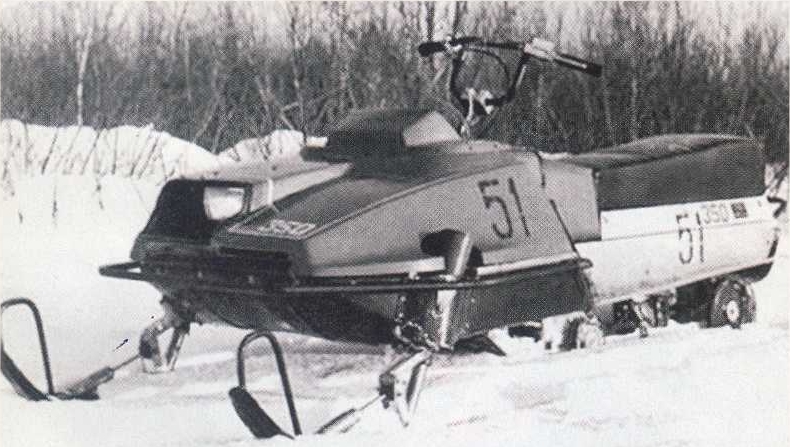 Experimental "Poisk" (rus. "search"), 1980, was on par with the world's best models in technical specifications. Designers utilized liquid cooled engine (outboard "Privet", 22 hp), riveted dural frame, hydraulic brake, an innovative ski suspension – telescopic with hydraulic shock absorbers. Track was supported by wear strips – an unseen design at that time. A few samples were made, destroyed later, as ordered by the director, who did not wish to distract resources from mass-series "Buran".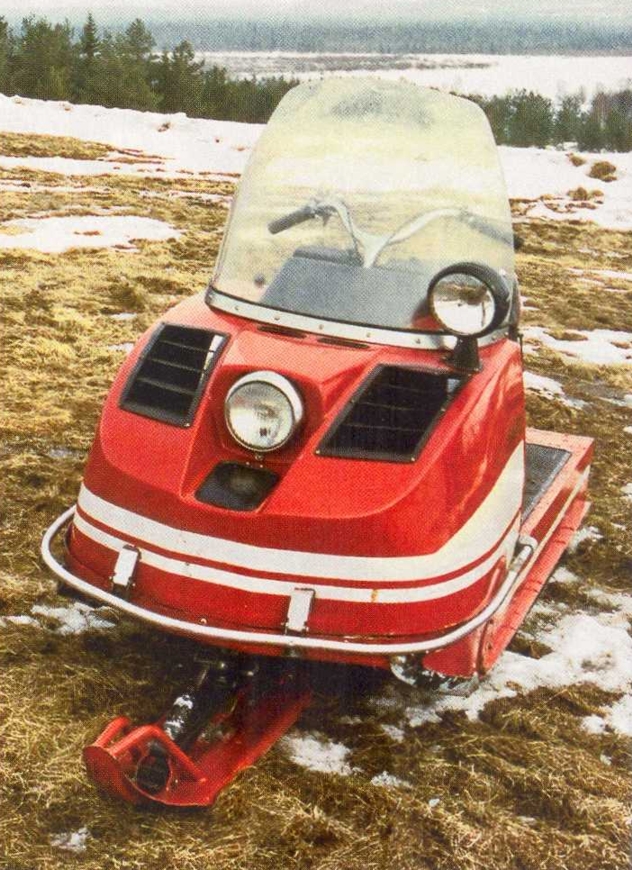 Bars
"Bars" – a modification for military use (first of all for border guards), made since 1982 in small series. It was distinct in bonnet mounted spotlight and room provided for army radio P392 with antenna. Production output at the factory control was more careful with a military representative.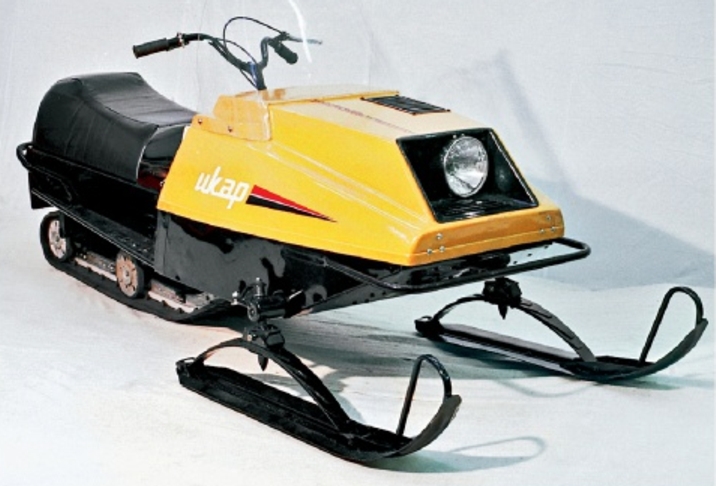 Assembled in 1984, an experimental-industrial series (50 pieces produced) of "Ikar" received outer look resembling Yamaha Exciter-440 of end of 1970's. One of the positive issues was possibility of press-forming a whole bonnet from a single sheet. The model was appreciated by racers and a good part of the machines went immediately into sports use.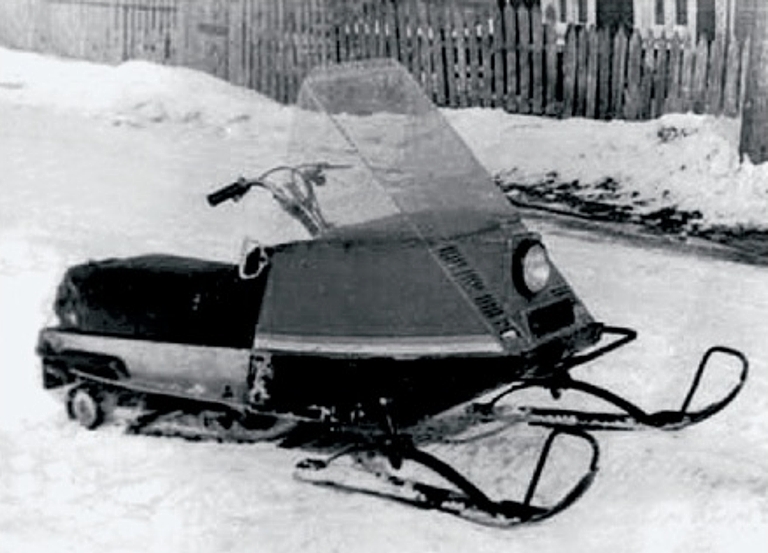 A prototype of light twin-ski "Ikar" with a half of "Buran's" engine, 17 hp, year 1983. The snowmobile was distinct in soft running thanks to rear suspension with wear strip, small weight and fuel economy. To be right, its transmission did not have reverse gear, but such design feature was quite popular with light-class touring machines. One more feature – fuel tank located in front of saddle, as a motorcycle.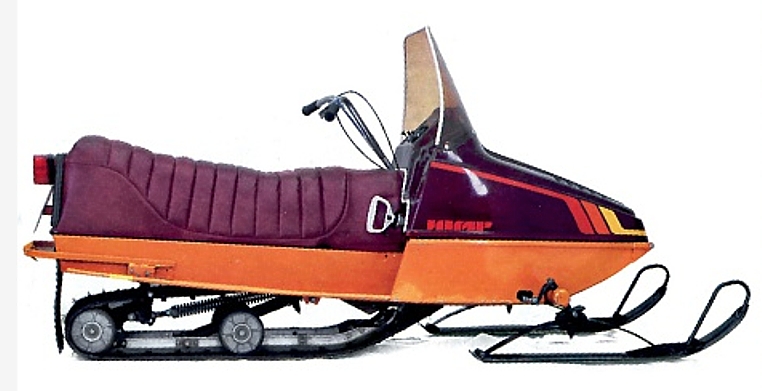 A new design of "Ikar" was developed by Leningrad branch specialists of All-Union research institute of technical aesthetics in 1985. 28 litres capacity fuel tank was made of polyethylene, so fuel level could be easily checked visually. Located in the centre of balance, it did not affect the machine's weight distribution. Long travel rear suspension of track (up to 160 mm) increased riding comfort. Design scheme "one spring – one lever" proved to be not hindering, that is, not accumulating snow inside it, a drawback of all "Buran" models As well as foreign makes, "Ikar" was a single-seat machine, not equipped with reverse gear and electric start. Near 200 machines were made in total.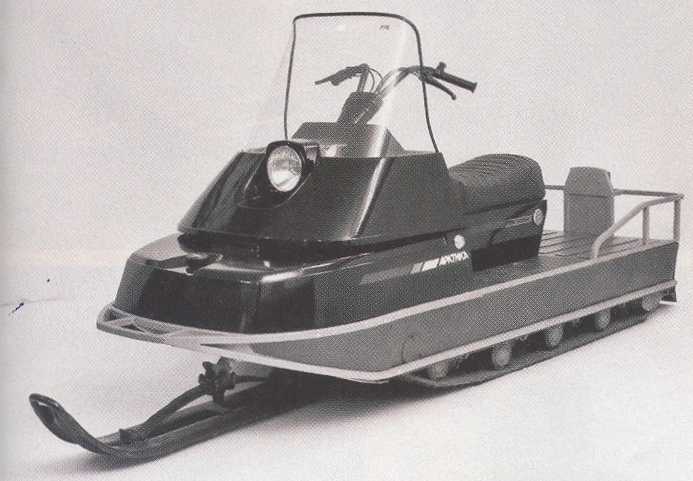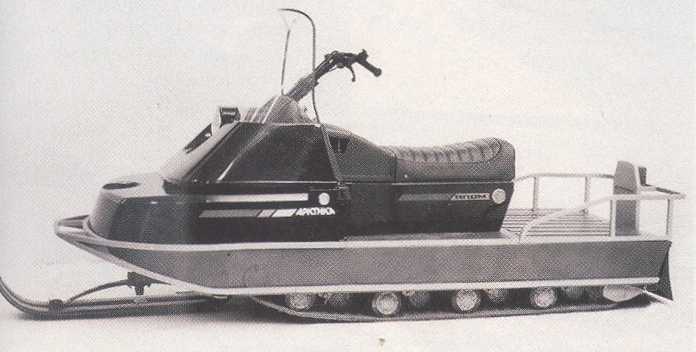 A full scale dummy model of snowmobile "Arktika" made to order by Leningrad branch of All-Union research institute of technical aesthetics in 1986. Its design resulted from exceptionally utilitarian concerns: the thing is that during the warm weather some experienced "Buranists" would take off engine bonnet to avoid engine overheating. With that the machine was taken off lights: "Buran" headlight was mounted onto bonnet. While here it was not mounted to the bonnet. Besides the machine was equipped with two long tracks.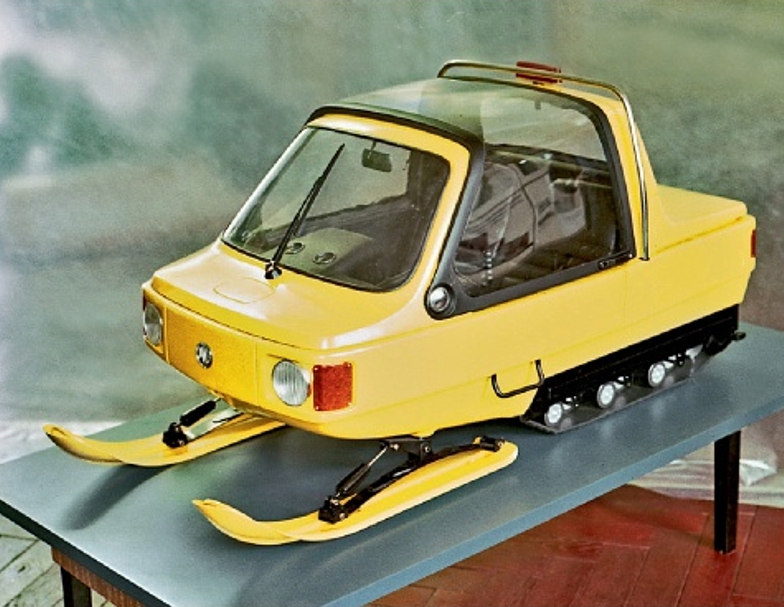 Designed in 1984 an experimental snowmobile of unconventional drive arrangement 4×2 (twin tracks with twin steering skis) and closed cabin.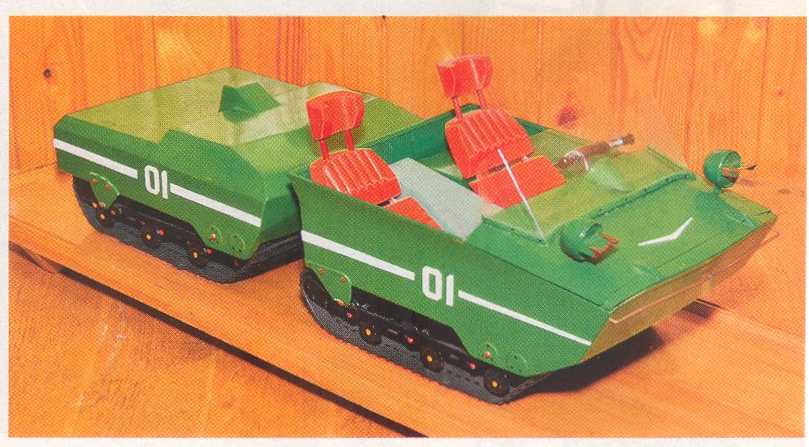 At the end of the 1980's designers developed several versions of an articulated snowmobile, including a divertionists' with titanium frame.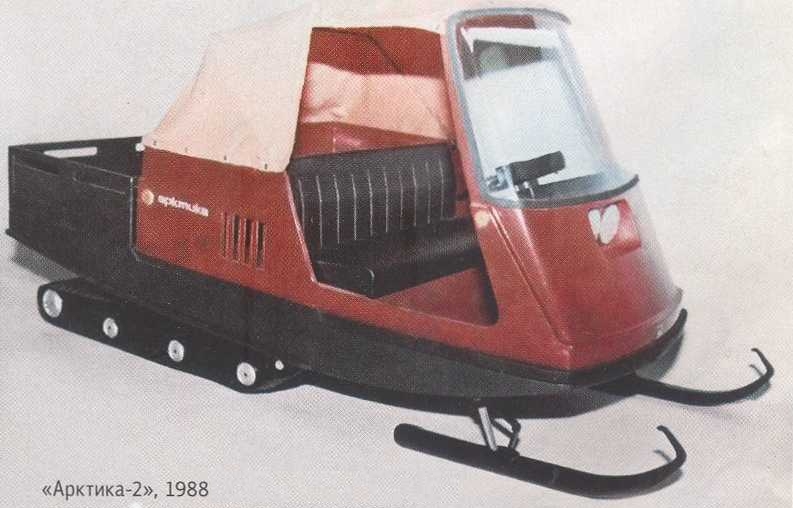 "Arktika-2", 1988 – one more sample developed by the Leningrad designers: engine central location, two 500 mm tracks. Though the work did not go beyond a dummy model…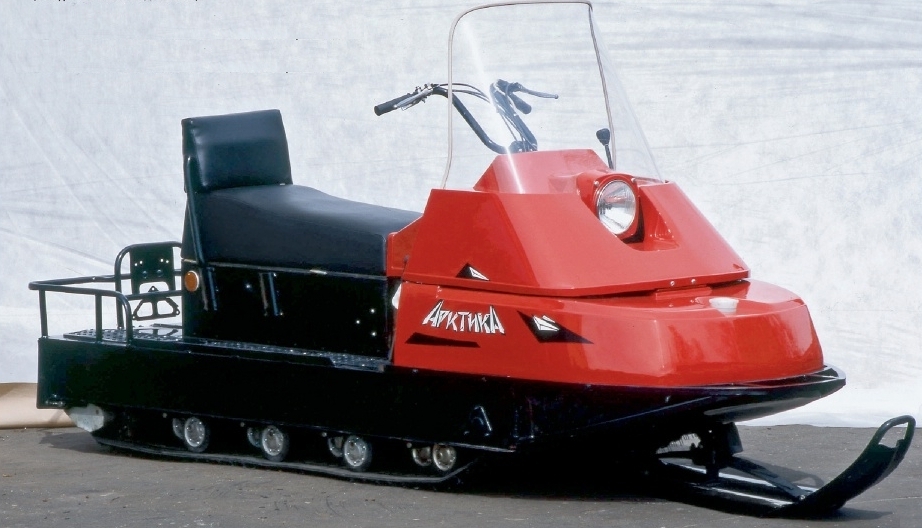 "Arktika" series (1990) was equipped with 3700mm long and 380mm wide track and a wide adjustable front ski. Despite weight increase this resulted in smaller ground specific pressure. Above all, designers changed the machine's weight distribution, as "Buran" was far from ideal. This led to the snowmobile becoming an unsurpassed "country crosser". Power of engine was raised also (from "Buran's" 28 hp to 33 hp).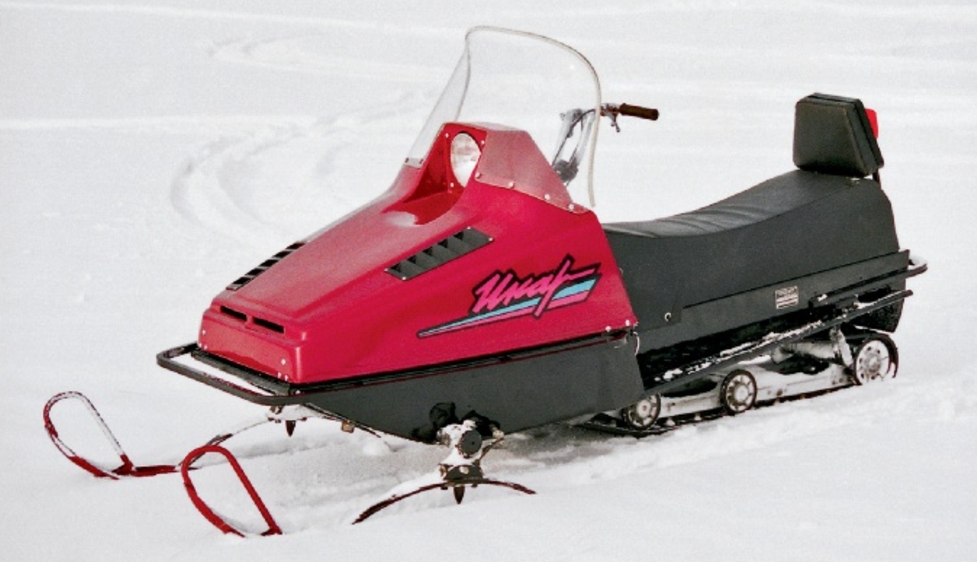 Revived in 1996 "Ikar-M" had simple design features. So, a semi-transparent fuel tank was changed for a smaller capacity steel one, comfortable rack under seat was eliminated, black padding without frills. But there appeared a soft padded back support, though not clear whom for? Passenger "was not pre-designed", while rider's back was too far from it. Design and parts arrangement of "Taiga 250" was done by 2002 using newest computer technologies. It was similar to bigger "Taiga" model in twin-ski steering design with telescopic suspension, wear strip suspension of track. As with "Ikar", the machine was not equipped with gearbox and reverse gear. Engine RMZ-250 (249cc) had output of 22 hp at 7000 rpm. Up-to-the-day design features were: separate engine lube system, pointless electronic ignition with adjustable timing, brand Japanese carburettor Mikuni, tuned exhaust system. Big fuel tank capacity (40 l) together with low fuel consumption rate near 15 l/100 km increased "far distance travel" to 250 km. Top speed (on packed snow) reached 75km/h. Three experimental samples were made.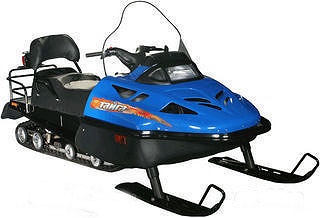 Taiga-500D
"Taiga-500D" – a new generation snowmobile series, in fact it was Ski-Doo Scandic model, planned to be produced in co-operation with Bombardier Inc. But economic collapse of 1998 feared overseas partners, who sent a fax: "We are sorry, but now we do not dare risking our capital". Although the RMZ factory launched the production of the snowmobile on its own. Two-cylinder engine with 497cc capacity and 45 hp could bring the machine to top speed of 100km/h. Transmission included two speeds and reverse gearbox, track suspension received hydraulic shock absorbers. By the end of 1999 first series of 200 machines was assembled, which laid basement for modern snowmobile production.
Within 38 years the Rybinsk factory made more than 250,000 snowmobiles.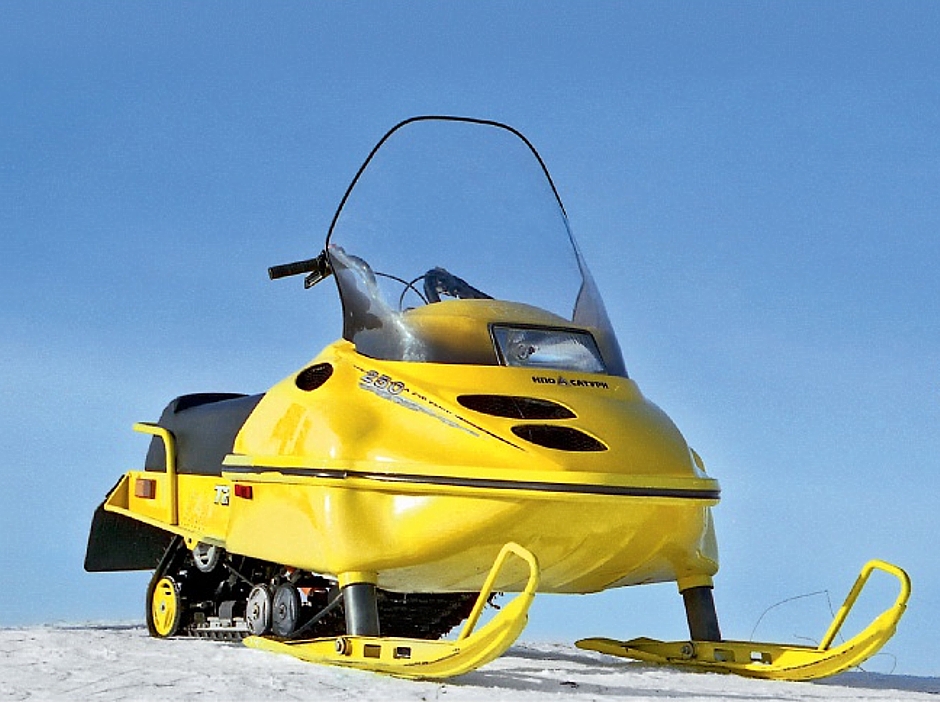 "Taiga-Sport", 2001, differed from other models with short frame, lightened and shortened track made by Camoplast company, Canada. Snowmobile designers developed an original lever suspension of skis, tuned up "air-vented" engine utilizing two carburettors Mikuni, tuned exhaust system and microprocessor ignition that could be reprogrammed. At the same time, RMZ-501 liquid cooled engine was developed and made in small series, equipped with reversed plate valves (reed valve), 5-port cylinder scavenging and receiver. These novelties entailed 60 hp output and the snowmobile reaching 140km/h top speed, which was appreciated by racers, of course.
"Buran-M", 2002, design was renewed. For the first time designers hid the engine completely under casing that together with new silencers decreased noise level by 5-6 dB. Rider comfort was taken into consideration too with raised saddle and made adjustable handlebar.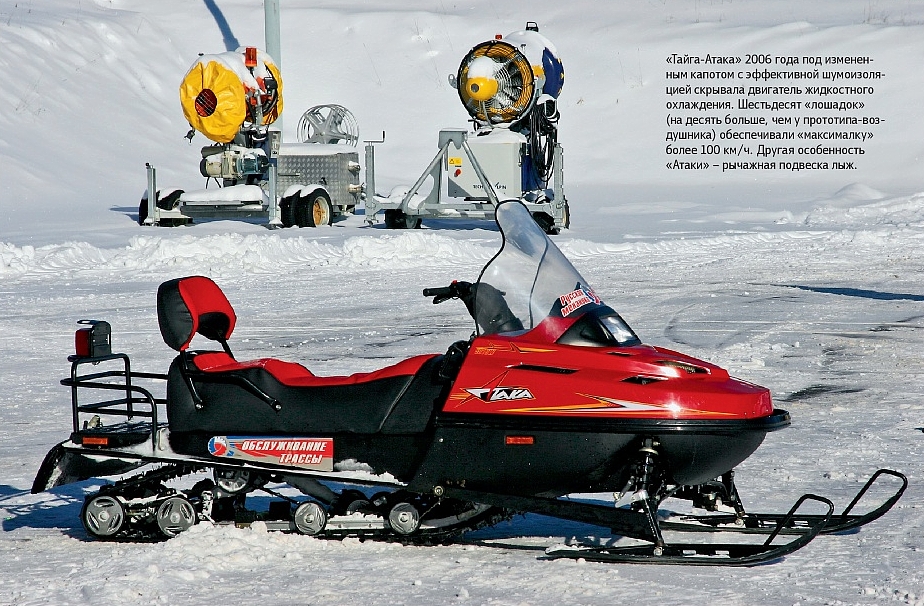 Taiga-Ataka
"Taiga-Ataka", 2006, (red, pictured with two big fans in background), different bonnet and noise insulation had liquid cooled engine. Sixty "horses" (by a dozen more compared to "air-vent" prototype) provided "top" above 100 km/h. Another feature is lever suspension skis.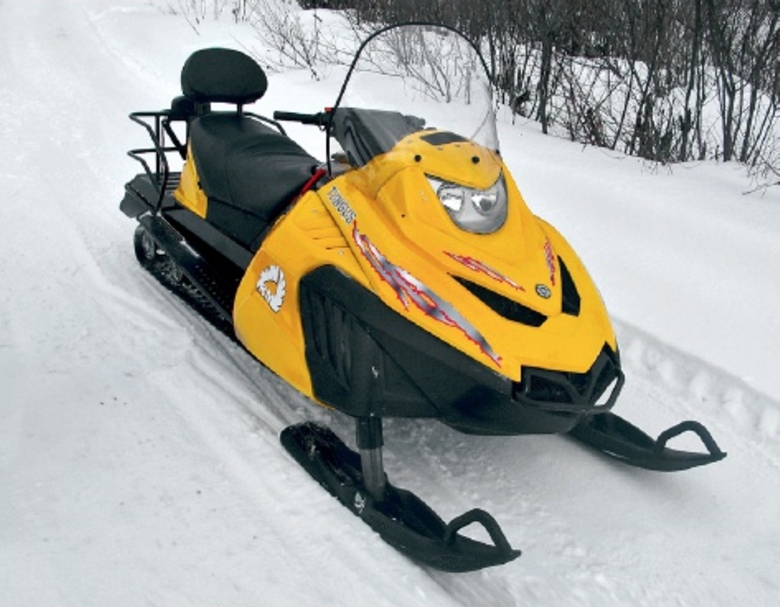 Tungus
"Tungus" – an experimental sample of 2009 year equipped with one of the latest four stroke engines by German company Weber. 850cc, twin cylinder, injector, liquid cooled runner output 80 "horses". Cooling system – two circuit: Besides usually used snow heat exchangers, an air radiator and electric fan was installed under bonnet. This facilitated solving cooling problems when moving on ice or dense snow, towing heavy sleigh at a low speed. When all-horses powers were released, a top speed of 160 km/h was achieved.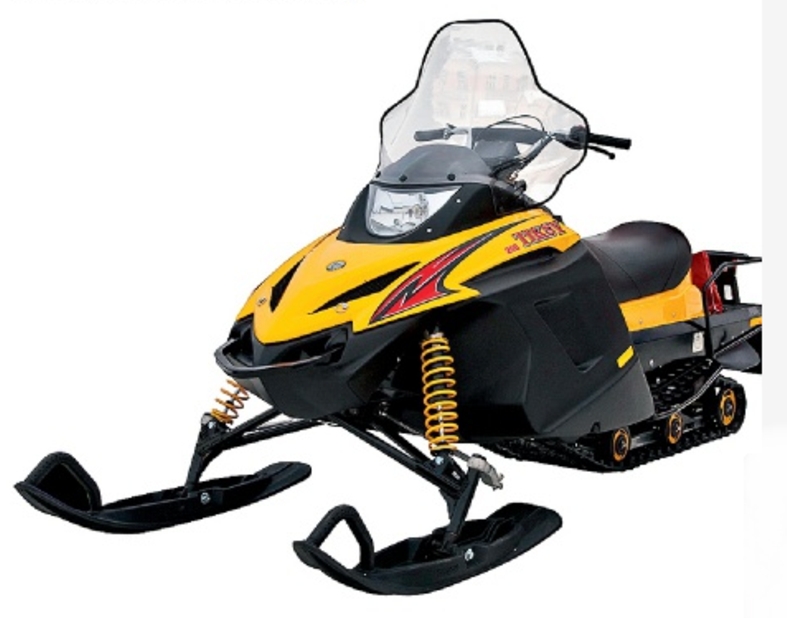 Tiksi-250
"Tiksi-250" of 2009 – a return to concept of light and reliable single speed machines, such as "Poisk", "Ikar", "Taiga-250". In particular, engine RMZ-250, 22 hp was borrowed form the last of them. Weight is 180 kg, cargo capacity – 120 kg. For the first time the RMZ machines were equipped with detachable side covers instead of one-piece bonnet. "Lux" modification equipped with electric start and electric reverse gear – for the first time on domestic machines. Work goes on in this field…
Translated specially for b-cozz ©Evgeny Radchenko,
source: Moto
Thanks Zhenya!