ВПМЗ – Вятско-Полянский машиностроительный завод
VPMZ – Vyats-Polyan Machine-building Factory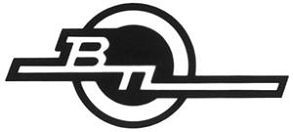 VPMZ factory "Hammer" was founded in 1938 in the Kirov region to serve the textile industry. In 1941 equipment for making weapons was evacuated from Moscow. After the war the factory along with military orders began producing items of peacetime production such as gramophones. Production began in 1955 of sidecars for Izhevsk motorcycles. The plant was expanded and new production buildings were built. In 1956 plans were made to produce the first Soviet-made "motoroller" (motor scooter).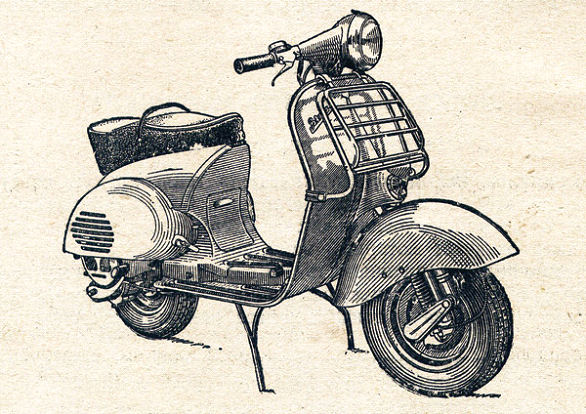 In 1957 the first "Vyatka" scooter was produced. In the 1970′s the issue of sidecars reached 200,000 units per year and motoroller production was over 100,000 pieces per year. In 2012 the plant was restructured and became Joint Stock Company "Hammer-Arms".


ВП56  ВП58  ВП-Sputnik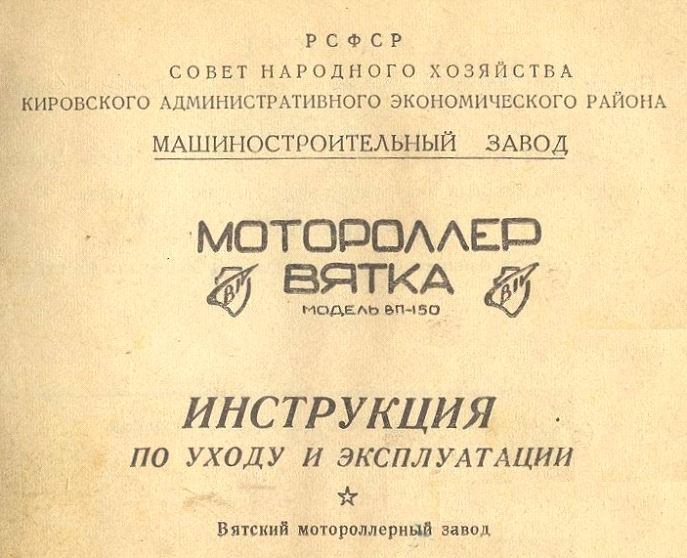 Eugene in Russia has translated the following article: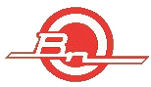 ВПМЗ (VPMZ)
USSR 1957-1979, since 1999

Machine building factory of Vyatskie Polyany town is a big installation of defensive weapons industry. Due to begin in 1950's conversion of war-production plants had to adopt production for civil needs. In 1956 a co-operative production of some motorcycle parts of IZH factory began, which included air filters, handlebars, silencers, air pumps. Same year upon getting technical documentation from the Izhevsk factory there began production of sidecars for motorcycle model IZH-49. Later all IZH-49's were coupled with sidecars made at Vyatka (VPMZ) factory.
At the same time the Vyatka factory was preparing for mass production of absolutely new for the USSR means of transport – a motoroller (motor scooter), mass production of which started in 1957.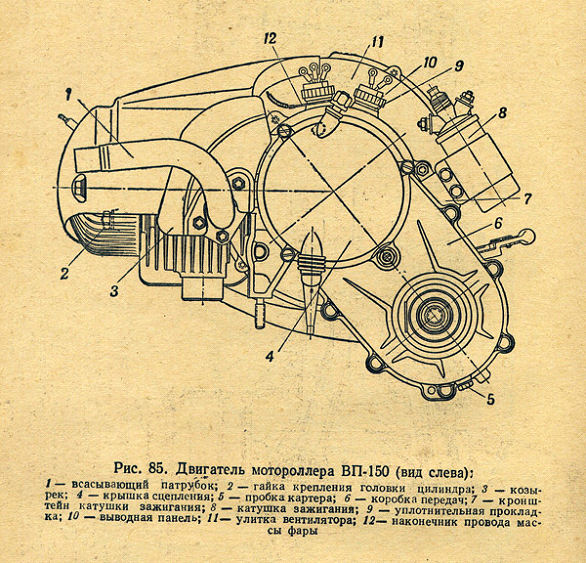 A prototype for the first model called "Vyatka VP-150" was a popular Italian Vespa 150GL, which featured a steel monocoque body (frame), horizontally placed two-stroke engine and its output shaft having 3-speed gearbox and rear wheel suspension, short lever leading front fork with side mount of its wheel.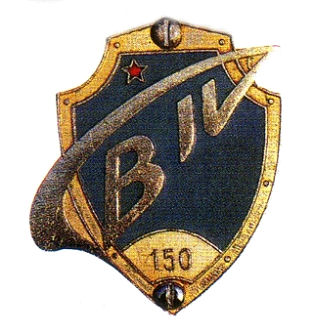 First model of Vyatka had 4,5 hp with 148cc engine and had weight of 108kg. As the factory didn't firstly have the necessary equipment to make big press-formed steel parts, like motoroller coat and sidecar body, these were supplied by Dnepropetrovsk "YUzhmashzavod". A modernized version of 1959 raised engine horsepower to 5,5 resulting in Vyatka top speed of 70km/h. Then the factory also adpoted production of three-wheel cargo motorollers, named "MT-150", capable of carrying 250kg of load in several versions: with cargo platform, covered cargo, self-dropping sides.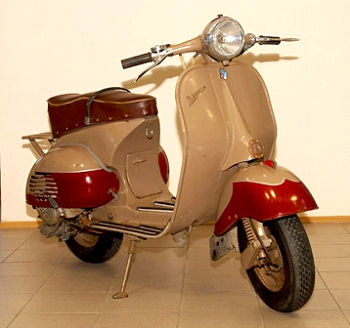 VP-150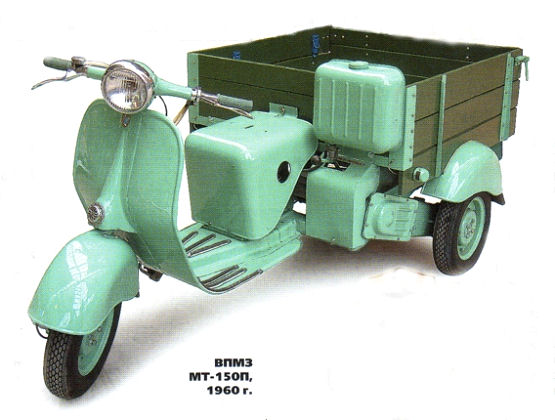 On order of VDNKh a special model of mototaxi was developed with two front placed parallel wheels and a twin-seat for passengers on excursion.
At the begginning of the 1960's the factory staff began developing a successor for VP-150. An experimental motoroller V-175 had an enlongated engine coat, different front mudguard shape and a 174cc engine unificated with Kovrov (Plant in the name of Degtyarev) motorcycles power plant.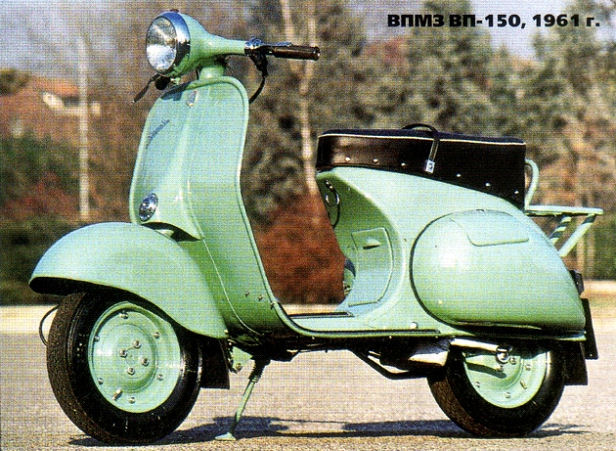 But mass series were made from completely different machine with elegant coatings shape, and chain transmission (chain casing served also as a rear pendulum), long lever front fork of pushing type and tuned to 6hp old design engine. Weight grew to 120kg and top speed was 75km/h, first series of this model named VP-150M came off the factory conveyor in December 1965.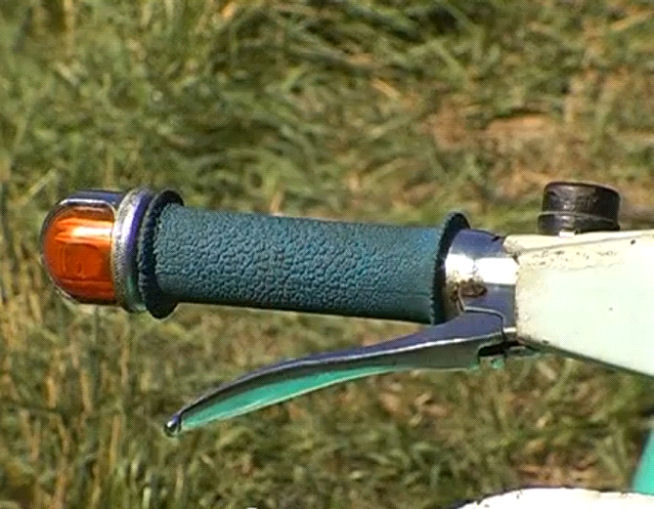 Indicator on a VP-150M
The next modernization of motoroller was carried out in 1973: engine was tuned to output 7hp, with for the first time in the USSR an electronic ignition system, changed shape of headlight coat, turnlights and the model name "Elektron-3". Top speed reached 80km/h.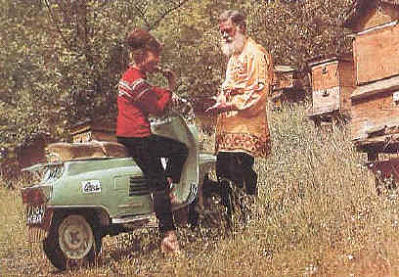 Vyatka publicity photo 1975
But 1970's were an epoch of mass automobilization, so interest for motorollers dropped sharply. The last Elektrons came off the conveyor in 1979.
The plant came back to motorcycle production only at the end of the 1990's adopting production of a 49cc two-stroke engine, a copy of German "Simson". In 1999 the factory managed to set production of motorollers equipped with such engines, called "Strizh".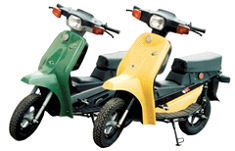 "Strizh"
Though the factory advertises the new machine as a motoroller in fact it is more a "scooteretta", with engine placed not under rider's seat but in a tunnel between rider's feet. Front fork of telescopic type has a wheel equipped with disc brake and mechanical drive mechanism. With 3.5 hp engine and its weight 75kg the machine speeds upto 50km/h, which offers riding without driving license category. In future the factory plans to adopt a production of 70cc version.
Technical specifications of VP-150 motoroller
General:
Overall length: 1850mm
Width: 800mm
Height: 1150mm
Wheel base: 1200mm
Clearance under silencer, not less than: 150mm
Dry weight: 110kg
Top speed of motoroller run in with full load
on a horizontal strip of a bituminous highway:
not less than 70km/h
Fuel consumption per 100km with full load on bituminous pavement road with elevations 1,5% and average speed 50km/h: 3,2 liters
Fuel endurance: 350-400 km
Engine:
Type: single cylinder, two-stroke, with loop scavenging
Cylinder diameter: 57mm
Piston stroke: 58mm
Capacity: 148cc
Compression ratio: 6,7
Power: 5 hp at 4000-4500 rpm
Lubrication system: combined, with fuel
Cooling: air
Feeding system: Fuel carrying flow by gravity
Carburetor type: K-55
Diffuser diameter: 20mm
Fuel filter: netlike, in fuel cock settling chamber
Air filter: netlike, in oil fog, with intake noise silencer,
and air shutter
Fuel: automobile petrol A-66 1
GOST 2084-51 2
Fuel tank capacity: 11-12 liters
Power transmission:
Clutch: 4-disk, in oil fog
Gearbox: 3-speed, with constant toothwheel engagement
Speed shift: by hand
Gearbox transmission ratio: (table)
Speed General transmission ratio
Gearbox transmission ratio
1 14,7 4,833
2 8,8 2,888
3 5,5 1,800
Chassis:

Body: pressed to shape, welded
Suspension: lever-type, with spring shock absorber and hydraulic sway stopper
Brakes: shoe-type, interchangeable
Wheel type: disk, quick detachable, interchangeable
Tire dimensions: 4,00×10 inches
Tire balloon pressure:
front: 0,7 – driver alone
0,8 – with passenger
rear 1,4 – driver alone
2,4 – with passenger
Electric equipment:
Electric equipment: alternating current
Ignition system: alternating current generator
Spark advance: constant, 29 degrees +/- 1 degree before TDC by
crank angle turn
Breaker: mounted to generator's base
Igniter coil: B-50
Spark plug: A 11 Y (M14x1,25) 3
Accumulator battery: 3-MT-7 (not equipped by plant, installed
at owner's will)
Beep signal: alternating current – C-34
Lamp: sealed beam unit – FG-50-V, lamps 15x15W, 2 candles
Backlight: with lamps 21 candles, 2 candles
Central switch: on beam unit-handle bar
Ignition switch: combined with guard lock
1 A-66 – stands for petrol octane figure (by translator)
2 GOST – All State Standard, here last two digits – year 1951
3 See interchangeability table, M14x1,25- plug's thread diam. x step
Composed by chief designer main department of plant
ATTENTION!
When fuelling motoroller do not forget to add avtol(automobile engine oil)[2-stroke oil] and mix it thoroughly with petrol.
REMEMBER!
Using fuel of petrol without oil will lead to fast engine's wear out.
Comments from Eugene:
For "Strizh" I saw several on sale here in 1999-2001 maybe, but the article doesn't give a poor outer look and apparent lower than medium quality judging by the machine, front disc brake with mechanical drive looked worse than a budget MTB disc brake made in China… Plastic coating was not of any beauty, but would rather repel potential buyers too, rough and angled forms of 4mm red plastic. I used to drop into that shop myself and paid attention to this machine every time, as I knew it was a Vyatka scooter successor, but my general opinion was a big doubt in that it may be bought by someone, I don't recall seeing any in the streets, besides its price was more than an ordinary moped, or a bit higher than one would agree to pay for an under 50cc two wheel transport. Certainly it was not a competitor for Japanese scooters, even used ones. Eugene
Additional photos: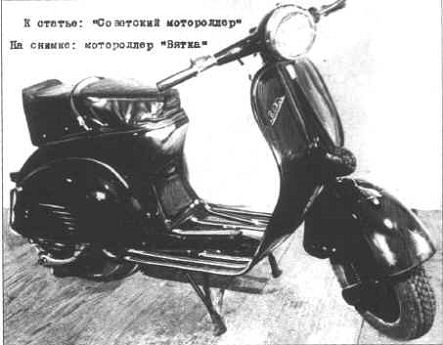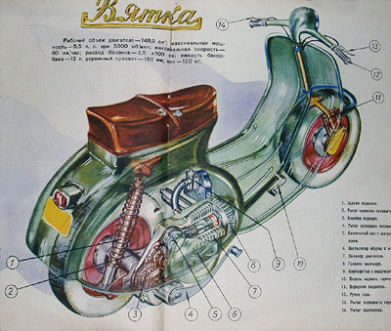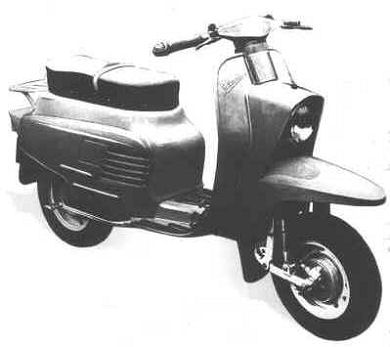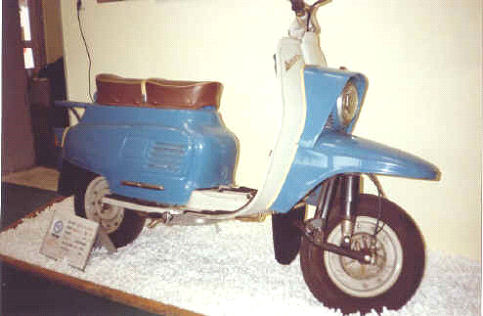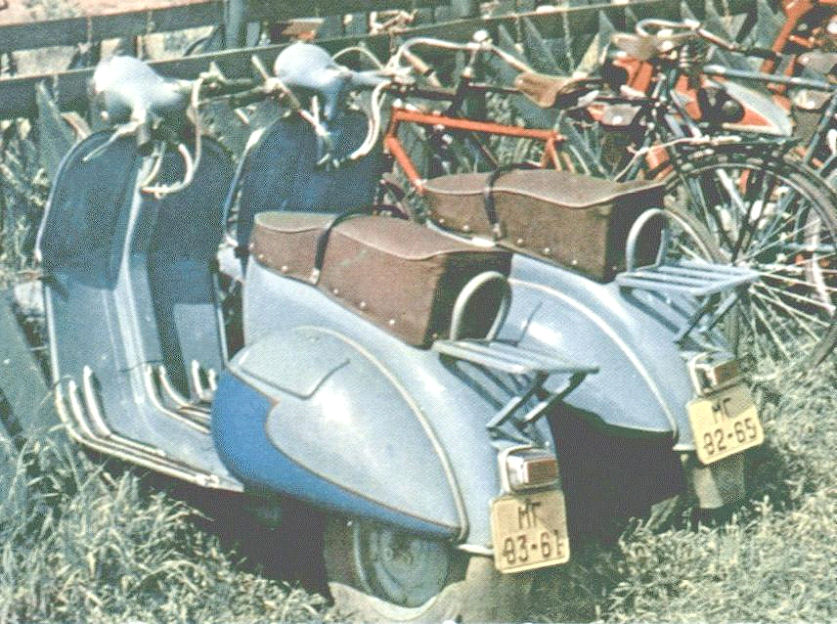 a pair of Vyatka motorollers in parking
some photos of Eugene's motoroller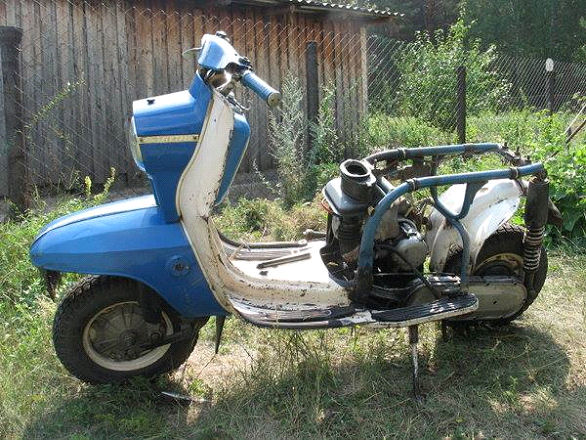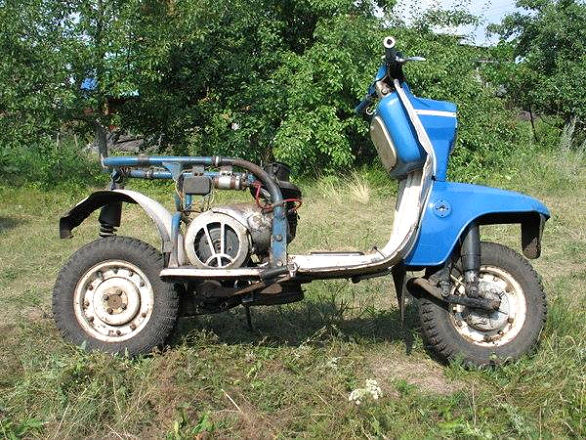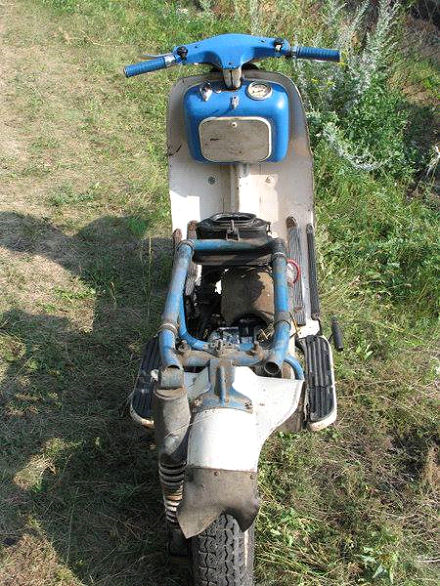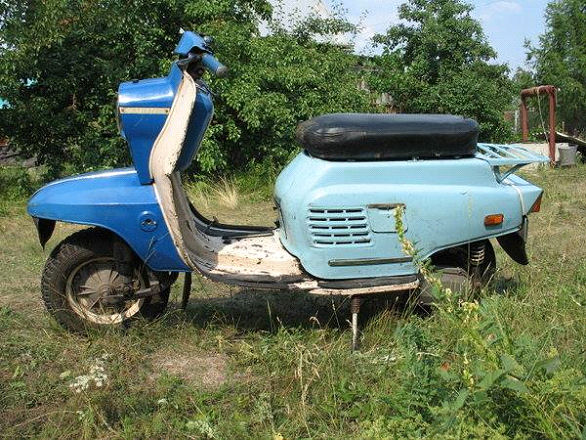 Sources of information:

Russian Encyclopedia of Motorcycles
Moto Moscow Russia
B-Cozz archives
the Internet
Eugene Radchenko (Vyatka owner and rider)

© Translation by Eugene Radchenko specially for b-cozz.com