On 21 October 1941 the IMZ factory in Irbit, Russia was officially opened. The Ural motorcycle has a long history. Over 3 million have been produced at the factory in Irbit since 1941, but in the late 1990's there was a genuine push to modernize the design. Whist keeping the classic looks of a Ural with sidecar this resulted in an almost new machine, from the new 750cc engine to disk brakes, electric start and dozens of improvements. This page lists most of the changes and upgrades to the modern range of 750cc Ural motorcycles and sidecars from 1998-1999 to the present day. There have also been many "Limited Editions" and "Specials" with unique paintjobs and finishes from the factory. Individual distributors and dealers have also offered various combinations, and there have been various differences in European, American, Canadian, Australian and Japanese models so this list is only indicative of the upgrades and changes to the modern Urals.
Ural Site
1998/1999
IMZ-Ural 650 "Solo Classic" had Wolf-styled fuel tank and a stepped seat. Solo had standard bodywork. Starting with the standard 650cc Ural engine, a 720cc was developed using parts that eventually became the 750cc engine (749cc). The 720cc was designed to be used in solo motorcycles and an 825cc engine was developed for sidecars. There were two crankshafts, 68mm stroke as used in the 650cc and 720cc, and a 78mm stroke as used in the 825cc and the 750cc engine. Both the 650cc and 750cc used a 78mm piston, while the 720cc and the 825cc engines used an 82mm piston. The 720cc, 750cc and 825cc engines used thru-studs to connect the cylinder heads, doing away with the old four mounting studs and bolts on each cylinder design, and finally going away from the old cast iron cylinders and into the future with aluminium-jacketed cylinders with cast iron bore (as BMW and KMZ-Dnepr did over 40 years before!).
IMZ-Ural "Cobra" 750cc OHV (13 made. 12 sold for the English market and 1 in Irbit museum), twin front disc brakes with Russian calipers, hardtail rigid rear end, fat rear tyre. A water-cooled prototype also tested.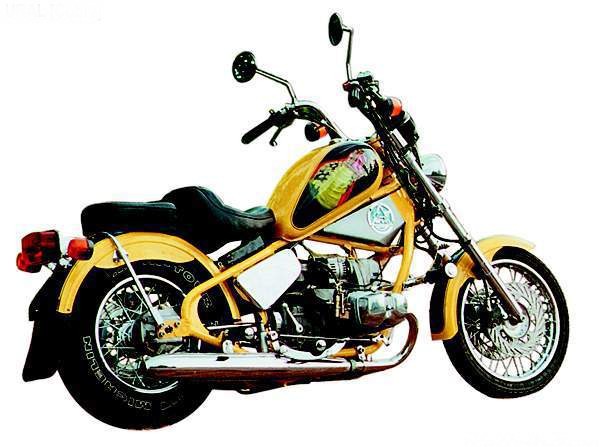 IMZ-Ural "Cobra"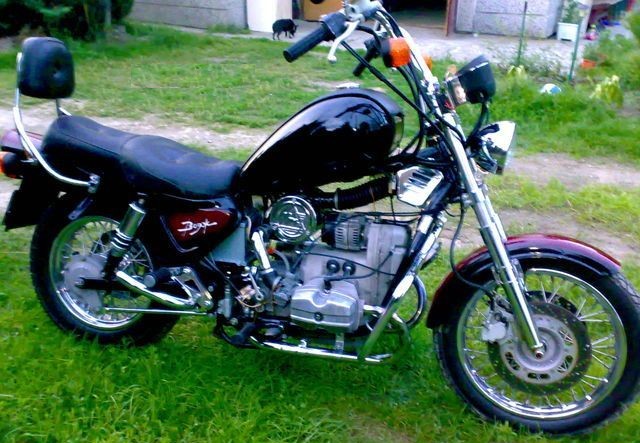 IMZ-Ural "Voyage"
IMZ-Ural "Voyage" came in two versions: 720cc for the Russian market and 750cc. It had twin front disc brakes and rear disk brake. The most noteable feature of the "Voyage" was the pivotting parallelogram rear suspension. It also had changed gear ratios, with 4th gear 1:1 23 by 23 toothwheels, straight cut.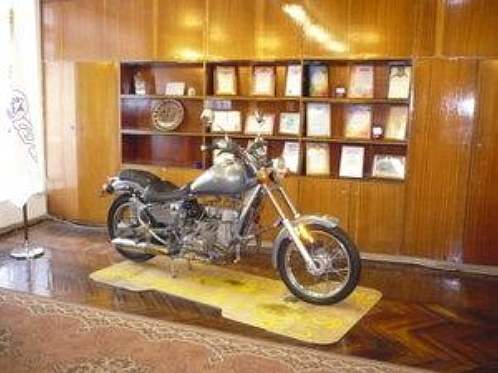 IMZ-Ural "Wolf"
Sergey Sinelnik's Ural "Wolf" after his epic round-the-world trip, proudly displayed at the IMZ-Ural offices in Irbit, still with some Australian red dirt on it [www.sinelniki.ru]. This motorcycle was an important test for future model development.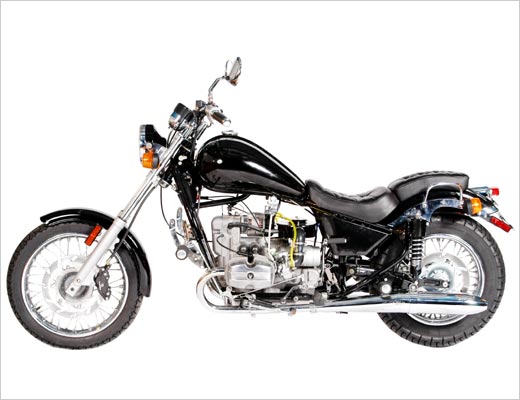 IMZ-Ural "Wolf"
The IMZ-Ural 8.1237 "Wolf" chopper style designed in collaboration with the Night Wolves motorcycle club to satisfy bikers. Forward controls were fitted. Rear disk brake. Fat rear tyre. Tricycle (or 3-wheeler in English) work horse / Hercules air cooled / water cooled. There was a strange mix of 650cc and 750cc parts on the Iraqi contracts bikes sold to the Post Office Dept there.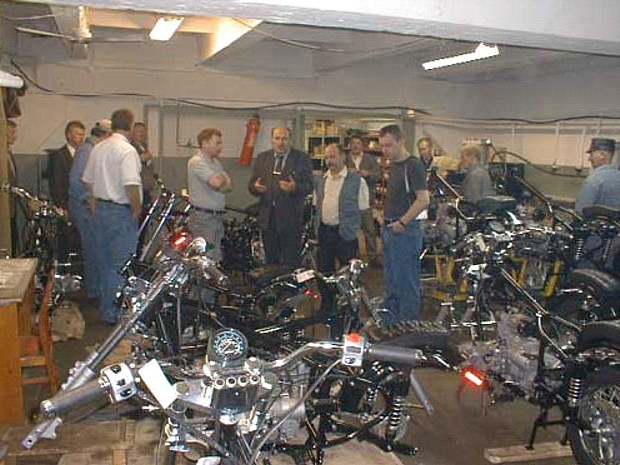 Photo of the factory's R&D department during development of the new models.
2000
The factory shuts down for six months for re-structuring for the first time since 1941
2001
21 October 2001 marked the 60th Anniversary of IMZ
2002
IMZ-Ural "Solo Classic" released (never sold in USA) with the new 750cc overhead-valve engine with bimetalic cylinders with cast iron liners and aluminium jackets
Brembo front disc brake
Electric start
Keihin carburettors
"Wolf" fuel tank (no storage compartment)
New switchgear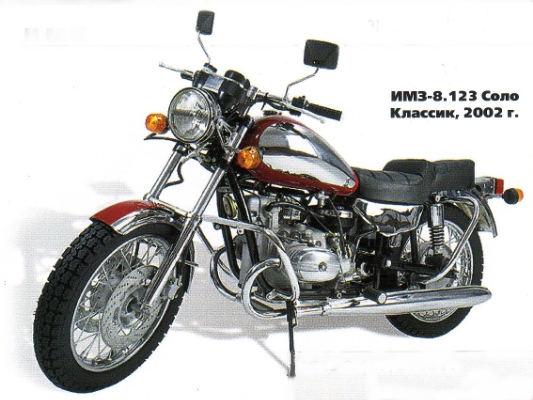 IMZ-Ural "Solo Classic"
2003
Brembo disc front brake
IMWA 750 engine (different valves, camshaft, pistons, bimetalic cylinders)
Leading link front forks
Sidecar spotlight
Sidecar wheel brake
Sidecar wheel drive (2WD) (Right-hand drive models only)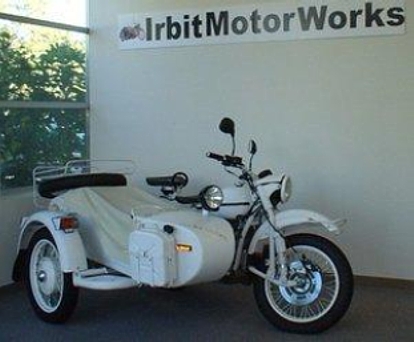 2003 IMZ-Ural Gear-Up 750cc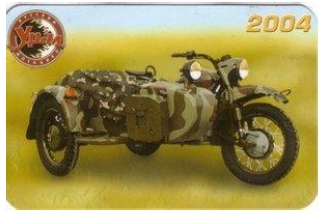 IMZ-Ural "GearUp" 2WD
2004
Nippon-Denso alternator
Type IV ignition (outside location, two-piece rotor)
Improved 2WD engagement lever (with fixing plate)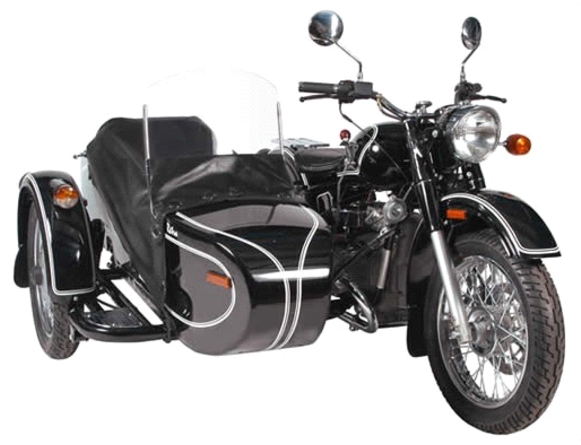 IMZ-Ural "Retro" introduced in 2004
Ural Retro uses similar fuel tank and motorcycle frame to the Ural model "Wolf".
18 inch wheels reduces ground clearance but lower the center of gravity for better handling
Reverse gear hand selector on the fuel tank
2005
Front bumper for Patrol
New bench seats
New wiring harness with power outlet in the sidecar
In June 2005 certification for Urals into Canada had been completed with first batch due July
2006
BOPOHA / VORONA / RAVEN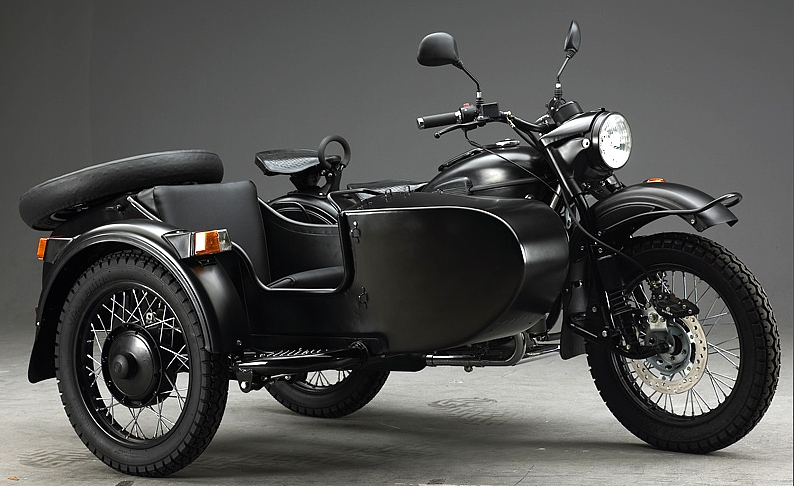 2006 Ural "Raven" Limited Edition
BOPOHA pronounced Vorona means female "Raven"
Silken matt black – no chrome
Available with or without sidecar drive (Europe)
Available with drum or disc front brake (Europe)
Spare wheel leather cover
33 to be sold in Europe, some to USA
New Ural logo
New header fastening system for exhaust pipes
Type V ignition (one-piece rotor)
Floating disc on Retro/Troyka front brake
Clutch linkage, different thrust bearing
Mechanical rear drum brakes on Retro
Petcock mounting on the tank without adapter
"Upside-down" type of air filter
Ducati ignition (late 2006)
Neutral indicator off when reverse is "on"
New seats designed by Rich Maund
Drive shaft with longer splines
Then came this exciting breaking news:
January 10, 2006. IMZ-URAL Group signed a three-year contract with Austrian Engineering Firm "HC-Concept". The firm will work on increasing reliability of the existing powerplant, preparing the motorcycle for Euro-3 Compliance certification and developing a production version of the next generation engine and transmission. First results of HC-Concept involvement were expected to be implemented on motorcycles as early as the 2007 model year. The tests were conducted in a lab at the University of Gratz, Austria.
The firm's founder and owner, Claus Holweg, has 12 years of experience working for companies such as BMW, Rotax, Aprilia and KTM. Specifically, while at KTM Claus was responsible for creating and developing transmissions and gearboxes for motorcycles that participated in and won Paris-Dakar races.
Further:
Ilya Khait, along with Birgit Kissinger and Hari Schwaighofer of Ural Europe, joined Claus Holweg of HC Concepts, Helmut Herzog and Hans Reich of Herzog AG at the factory in Irbit during the weekend of April 21st.
Claus introduced his design of current engine upgrades and the longer term project of designing a fuel injection engine for the 2008 model year. Helmut Herzog is the owner of Herzog AG, the company that will be supplying Ural with all gears in the near future.
Also in 2006, three managers from the IMZ factory visited several Austrian factories. Mr. Pankov, director of the quality department; Mr. Zenin, the head of production department and Mr. Karmakulin, the head of the engine assembly line visited the production facilities of Rotax, KTM, BMW, Hatz and a few others. The overall goal of these visits wass to see how production and quality at the IMZ factory may be improved.
65th Anniversary of IMZ Factory
21 October 2006 marked the 65th year of operation.
2007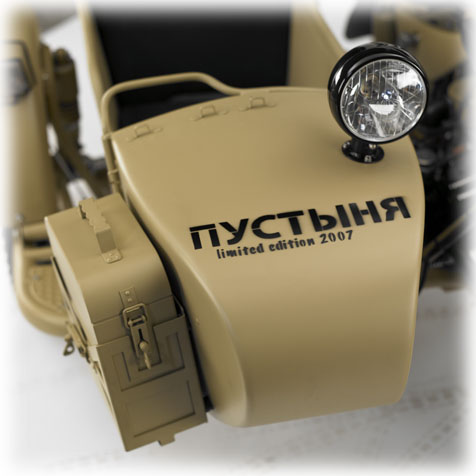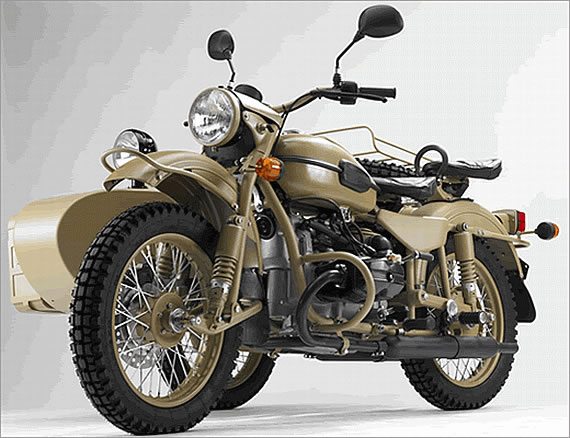 2007 Model improvements:
Engine
Herzog precision cut timing gears
NAK seals
SKF or equivalent C3 quality bearings *
High quality 8.8 hardware used throughout
New aluminum starter cover
Surfaced clutch plates for smooth operation
Gearbox
Herzog shafts and precision cut gears
NAK seals
SKF bearings *
High quality 8.8 hardware used throughout
Final Drive
Reversed style drive shaft with larger spline surface area
SKF bearings *
Improved 2WD engagement rod with UNI balls
Chassis
Improved front sidecar mount to allow more adjustment and negative camber
a reaI improved 2WD engagement rod with UNI balls
SKF sealed wheel bearings *
Reinforced front brake reaction link
Brembo floating disc on all models
New brake hose routing with retaining clips
Improved sidecar truck hinges and handle
Universal spare wheel holder
Standard handle bar size and removable risers
Cable trunk lid limiter strap
Bottom out travel limiter on sidecar swing arm
New US license plate mount
High quality 8.8 hardware used throughout
Standard (7/8′) handle bar size and removable risers
Carburettor
Mikuni, rubber intake flanges
Petcock directly mounted without the use of adaptors
Quality fuel line
Electrical
Ducati ignition system
Italian horn
*Note: SKF bearings in use for 1 year, then back to various other brands
The new Herzog timing gears are now available as direct replacements for all Russian timing gears.*Note: Do not heat timing gears beyond 180 degrees, as it will damage the heat treatment! It is very important to replace all gears including the alternator gear as a set. The new gears are precision CNC cut for longer life and quiet operation. The factory used 8 different timing gear sizes; Herzog gear sets use only 4 variations. Use the following chart to ensure proper selection.
Timing Gear Replacement Chart for Herzog Gears
Ural Group # Herzog Replacement #
00 0
0 0
1 1
2 1 or 2
3 2
4 2 or 3
5 3
5.5 3
Timing gear group numbers can be found on the engine crankcase at the right rear side of the alternator. Gear lash should be checked after installation. There should be no more than .05mm clearance between gear teeth.
Choice of "Duro" and "Hindenau" tyres
Accessories
Improved fuel can holder
Reusable touch-up paint containers
New shovel cover
Dual purpose grips for Gear-up models
Removable sidecar interior panels attached with 3M Velcro
New Name plate emblems for all models
New more complete tool kit, including a new bag
Optional accessories: (2007 Adventure Package)
Sidecar front bumper with skid plate
Sidecar rear bumper with skid plate
High mount exhaust
Engine cylinder crash bar
Off-road bench seat
in mid-August 2007 Ural successfully passed the tests to meet the Euro 3 standards. The motorcycles sold in the European markets are equipped with catalytic converters manufactured by Unicore, as well as the secondary air system.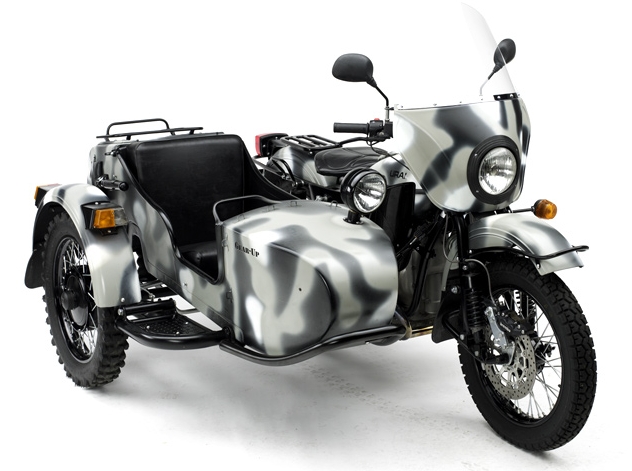 2007 Ural "Arctic" Limited Edition
2008
Гжель – GZHEL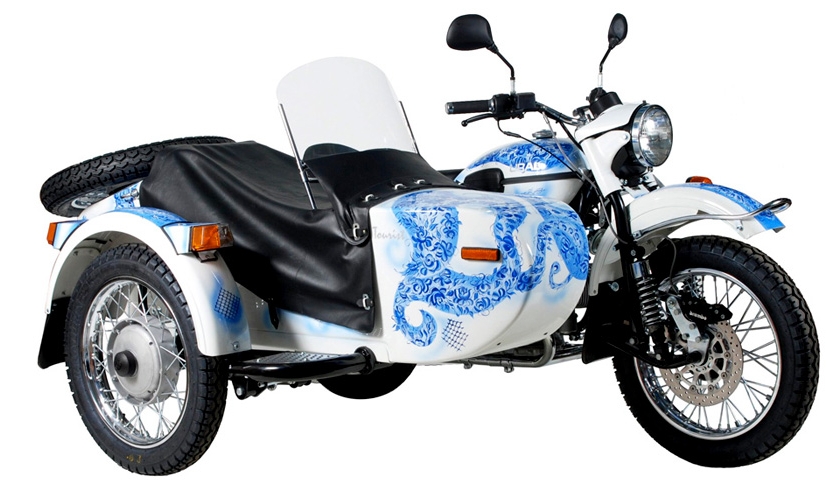 September 2008 Ural "Gzhel" – produced in 1 unit only
Gzhel is an example of traditional Russian folk art with roots going back to the 14th century. The art of gzhel pottery and design originated from the settlements southeast of Moscow along Gzhelka River. Today this well-known design of blue ornaments on white background is one of Russia's cultural gems. Gzhel evolved from pottery to the famous blue-patterned fine porcelain known for its makers' exquisite taste and excellence in craftsmanship. This unique Ural "Gzhel" was hand painted by Svetlana Zyryanova. Svetlana is an employee of the IMZ factory Paint Department. Some of the things she does at work is polishing the paint and applying camouflage spots onto Gear-Ups. In her spare time, Svetlana is an accomplished artist. She became very interested in taking on a project of painting the white Ural Tourist in an exclusive Gzhel style. It was an exciting opportunity for her creativity to take the lead and make something unique and exquisite. She chose her own paint, the brushes, she came up with the design and patterns and hand painted every detail in her own spare time. The bike is signed and dated by the artist.
This one-off "Ural Gzhel" was to be sold by online auction on 3rd April 2009 as Svetlana's artwork is priceless. However, the highest bidder refused the offer to purchase. But as it turned out there was an element of destiny to that… Tammy Fritch of Unique Rides fell in love with this motorcycle at first sight during its initial unveiling at the Annual Ural Dealer meeting. She's wanted the Gzhel ever since for her personal use…. and it gravitated to her! A true work of art!
Improvements in 2008 included:
Complete new valve train including 7 mm stem valves, sealed valve guides, hardened valve seats and stiffer valve springs
New clutch springs
Shock absorbers from Sachs
Pivot bearings installed in place of bushings in both front and rear swing arms
Tapered steering head bearings (SKF)
Steel braided brake hoses
904 Ural motorcycles sold worldwide in 2008. 99% of these sales were sidecar bikes.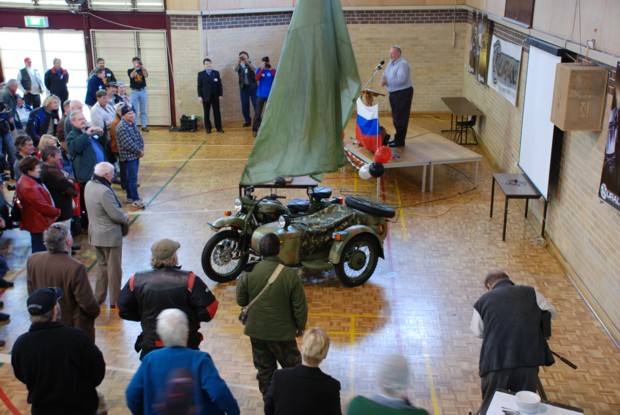 Australian launch of the new Urals
Also in 2008 IMZ-Ural launched into the Australian market with a left hand fitted sidecar (no 2WD) – Australian launch of the new Urals, Armidale 14 June 2008 at 3:04PM by automotive journalist Will Hagon, about 150 people and TV crew along with Russian Consulate officials were in attendance and several orders were received on the spot.
2009

2009 "Red October" Limited Edition
European colleagues from Ural Motorcycles GmbH came up with the idea of the Red October to commemorate either the 25th anniversary of the novel "The Hunt for the Red October" or the 92nd anniversary of the Red October Revolution (whichever comes first).
Stainless steel exhaust pipes and mufflers
Removable plate under the driver seat
Powder painted body parts on some models
Standard greaseable U-joints for 2WD shaft (GMB)
Unified EU/US wiring harness
5 May 2009 IMZ announced T-Series
2010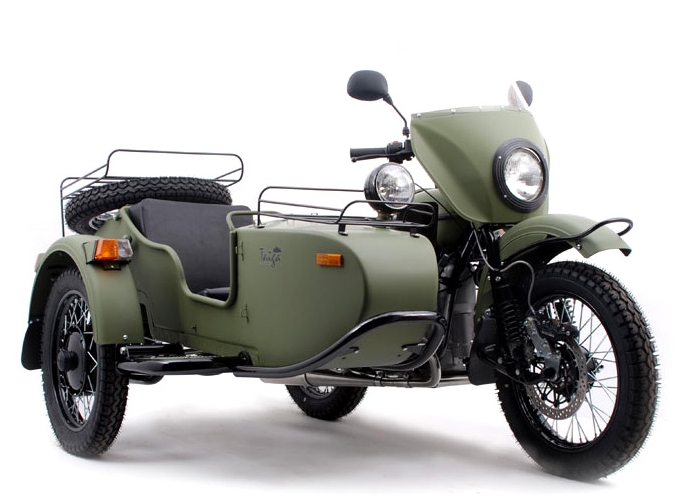 2010 IMZ-Ural "Taiga" Limited Edition
The "Taiga" is equipped with off-road accessories and practical tools to survive the most remote and treacherous conditions. First-Aid kit, Shovel, front and rear sidecar luggage racks. 2WD.
Aluminum alloy rims for Patrol and Tourist models
Polymer driveshaft coupling
Rocker arms with needle bearings
Bearing instead of bronze bushing on the camshaft rear end
Polished ports of the cylinder head
Stainless steel used instead of chrome plating on all tubular parts (bumpers, clips, handles etc.)
New design of the low front mounting point of the sidecar
Marzocchi telescopic forks on Retro and ST models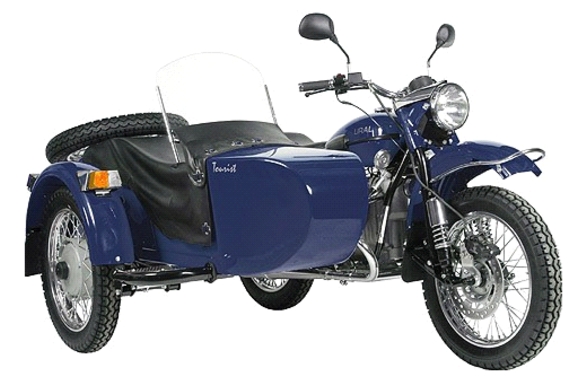 2011
IMZ-Ural celebrate 70 years. The Ural (Inter)National Rally Day is still a big event even today

New paint options, including more powder coat colors
Aluminum rims on all models, including the sT Duro tires standard on all models
Trunk locks on all models (except the sT)
New round indicator lamps
New Cordura tonneau covers and aprons
GearUp now equipped with single seat and rack
New Aluminum upper fork bolts
Improved high-strength final drive ring gear bolts
Since 2010 the fuel tank compartment removed to hold extra fuel and reduce costs
Fuel tanks with storage compartment still offered on some models.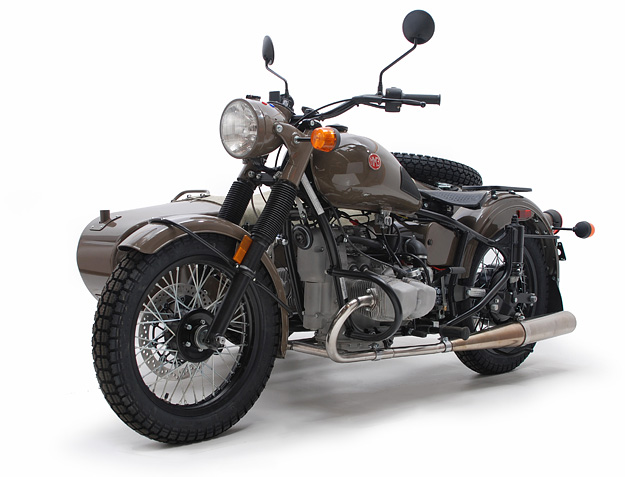 M70 issued November 2011 to commemorate 70th anniversary of IMZ-Ural
The "M70" model is based on the Retro, but came in Olive Drab (matte) color, no pinstripes, no luxury package, no gas tank shifter, no sidecar windshield but WITH spare tire. It uses the fuel tank and motorcycle frame similar to the Ural "Wolf". Solo and sidecar versions of the M70 were issued. Sidecar came with machine gun front mount.
2012
Gloss black powder paint replaced with flat black powder paint for frames, swing arms, wheel hubs, luggage racks, handlebars and all other non-body parts
New flat ignition rotor prevents contact between rotor and pick-up assembly. Ignition timing can still be adjusted by rotating the pick-up bracket
Standard 10.9 grade Allen head clutch screws replace the original slot screws. The flywheel and cover thrust plate have been modified to accommodate the new thread pitch and taper. These must be replaced as a set. Original clutch components are still available
New front brake reaction link replaces the original bar with bushings. The new tie rod style link uses ball joints at each end and will provide a longer service life. No more rubber or poly bushings needed.
New one-piece laser cut shift pedal assembly has a cleaner appearance and finish. This also reduces the amount of welded seams.
The clutch slider will now use a double O-ring for better sealing. The additional O-ring acts as a dust seal preventing damage to the inner most O-ring from dirt and debris.
The clutch rod arm now uses a standard shoulder bolt in place of the original pin with cotter key.
The factory made brake linkage forks and pins have been replaced with standard off the shelf parts.
The castle nut has been replaced with a standard self-locking nut on the flex coupler.
The valve cover gasket no longer will use the center cross brace, this will help prevent the gasket from pulling in when the valve cover is tightened.
All wiring is now secured in the fenders using tabs similar to the sidecar fender. This replaces the wiring channel in the rear fender.
Stainless clamps will be used on the entire exhaust system. These replace the factory made steel clamps. Stainless clamps do not rust and are higher quality, providing a better seal.
The new brake switch is an electronic, spring-operated switch that is commonly seen throughout the industry. It is manufactured by K&S and can be used as an upgrade on any Ural with the use of a few new parts.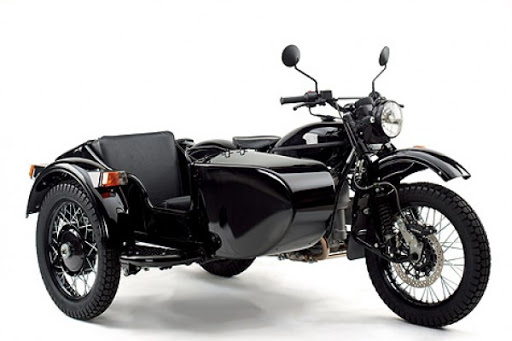 Body parts: matte black powder paint without pin stripes or matte olive drab powder paint without pin stripes. Fuel tank – No knee grips. No tool kit and air pump. No cover for the driver's seat. (Europe)
Body parts: matte black powder paint without pin stripes or matte olive drab powder paint without pin stripes. Fuel tank – No knee grips. No tool kit and air pump. No cover for the driver's seat. No power outlet in the sidecar. (Europe) Sidecar drive shafts are now being powder coated on all 2WD models.
Gobi – powder paint for the main color instead of regular liquid paint.New "Forest Fog" paint scheme. Sidecar drive shafts are now being powder coated on all 2wd models. The sidecar drive distance bushing has been changed to help reduce drive bearing failures. 2012 Gear-up models have a locking tool compartment on the fuel tank. The new lock replaces the old factory two-prong bolt.
Two versions of Retro models were offered in 2012. These are the Retro and M70. The Retro model is to the exact same specifications as the 2011 Retro. Black with white pinstripe, luxury package, gas tank shifter, sidecar windshield, etc. European wiring harness (similar to what is in use for other models). The new harness requires the use of a slimmer profiled headlight.
Single driver seat ("tractor" type seat) + luggage rack on the rear fender. Wheels – silver or black aluminum rims + 18" Duro tires
Woodland Green and Black colors for the Patrol model were dropped from the 2012 line up. They are still available as special order colors. Body parts for black and white colors – powder paint with gloss clear coat. Body parts for all other colors and combinations – regular liquid paint with gloss clear coat. Sidecar drive shafts are now being powder coated on all 2WD models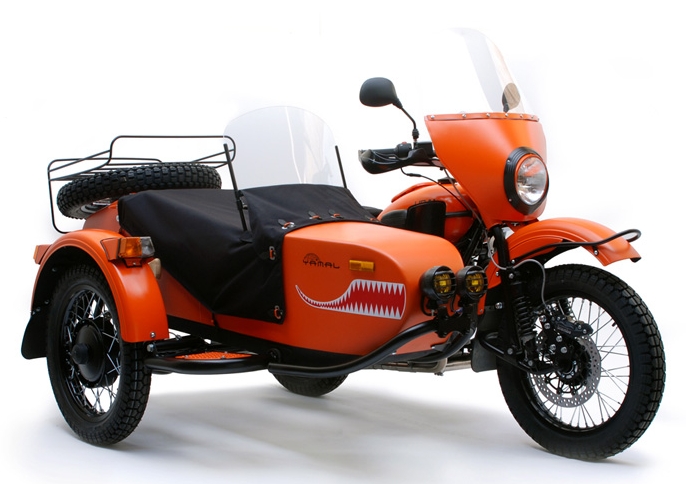 2012 Ural "Yamal" Limited Edition
The "Yamal" came with oceanic theme. As well as fog lights it came with a wooden paddle so you could detach the sidecar and paddle to safety. Think you'll want to block the mounting bolt holes first!
2013
ALL MODELS
New fasteners and turn down buttons on Tonneau cover
Upgraded sidecar floor mats with Ural logo
Better quality tire pump
New rubber latch for 10L canister
New improved mirrors
New improved high quality driven clutch plates for better performance
New one piece rubber crank case vent tube
Better fitting air filter
New vent–breather fittings for final drive and gear box
RUNNING CHANGES DURING 2013
One piece branch hose for carburetor
Tighter end gap on piston rings
New improved camshaft – better materials and bearing surfaces
New and improved sidecar drive shaft yokes
New pushrods with better materials for increased performance
Improved shift forks gear box and 2WD final drive
New folding shovel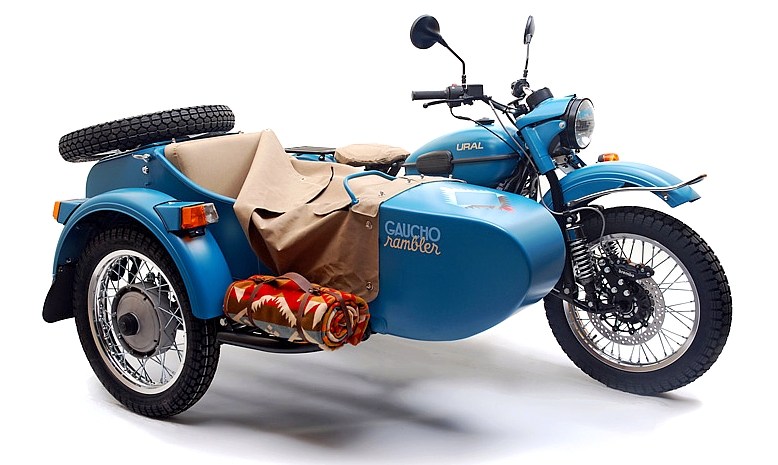 2013 Ural Gaucho Rambler Limited Edition
The 2013 American West-inspired limited edition Ural "Gaucho Rambler", a motorcycle created in collaboration with Pendleton Woolen Mills. The colour chosen by Pendleton is named Pacific Blue. The bike comes with sunburned canvas upholstery and a "Journey West" blanket by Pendleton. 50 units built for the US. 2WD.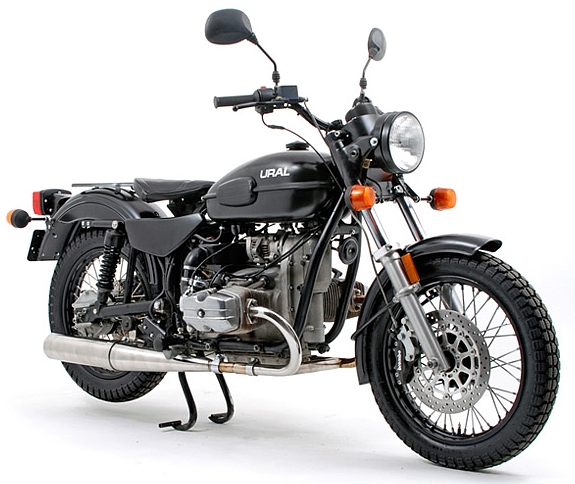 2013 Solo sT in matt black finish
Standard model range for 2013
Gear Up
Patrol
Patrol-T
Tourist
Ural-T
M70 Retro
Retro
Solo ST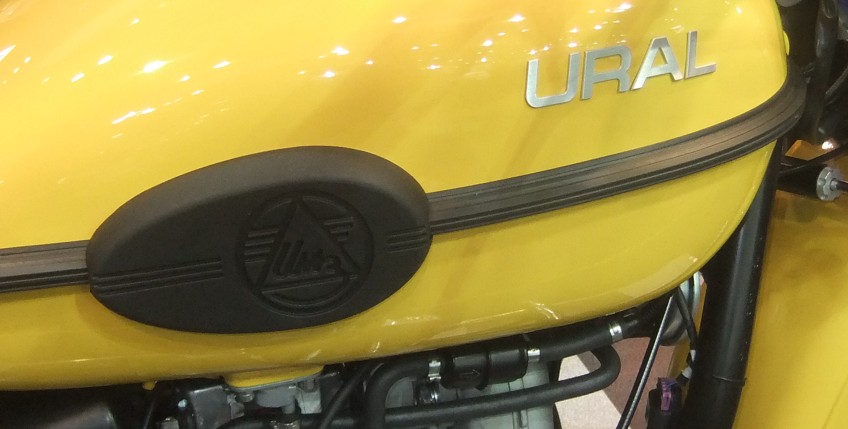 2014 IMZ-Ural fuel tank
2014
Fuel injection and associated components by Bosch and Delphi.
Disc brakes on all 3 wheels
The front brake reaction link on the leading link forks is now made by FRAP (Italy) and utilizes higher quality ball joints of increased strength
Redesigned wheel hubs utilizing standard sealed bearings with additional protective dust seals
The rear hubs no longer utilize cast-in drive splines. They are now equipped with replaceable hardened bolt-on spline flanges
Slightly more horsepower but 15% increase in torque
18-position adjustable hydraulic steering damper
New raised air box and intake horn
New slimmer engine front timing cover with replaceable standard spin-on oil filter
New ignition pickup from top of flywheel case
New improved camshaft profile for shorter duration to increase the low to mid-rpm torque
New lighter final drive, and universal across the entire model line
New heavy-duty parking handbrake
Newly designed upper and lower triple clamps (bridges). These are now made from forged aluminum alloy which is stronger and lighter. Additionally the upper clamp incorporates the handlebar mounts.
Fork legs are now secured with pinch bolts in place of the original factory tapered upper mount
New wiring harness with high quality weather tight connectors
New dashboard Including fuel warning and engine management indicator lights
New branded knee pads, new raised tank lettering and new collett rearview mirror mountings
Locking petrol cap
New tyre pump and mounts in trunk
And there it is… Fuel Injection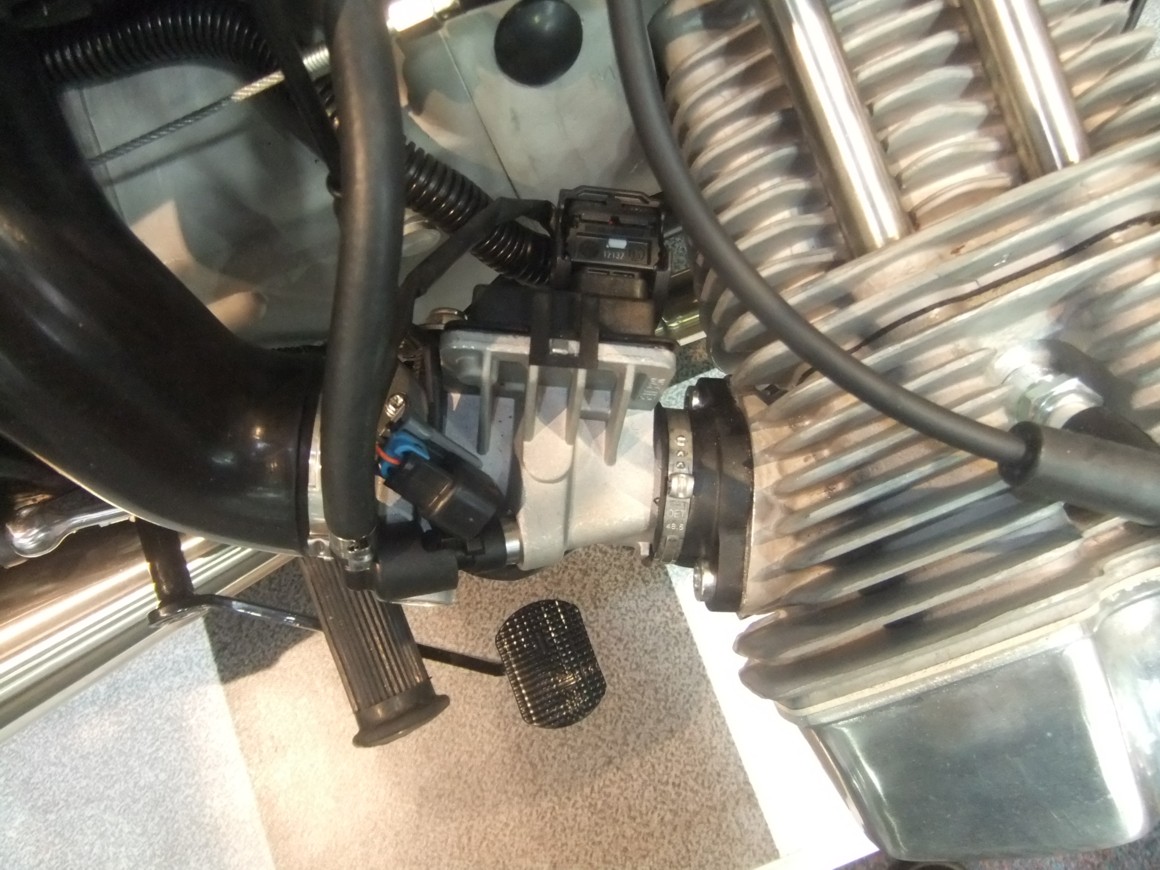 Photo above taken by JD at the Sydney International Motorcycle Show on 17 November 2013, the first pre-production Ural with fuel injection in the world.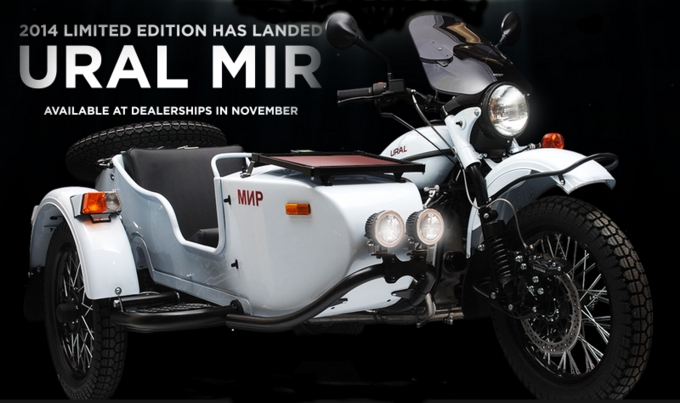 Ural MИР (MIR) (Rus: World, Peace)
Painted in orbital white with metal flakes and pearl blue clear
All of the 2014 model upgrades and changes
On-demand 2WD
Rider and passenger windshields
Dual high-intensity LED driving lamps
Solar powered battery tender and front sidecar luggage rack
Custom toneau cover with reflective insulation, can be used as a rescue thermal blanket
Total US build – 20 units
Release date November 2014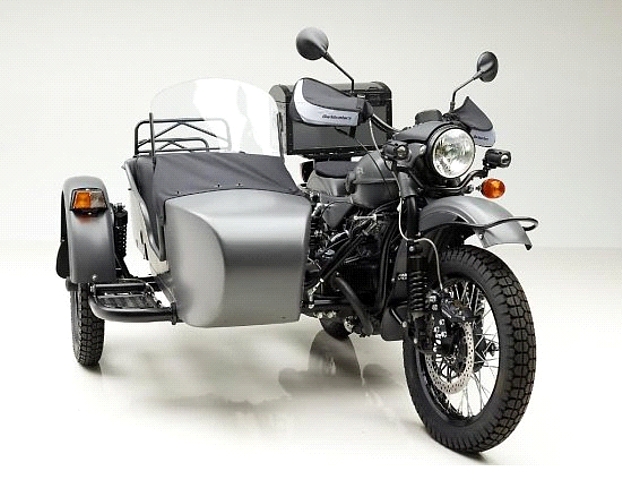 Ural Hybrid 13/14
Limited edition of 25 motorcycles and sidecars for Ural Motorcycles Europe
2WD
Last version with carburettors but with all the new 2014 improvements
Chassis and body parts powder-coated ashpalt grey
Frame is matte black
Engine and powertrain matte black
2 additional headlights, driving light and foglamp
"Made in Russia" waterproof topbox "Ural Treasury Box" made of steel and aluminium
Super quality handguards made by the No1 handguard manufacturer Barkbuster, from Australia
Release date November 2014
Standard model range for 2014
Gear Up
Patrol
Ural-T
M70 (still available)
2015
The 2015 model range includes,
Updated standard roller bearing used in the crankshaft
Updated welding for hydraulic damper mount
3M Self adhesive kick start bumper
New rear brake hose and cable mounting bracket
Relocated master cylinder with universal link rods
Redesigned rear brake pedal that is higher and more comfortable
New H4 headlight with housing
New tonneau covers, standard Sunbrella and vinyl for cT model
Plastic wheel hub covers for front and sidecar wheels
Introduction of Universal spare wheel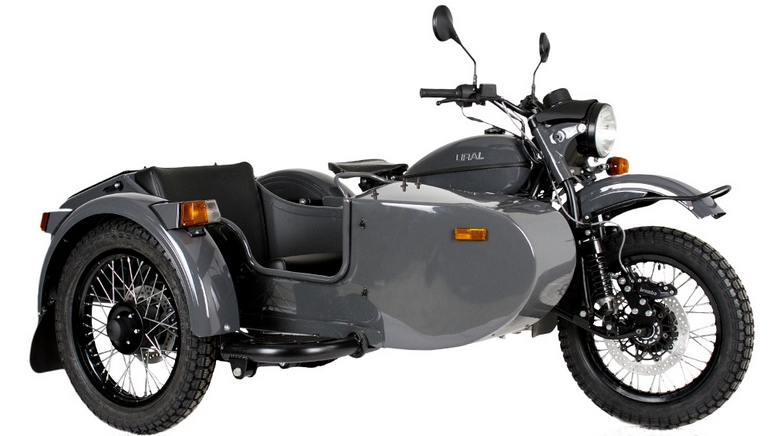 2015 Ural cT
The Ural cT was designed to provide easier handling for new sidecar riders. The cT has a lower centre of gravity and is lighter than previous models. It's a stripped down version so the owner can fit accessories to their own taste. Colours: Terracotta and Gloss Grey.
IMZ-Ural now offer custom colour paint job. Lead time for custom colours from the factory is 45-90 days. Most colours from previous models are also available.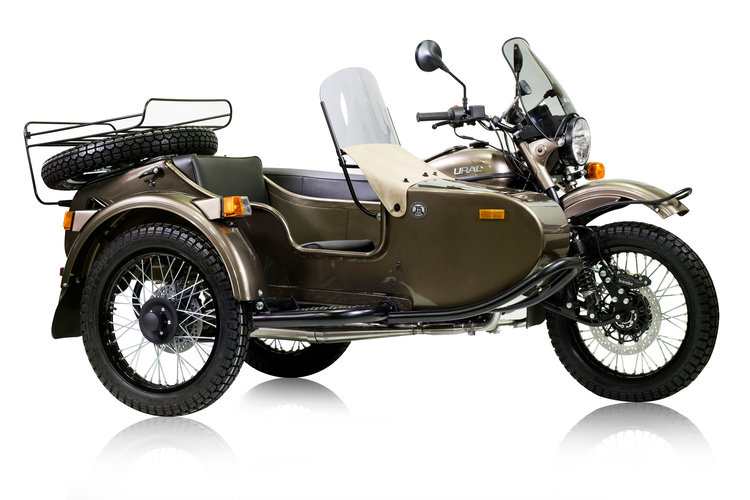 Ural Ambassador 2016
New starter motor
Introduction of compressible fiber-aluminum gaskets to seal exhaust head pipes
Hydraulic brake switch
Modified wire harness
Modified throttle bodies and flanges
Gas tank with the fuel sensor baffle
Modified hydraulic dampener with increased stiffness and sealing
New trunk lid weather strip
New design of the oil deflector for the breather for 2WD models
Use of liquid paint on all body parts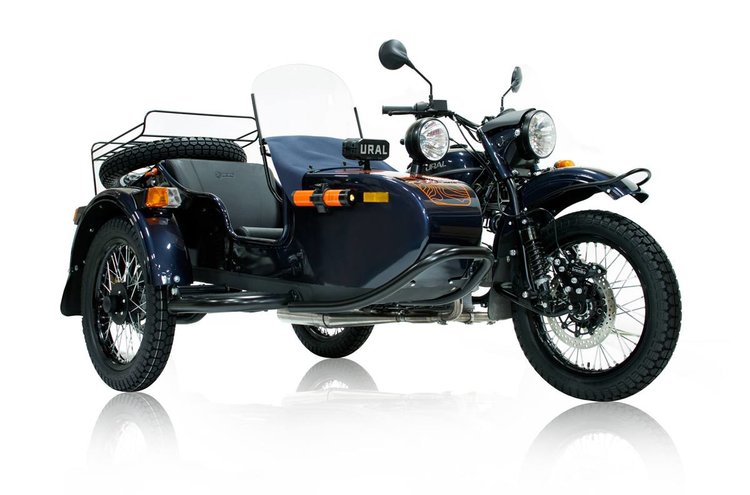 Ural Baikal 2017
Electronic speedometer with built-in indicators
New wire harness with combination relay and fuse box under left side panel
Handlebar switch for sidecar spot-light
Handlebar parking brake lever, replaces rider side lever
Reverse / neutral foot pedal instead of lever
New stock 2/3 seat, replaces tractor seat
New sidecar seat with extra storage space under the cushion
Updated Tonneau covers
Numerous redesigned and improved internal components
New colors available in premium colors and finishes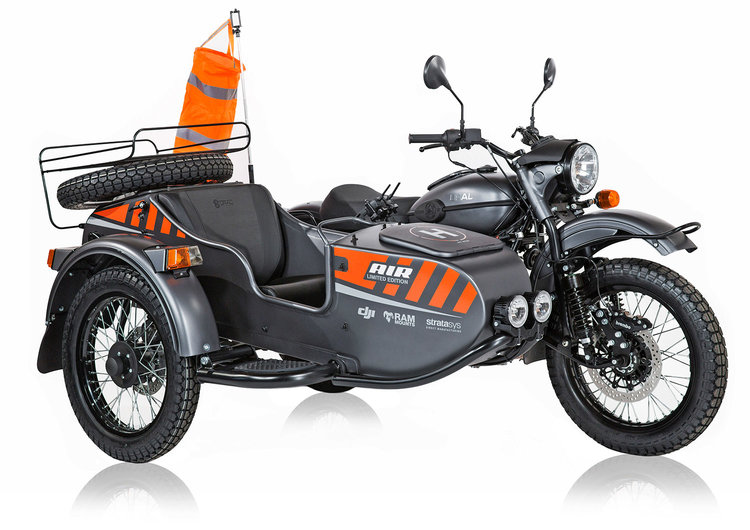 Ural Air 2018
Spotlight replaced with high visibility LED Fog Lights on Gear Up sidecar
New passenger windshield on cT model
New hydraulic/gas charged steering damper
New reed style magnetic float fuel sensor
Three new standard paint options (Slate Grey, Burgundy Satin, and OD Green)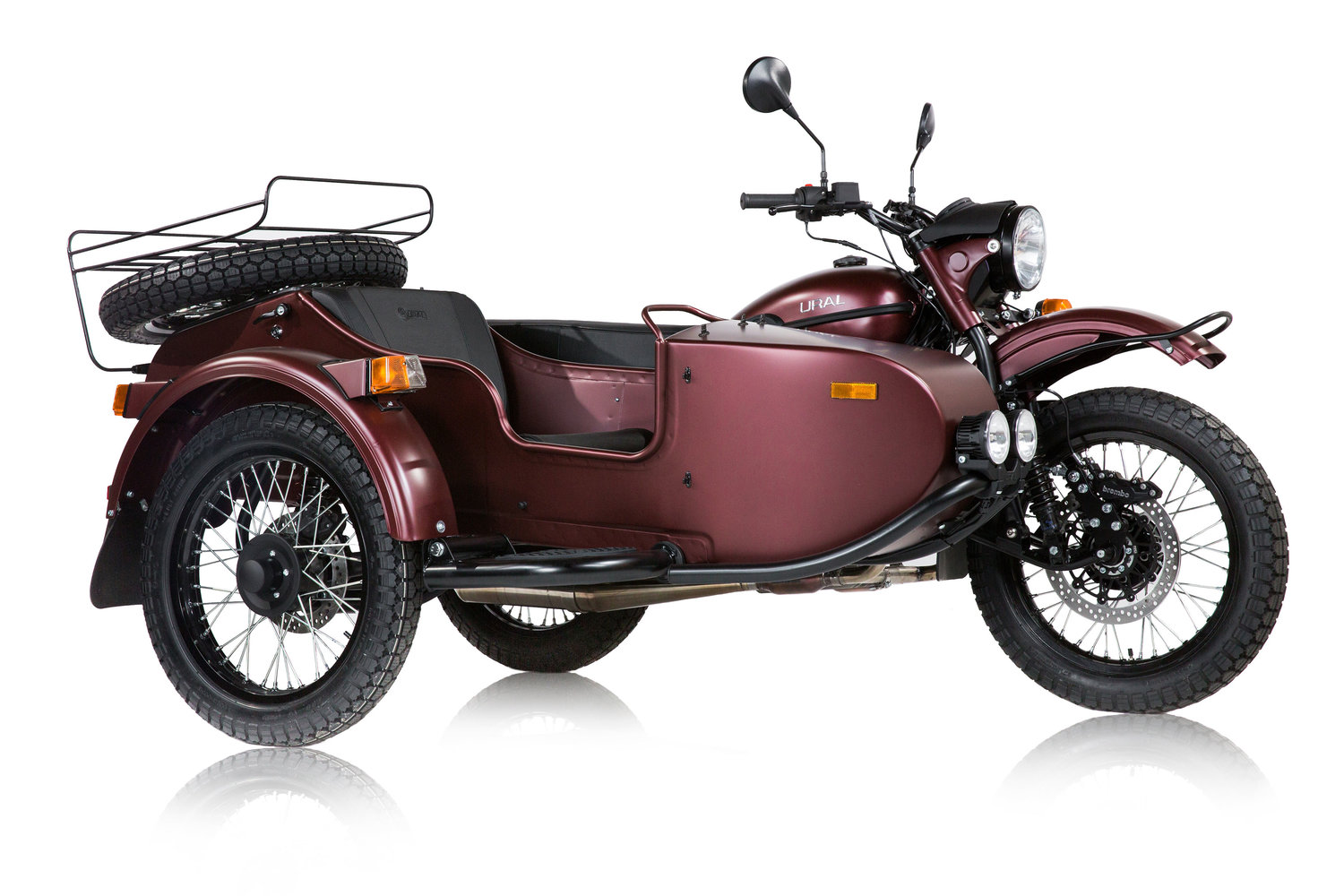 2019
Re-designed cylinder head covers
Cooling fins increased in surface area for improved cooling efficiency
Improved piston and cylinder design
Throttle position sensor for improved throttle response.
All new EFI system utilizing Keihin throttle bodies
Improved oil pick-up design and increased oil pan capacity
Universal spare wheel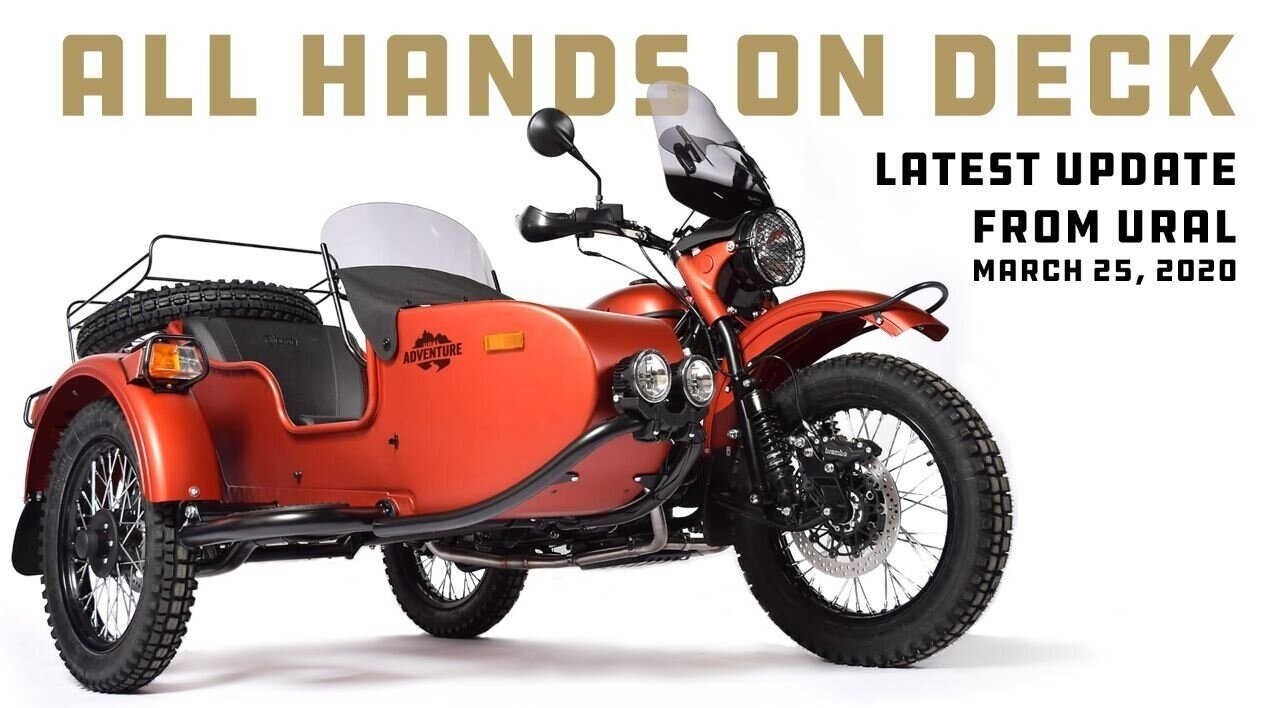 2020
19" aluminum rims from Italcerchio S.R.L.
Forged brake caliper brackets
One-piece forged alternator adapter shaft
Bi-metal piston pin bushing
Updated swing arm and fork leg design incorporates dust seals to prolong bearing life
Improved rear sidecar body mounts "snowmen" incorporate an internal spring for increased load capacity.
IMZ-Ural (IMWA) announced in early 2020 in regard to the coronavirus COVID-19 worldwide pandemic:
"We are experiencing interruptions with suppliers of components from Europe, particularly in Italy and Spain. The situation is being monitored very closely and we are adjusting our planning accordingly. In anticipation of further supply interruption and a slowing retail demand, we have decided to halt production at the factory in Irbit, Russia as of March 30th until further notice. Factory workers will be sent on paid leave."

We hope you will all be safe and stay well. Such it is at this time for all of us.
– – – – –
Ural sidecars are well known around the globe for their rugged good looks and robust design.
We will try to keep this page as up to date as possible. Who knows what they might think of next?
Additional photos and notes: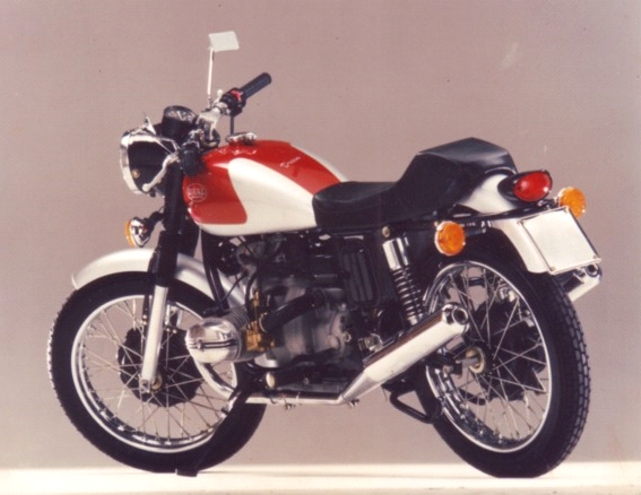 Ural "Dream" produced by the Italian importer as a styling exercise using Italian components. Whilst it used the old 650cc engine it sure looks good! Thanks to Steve W. for the photo.
Many owners (especially in Russia) go to extraordinary lengths to customize their machines.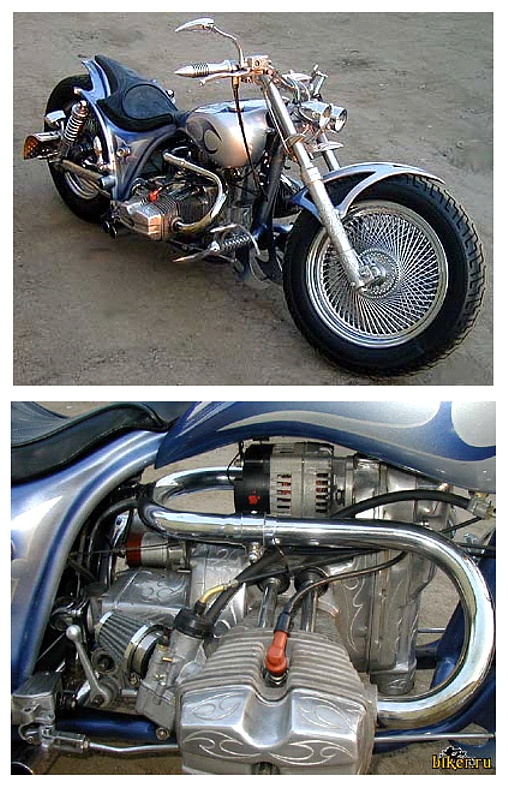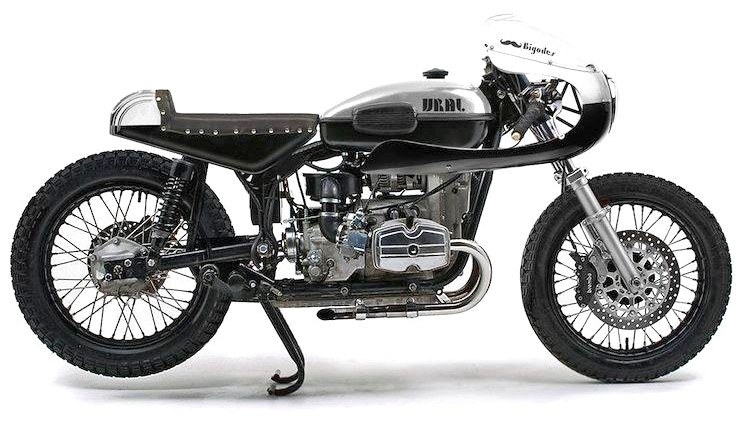 The new models have been a hit in Europe, the USA, Australia and Japan with sidecars experiencing a resurgance. The future looks bright for IMZ-Ural. Good wishes to them! As at 2014 sales of the new Urals in the US have topped 5000 and in Australia, 500. And just for good measure, 19 new gleaming red Urals with sidecars featured in a dramatic 30 seconds of fame at the Opening Ceremony parade of the 2014 Sochi Olympic Games in Russia, beamed to everyone on the planet..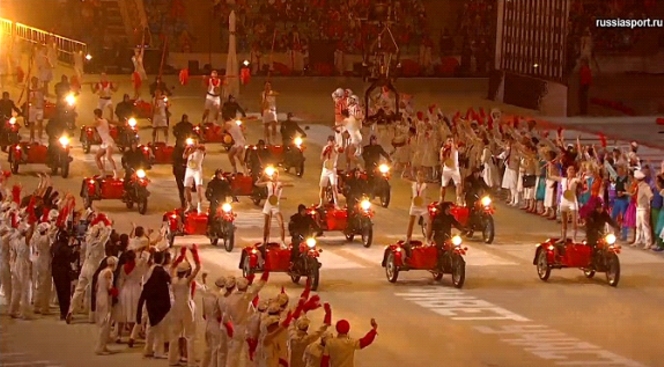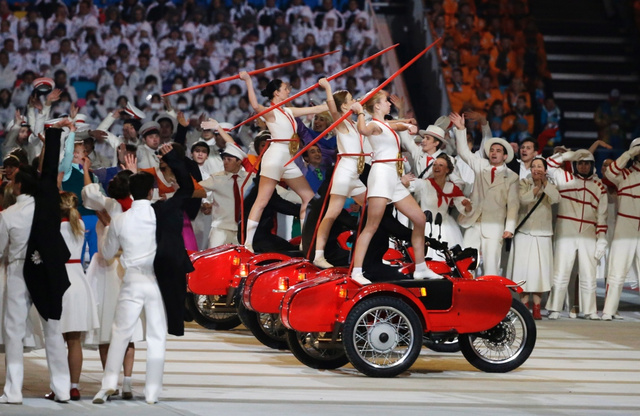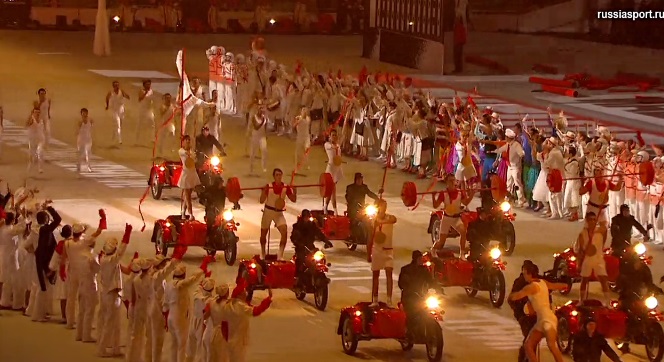 Text by Alexander Bulanov, photos from museum's collection.
Special thanks to EugeneR for translating this article especially for b-Cozz.
Sources of information and special thanks to:
IMZ-Ural
"The Irbit Informer"
Moto Moscow Russia
Cultural Attache of the Russian Federation (Sydney) for the 2008 Launch photo
biker.ru
Le Moto Ural
Steve Wiggins (Irbit)
Eugene Radchenko
Chris Grimm
Sergey and Alexander Sinelnik and the Russian "Globe Team on the Urals"
Ural Australia
Russia sport
B-Cozz archives