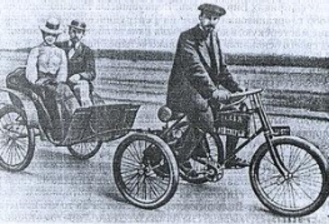 Almost nobody nowadays remembers the Leutner factory. It was located in Riga, Latvia and began producing bicycles called "Russia" in 1886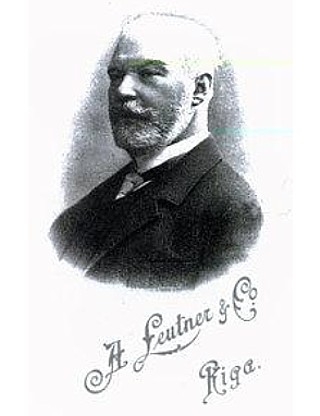 Alexander Leutner 1864-1923
Alexander Leutner & Co, Bicycle Factory "Rossiya", was one of the first manufacturers of bicycles and motorcycles, and a pioneer of automobiles in the Russian Empire. The firm also produced firearms. Alexander Leutner – a German-descendent engineer and founder of "Alexander Leutner's Cycle Manufactory" in Riga in 1886. Alexander Leutner was born in Kurland, Latvia and can be regarded as one of the first motorcycling and motoring pioneers of the time. He took part in the first motor race in St. Petersbourg, in tzarist Russia before the turn of the century. Alexander Leutner test-drove the world's first production motorcycle: the "Hildebrand and Wolfmueller". He was a friend of Gottlieb Daimler – the German automobile genius – and hosted Daimler's visit to Riga.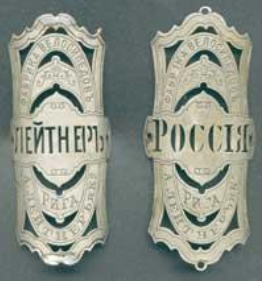 In 1896 or 1897 it became a limited liability company Alexander Leutner & Co., with stocks being held by Leutner, two Riga German merchants, and three professors from the Riga Polytechnicum. Like many other well-known bicycle manufacturers, Leutner yielded to the temptation to try his hand at producing motorcycles. The first five machines were ready in early 1899. They were tricycles with French-built De Dion Bouton 1.25hp engines.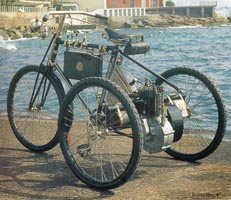 De Dion Bouton tricycle.
A little later the factory started to turn more sophisticated machines of the "Russia" marque. One of these machines still exists and is in the possession of our dear friend and collector, Mr Juris Ramba.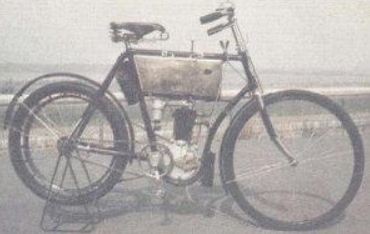 The Rosija (Russia)
In time, A.Leutner & Co. grew to be not only the largest bicycle manufacturer in Riga, but also in the whole of the Russian Empire. Annual production in 1907 was 5000 bicycles. The company had 130 employees, who were subjected to scientific management methods in order to boost productivity. The company began producing a range of automobiles, its first truck rolled off assembly line in 1912. During World War 1 (1915) the Leutner factory was evacuated to Kharkov in the Ukraine, to protect it from falling into the hands of advancing German Army.
Alexander Leutner was a truly great man with international connections and associations. He studied bicycle production and trade in Coventry, England; in Lyon, France; and in Aachen, Germany. His factory tooling was of American origin. His dealerships were in Moscow, St. Petersbourg, Nizny Novgorod, Warsaw and Paris. He used French De Dion Bouton and German Fafnir engines in his machines.
Alexander Leutner died in 1923 at a health resort in Italy.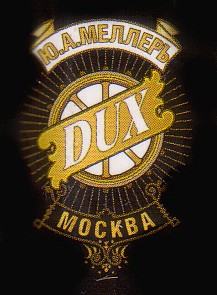 Another Russian bicycle works was founded by Yuri Meller, "Dux", in Moscow, also tried to build motorcycles. Between 1910 and 1913 it produced machines with Swiss-built two-cylinder Motoreve engines of 2.5hp.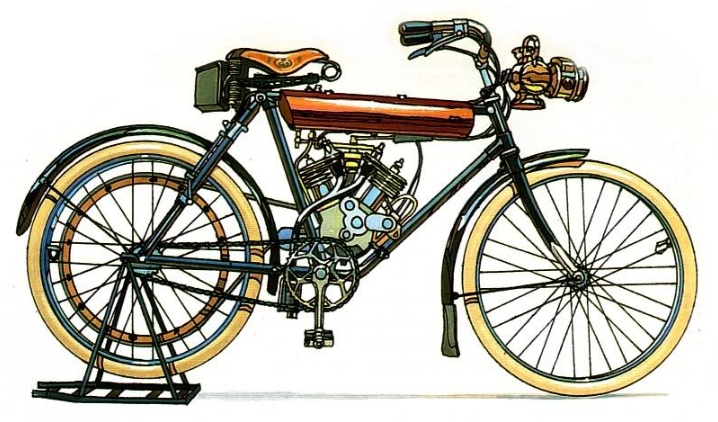 1912 Dux
In as much as the motorcycles of that time had foreign engines, Russia and Dux cannot be considered a complete product of Russia.
As the Civil War (November 1917-October 1922) in early Soviet Russia ended the road network of the huge country was being rebuilt and improved. Almost all motorcycles were taken for the army. This fleet comprised motorcycles of nearly every make and by 1920 was about 3000 pieces, spread out vastly across the country. The first specialized repair shop was "Moto Machine" plant in Moscow. It was founded in 1917 when a former Saint Petersburg motorcycle shop moved to Moscow and set up in an abandoned factory. The workers also moved and all equipment was reassembled. Around 1500 to 1800 motorcycles of all brands were collected there (more than half of the motorcycles then in the country). By January 1918 the factory was staffed by around 180 experienced workers and engineers, and the first overhauled and renovated machines began to trickle from the plant. By mid-1918 around a dozen machines were being restored per month. By 1921 the monthly output of overhauled machines was around 30 pieces. The plant was controlled by the Central Auto Section of the Supreme Council of the People's Economy (SCPE).
In the Summer of 1918, members of the All-Russian Motorcycle Society held one of the first motorcycle races in Russia, near Petrograd. The event was held over 1 kilometer with a flying start. In August 1921 the control of the factory was transferred to the Automotive Section of the Central Office of Local Transportation, a branch of the People's Commission on Transportation. By mid-1924 the collection of motorcycles had been repaired and the Moto Machine plant turned its attention to automobiles. The issue of commencing motorcycle production in the USSR was raised by the SCPE. 1923 saw the beginning of the Motorcycle Lab, which was run by the Scientific Automotive and Engine Design Institute, known as NATI. Its director was a motorcycle specialist and engineer, Ivan Uspensky. During the next few years the lab tested and evaluated dozens of foreign motorcycles, but no motorcycles were produced. Uspensky pointed out that these machines should be adapted to suit Russian conditions. 895 motorcycles were imported to Soviet Russia by the government between 1923 and 1929, mainly for army use. In August 1925 a motorcycle tour was held, Moscow – Leningrad – Kharkov – Moscow, about 1500 km. The first motorcycle made entirely in Russia was the Soyuz built in 1924 at the State Aviation Plant № 1 in Moscow. It was designed by four engineers at the Dux plant: E. Gropius, P. Lvov, A. Sedelnikov, and Ivan Uspensky. The planning stage began in February 1924 and by May assembly works were begun. Final assembly was completed on the eve of 1925. The new machine was tested the same year.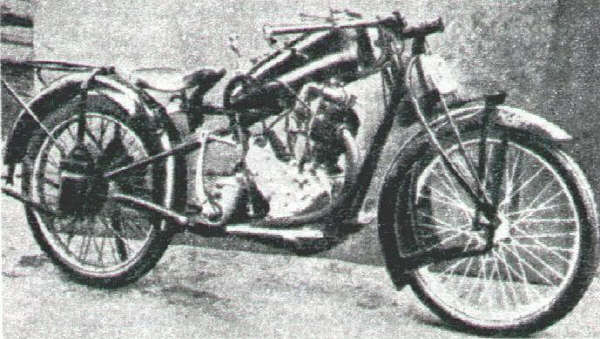 Soyuz
The Soyuz had quite a number of innovations which were original for that time: inclined arrangement of the cylinder (500cc), sprung rear wheel as well as the front one, and the frame forked under the engine. The inlet valve was placed above the exhaust one, the 3-speed gearbox was of the stepped (separate) type and the front fork operated as a pendulum. The fuel tank carried 9 litres of petrol and the wheel axles were spaced 1,240 mm. The large diameter wheels (tire size 26 X 3 inches) and considerable road clearance (200mm) enabled the Soyuz to negotiate off-road terrain.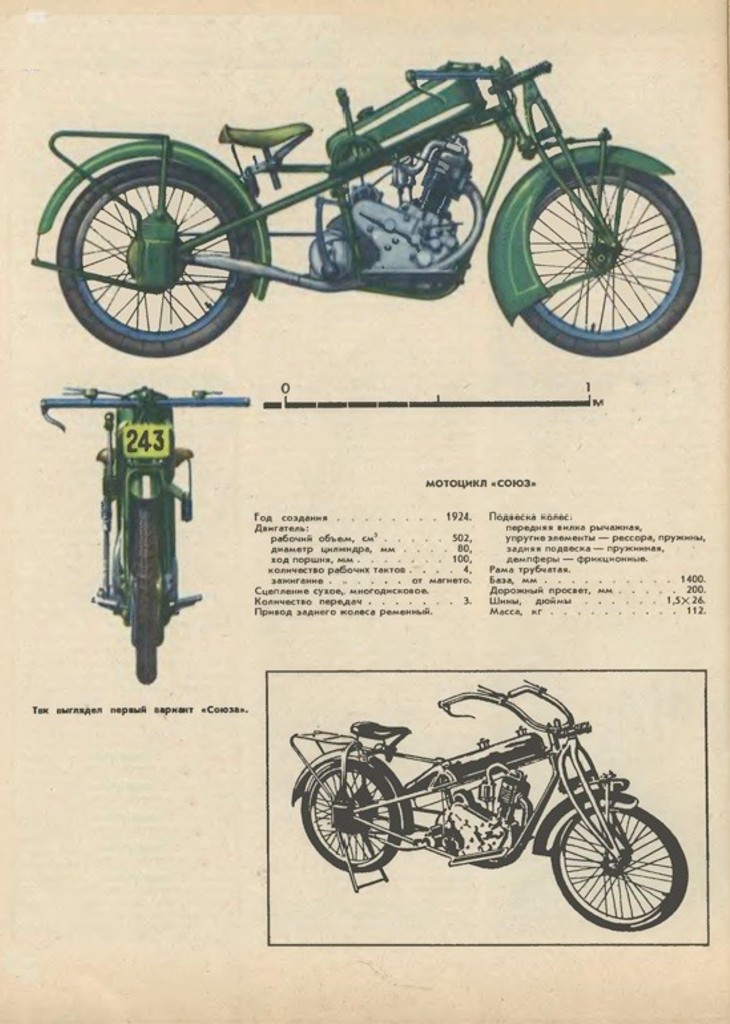 The great-grandfather of Soviet motorcycles, the Soyuz remained a prototype and never reached the assembly line. The prototype was entered in the 1925 All-Union Run, ridden by Vasilyev, but retired after 200km. The Soyuz started a large family of new machines designed and built at Soviet plants.
The work of the group of engineers headed by P. Lvov was carried on by P. Mozharov, an experienced designer. Under his supervision, five motorcycle models were designed at the end of the 1920s for Izhstalzavod. See the page P.V. Mozharov.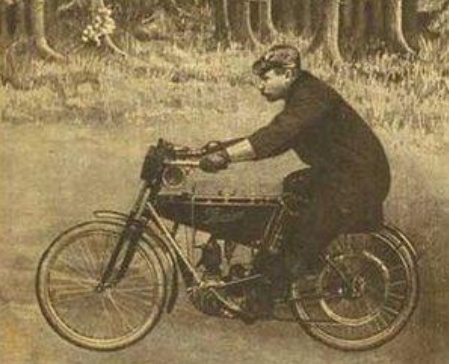 other early machines made or assembled in Latvia, Russia, and/or elsewhere with somewhat early connection:
Abrikosov. (pre-1917). St. Peterburg. © Hildebrand & Wolfmüller (D).
Baltika. (pre-1917). Riga © NSU (D).
Baltija. (pre-1917). Riga © Triumph (GB), Douglas (GB).
Dux (Moto-Reve-Dux), 1909-1915, Akcionernoe obschestvo "Dux" Ju. A. Mellera. Moscow.
Fortuna. (pre-1917) Moscow. © Defaux-Motosacoche (CH).
Frese, 1903-1908, Saint Petersburg. © Sarolea (B)
Freudenberg. (pre-1917). Saint Petersburg
Gloor. (pre-1917). Moscow. © Defaux-Motosakoche (CH)
Jasenski. (pre-1917). Warsaw. © Sarolea (B)
Leutner (Rossija), 1899-1903-?, Leutner & Co. Fabrika Velosipedov "Rossija". Riga. Built bicycles, motorcycles and trikes under Rossija trademark. Models of types: Hildebrandt & Wolfmüller (D), Clement (F), Werner (F), De Dion-Bouton (F), Cudell (D) and Fafnir (D).
Lundberg – Vasiljev, 1900-1901. Fabrika Avtomobilej Lundberg-Vasil'ev. Moscow. © De Dion-Bouton (F), Werner (F).
Naletov. (pre-1917). St. Petersburg. © Werner (F).
Pobeda. (pre-1917). St. Petersburg. © FN (B), Soesen (F).
Reshetnikov. (pre-1917). Alatyr'. © Comet (D)
Rossija (Leutner), 1899-1903-?, Leutner & Co. Fabrika Velosipedov "Rossija". Riga. Built bicycles, motorcycles and trikes under Rossija trademark. Models of types: Hildebrandt & Wolfmüller (D), Clement (F), Werner (F), De Dion-Bouton (F), Cudell (D) and Fafnir (D).
Schumann. (pre-1917). Revel (Tallinn). © Matador (US), Hildebrand & Wolfm?ller (D).
Scherban. (pre-1917). St. Petersburg. © Indian (US).
Selten. (pre-1917). St. Petersburg. © Defaux-Motosacoche (CH).
Soyuz, 1925, 1 built
Starley-Psycho, 1898-1911. Akcionernoje Velosipednoje i Mehanicheskoje Obshchestvo "Starley", fabrika velosipedov, avtomobilei i lodok "Psycho". St. Peterburg. Found in 1895 (Starley Russia Ltd.), from 1898 built trikes and quads, © Starley-Rover (GB), De Dion- Bouton (F) with motors De Dion-Bouton (F), Creanche (F), Clement (F). From 1901 – automobiles Starley-Psycho of Creanche (F), Bertran (F), De Boisse (F) types with motors Starley (RUS), De Dion-Bouton (F), Aster (F). In 1911 acquired by Promet Company.
Varen (Avan Tren). (pre-1917). Warsaw. © Zedel (F)
Wakarezy. (pre-1917). Warsaw. © Laurin & Klement (A).
Wirkau. (pre-1917). Moscow. © Terrot (F), Triumph (GB).
Sources of information: Mr Juris Ramba, Aneta Myszor, Russian Encyclopedia of Motorcycles, Complete History of USSR Motorcycles Part 1 1924-1945 Andrei Myatiyev, Andrei Bogmolov, V/O Avtoexport "PAGES OF HISTORY" 26,27 L.M. SHUGUROV AVTOEXPORT №77 (2/1985) MOSCOW USSR, Moto Moscow Russia.