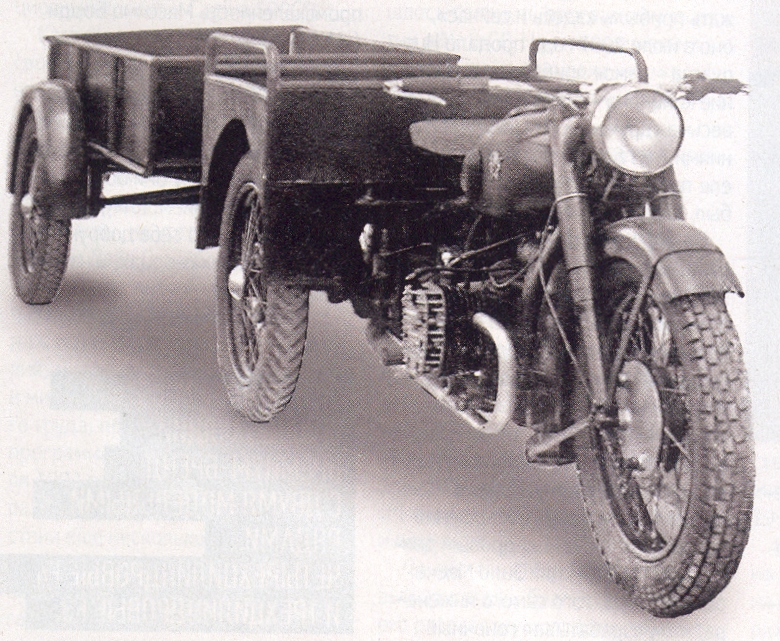 In end 1940s a trailer based on M-72 was made, weight capacity of 800kg, 200kg of which were placed on the truck and remaining 600kg in trailer, top speed 50km/h. It should be noted that for many years main inner plant transport was a motorcycle with sidecar, with 250kg of designed cargo weight it could carry up to 1500kg. These workhorses have carried thousands of tons of cargo.
There have been many anniversaries this year (2011), now it is time for motorcycles from Irbit to celebrate 70th, remembering history of these machines making we will pay most attention on experimental ones, also including cars, this time as from design viewpoint they are same "opposites" but having four wheels.

It was in Great Patriotic War time, when 20 October 1941 Moscow was announced a besieged
state and on 21st Evacuation Committee under Council of People's Commissars of the USSR issued order no. ÑÝ175 that Moscow motoplant (MMZ or rus. ÌÌÇ) to be removed to Irbit. This date since then has been considered as birthday of Irbit motorcycle plant (IMZ).
Why Irbit, we ask? It's seem easier to deploy the plant near Trans-Siberian rails but not 200kms SE from Sverdlovsk (renamed Ekaterinburg by Soviets), the answer was simple: Irbit by that time had already a-working automobile trailers plant (ÀÏÇ) governed by People's Committee of medium industry (NKSM). It was supposed that temporarilly removed MMZ will use free production bases and share casting and blacksmith shops. 17th November Moscovites having disembarked in Irbit found out that production base of the trailers plant was being used by other evacuated installations. The town looked down on such temporary neighbours and didn't appreciate them, for example conflict about handing over to MMZ a brewery located in town's outskirts. Built in 19th century by Ekaterinburg staplers bros. Zlokazovs and the brewery worked with success though German armies were near Moscow. How could have one spare some beer or kvass in hard times? It was in only for G.M. Malenkov's personal interference, general secretary of Communist party of the USSR (ÖÊ ÂÊÏ(á)) , a member of state committee of Defense , responsible for supplying Red army with with new weapons and vehicles, and the case was decided for MMZ benefits.
Despite indescribable difficulties, 3 months after first motorcycle convoy arrived to Irbit on 25 February 1942, Order Number 172 issued by NKSM made MMZ plant building in Irbit legal, so rovers became full-right citizens. Motorcycle annual output has grown every year, by 1993 coming over 130.000 the plant became major town's bread winner, supplying 70% of its budget half of citizens worked at the plant and it grew in to a modern settlement of motorcycle makers. By its 70th anniversary the plant hasn't given in for "all over Chinese invasion" and is making Urals still. Now there are over 3.1 million of them in the world, many machines representing history are kept well in State motorcycle museum of Irbit.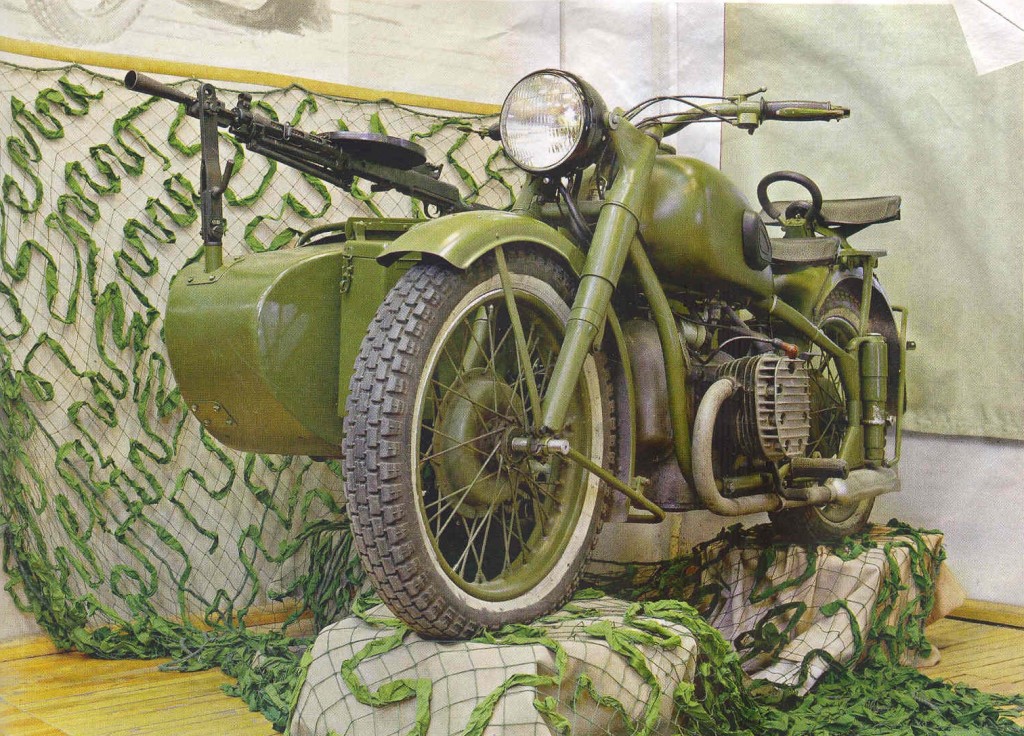 History of Irbit motoplant started with legendary M-72 made for soviet army till mid 1950's though war was over. 750 cc 22hp sidevalve engine, outfit weight 285 reached 80 km/h. Pictured above 50.000th M-72 differed slightly from war-time models in front mudguard of rolled iron, machine gun mount and other parts.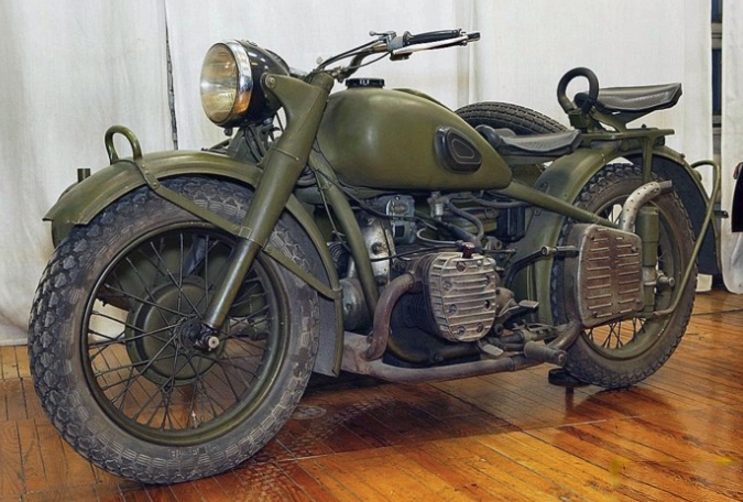 Motorcycle И7Д in the Irbit Museum
War experience showed that the army should be supplied with better off-road capabilities vehicles and during the war the plant started working on this problem with sidecar driving wheel as well, with И7Г (English: I7G) based on M-72, with switching off differential drive, but tests unveiled some flaws in design and there followed in 1949 an improved experimental version as an M-73 development, designated И7Д (English: I7D) with added reducer gear in transmission. A handle was included on the front mudguard. This model didn't go to conveyor as Kiev motoplant (KMZ) was ordered to fill out army supplies.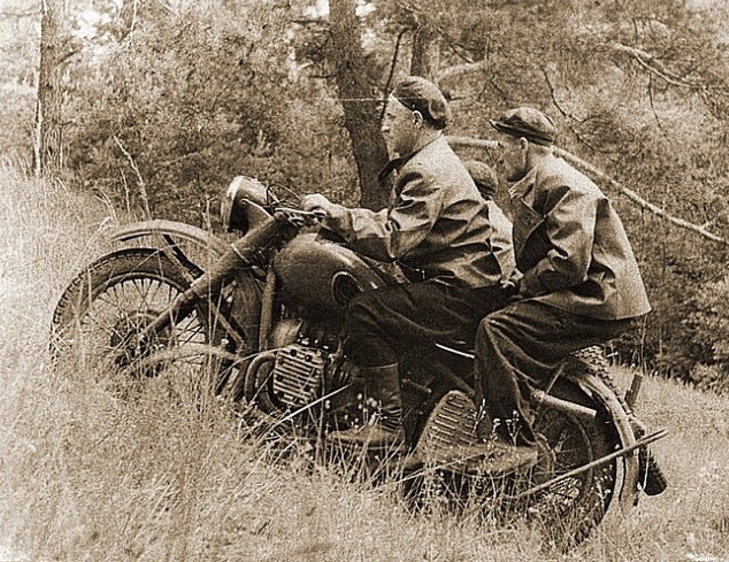 Post-war 1949 И7Д under testing​.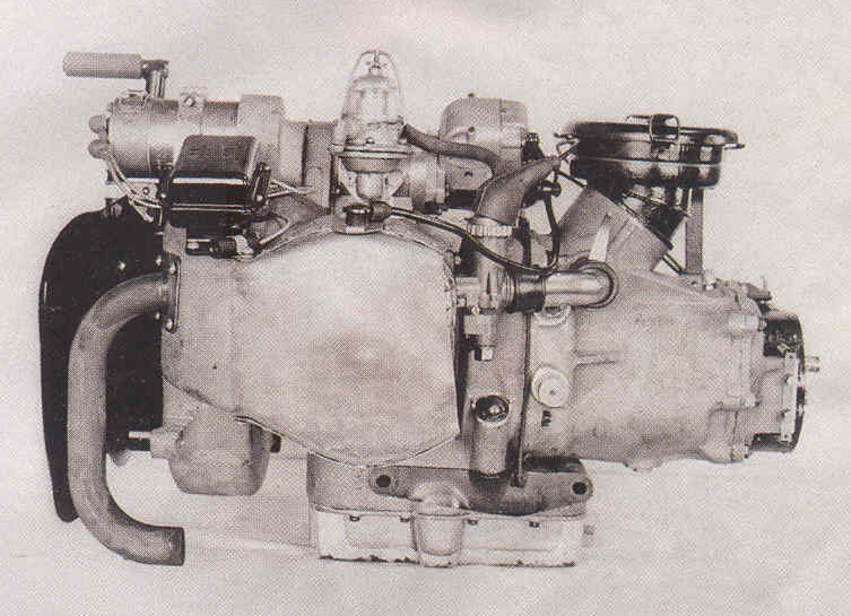 In mid 1950's IMZ got a new military aims order engine SD-44 based on detuned M-72′s 16 hp, with cooling fan, fuel pump and special purpose gearbox. The purpose was seen as artillery 85mm cannon power plant, turning it into self-moving with top speed up to 15 km/h offroad and to 25 km/h on good road. The engine was also utilized for rail cars and minicars (smaller capacity cars) with appropriate gearboxes.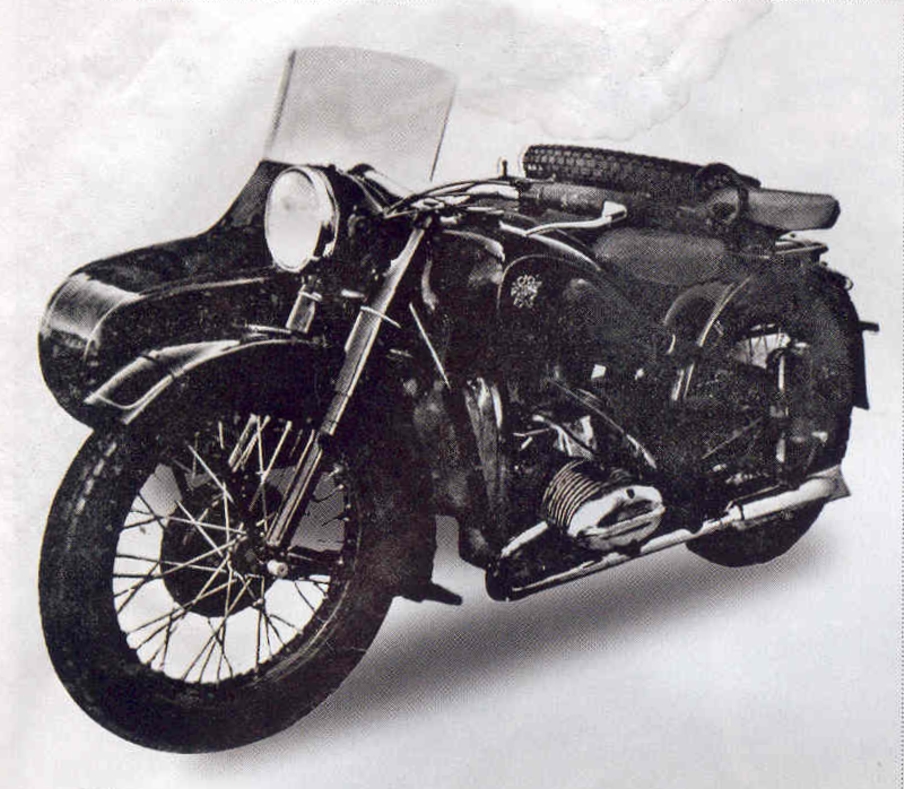 Work on OHV engine was started during the war, 1st experimental engine was named M-75 assembled and tested in stand and rally Sverdlovsk-Tumen-Sverdlovsk in August 1942, after the war this model was successfully used in motorsports: in USSR tournament I. Okunev /A, Antropov set all union record for 300km. First road race championship of USSR, 1947 in Tallin, Estonia brought Lukianov/Sachkov crew with M-75 1st place, leaving behind more experienced racers with foreign makes. On picture-exhibition variant of M-75, end 1940′s differed from sports models in valve covers, as first had separate cover for each valve, here it was solid-cast.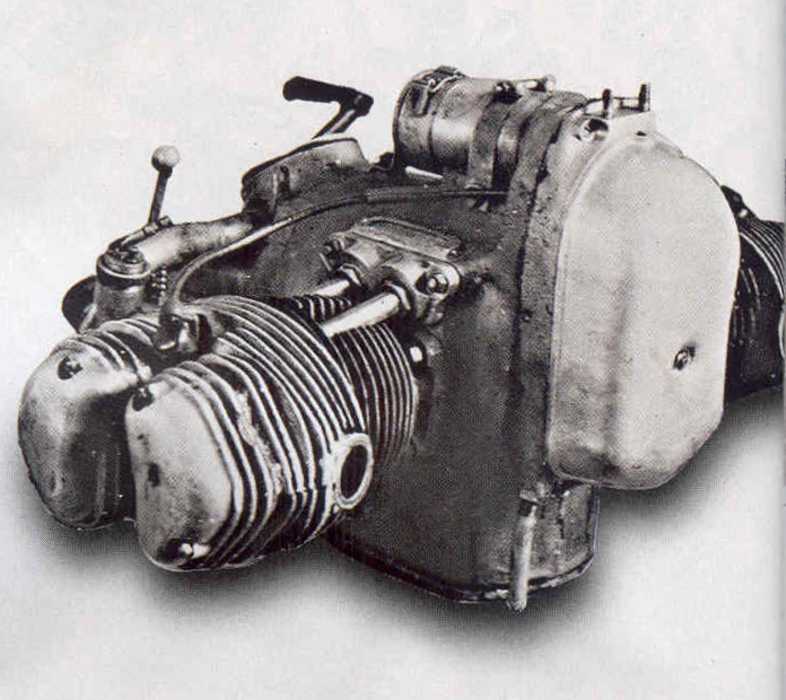 M-75, 1947 had factory codename È7Â with designed power output 28hp, tuned to 30-35,7 hp though using B grade petrol and compression ratio 6.2:1, power raised with better fuel quality.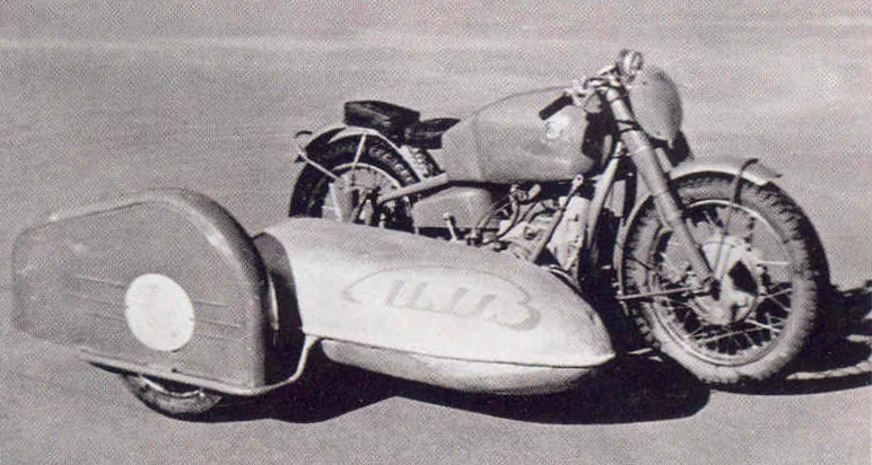 Ministries council resolution 10.01.1953 ¹74 "Steps for developing motorsports" obliged IMZ to modernize M-75, which was done successfully in December same year as M-75M for Designers Cup in road racing. Engine with 45 hps, 9.0:1 compression, direct flow intake, carburettors K-95 at 1kilometre flying start crew from Irbit V. Serebryakov / N. Volkov showed 157km/h.
The result was not officially admitted as attempt was taken at an inappropriate time due to air transport delays. Instead 1kms was done on cross M-72K.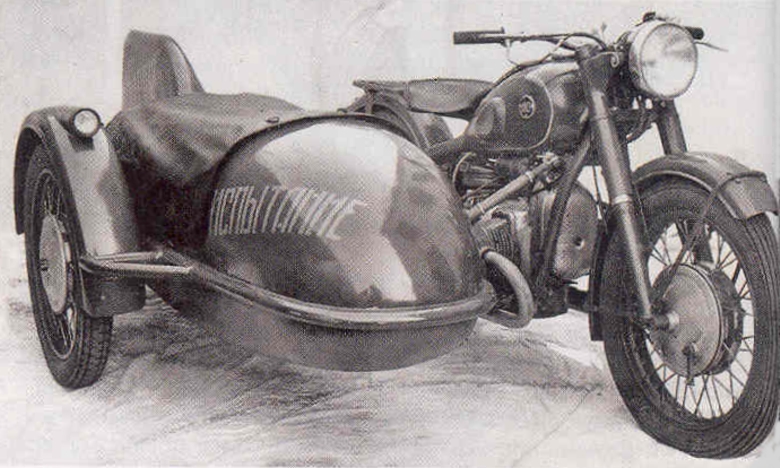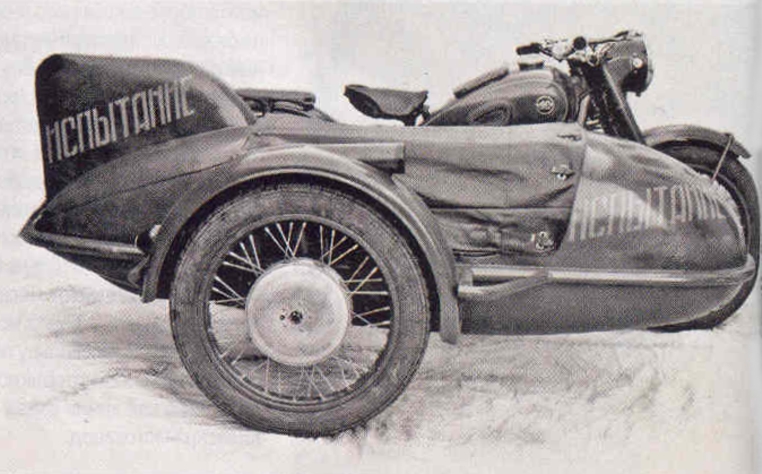 In mid 1950′s IMz experts in collaboration with Central design experimental bureau made a 500cc OHV M-52. But designers were concerned with too heavy sidecar borrowed from M-72. Photoarchive of Irbit museum has a picture of M-52 with experimental, aerodynamic shapes, vertical positioned spare wheel made the outfit look like a racing machine. Unfortunately this sidecar (two photos above) didn't reach conveyor.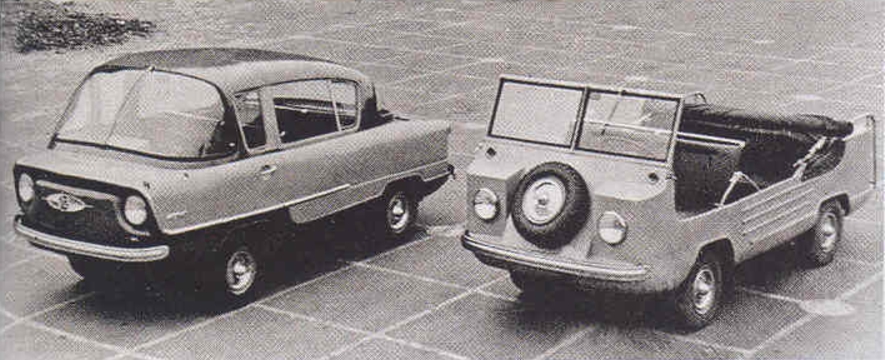 In mid 1950′s the country felt the need for microautomobiles, IMZ took on initiative of NAMI (road transport research institute) already having some results in this field and resulting co-work had IMZ-NAMI-A50 "Belka" (Squirrel) with carriage type body, M-72 based engine with cooling fan was positioned in the car's rear, steering wheel in the middle. 4-seat, weight 640 kgs had independent suspension of all four wheels, 5,00-10″ tires, top speed 80kmh. Five experimental pieces were made: 2 open for rural areas, 2 with universal and 1 as baseline – sedan. Technical designers team was redirected to work on 4WD cars.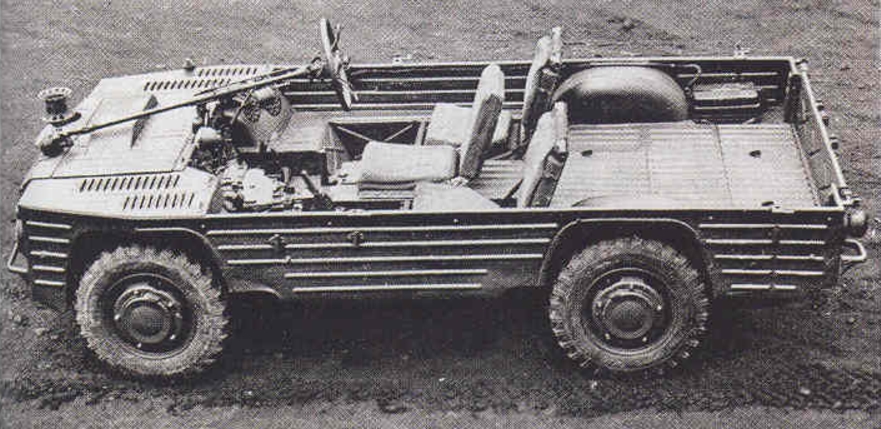 Model code "2032″ was designed to correspond military department specifications: small, capable of swimming, used for evacuation of injured from battlefields as dogs and medics have done their job. OHV engine based on M-61 model "D-65″ with cooling fan had 14hp / 3000, 3.97 kgm/1700 torque, which was quite enough to fulfill battle task. Unique design had streering mechanism, with column joint and other levers could be moved to left side so that driver would handle the car while prone. 5 samples were made and in 1958 sent to the Baltic military district.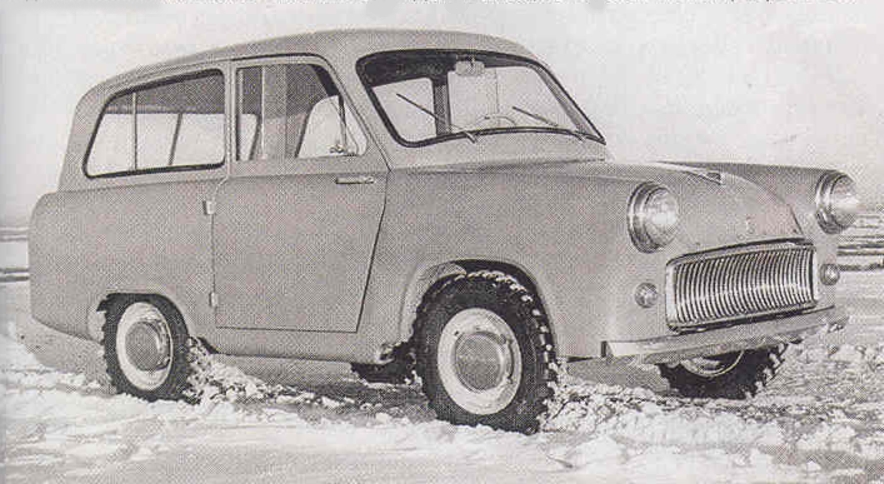 Made at the beginning of 1960′s "Uralets" (the Urals dweller) had 4WD, for speak special tires on all wheels with apparent off-road purpose protector. It's only this photo and witnesses memories left about this car, when ruling top decided to build a plant for making "Zaporozhets", team working on this project was moved to Ukraine, as irbit workers say, taking with them future promising technical documentation.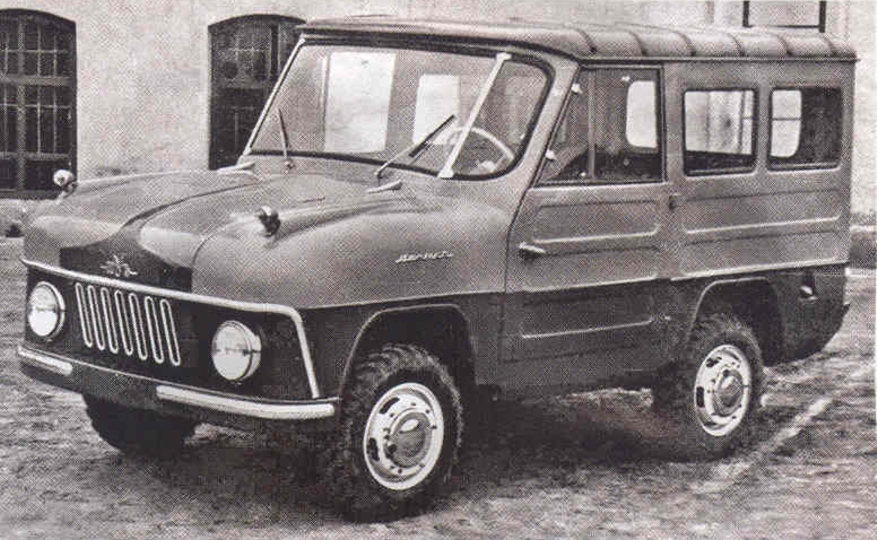 Statesman Number 1 Nikita Khrushchev recommended creating automobile for kolhoz and sovkhoz workers in rural areas ("soviet farmers"), IMZ had already had such experience and in 1958 the plant assembled a car for carrying both cargo and passengers called "Ogonyok" (Flame) using joints and parts of "Moskvitch 410″, same D-65 had 20 hp/4500, top speed 70kmh, fuel consumption 6-7 litres/100km.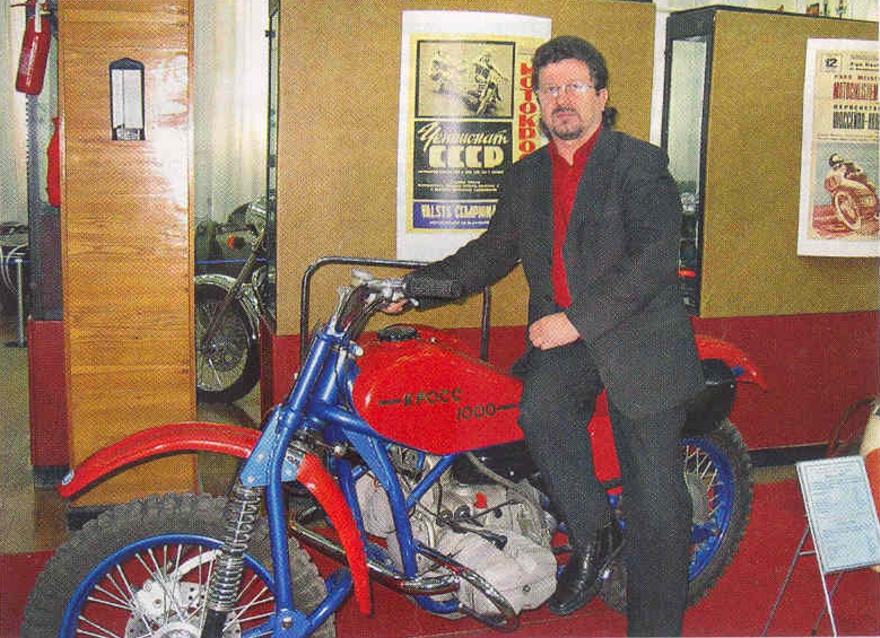 The Urals keeper ~ Mr Alexander I. Bulanov
Alexander I. Bulanov, born in Irbit has grown in atmosphere of vivid motorcycle life. Since childhood he and his friends racing on bicycles and step-skates with sidecars imagined themselves famous racers. His first motorcycle was older brother's Kovrovets-175, then own Voskhod, then working as driver on cargo M-63. First work experience: "motorcycle driver in transport department 17.05.1961″, the last "Director of motorcycle museum, 6.01.2006″. Of 40 years of work experience only 2 are not devoted to motorcycles – servicing in Soviet Army. 28 years in the Irbit plant, 24 of them in main designers department. During that time he became master of sport, Champion of Russia, 2 of his achievements were recorded in Guinness Book of Records. Since 1998 Bulanov has not only been a participant of rallies "Irbit – a motorcycle capital of Russia", but also one of its organizers and has been published in MOTO since then. Main achievement in his life is creation of the Irbit Moto Museum, the only state museum of motorcycles in Russia. Based on the plant's collection of, there had been created a municipal museum, which was given later a status of state museum, thanks to its unique exponents. Nearest plans for future: a new building for the museum, the project has been designed and approved, earth strip is awaiting in the centre of Irbit.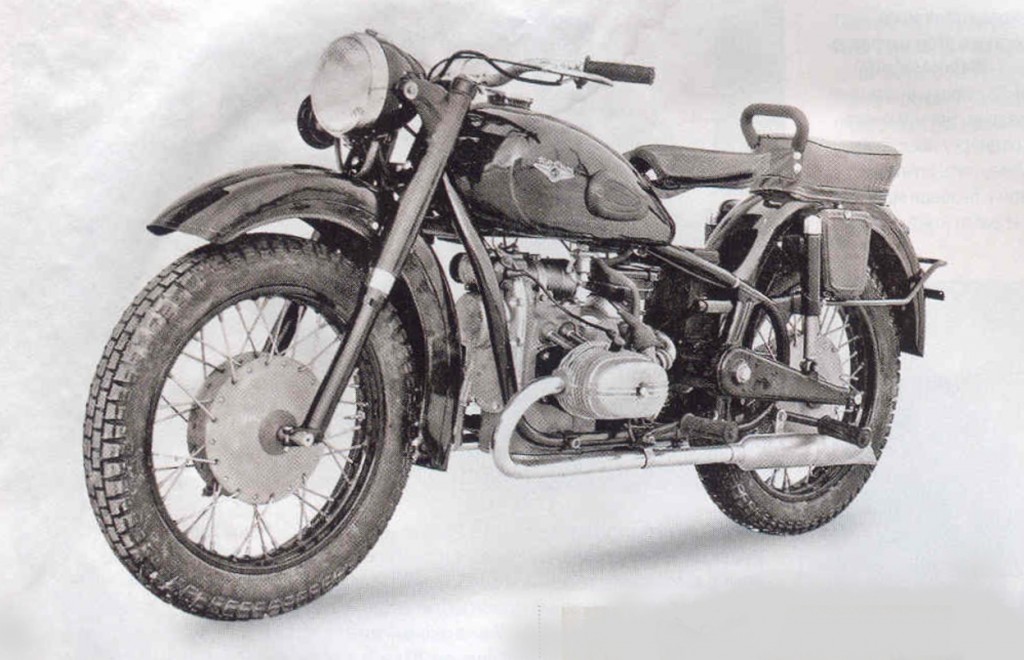 By mid 1950's the plant's designers continued active research on substitution for rear plunger and steel torsion bar of sidecar. Pictured M-61 with rear swinging arm with rubber torsion and hydraulic absorbers. The torsion represents an empty rubber cylinder, formed with metal parts of pendulum outer tube, consisting of two parts, which make 2 oppposite slots for pins that prevent the torsion rotation. Stand and road test proved that rubber torsion of sidecar broke, while motorcycle's rear suspension was durable and strong enough. Although this research was put down as there was another variant being prepared: swinging arm rear suspension with silent-blocks and spring hydraulic shock absorbers.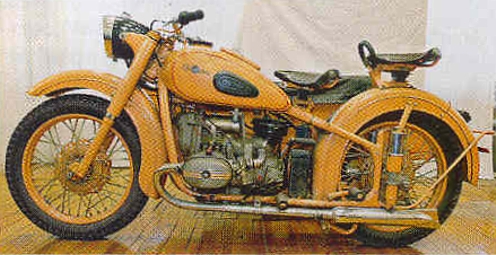 After 500cc M-52 and transitional M-61, 650cc M-62 was admitted to mass production, this very road model was called "Ural" since 1960. OHV 650cc engine got automatic ignition timing angling so manual corrector was removed. Dry weight 320 kg (sidecar outfit) reached top 95km/h, in five years over 140.000 pieces were made including modifications.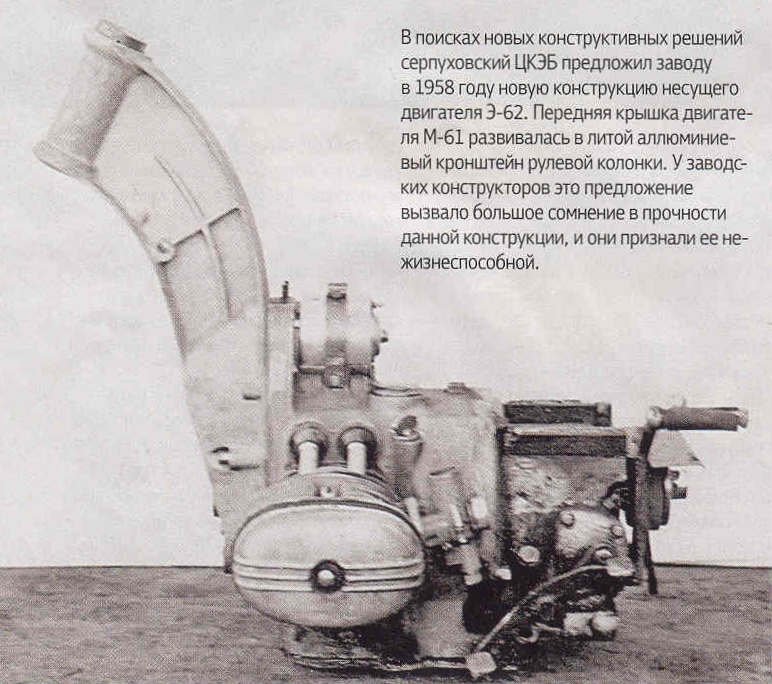 Researching new design approaches Central Design Experimental Department proposed new carrying frame-engine E-62: front engine cover of M-61 engine developed into cast aluminium alloy arm of column. The plant's designers were deeply concerned with such design carrying capability and concluded it invalid.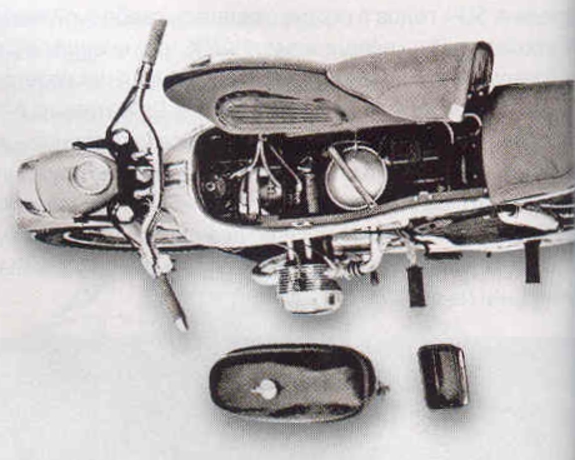 In the beginning of 1960′s world's fashion for back bone frame reached Soviet Motoprom, all plants created models following it and IMZ "Central design experimental department" developed experimental M-64 where engine with special swell mounts was tied with D 10mm bolts to pressformed back bone frame. Fuel tank was specially designed so that front part of saddle and fuel tank cover opened to a side, from where actual fuel tank could be taken out like a canister. This was supposed to facilitate fueling and unique design also had sidecar "boat" (body).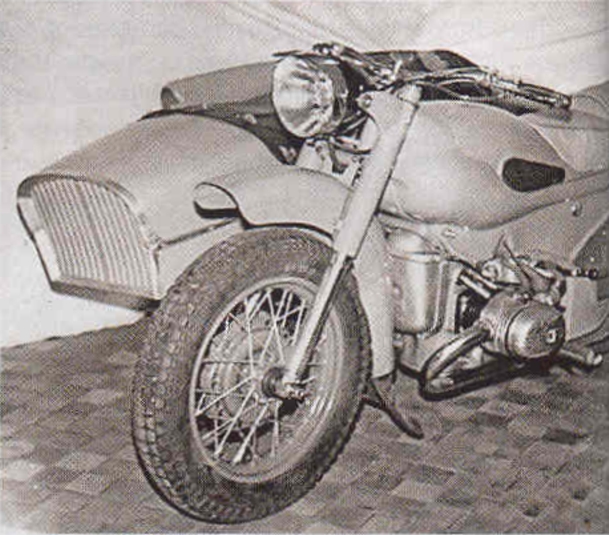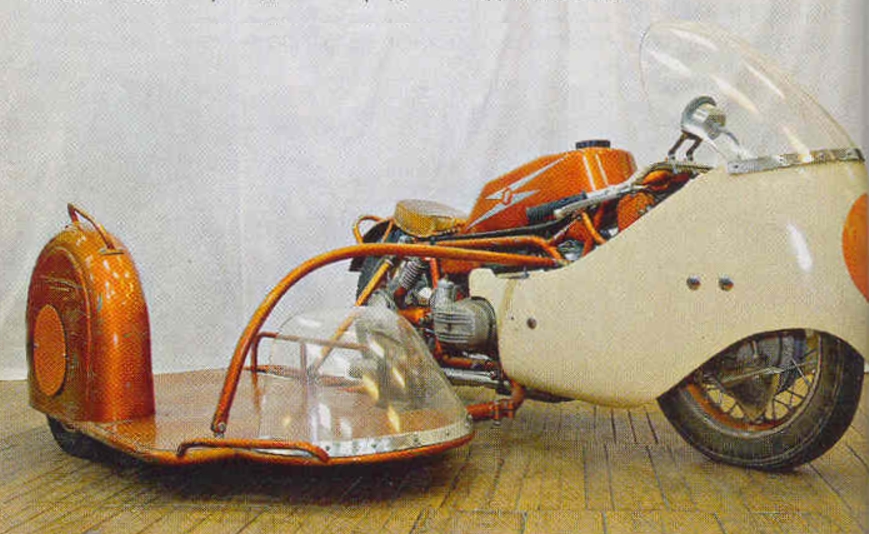 Strela-1 ("Arrow") was made in end 1960′s-beginning 1970′s for road racing, powerplant: 650cc up to 55 hp with battery ignition and 5-speed gearbox. Some of these machines had 750cc with up to 70hp. Typical was lowered to ground surface chassis, long-lever front fork, aerodynamic coating of glass fibre with big windscreen, wheels 3.75-16″. Later models had all 3 wheels hydraulic brakes, first model had only front and rear brake with cable.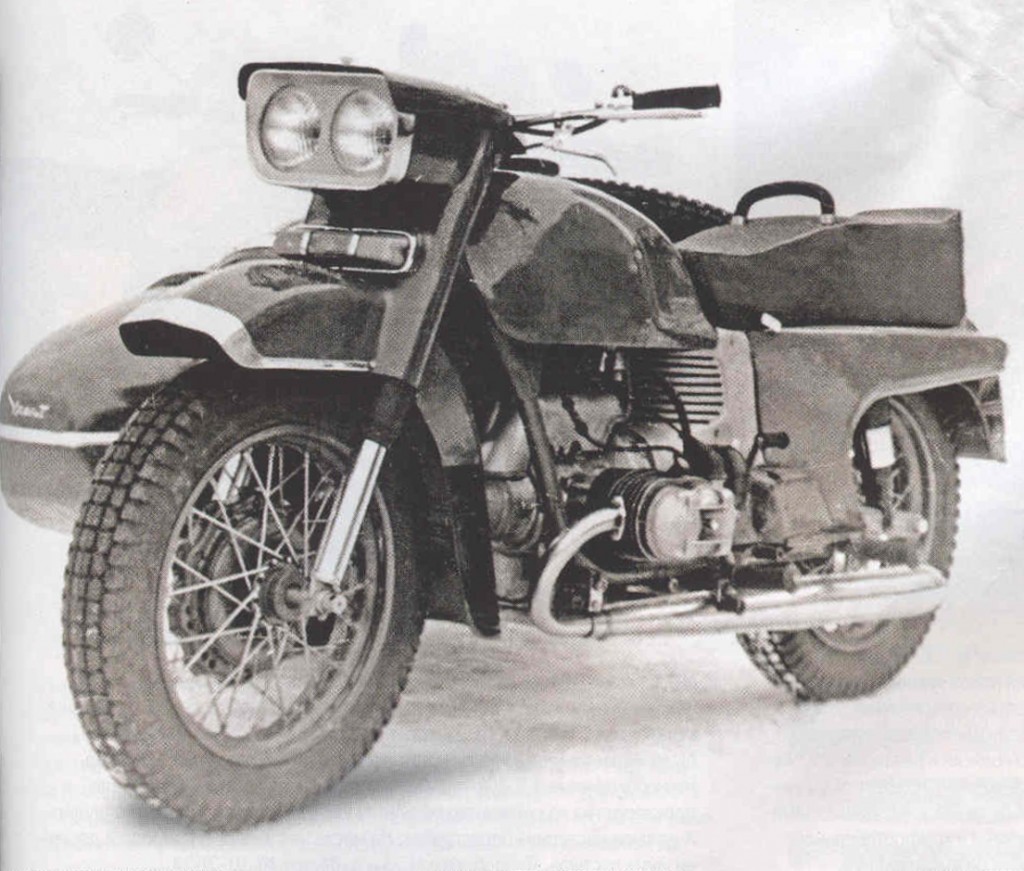 Soon after M-64 M-65 followed in two variants, both following "coating fashion": pictured is 1st variant of 1966 with with double headlights, 18″ wheels with high profile tires, aerodynamic "boat" made this outfit look original. Especially design also had its lightened engine, 28 hp with generator turned 180 degrees to be driven from flywheel. Dry weight of the engine with generator and carburettors – 33.4 kgs – far less than mass-made M-63.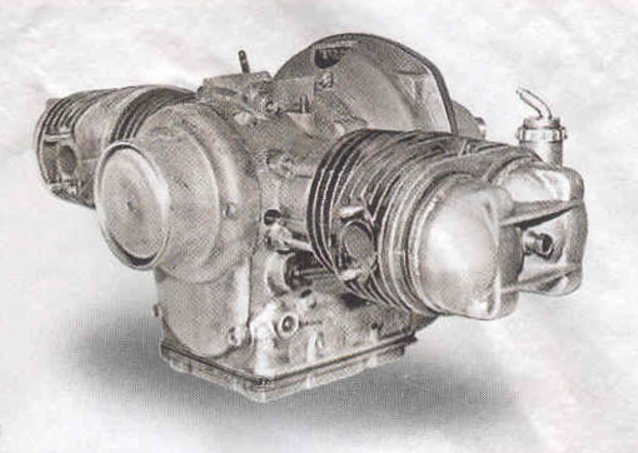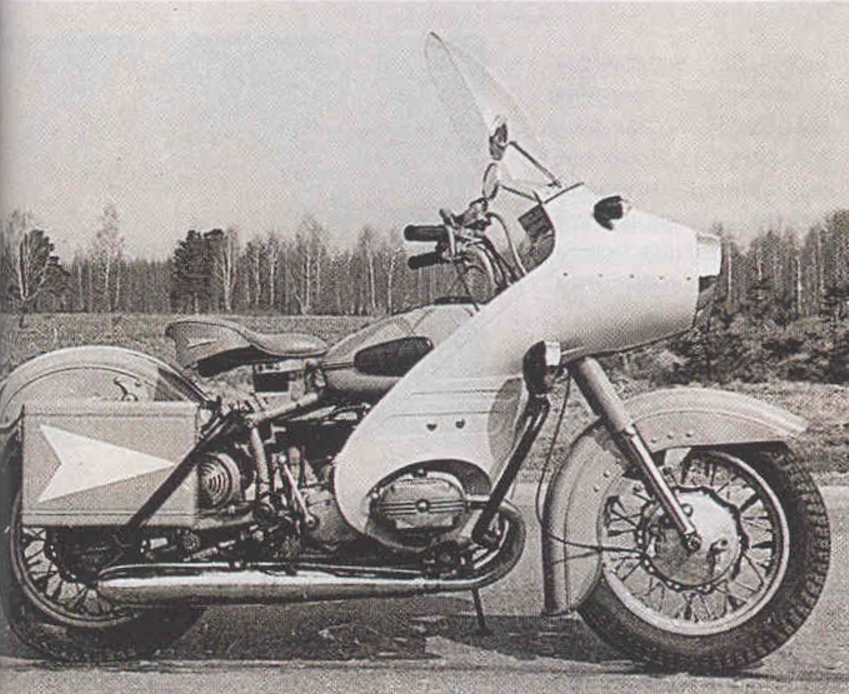 Order of Central Committee of Communist Party of the Soviet Union and ministries council 17.8.1962 ¹ 900-387 "On measures improving activity of soviet militia" stated development of special motorcycle for road patrol. Called M-100 project by the plant supposed both solo and sidecar variants. There were 27 pieces made, including 5 experimental. Engine with 1040cc had 50 hp output and reached 150 km/h as solo and 120 km/h as a sidecar variant. Such speed offered special road patrol units some advantage at those times. An opposite example can be seen in film of E. Ryazanov "Beware of Automobil", where a noble car thief J. Detochkin is pursued by no less noble militioneer, who unfortunately didn't have M-100. During 11 minutes of screen time he rode M-61, M-72 and K-750. GAZ-21 "Volga" (130 km/h) could not be caught with those models… Despite some raw problems M-100 was popular among Moscow road special department, where it was supplied to.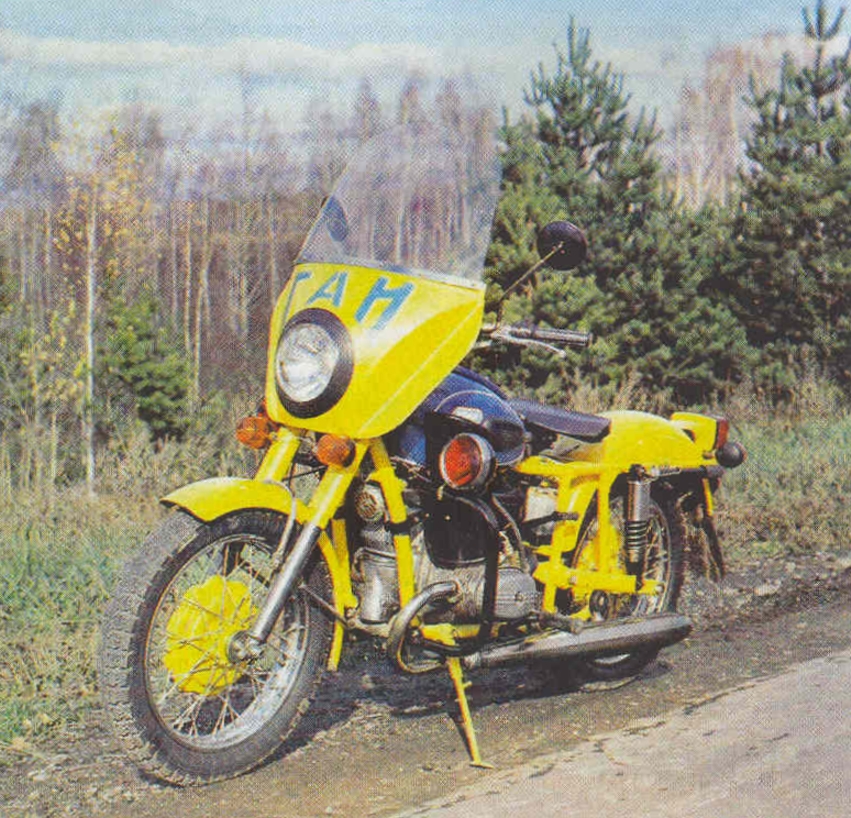 Road patrol M-100 cost several times more than than mass made models, this factor mainly led to production of police bikes based on mass-made models. M-63П (P-patrol) first made in 1969 as solos and with sidecars had sirens and signal lights, safety tubes and some other special gadgets. In yellow and blue coating there followed M-66P, M-67P, since 1987 IMZ 8.903 (with sidecar) , IMZ 8.923 (solo on pic. above), last of them left conveyor in 1994.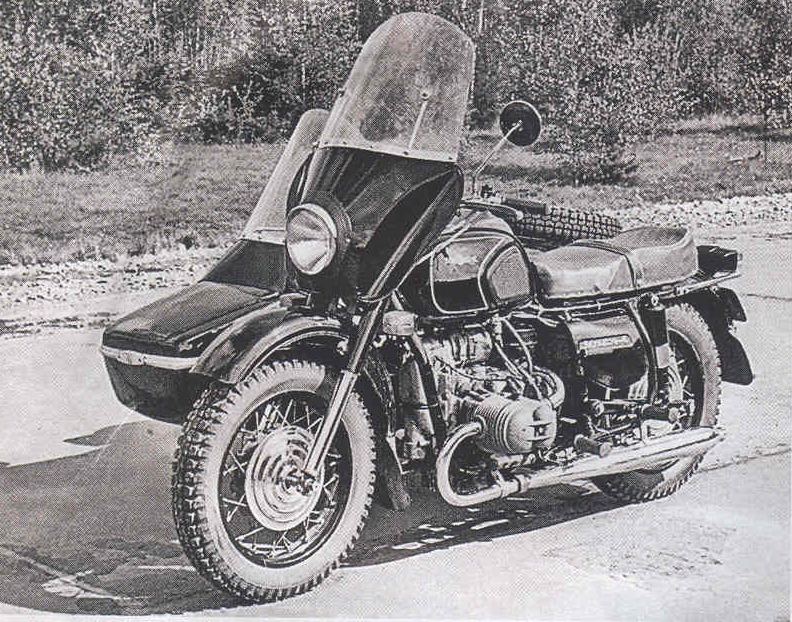 Ural-4 made in 1972 following plan of main motorcycle industry department to unificate major joints and parts in fitting and assembling sizes with Dnepr-2 from Kiev, which also shred gearbox with reverse gear, fuel tank and switching off sidecar drive. 750cc, 45 hp, OHV engine, hydraulic brakes system for rear and sidecar wheels, electric starter, aerodynamic boat made machine's look modern and comfortable, though it didn't reach conveyor as designers team started work on M-73 (2nd variant).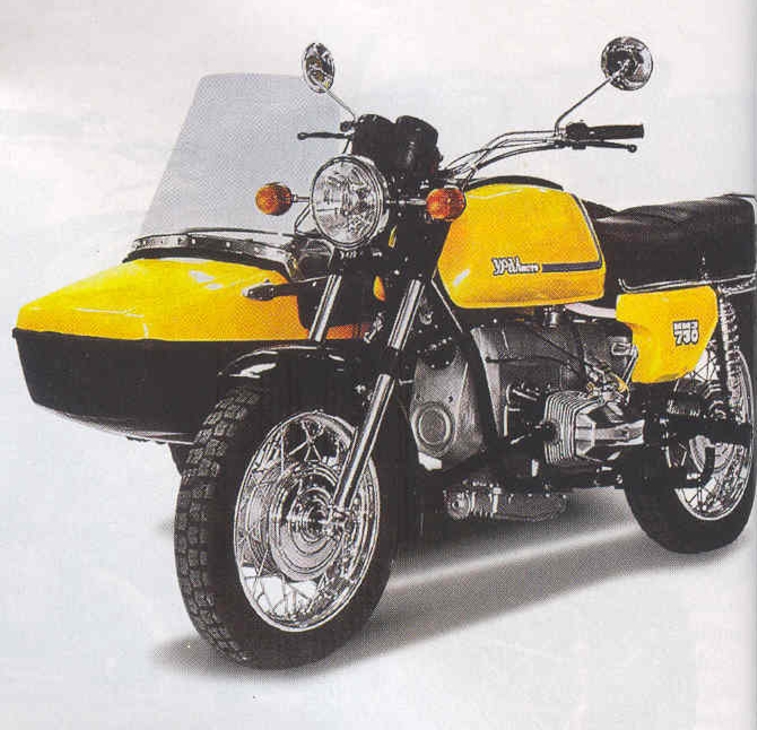 M-73 (photo above) one of the the best experimental models of IMZ made end 1970-beginning 1980′s, Podkorytova village was demolished on the borders of Irbit as the production bases plan supposed setting up new plant's workshops, allowing to assemble 200.000 moto/year, but for 4.8 million roubles never reached to fund that, then followed perestroyka, the plan was never completed with empty filled still there on spot of the former village settlement.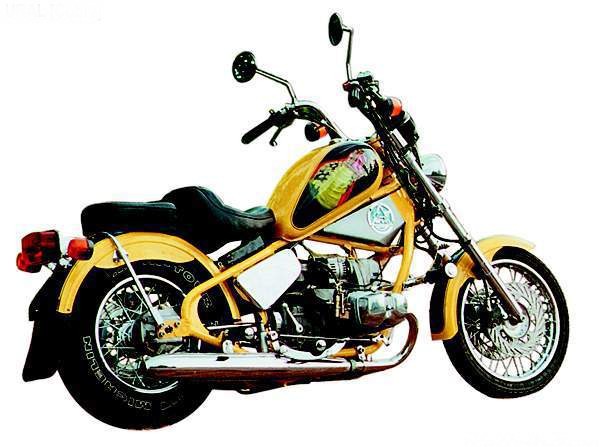 In 1997 irbit workers assembled new model – IMZ8.1230 retro styled "Kobra" with hardtail frame and 720cc engine. This machines were not welcomed by bikers and 16 of them in total stood for long in the plant's warehouse.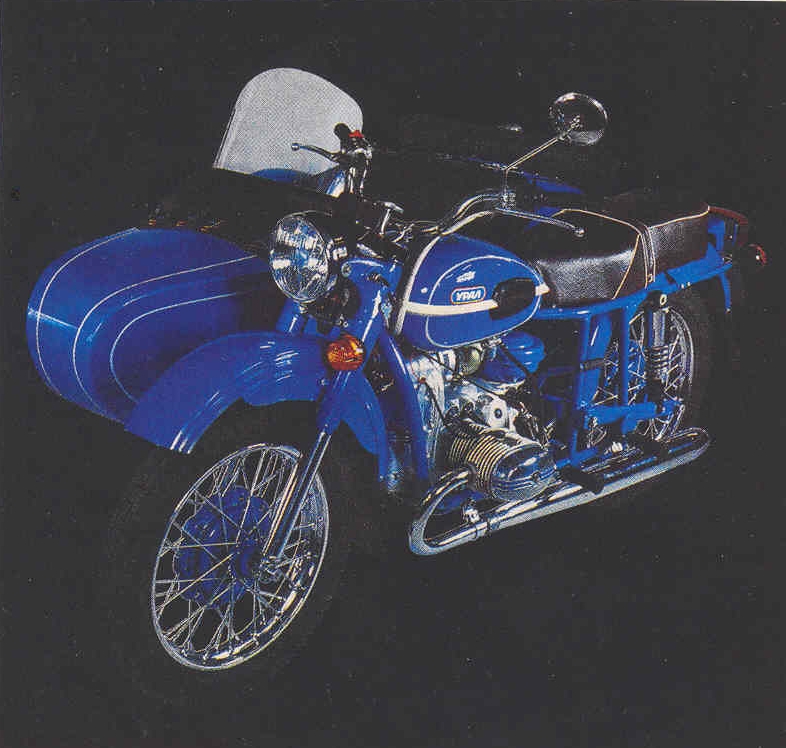 IMZ 8.103-10 most numerous model series made since 1986, in 1988-1993 100.000 pieces were made annually, over 830.000 in total. Most important feature – reverse gear so much needed for a heavy sidecar motorcycle outfit.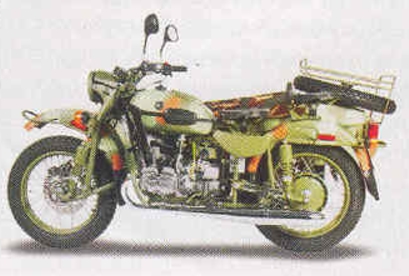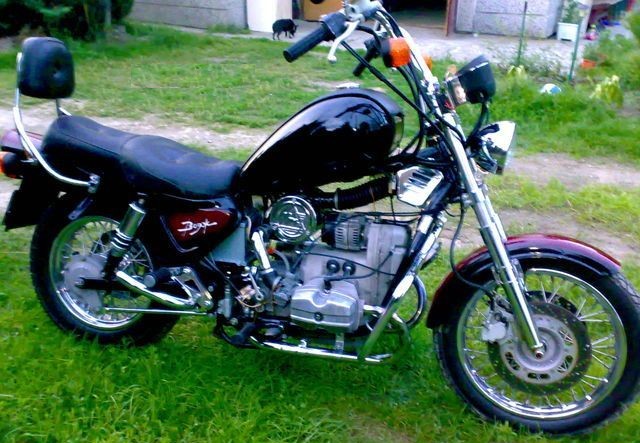 Mid 1990's saw new generation of bikers and it was decided to create special motorcycles for them, initially intended for use as solo. The plant was fed up with reproaches about "press-forming "kolkhozs" and in 1996 there appeared IMZ 8.1234 Voyage, 718 pieces have been made by 2000, firstly with 720cc engine, then 750cc, seldom 650cc was spared.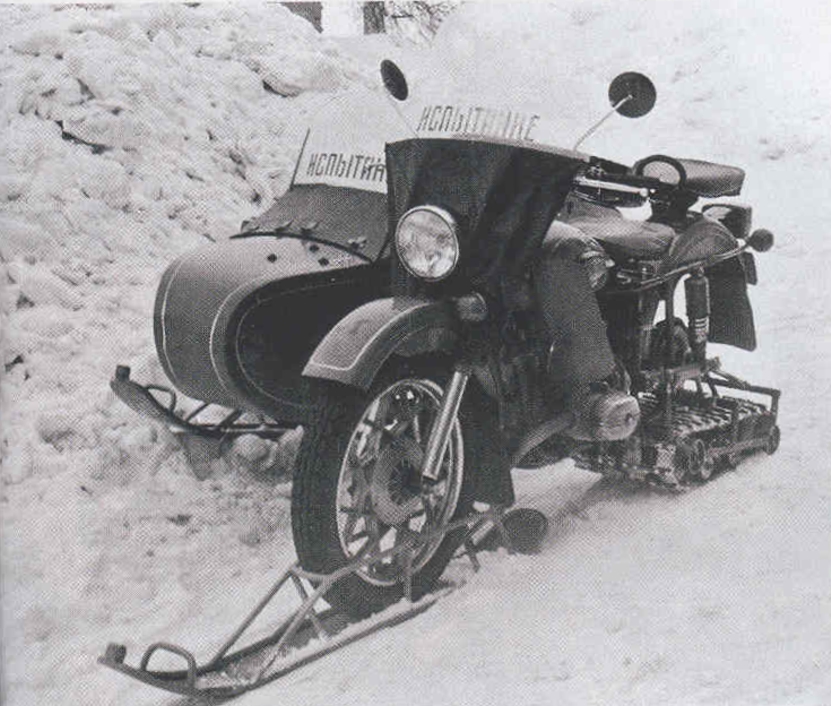 Motorcycles in Irbit are used all year and as in winter time snow cover remain for at least 5 months, a problem of driving in snowy off road conditions has always been crucial. So special metal skis were used for this: front and sidecar wheels were fitted with these, but to move that all? In 1986 IMZ tested new track gear weighing 43 kgs, it proved to skid in deep snow and motorcycle stuck in sinking, being able to ride on firm snow road was not enough criteria.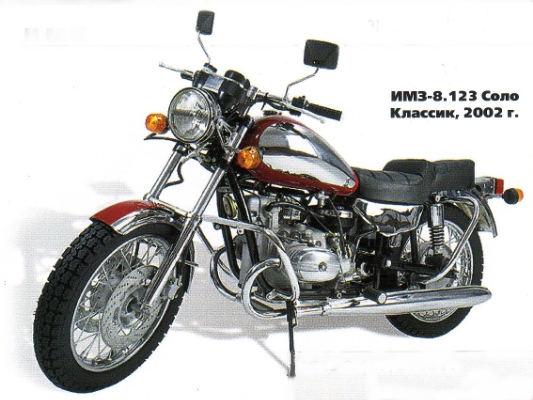 IMZ 8.123 Solo "Classic" made in 1998 was a modernized mass made solo motorcycle equipped with step-saddle, new fuel tank, straight handlebars, front disc brake and other parts. First powerplant was 650cc engine, then 750cc.
IMZ 8.1237 "Wolf" is one of most stylish machines from Irbit, made in 1999. It is equipped with 750cc engine, electric starter, disc brakes for both wheels, dry weight 245 kgs, max speed 135km/h.

Text by Alexander Bulanov, photos from museum's collection and from internet.
Special thanks to Eugene R for translating this article specially for b-Cozz.
All Rights Reserved.©2023
top