The timeline has been resurrected from the ashes of our old MSN and Multiply Groups, and from when this site crashed, its had a bit of an update with some new information
This timeline is a work in progress. Please be patient with my mad endeavour. The Soviet moto industry (motoprom) was much larger than most people would estimate. I hope you find it useful to identify some of these motorcycles. JD.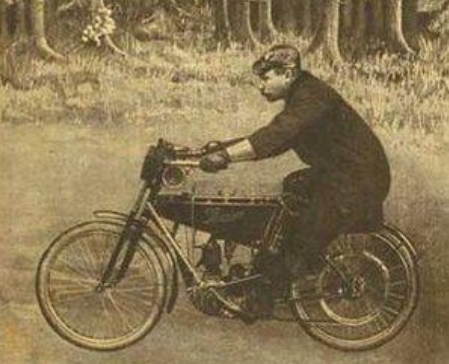 Timeline
The sheer scale of the Soviet motorcycle industry in its heyday was absolutely massive! This prompted me to create this timeline to set out in chronological order the various makes and models that were issued by so many factories, and perhaps pay respects to those workers who made these machines. From those early days you can see the results to the present day. It's an amazing journey!
Industrial Age (Industrial Revolution)
The Industrial Revolution was a period from 1750 to 1850 where changes in agriculture, manufacturing, mining, transportation, and technology had a profound effect on the social, economic and cultural conditions of the times. The Industrial Revolution marked a major turning point in history, almost every aspect of daily life was influenced in some way.
Early 1899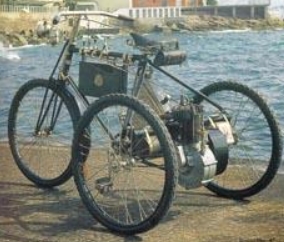 Five tricycles with French-built De Dion Bouton 1.25hp engines built in Riga, Latvia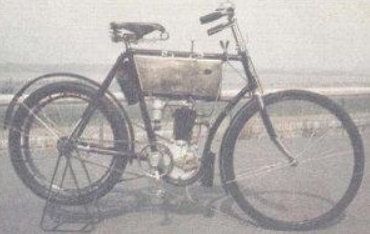 Development of the "Russia" motobicycle completed and in testing in Riga Latvia
this machine is in the possession of our dear long time friend and collector Mr Juris Ramba
1912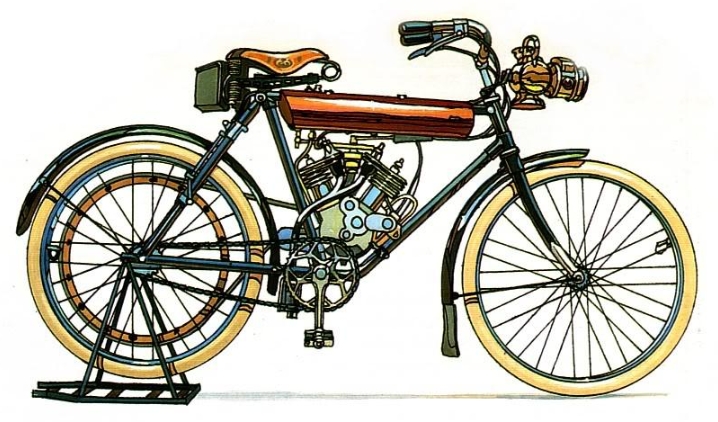 Dux 294cc 2.5 hp 60 km/h Made in Moscow
1924-1925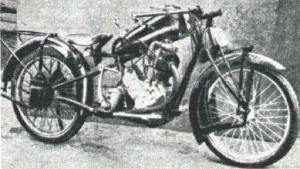 Soyuz 502cc 127 kg 70 km/h built in Moscow 1924
1928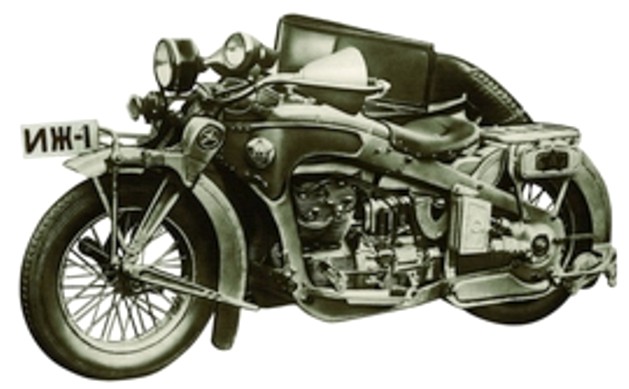 IZH-1 1200cc V-twin thru-the-frame exhausts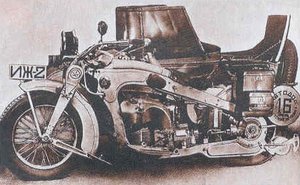 IZH-2 with ventilator cooling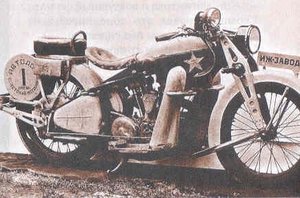 IZHh-3 was also in the first experimental group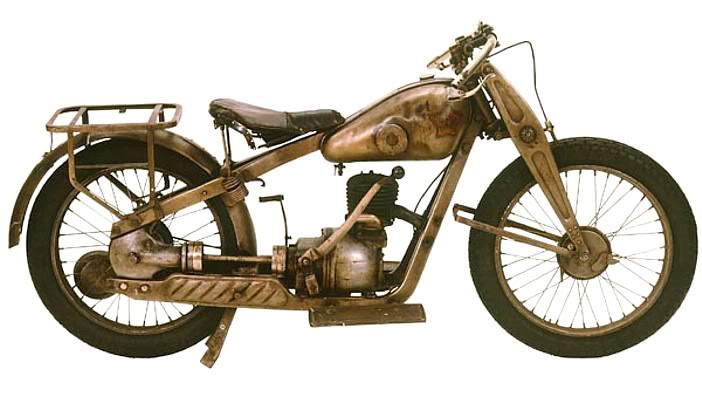 IZH-4 was chosen for mass production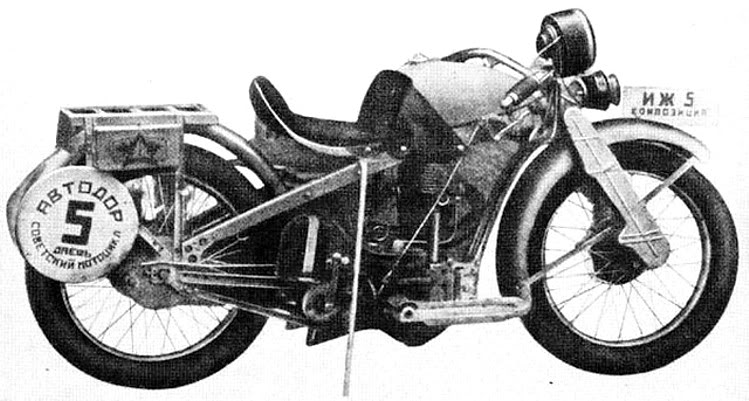 IZH-5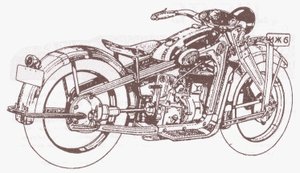 IZH-6
1928 was also the year of testing IZH in the Carpathians and the first Ladies All-Union Run
1929
Second All-Russian Motorcycle-Race, took place September-October 1929
1931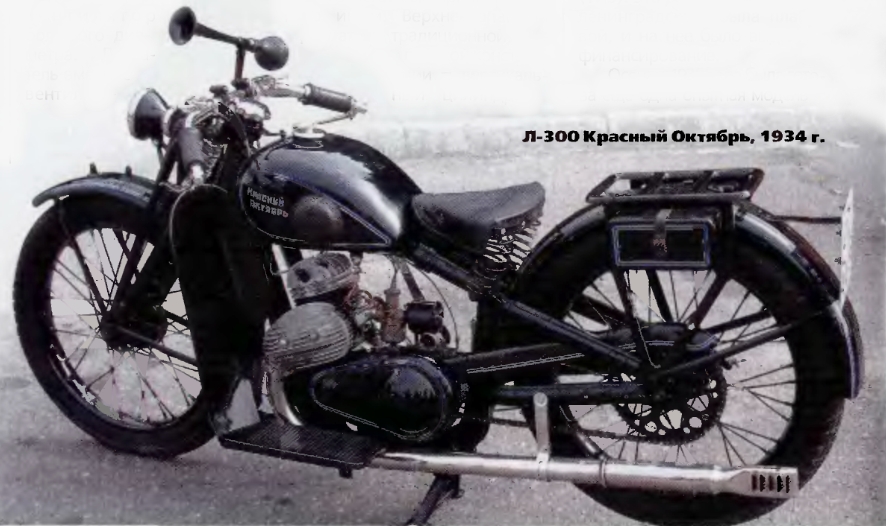 L-300 "Red Oktober" 1931-1939 18,985 built. Shown is a 1934 model.
1932
Auto Union founded (Germany) from Audi, Horsch, Wanderer and DKW
this union would have later ramifications
1933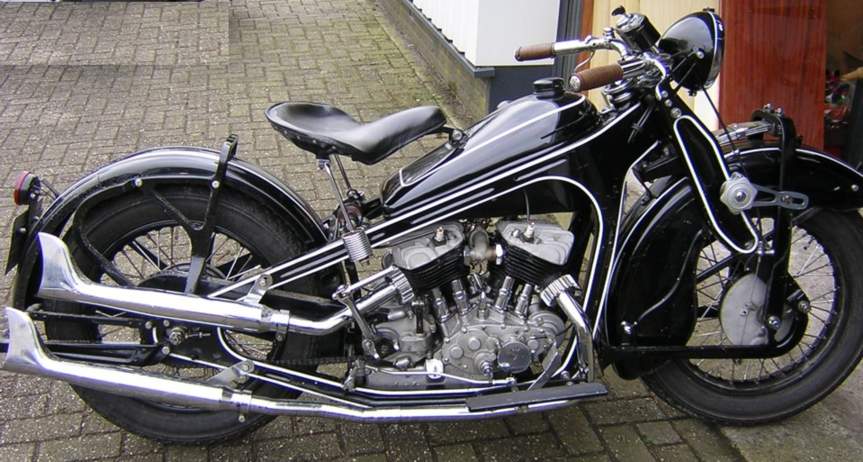 PMA_A750_1PMZ-A-750 (NATI) 747cc V-twin 15hp 206kg 100 km/h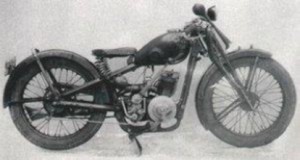 IZH-7 (1933 pre-series of 12)
1935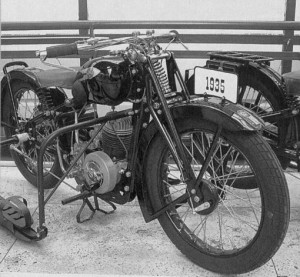 IZH-7 with outrigger snow skis
1936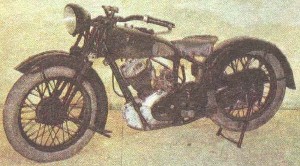 TIZ-AM-600 1936-1943 12,392 built at Taganrog and Tyumen
1939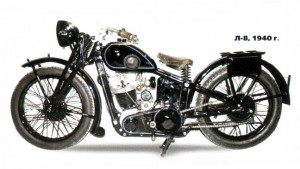 L8L-8 Krasnyi Oktyabr 1939-1940
1940
The Soviet Union obtain license for BMW Model R71 [1]
1941
M-72 Preliminary batch Moscow MMZ 1753 motorcycles prior to evacuation from Moscow in 1941 then Gorky and other locations assembled from Moscow parts 1941-1943
by Alexander Bulanov: "It was on 17th November 1941 when first train with Moscow
motorcycle plant arrived to Irbit and since that date the town has changed it destiny for
motorcycles and motorsport. The War was going, when Irbit held it's first motocross
competition…"
1942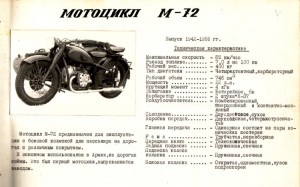 IMZ (Irbit) M-72 1942 – 1955
October 25th, 1942 first batch of IMZ M72 sent to the front. Total of 9799 were delivered.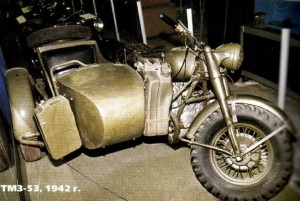 TMZ-53 1000cc sidecar wheel drive "the Beast".
1945
Kiev Motorcycle Works (KMZ) plant foundered on the site of old tank repair workshops.
1946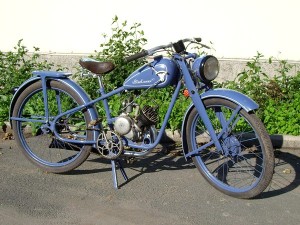 KMZ K1-B 98cc aka Wanderer 98 1946-1951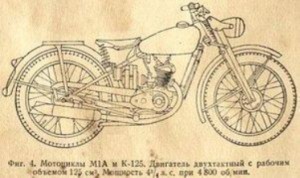 Order of motorcycles production start in plant of Kovrov town was issued in March 1946, and as soon as November 1946. first series of 59 K-125 were assembled.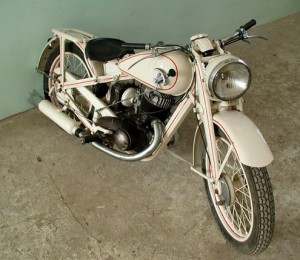 IZH-350 (1946-1951) 127090 built.
1947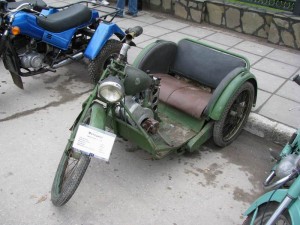 KMZ produce K-1V tricycle for invalid war veterans
1948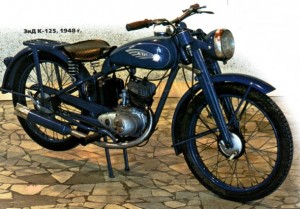 ЗиД (ZiD Degtyarev Plant in Kovrov) K-125 1948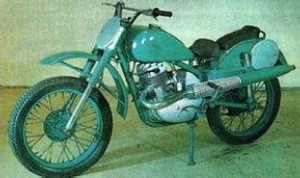 IZH-350S (1948-1950)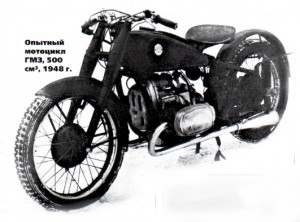 TMZ 500cc 1948 Steve W. thinks this 500cc bike might have been built using Eisenach (BMW) parts
1950
30,000th motorcycle produced by IMZ
KMZ gearing up for production of M-72
1951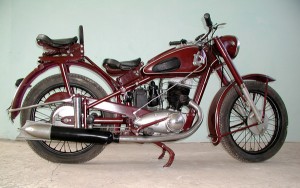 IZH-49 (1951-1958) 507,603 IZH-49 solos and sidecars were issued.
1952
500 M-72 engines were shipped from IMZ to enable KMZ to produce their first batch of M-72s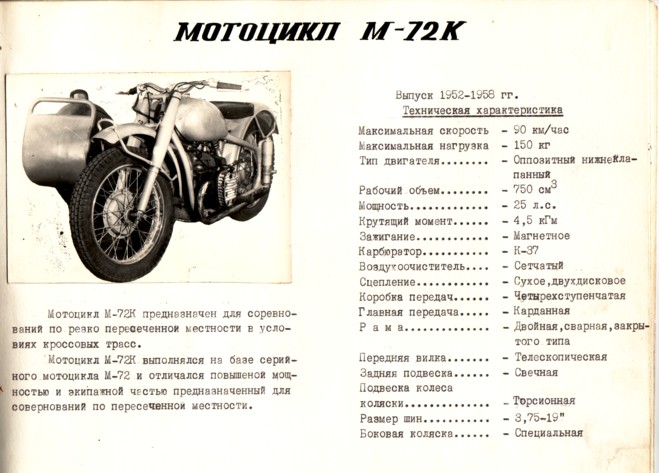 IMZ M-72K (Cross) 1952-1958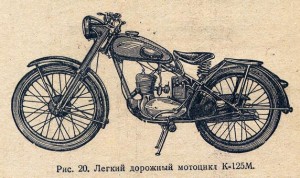 K-125M of 1952 1953
IMZ launch foreign expansion of Irbit motorcycles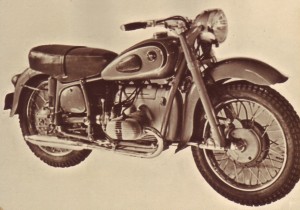 KMZ M-53 500cc OHV 28hp issued 5 pieces only, some sources say 1958 [2]
1954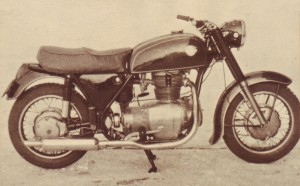 M-31 350cc produced at Serpukhov for Minsk, but didn't get production at MMVZ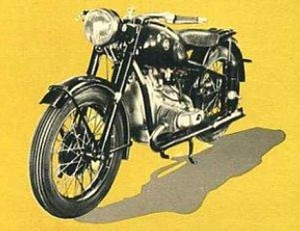 IMZ produce prototype M-52 500cc
1955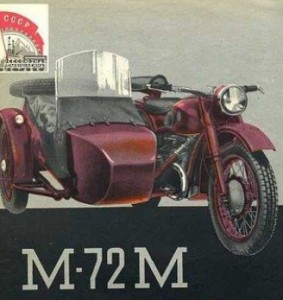 IMZ M-72M 1955-1960
There seem to have been several variants.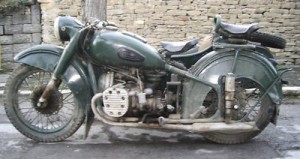 There are several examples of these valanced (covered) mudguards, were they
factory or done by special order or individuals? We'll find out one day.
IMZ M-52 testing continues including 15,000km test marathon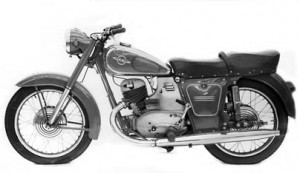 IZH-56 350cc (1955-1962) 677.428 solos and sidecars were issued.
1956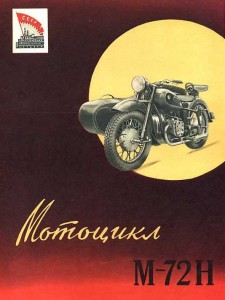 KMZ M-72H (M-72N Eng.) (cyrillic letter H is the latin letter N) 1956-1959
(In 1956 the M-72 was given a minor redesign and issued as the M-72N – Steve W)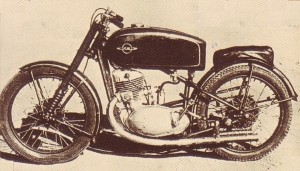 IZH-54 Road Racer of 1956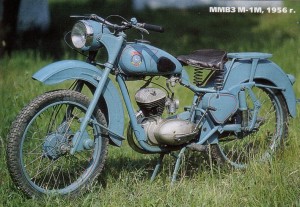 MMVZ Minsk M-1M
1957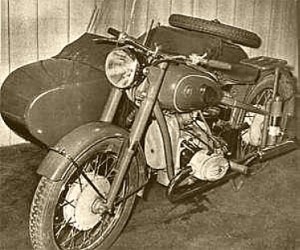 IMZ M-52 goes to mass production, 494cc. 1957-1960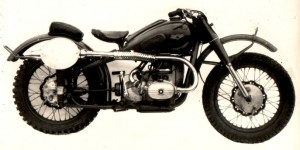 IMZ M-52K 1957-1958 494cc 26hp 110km/h 19inch wheels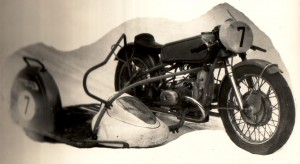 IMZ M-52C road racer 1957-1964, 494cc, 35hp, 145km/h, 19inch wheels
in 1957 Soviets sell M72 production line(s) to PRC (Peoples Republic of China) (IMZ plant supplied military bikes to the PRC up to the transfer of M-72 production line in 1957 and continued to supply parts to the PRC until 1960)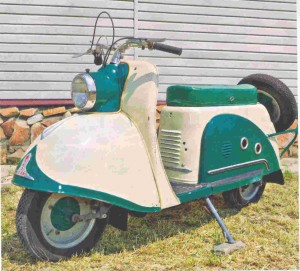 27 April 1957 – Tula commence mass production of motoroller T-200
1958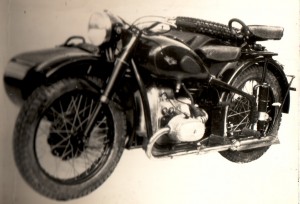 IMZ M-61 1958-1963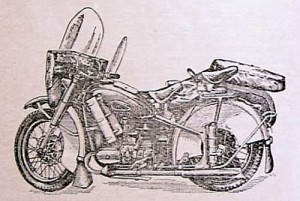 IMZ M-61M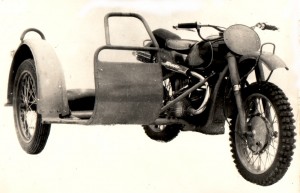 IMZ M-61K 1958-1961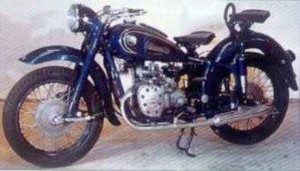 KMZ K-750 1958-1962
(In 1958/59 the swingarm frame was introduced with the K-750. – Steve W)
1961
IMZ stop producing M-72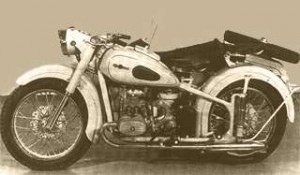 IMZ "Ural" model M-62 1961-1965
variants M-62T Cargo 1961-1965, M-62K Cross 1961-1968
1962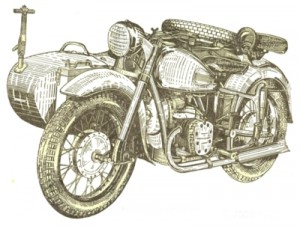 KM3 K-750-B 1962-1964
1963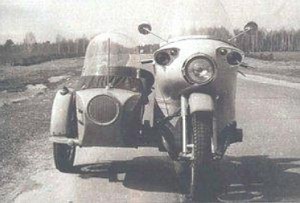 IMZ M-100 Patrol Motorcycle 1040cc 50hp 1963-1969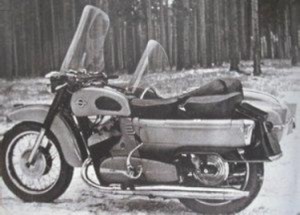 IZH-555 1963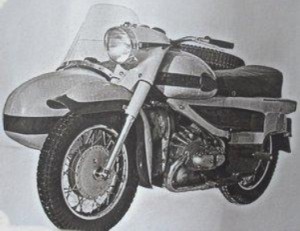 KMZ MT-3 prototype 1963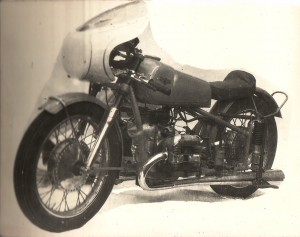 IMZ/Serpukhov C-51 Road Racer 1963-1966
1964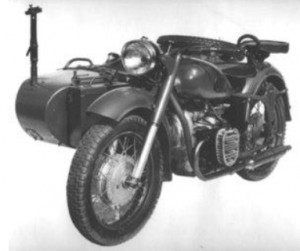 KMZ introduce MB750 Military model 1964-1973 (1977?)
(1964 the short leading link fork was replaced and this bike became the K-750M. Also in 1964, the military version, the MB-750 was introduced with the differential drive to the sidecar wheel – Steve W)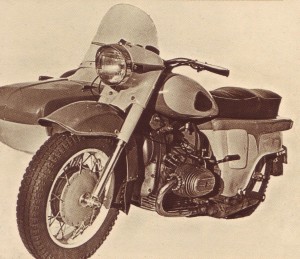 KMZ MT-5 prototype 1964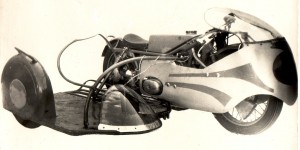 IMZ M-53C Road Racer 500cc 42-45hp 130km/h 1964-1968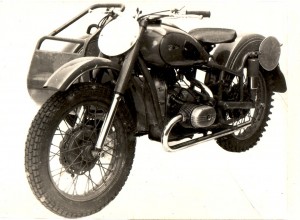 IMZ M-63K Cross 650cc 32hp 100km/h 1964-1970
1965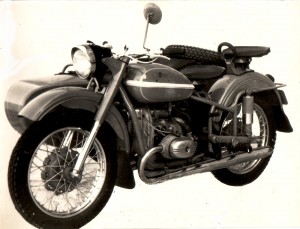 IMZ "Ural-2″ model M-63 1965-1970/71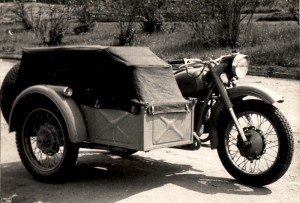 IMZ M-63T 1965-1970 Maximum load 255kg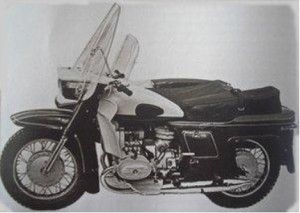 KMZ MT-7 prototype 1965
1966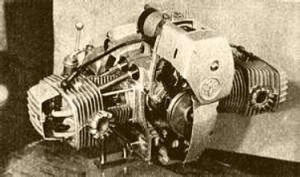 Development of new KMZ overhead valve 650cc engine.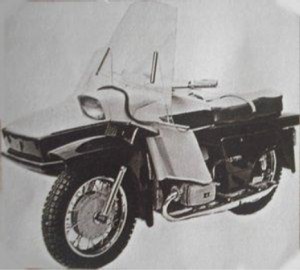 KMZ MT-8 prototype 1966
1967
IMZ produces the 500,000th motorcycle
1968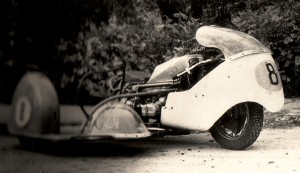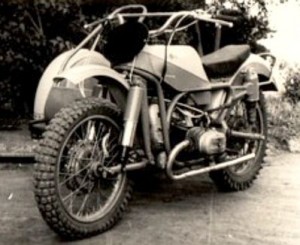 IMZ M-64K Cross 1968-1970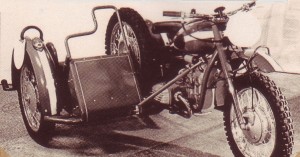 KMZ 650MCM cross and multi-day race machine 1968-1969
1969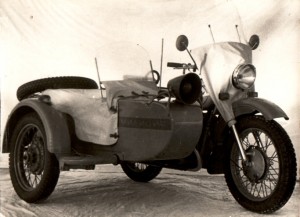 IMZ Patrol Motorcycle M-63П (M-63P) 1969-1970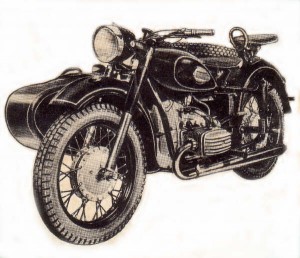 KMZ "Dnepr" model K-650 1968-1971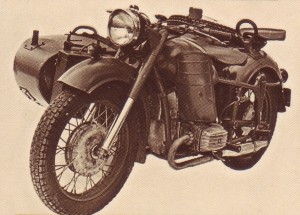 KMZ MB-650 Military version with sidecar drive and differential locking device.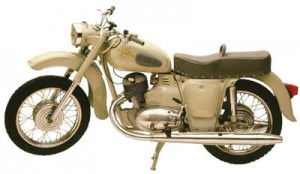 IZH Planeta 350cc 1-cylinder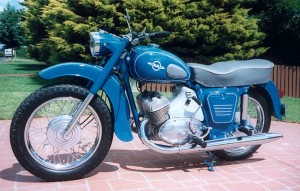 IZH Jupiter 350cc 2-cylinder

1970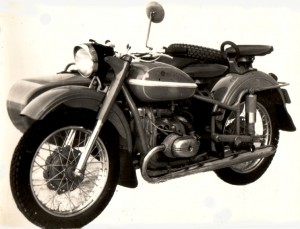 IMZ "Ural-3″ model M66 (Ural-3) Issued 1970
1971
IZH commence production IZH Planeta-3, IZH Jupiter-3, and IZH Jupiter-3K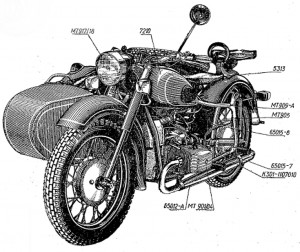 KMZ Dnepr MT-9 1971-1974 189,463 producedoften referred to as "the best Cossack"
3 November, 1971, from the conveyor descended 500,000th motorcycle by KMZ was Dnepr MT-9 (MV-750M from the early to mid 1970′s were fitted with the lockable diff and reverse gearbox Steve W.)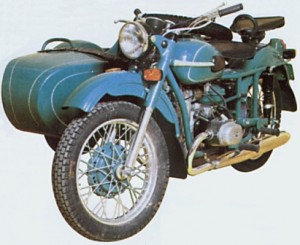 IMZ Ural M-67 1973-1981/82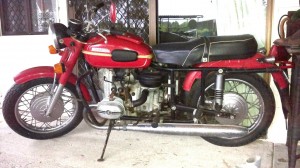 M-67 solo shown above is a 1981 model.
M-67 was available in sidecar and solo versions. Police version had flywheel-driven mechanical siren and blood-red flashing lights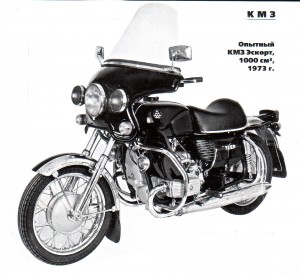 Development begins KMZ 1000cc Eskort motorcycle.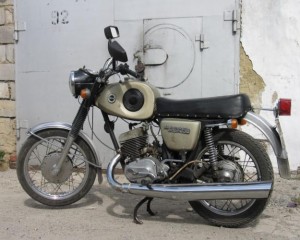 IZH launch sports model IZH Planeta-Sport.
1974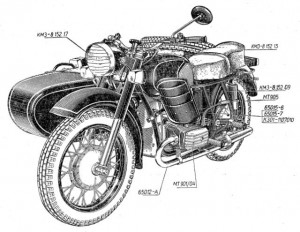 KMZ Dnepr MT10 1973-1976 (note the frame)
1975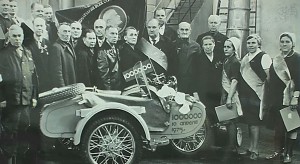 In 1975 IMZ-Ural produce 1,000,000th motorcycle
1976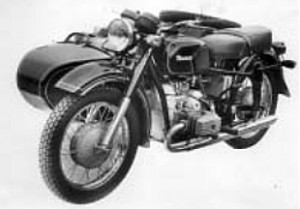 KMZ Dnepr MT10-36 1976-1980′s
1977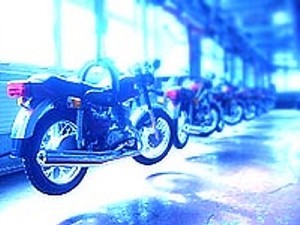 IZH produces the 4 millionth motorcycle
to 2008 IZH production now more than 11 million motorcycles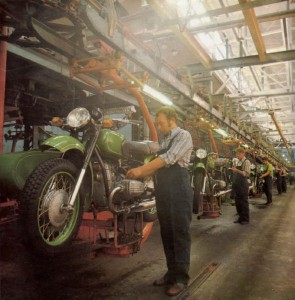 84,000 KMZ Dneprs produced (in one year!)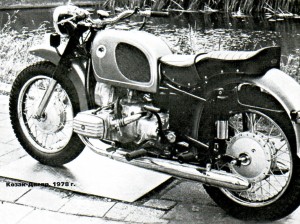 KMZ Dnepr-Cossack 1978 (rare version!)
1979
6th January 1979 from the conveyor descended the millionth motorcycle by KMZ. It was
the Dnepr MT10-36
1980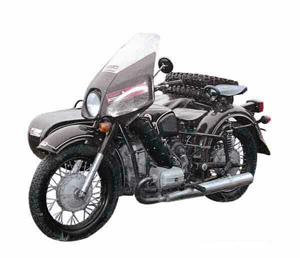 KMZ – 120,000 Dnepr produced (in one year!)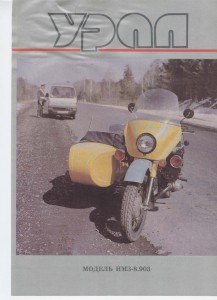 IMZ Ural IMZ-8. Series 1983-1990s Models include IMZ-8.103-40 Tourist, IMZ-8.103-50 2WD, IMZ-8.123-10 Solo, IMZ-8.503 Utility sidecar, IMZ-8.903 Patrol sidecar, IMZ-8.923 Patrol solo
1985
In 1985 rolled off conveyor the two millionth IMZ-Ural
1990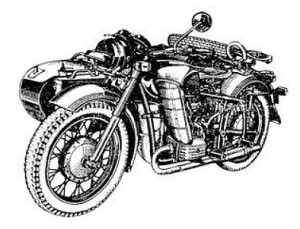 KMZ MB650M1 Military motorcycle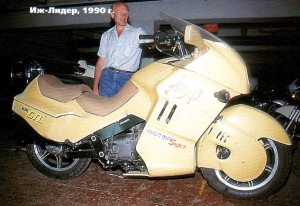 IZH GTL Super Rotor, experimental prototype
1991
The Soviet Union (U.S.S.R.) vanishes
1993
by October 1993 IMZ produce 3,000,000th motorcycle
IMZ-Ural motorcycles find their way to the USA market under the name Ural America after a visit to the factory by Bob Gerend and Tom Lynott
2000
Dnepr output drastically reduced. Only Solo and Kozak in batch production. KMZ's days seem numbered.
IMZ restructure continues new model development.
2001
In 2001 a Russian entrepreneur purchased Irbit MotorWorks and proceeded to overhaul both its Russian and U.S. operations
2002-2004
In 2002 IMZ-Ural released a new 750cc engine with bimetallic cylinders, a long sought after improvement.
In early 2003 the US agreement was terminated and with a skeleton crew and a dozen loyal
volunteers, this team opened its own operation, where they traded as URAL Motorcycles of
America Inc.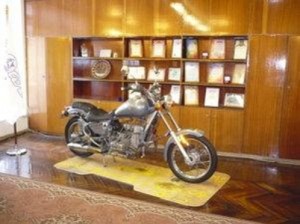 Our dear Mr Wolf, a 2002 model Ural Wolf (VIN X8J81237IU209305), from the Globe Team on the Urals has found pride of place back in directors office at the IMZ factory in Irbit, Siberia, Russia. the Wolf was shipped back "home" to Irbit in 2004 after Sergey's Globe Team on the Urals epic round the world expedition, still with the Australian red dirt on it! People like to get their photograph taken sitting on this bike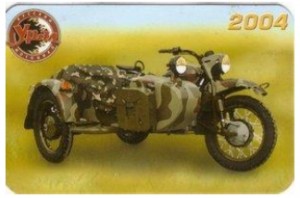 IMZ-Ural (IMWA) continue new model releases (updates) despite drastic product reduction, from 800 (up to 1800!) bikes a day to 800 bikes a year, and the worksforce has gone from 10,000 to around 200. The power plant and foundry have been sold off. Only one assembly hall is currently used.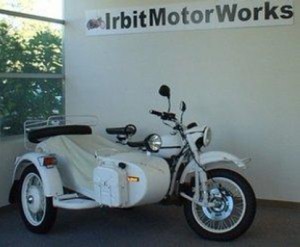 IMZ-Ural continue development, model GearUp in particular. Europe & U.S.A. now main
markets
2007
In Ukraine, by mid-2007 KMZ factory days seem numbered, some bikes assembled from
spares. It was reported the giant overhead conveyor lines have been cut up and sold off for scrap. KMZ is in the hands of the Ukrainian Government, hopefully the KMZ Museum objects can be preserved and maintained, hopefully not being sold off to fortune hunters and the like, although by now many treasures may already be in private hands.
The Irbit Motorcycle Museum has been given Russian state heritage and should be preserved.
2008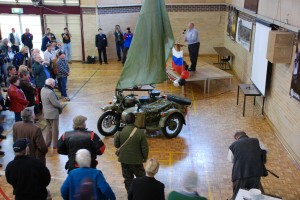 IMZ-Ural launch into the Australian market for the first time since 1990.
The Ural model name "GearUp" was altered to "Ranger", as it sounds less American? The first thing "Ranger" makes me think of is Yogi Bear, Mr Ranger, and Boo-Boo
2009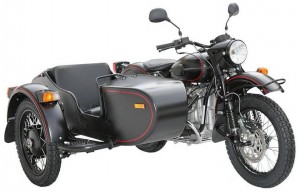 IMZ T-Series announced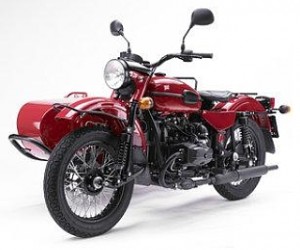 November 2009 – IMZ-Ural announce limited edition "Red October" 30 pieces to be released
2010
Madina at IMZ-Ural (IMWA) indicates that at IMZ they are still going strong!
We hope the sales will go further this year. In the meantime …Happy New Year!
Madina
This is great news for Ural enthusiasts around the world
2011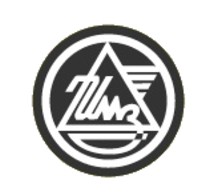 IMZ-Ural celebrate 70 years Anniversary since 14 November 1941.
Special M-70 (70 years) model solo and sidecar announced.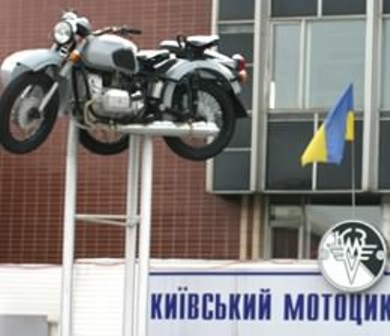 KMZ Dnepr – It was reported that in 2011 a batch of 240 MT-16 were produced for Cuba. These were made on used frames, as the frame-making machinery was broken, and because of the oval varying-diameter and section frames it would be very expensive to get a new tool. These 240 bikes should have been made October/November 2011 and workers met a closed gate in December 2011. No explanation, wages just stopped coming. Everything was then auctioned off spring next year. Much went to China (will we see a MT16 based CJ?), and some minor tools to an Ukrainian fellow who would set-up a spares supply. Thanks to Peter Krogsten for this update. The factory may become a shopping centre or high-rise development.
2012
IMZ-Ural continue small batch production with new variants, colour schemes, and enhanced marketing
2013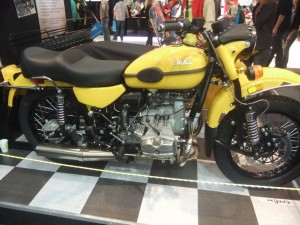 17 November 2013 Sydney International Motorcycle Expo Ural Australia exhibit the first pre-production Ural with fuel injection in the world. The new model has 40 major improvements including disc brakes on all three wheels !
2014
Fuel injected Urals are now available from your nearest Ural dealer. Press reports have been favourable.
The Future
What does it hold? Who knows?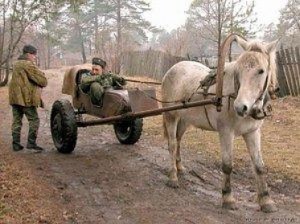 Let's hope it is peace and progress in this crazy world!
Side notes from Steve W:
1941 production commences of M72
1952 production of M72 at KMZ commences
1960 production commences of M61
1961 production of M61 and M72 ceases production commences of M62
1964 production of M62 ceases production commences of M63 (first swingarm frame)
1972 production of M63 ceases production commences of M66
1974 production of M66 ceases production commences of M67 (12V electrics and DLS front
drum introduced). I've got a timeline for KMZ but its a bit confusing as they had a lot of overlaps. They introduced their swingarm frame in 1964 with the K750M(?) and 12V electrics with the MT10 in 1974. IMZ stopped making the M72 in 1961, and KMZ in 1964. With the introduction of the M66, the sidecar boat was affixed with Rubber springs and cushions instead of the previous leaf springs. Regards, Stephen
This is just a brief (and still very incomplete) timeline of the Soviet/Russian/Ukraine/Eastern Bloc motorcycle industries. Of course there are many more models and variants that will show up on this page… for now you will find them elsewhere in these pages
sources of information: The Complete History of Soviet Motorcycles – Part 1 – 1924-1945 by Andrey Miatiyev, Avtoexport USSR Round-Ups, Avtoexport USSR Red Book, IMZ-Ural, KMZ, Izhtalzadov, Russian Motorcycle encyclopedia, MOTO Moscow Russia, Boris Dempchenko, Alexander Bulanov (Irbit Motorcycle Museum), website AUTOSOVIET, Stephen Wiggins, Peter Ballard, Russian Dave Mayne, Aneta Myszor Poland, Rod Knight, Chris Grim, Rudolph Lenhard, various Russian books, factory manuals, sales sheets, RMOA and COC archives, the Internet and b-Cozz archives.
Special thanks to Mr Juris Ramba for sending priceless information to me (back in 1987) and letting me pick his brain over 4 days in 1991 and ever since.
Special thanks to Steve Wiggins for the IMZ data sheets and all his other contributions.
Special thanks to Francis Gebus for his brilliant collection of covers and infinite photos
Special thanks to Evgeny Radchecko, Russia for his expert technical translations
Special thanks to Max Rodin for so much additional information
Special thanks to Alexei Popov for priceless M-52/M-53 information
All care taken in producing this timeline, if you spot an error or want to contribute something or have a copyright issue, please send it in. Work continues slowly on this page, there are many many more!
This timeline ©Copyright JD/Stephen Wiggins. ©All rights reserved. ©1976-2016