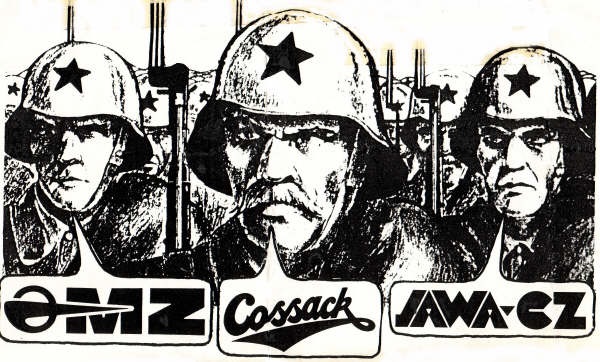 Cossack
Soviet motorcycles sold in the West during the 1970′s, mainly in the UK and Australia, were rebadged as "Cossack" brand. These included Ural 650, Dnepr 650, Izh Planeta 350 and Jupiter 350, Voskhod 175, and Minsk 125.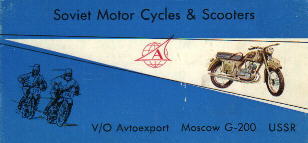 Satra Motors, a subsidiary of Satra Corporation (Soviet American Trade Association) imported and distributed the motorcycles along with large stocks of spare parts and "specual" tools via a co-operation with V/O Avtoexport in Moscow. Quite a large number of motorcycle dealers, especially in the UK with over 200 dealerships, quickly added the Cossack range to their showroom lineups and the press seemed to react at the motorcycles utilitarian looks and low cost compared to other makes then available.
In 1973 in the UK the newly formed Ural Owners Club was renamed the Cossack Owners Club which is still going strong today. There are probably more true "Cossacks" in the UK than anywhere else.
In Australia the bikes were also called "M-Series" (even though the Dnepr was a Kiev bike, K-series, it was sold as a Cossack M650D). The Australian importer, Capitol Motors in Sydney traded in Cossacks from 1970 until they closed their motorcycle section in May 1976.
Cossack became the generally accepted name for any Soviet-built motorcycle of that period, and is still frequently used to describe any Soviet, Russian, Ukrainian or Belorussian motorcycle.
Below are some old sales brochures, posters, and press releases you may find of interest.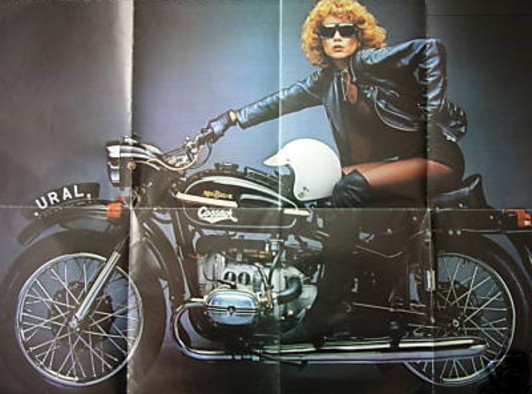 UK poster with a Ural M-63 rebadged as a Cossack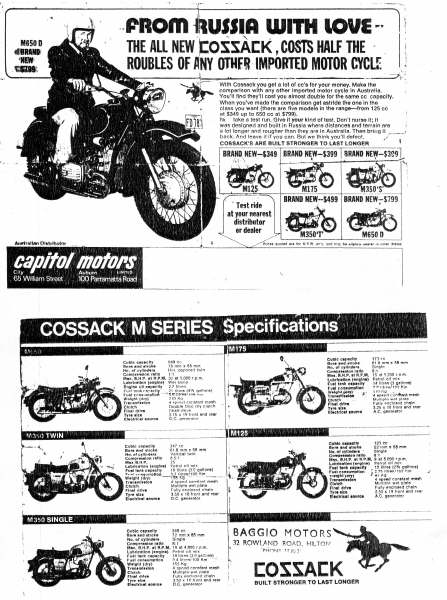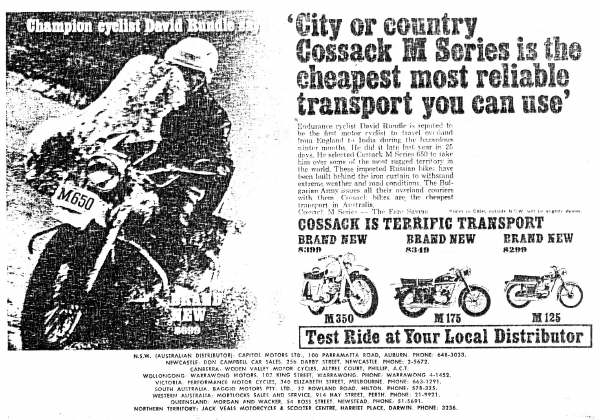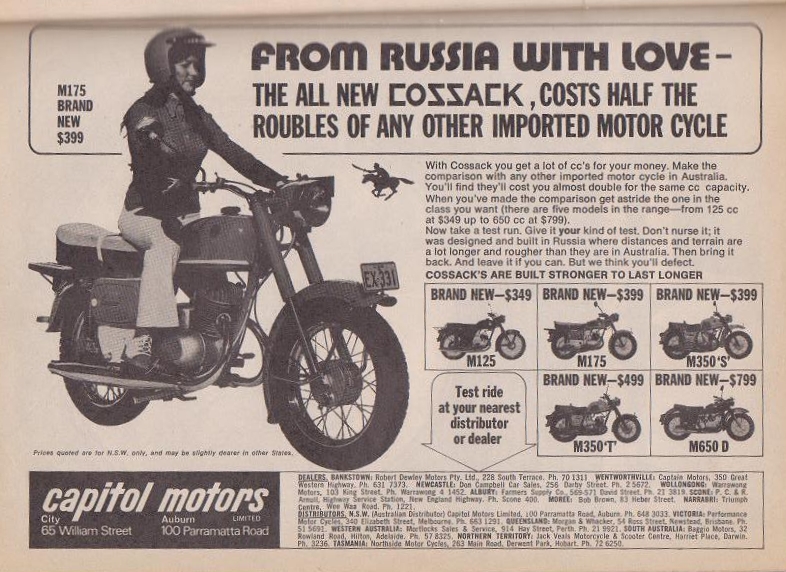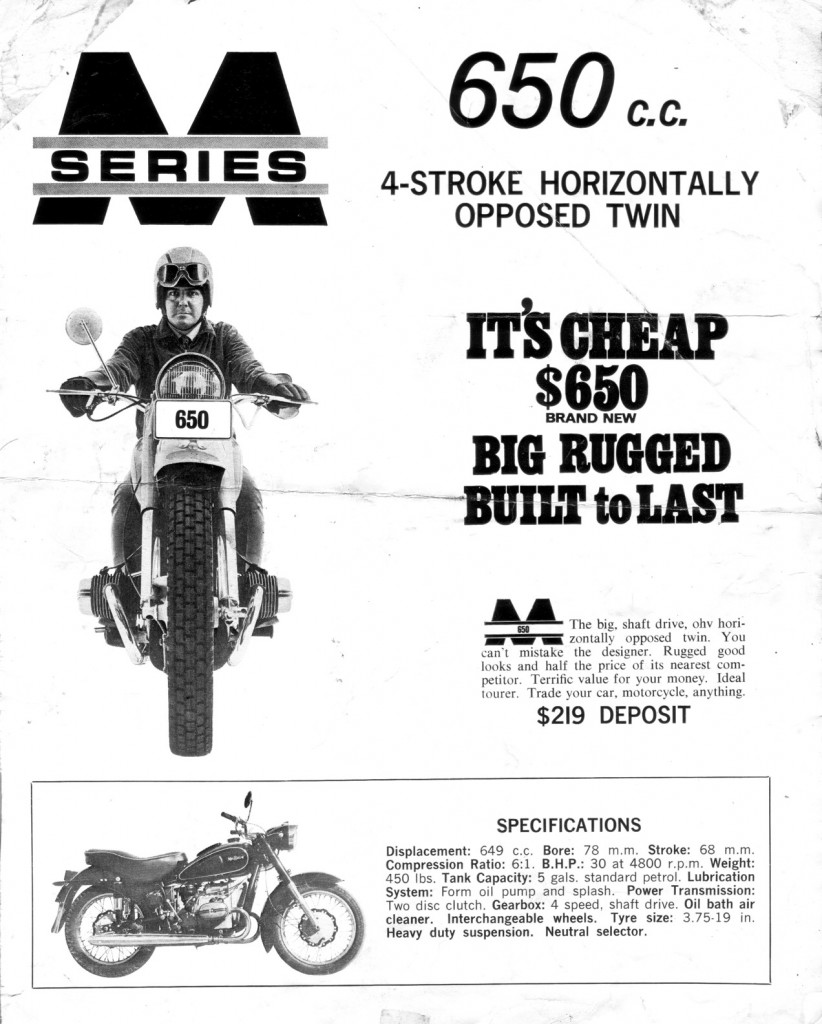 the advertising was sheer genius, "$650 for a 650, that's a dollar a c.c."


Original Capitol Motors sign-writers sales prop. It's about 2 feet long. JD still has it and it became the inspiration for the name of this site.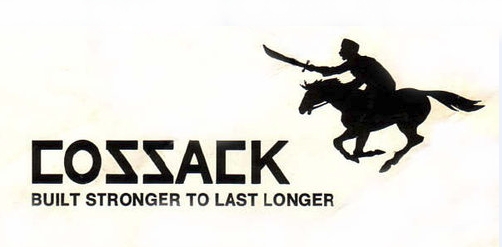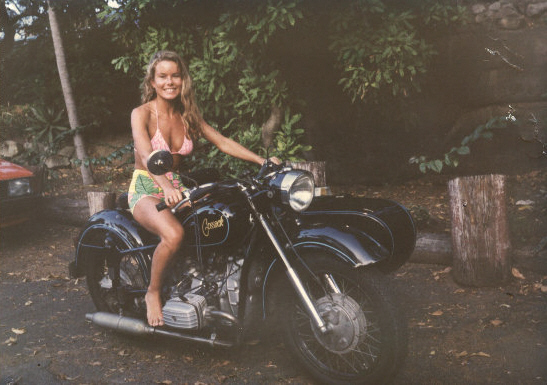 a Cossack motorcycle with sidecar, Army Open Day, Sydney 1991. bike and photo ©Bob Richman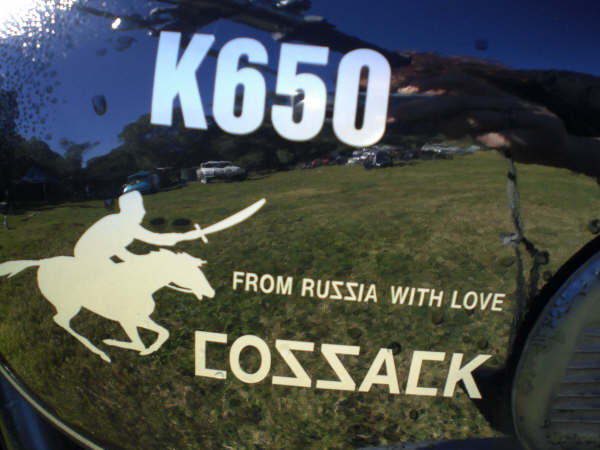 Tom's bike, repainted, but still a "Cozzack"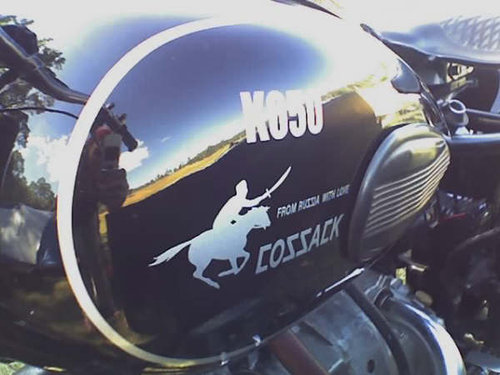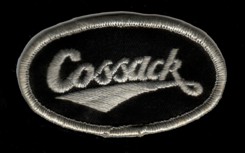 Cossack patch


then there was the Cossack regalia, like these sew-on patches
"A Cossack is built to withstand anything, to beat all roads and tame all weathers!"
Press report on an annual BMW rally which shocked about 1500 BMW rally goers when their major event was won by a "cheap copy"… "Sunday, gymkhanas were held, consisting of slow riding in thick mud, it was won by, you'll never guess it… a Cossack!" REVS magazine 1979.
cant find these clippings… will post it above if/when I can find them
There was also a good article "The all new Cossack – From Russia with Love" in a Two Wheels magazine around 1974/75.
Sadly the fad in those days was to cut down the front mudguard (why?) and then drill holes in it for the front number plate (no longer required in some countries), remove and then cut up the drivers saddle for the seat mount (throw the saddles away in 44 gallon drums full of them!), then drill two holes in the rear mudguard for the fitment of a dual bench seat, and put on the Cossack stickers. So many original and complete machines were butchered before they even left the dealers!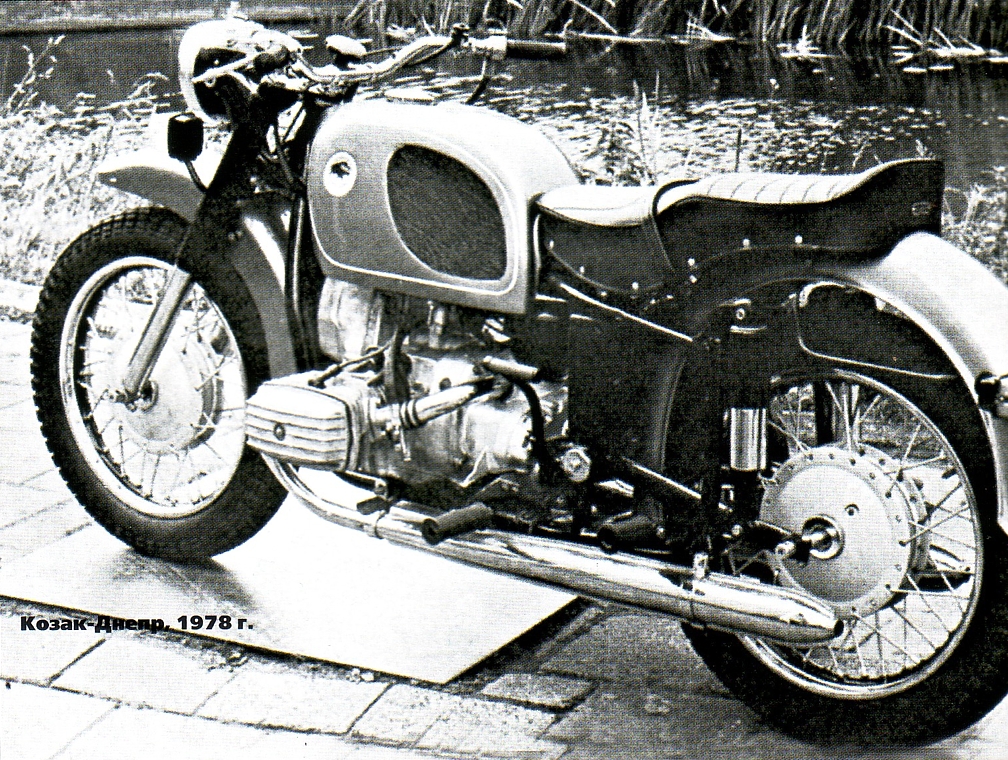 This 1978 "Cossack-Dnepr" is entered in the Russian Encyclopedia of Motorcycles
The encyclopedia entry reads:
Cossack (Rus. "Казак")
Great Britain, 1974-1977
Cossack brand included several models of Soviet motorcycles that were sold in Britain by "Satra Belarus" company. These were two-stroke motorcycles "Voskhod", "Izh-Jupiter" with sidecar and also motorcycles "Ural" and "Dnepr" equipped with overhead valve, horizontally opposed engines. Run by Alan Kimber, a former head of the British port-located branch of "Lambretta" company, the new enterprise began to win the market well, spending many funds on advertising in all serious motorcycle magazines of Britain.
One of the guidelines of the advertising campaign was that Soviet motorcycles handled well on rural roads and cross-country terrain, where "road" machines of other makers would not go. Nevertheless, two most serious reasons held sales growth of the Soviet motorcycles. Besides that the Soviet makes were behind in world's level of technical development by some twenty years, their quality also left much to be desired.
This was of vital importance for brakes that failed to meet any requirements in British intensive road traffic. It was compulsory for all soviet machines brake shoes to be replaced with British that had better brake shoe material and brakes had to be re-adjusted. But such measures didn't solve all problems. After some time the "Satra Belarus" company ceased to work. Taking over from previous dealer, a new company "Neval" focused on sales of improved motorcycles "Ural" and "Dnepr", offering them under advertising slogan "retro copy of BMW just off conveyor".
We'll add any more Cossack stuff if it comes along.
Sources of information:
Cossack Owners Club
Mike Goldthorpe
Rob Richman
Australian sales sheets from JD
Tom Richardson
Evgeny Radchenko
Steve Wiggins
Conrad Quist
B-Cozz archives.
"Cossack-Dnepr" image is from Russian Encyclopaedia of Motorcycles.
ISBN 5-85907-340-2, page 270.
Special thanks to Eugene for translating the entry in the encyclopaedia for us.