(Rus: Иж-Планета-спорт)
A breath of a fresh air to freedom
And sport hall mark has been specified even in the model name…it is strikingly different from other Soviet motorcycles and was fastest in the whole USSR in 1970-80s. Today surviving "dogs"(rus. abbreviation P.S. is close to "dog")though few keep on living in garages and hearts of their fans.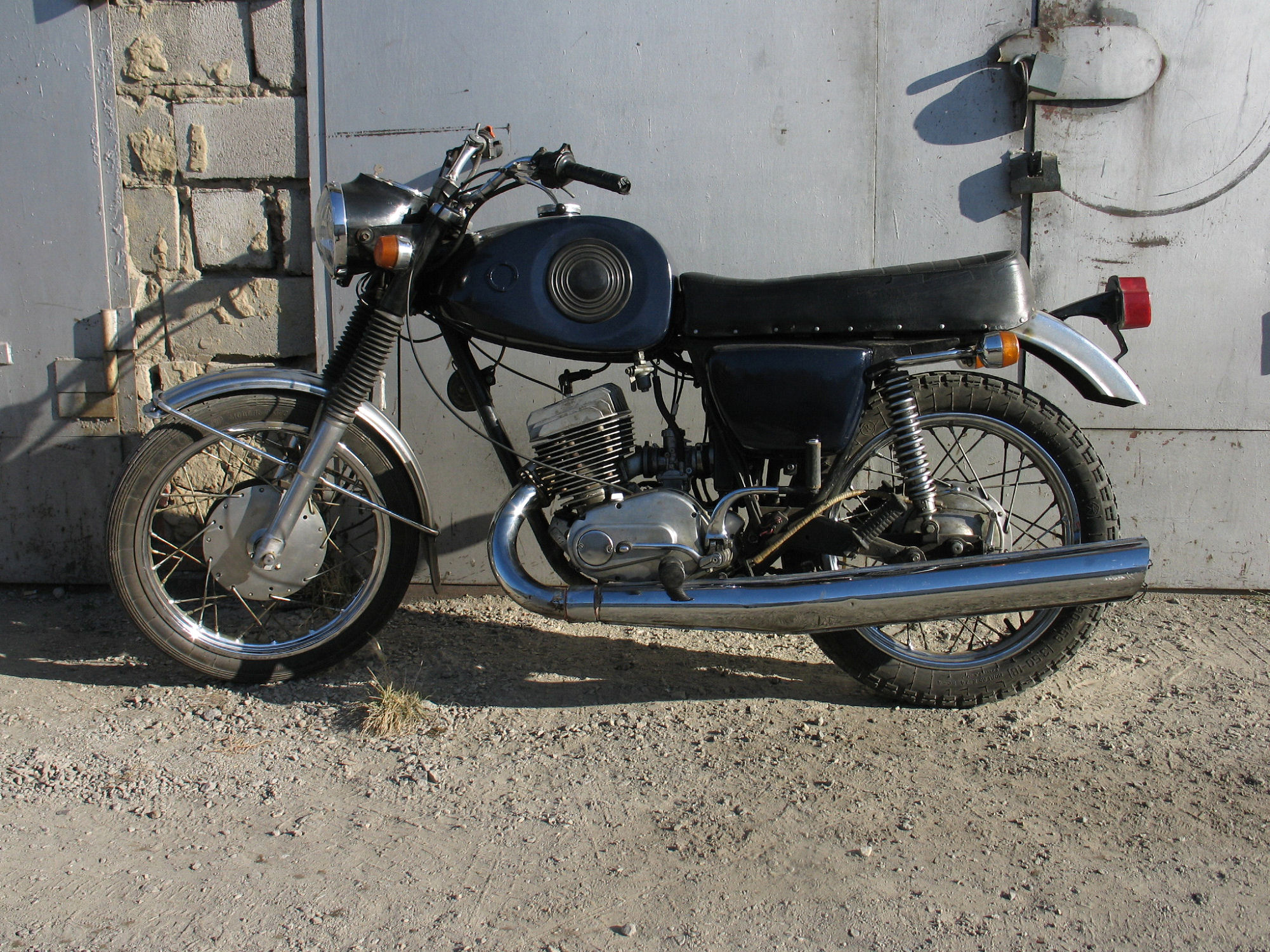 "PLANETA SPORT" not for sport
In early 1970s the Soviet motoprom could offer an unsophisticated buyer regular road motorcycles that were utilitarian and undemanding, with Izhevsk factory releasing at that time IZH Planeta-3 and Izh Jupiter-3(incl. sidecar version named "Jupiter-3K"). Their equipment was quite reliable and undemanding, but not to compare with the Western motorcycles, as the IZhs were in fact slightly modernized pre WW2 DKW machines.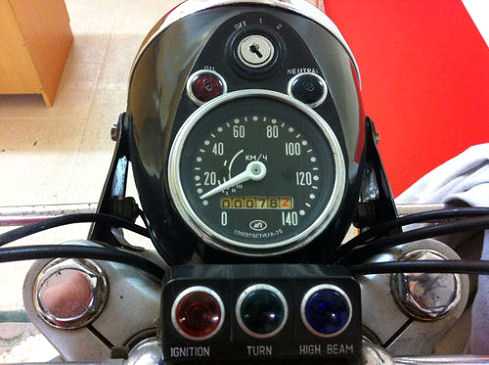 In 1974 Izhevsk shocked the USSR having assembled the first mass-produced(in the USSR) sports motorcycle "IZH Planeta Sport 350". The motorcycle was unique and differing radically form other comrades-motorcycle in looks and in specifications. Slim and graceful design aaprently took after Japanese motorcycles of 1960-s:stylish front mudguard , front hub, dynamic rear mudguard… generally and in details the PS showed the influence of "the wind from the East", to be exact it is remarkably looking like Suzuki T250 Super Six , 1966, and with hub and back part reminds Yamaha 350 RS of 1970 and Kawasaki A1 Samurai , 1966.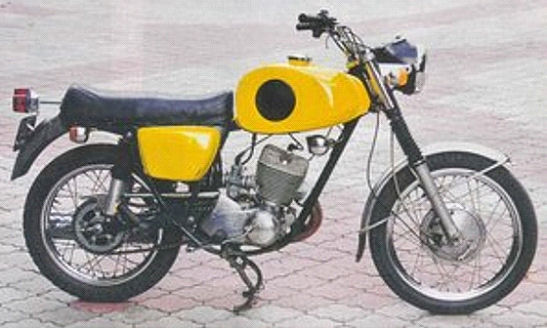 To be short the new motorcycle was a modern and without exagerration a beatiful, fast and light silhouette of P.S. spoke for itself that it was not designed to carry sacks on farm with potatoes but it was for speedy burns. After three decades production of the model was stopped it does not look poor on road, but more of "a sports classic motorcycles".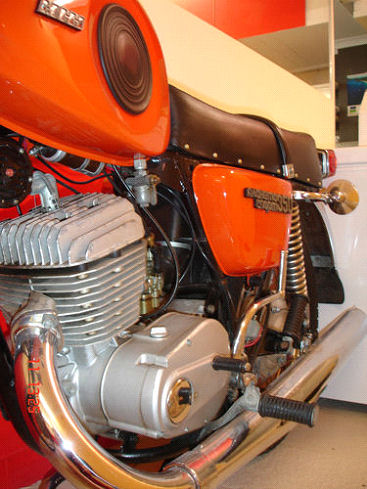 Even now, after three decades since the model production stopped, IZH PS does not make an impression of a poor or budget machine but a sports classic. Even typical bright sport colour was used to mean that – all off first series PS were painted in bright yellow (later series were orange) which in combination with black frame and nickel-plated parts (mudguards, headlight rim, both engine covers, etc.) looked really cool.
A piece of science fiction of the USSR
Nevertheless, IZH PS 350 was a modern motorcycle not only in outer looks, except for minor things, like chain and gearbox parts its technically advanced "ingredients" (components) was completely different from other IZH models. So, for the first time in the USSR the motorcycle was equipped with "a separate lubrication system of engine (!)(2T oil injection), while such technical innovation seemed almost fantastic, a 350cc engine (piston diam. -76mm) could also boast a Japanese brand Mikuni carburetor with that it could output impressing 32 hp at 6700 rpm. For a single cylinder bike with dry weight of 135kg it was quite enough, as insanely popular at that time in the USSR Jawa 350/634 weighed by 20 kg more and had less hps than the PS by 10. Engine of the IZH PS was mounted into froame using silent blocks(rubbers) and such technical design feature was a new a thast time too. The first series of IZH Planeta Sport 350 were equipped with japanese brand Denso (as well as Yamahas!) and was the first motorcycle to meet requirements of UN on road vehicles light standards. Front tyre size was not typical – 3×19".
Thanks to a high technical level of manufacturing Planeta Sport were exported into many socialistic countries and were top rated after ten years of use not like Chekhoslovakian "Jawas" and German "MZ". In the soviet times there were rumours that IZH Planeta SPort 350 was meant for export into the United States, a few of the motos found their way into the UK. Dynamics of acceleration of IZH PS(10 secs 0-100kmh) was on par not only with Soviet sample standards, 140kmh of top speed gave an impression of not an "offsider turtle" on road. Later series of PS were equipped with soviet-made carburetor with smaller diffuser diameter and other resulting in max power dropping to 28 hp, other distinguishing features from "early Sports" were a longer rear mudguard and slightly curved up silencer that was straight on first series.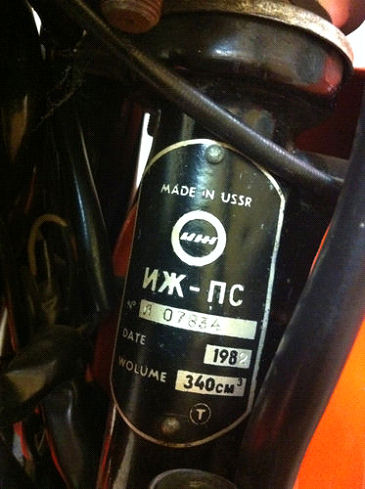 It was with this very motorcycle thast many went into real "engine tuning" – bored cylinder to fit an "IZH Moskvitch 407" piston or borrowed from a 500cc Chekhoslavakian cross bike "CZ 500". This resulted in power increase by 2,5 times but service life was shortening to one summer only. To compare with standard PS it rolled 50-60 thouseands of kms without noticeable wear out of main parts.
Ten years on assembly line
IZH PS production was started in 1974 and first series of 500 PS were intended for internal market released from June to September 1975, all of which were equipped with engine oil injection and Japanese brand electrical equipment, unfortunately by 1979 the Sport got rid of import components and main parts quality faded as well. Among admirers and riders the first series (production years) PS was valued high even used quite a lot. By the way, at the moment when the model was relased on market it cost 1200 roubles and after the later series changed their "tech. specs" the price did not drop.
The machine was on on assembly line till 1985. Back in April 1975 a production of sports motorcycles based mainly in the road IZH PS commenced, so IZH factory made "IZH M-15″(multi day race enduro) and "IZH K-15" (motocross type). Same engine of the PS was used in later model of IZH M-16 (see MOTODRIVE 1-2/2006) that was made till 1996.
Today IZH Planeta Sport 350 is a rare machine and is valued by conoisseurs. In Russia a mint condition bike of first series will cost over 1000 USD. However it's a special motorcycle indeed and is an exclusive part from the Soviet past.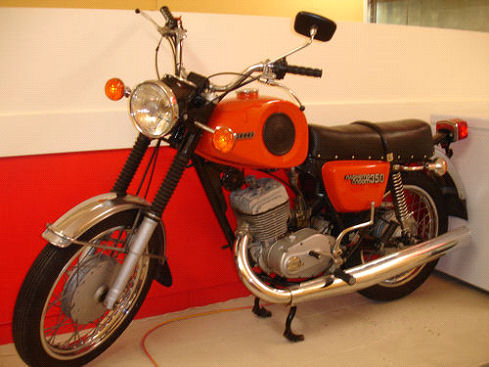 source :
motodrive.com.ua
Translation ©Eugene Radchenko 2014 specially for © b-cozz.com