TIZ AM-600 the best of pre-war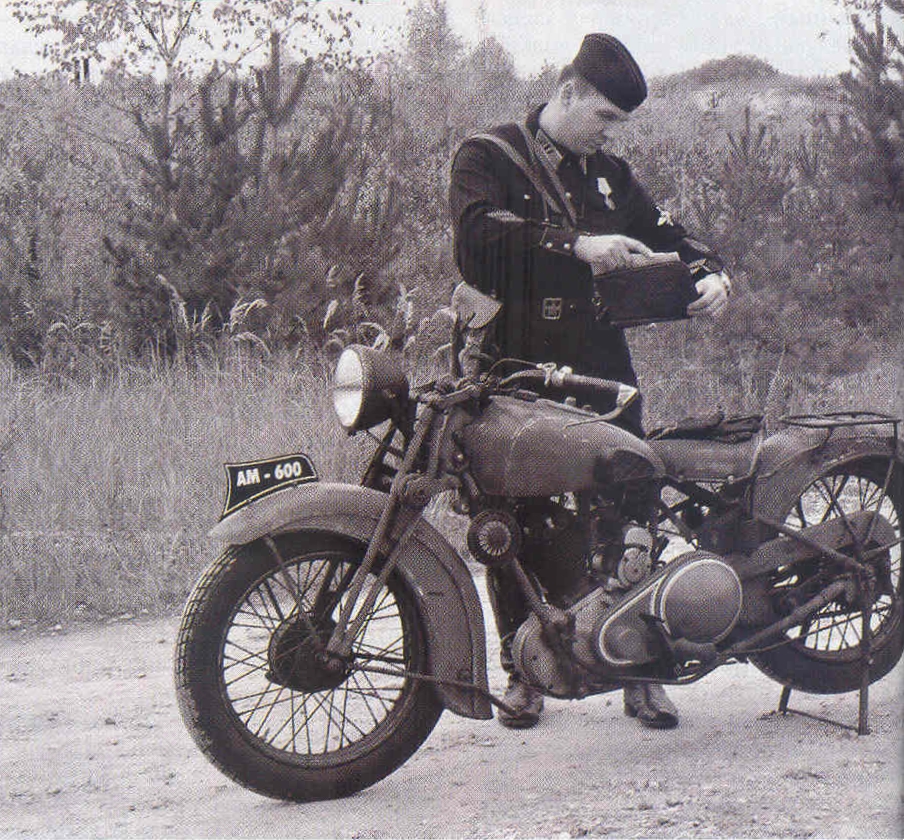 TIZ AM-600 was produced by Taganrog tools factory in the name of Stalin and perhaps is the most advanced of all soviet motorcycles in pre-War period (before the Great Patriotic War, 1941). History of creation of the motorcycle is typical for those years, after Kharkov auto-assembling plant cancelled production of ZM-375 its technical documentation and schemes were handed over to Taganrog production site. At the same time Taganrog's factory was to adopt to Soviet roads and set production of a foreign make a british 600cc BSA. A team of developers was created for this run by engineer J. Koganov. In 1935 ready for work technical schemes of "AM-600″ model were completed.
Note that despite a widespread opinion, letters "AM" does not mean "army motorcycle". Some researchers repeating this blindly will not think who they will explain letters given to following plants model "BM", which may stand for "a civil motorcycle" supposingly, a promising 1200cc machine. In fact AM and BM were merely letters denoting models of motorcycles and nothing else.
First samples, 5 pieces were built in first half of 1936. Same year in May the new model named TIZ-1 was approved for mass production. while by its outer look the machine closely resembled English BSA, there were made significant changes in design, such as bigger and stronger chassis, and general machine's simplification carried out. For example front frame triangle made cast in prototype here was made of 2 tubes and 2 cast joining elements. Front fork was borrowed from BSA but from other bigger capacity.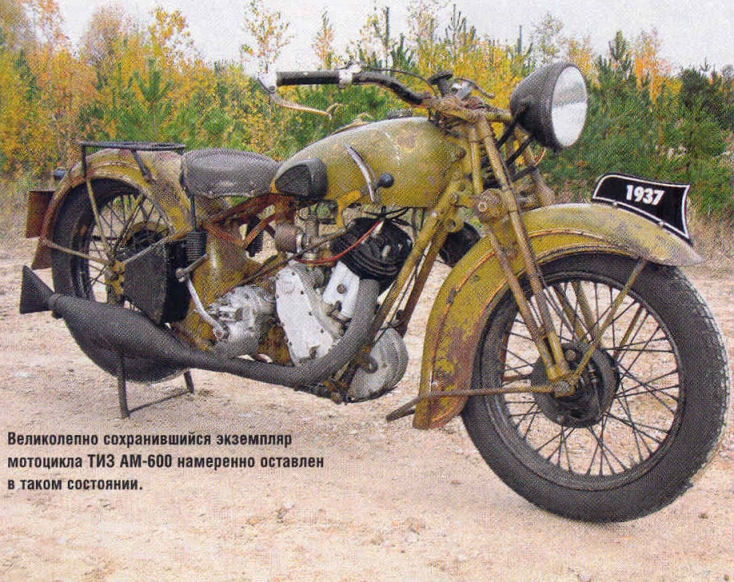 In general, TIZ AM-600 was a goodly designed machine in traditions of English motorcycle building school. According it that, gearbox had a separate from engine casing, while gadgets panel was placed on upper part of fuel tank. Kickstarting of engine was only done using a decompressor. Handlebar was mounted to fork clam through rubber sleeves. It had a beep button and a headlight switch, two rotating handles: right – throttle, left – ignition timing; two smaller handles right for decompressor, left for air corrector and handlevers for front brake (right) and clutch (left). Rear brake pedal is on the left side from rider's position.
Interesting that work schemes showed "Smith" mounted to upper clamp above headlight. but at that time soviet industry could not have handled production of this precision mechanism and 3 yrs later there appeared another type of speedometer having different design.
Engine of the motorcycle – single cylinder, sidevalve, 595cc with the cylinder tilted forward [sloper], crankshaft was assembled from parts, while lube system is combined, oiling was arranged under pressure and by splashing. A separate oil channel lubricated intake valve sleeve.
Carburettor MK-17 similar to Amal type, had a rather modern design for those days, firstly its casing was made of brass, later of light alloys.
4-speed gearbox took completely after BSA design, multidisk clutch of a dry type had 7 friction disks placed between leading and driven made of metal. left clamp of the crankshaft had a spring damper to smooth jerks in transmission. Motor chain lubing with special hose also serving as engine's breather. Whole motor chain mechanism was covered with a guard.

Initially designers supposed the machine to use magdyno (magneto+generator in one unit, called dynamo in terminology of those years), but in delays with its production a simple magneto had to be used instead, anyway motorcycle's wiring for magdyno was made and the factory with unused ends hidden under gadgets panel. There were no mentions of magdyno in factory instruction, but "Guide for military station service of motorcycle AM-600″ of 1938 had a separate entry which begins with "absence of dynamo in the motorcycle requires special care for its battery." Formally that is, magdyno was in all instructions and technical schemes, practically whole electric system besides ignition worked from battery, which had to be charged periodically. Magdyno MD-132 appeared obviously not earlier than in 1939.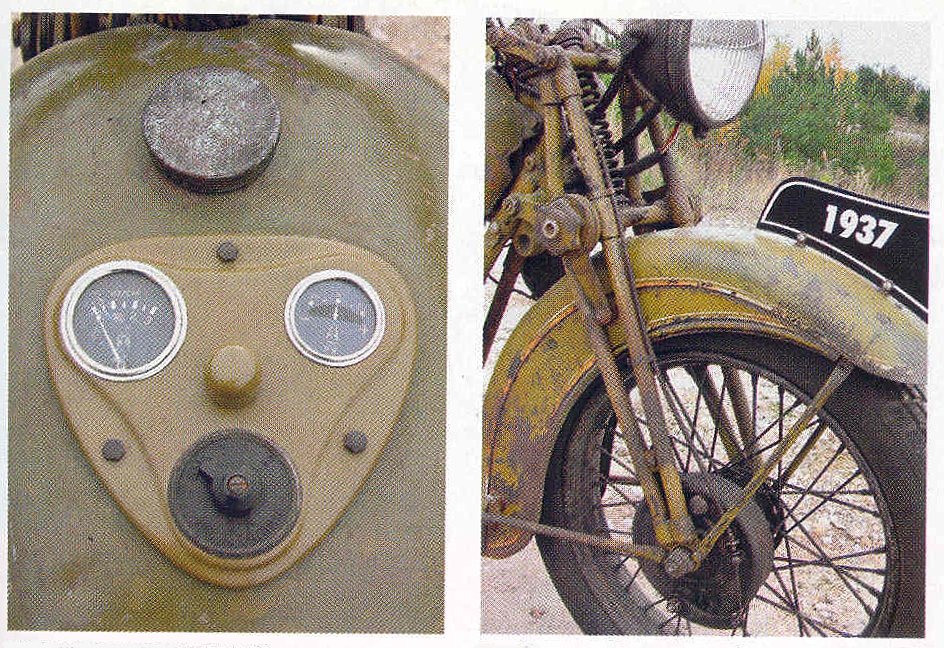 It is worth noting that wiring was a quality work and each wire had a brass label with its number. Beep, copied from an american prototype horn, was same for most motorcycles of the time, same for backlight copied from "Bosch". Headlights were of different types depending on year of production. First versions had units similar to automobile standard of the time. Wheels of TIZ AM-600 were interchangeable with drum brakes which had 6 cylindrical pins slandered to the drums. tires size 4,00×19″, early types had protector similar to those used for GAZ offroad cars and light artillery guns. Later, Soviet industry managed to start production of road motorcycle tires. During the War "fur-tree" (tick <<<<) protector tires appeared sized 3,75×19 used for M-72 and TIZ AM-600 as well. The motorcycle could be ridden as a solo or with a sidecar. There were several modifications of "cradles". Factory photos show a civil sidecar with noticeable rounded cradle and a star on ts front. Nothing is known of such surviving sidecars, apparently those were experimental outfits. Army version had different mounts for munition, toolboxes and machine guns such as DT and DP (Degtyarev m.g.). Also during the war TIZ was supplied with M-72 type sidecars.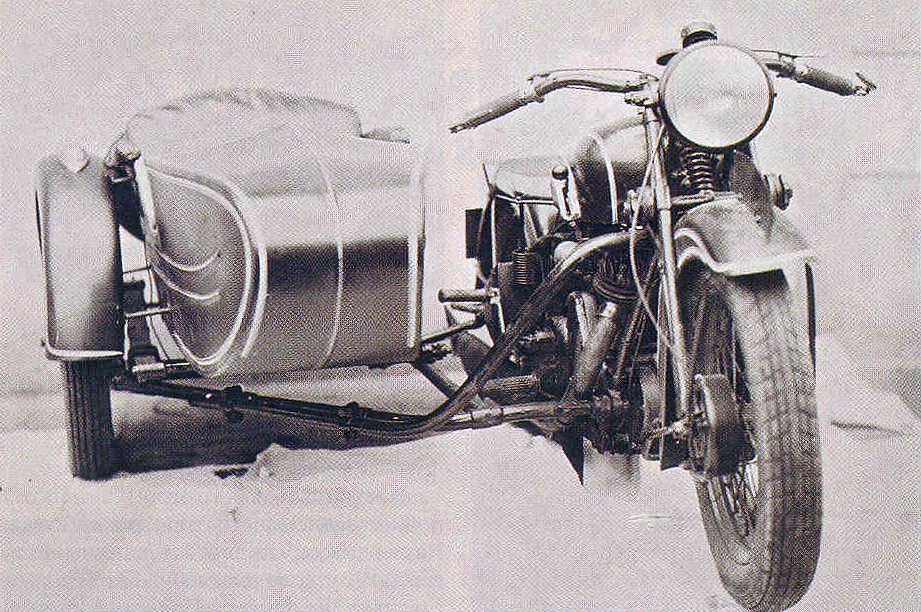 Outer and inner design was constantly improving. a modified machine issued in 1939 was named TIZ-2. The motorcycle got a speedometer, with left lower part of fork changed for its drive mechanism, Levers of the fork were also enforced. Engine oil screw cap was moved to its front part. There was an experimental civil version with lots of chrome plated parts and an ampere meter in its panel and ignition lock placed above headlight.
Tests done in 1940 took into account war experience in Europe and significant changes in the machine's design followed same year. Mudguards were made not so deep and had enforced middle, most crucial – engine's cylinder head was made of aluminium alloy, cylinder fins had increased dimensions. An increased oil sump and different design of oil pump also improved engines heat regime. With these the motorcycle met the year of the War, 1941.
The factory in Taganrog assembled nearly 300 motorcycles in a month. According to order of Committee of Peoples Commissars of the USSR and Central committee of all-union communist party no. 456-189ss, 4 march 1941, TIZ factory was to assemble a new model M-72 together with TIZ AM-600. Production plan for 1941 stated 1500 pieces to be assembled, but due to emergency evacuation of the factory it was left undone. In October 1941 the factory was moved to Tuymen on former brewery plant site. Production of M-72 could not have been handled so with some parts in reserves 30 TIZ AM-600 were assembled by September 1942.
Motorcycles made during the War had a simplified design, no gadgets panel, front fork was welded (previously soldered). Before November 1943 613 pieces had been made when parts reserves ran out and same month State Committee of Defence ordered the TIZ factory staff and equipment be moved and join Gorkiy motofactory.
TIZ aM-600 was initially supposed to be used in army and there left documentary films of pre-war parades on the Red Square showing lines of AM-600 with DT machine guns mounted to their handlebars. In practice this mounting of the machine gun was useless in a cross-fire situation and after that machine guns were mounted only to sidecars.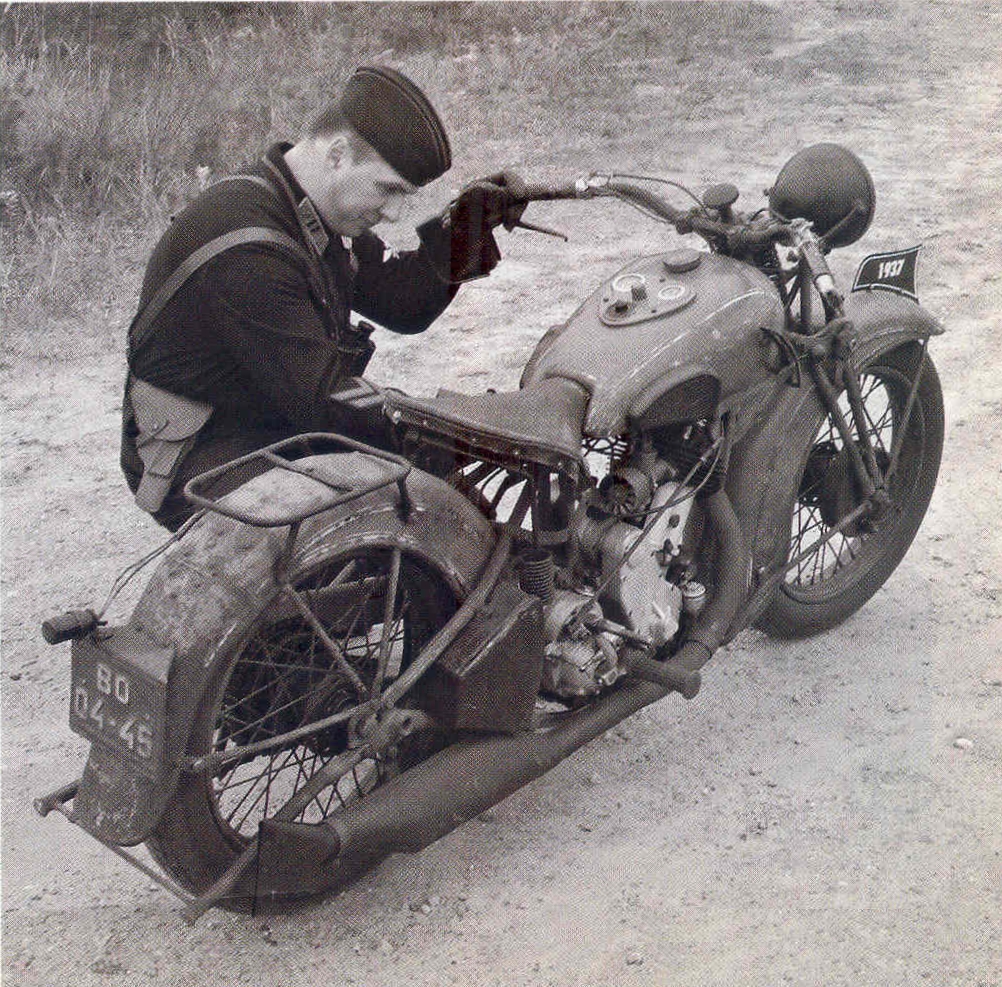 The motorcycles served not only to carry machine guns to the front line but more often as fast post and communications means. Pre-war and war photos show mostly couriers with envelopes to be delivered quickly.
Also interesting idea appeared by end 1930′s to make an armoured motorcycle outfit based on TIZ AM-600. Handlebar was supposed to be swapped for car type for smaller size, front wheel and rider had light armour shields mounted in front of them , while gunner in sidecar rode in lying position.The project was not so unreal as it seems and similar vehicles were developed in Germany and Sweden while the British used this in combat based on Norton Big Four.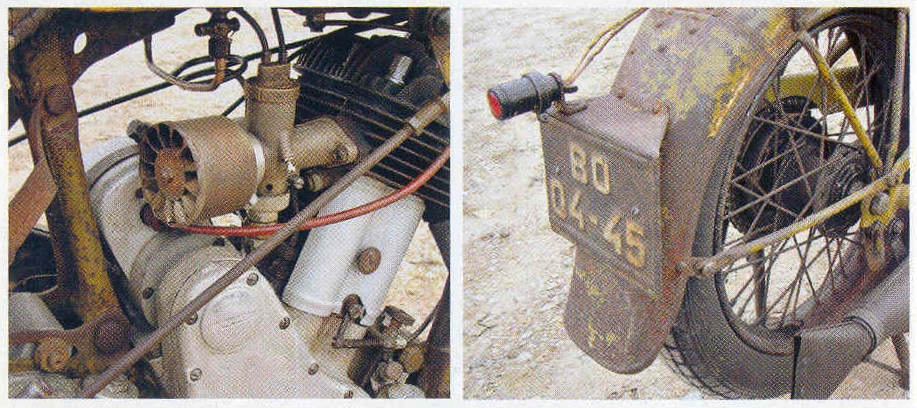 There survived a great number of TIZs , many were produced and its reliable design offered a long service life without breakages. As i got this pictured TIZ in my collection , I decided to leave it as it was, in a perfect condition. Although it took me a lot of hard work to restore it: kickstarter, wiring, repainted fuel tank and guards. The tank was cleaned of upper layer of paint but the guard needed repainting. All in all, a lot of time was spent for cleaning and washing parts of the motorcycle. Then it came to magneto, which I dismantled and became sure it was in perfect condition. Breaker points in upper part of it are difficult to access, so to check points disconnection of carburetor has to be taken off.
This or that way all problems were solved and time for a first ride came. I left most pleasant impressions riding TIZ AM-600, it is stable and has "a calm character". Its drag is enough to switch upper gears and move with minimal speed. Besides it sidevalve engine has a great momentum, but fast accelerations will not be typical for this machine. Brakes are quite responsive, especially a rear one and a rear wheel can be locked easily. That was the only unpleasant point in my test ride.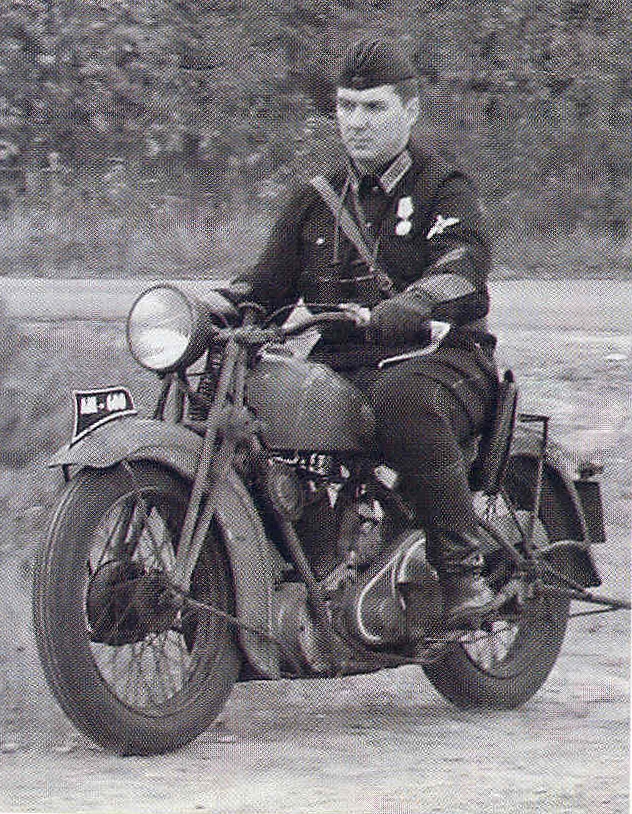 Table with specs
Model TIZ AM-600
Production years 1936-1943
Dry weight , kg 185
Base, mm 1420
Tank capacity, l 17
Top speed, 95 km/h
Engine 4-stroke, 1-cylinder sidevalve
Engine capacity, cc 595
Bore/stroke, mm 85/105
Max hp /rpm 16,5/3800
Gear box 4-speed
Frame steel tubes
Front fork springer, parallelogram type
Brakes type drum
Pictures comments:
Perfectly saved TIZ AM-600 was deliberately left in such condition. Gearbox is in separate casing. Gears lever is on tank's right. Magneto casing may be seen in front of tilted cylinder. Press formed casing of primary transmission. Rear wheel is "hardtail", mounted to frame itself, prop is a typical decision of those times to mount the wheel. Standard version with a sidecar. First series have sidecar step cut round, later sqaure shaped. Sidecar wheel is interchangeable with wheels of the motorcycle. Airfilter is mounted to carburetor, early versions had this connected through an adapter. Backlight may be easily taken off, it can be used as a torch Gadgets panel (amperemeter, oil pressure gauge, ignition lock) are in built into fuel tank Both sides of the front fork have adjustable dampers to absorb road thumps.
Source: MOTO 2004/7
Translation ©2013 by Eugene Radchenko specially for bcozz.com
Some more TIZ AM-600 photos for reference: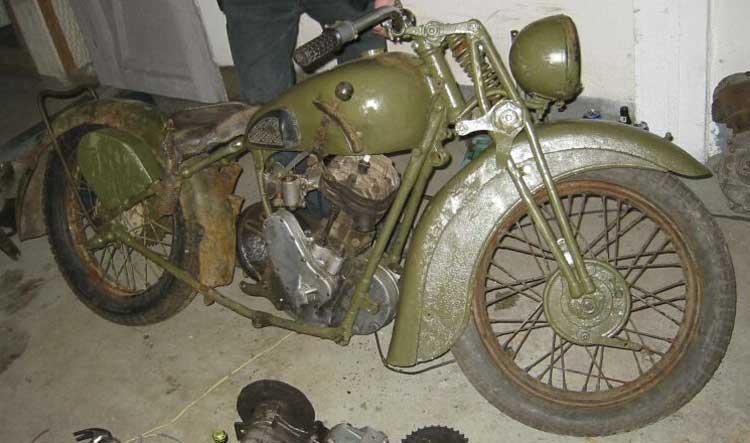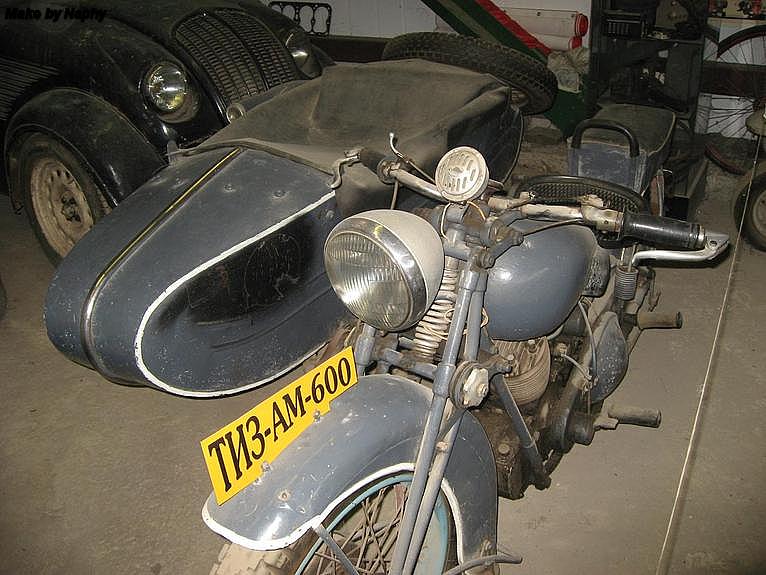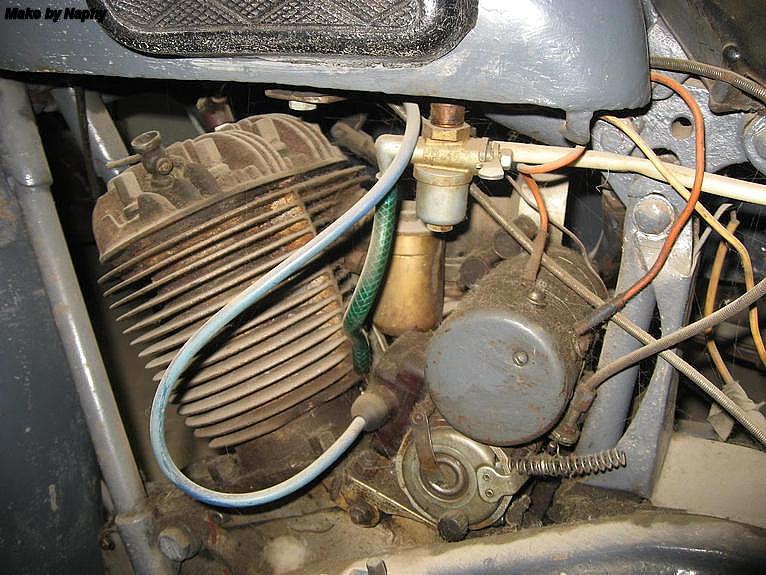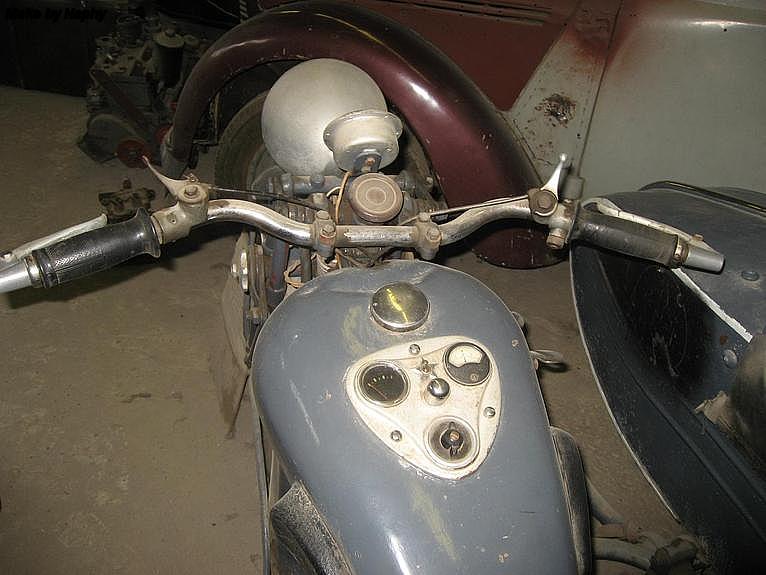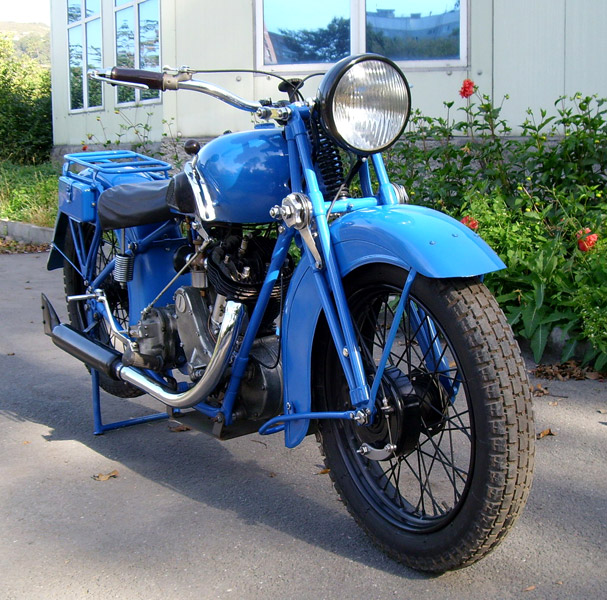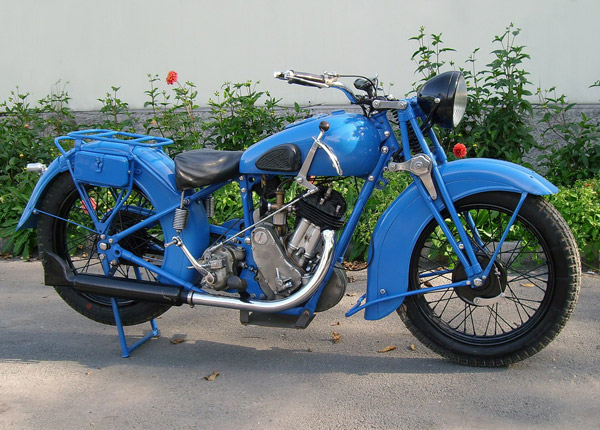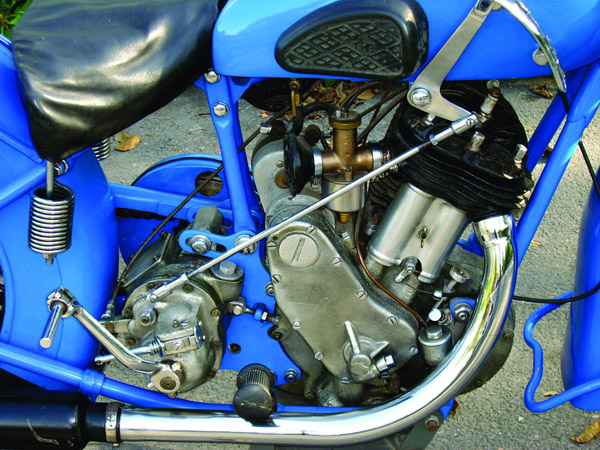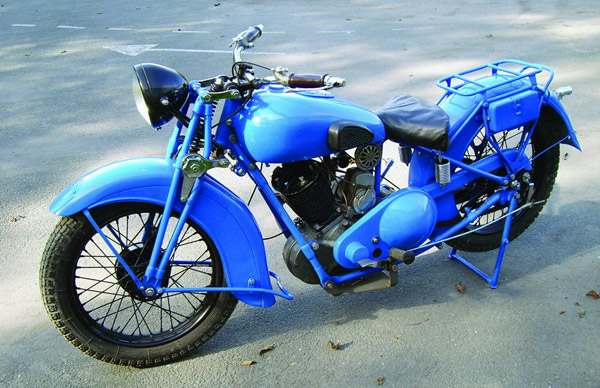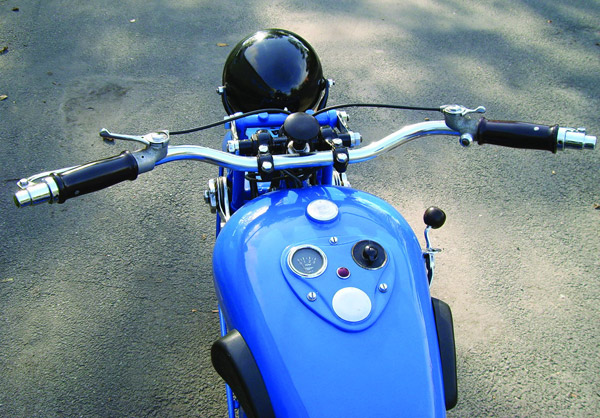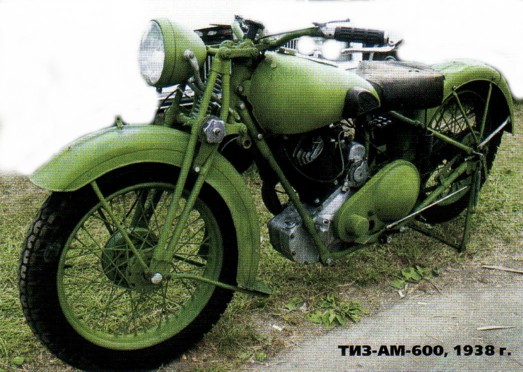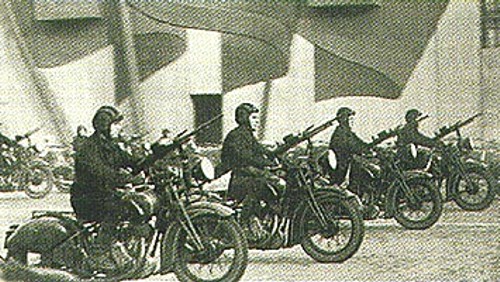 It seems the TMZ Taganrog factory also tried its hand at building a 1200cc V-twin. Little is known of this machine but it seems at least an engine survived. It was most likely based on a BSA V-twin. If anyone has more information please send it in.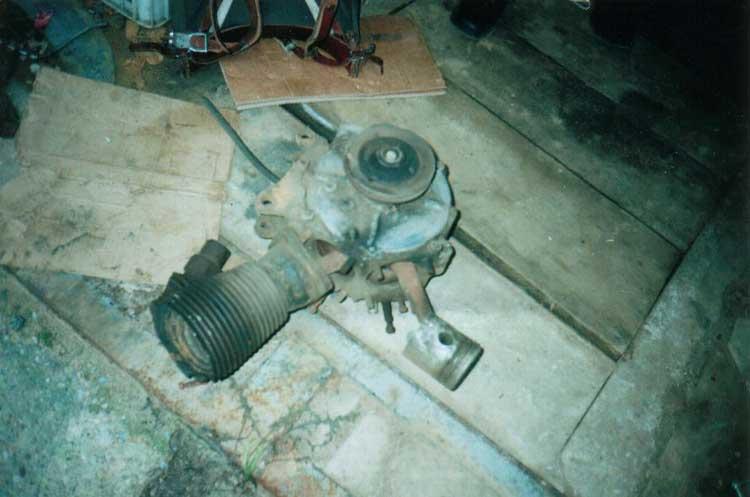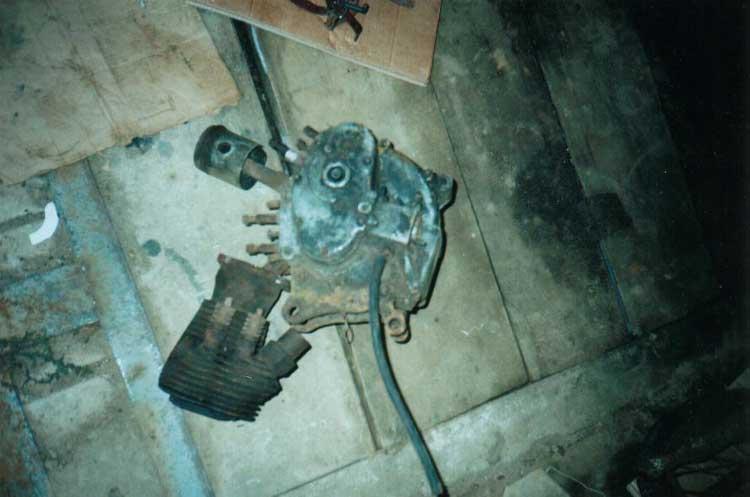 © b-Cozz.com 2021