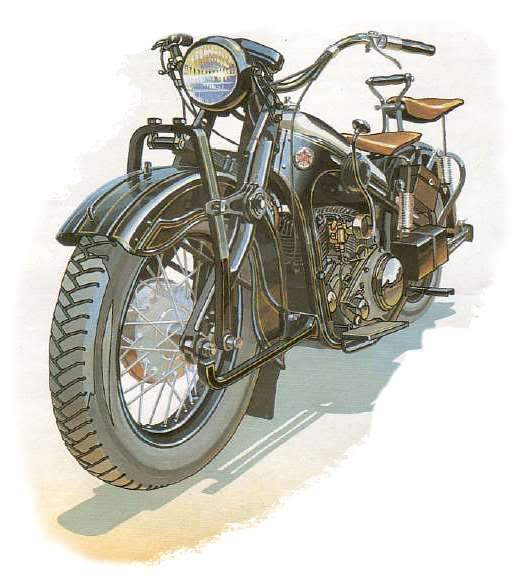 ПМЗ – Подольский механический завод
PMZ ­ Podolsk Mechanical Plant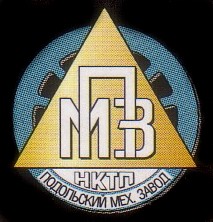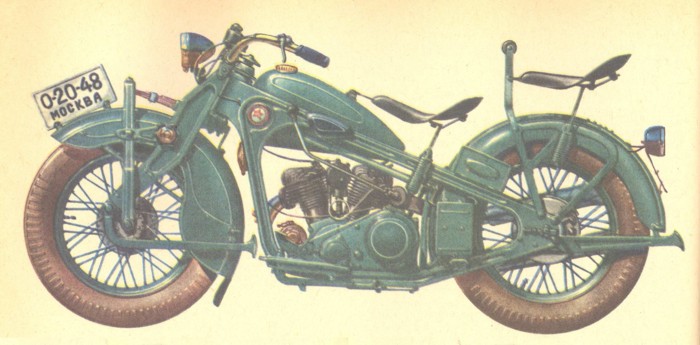 PMZ A­750
Today a few have heard and even fewer know about motorcycle PMZ­A750. Only several machines have survived to our days. The machine was made at ПМЗ ( the Podolsk mechanical installation ) located in Moscow Oblast, a branch of "Singer" company, which by the 1930's had already had vast experience in mass­production of sewing machines. Small parts of complicated design, precision machining of bits in most cases that were heat treated, all these supposed to require a high level of technological processing. The factory adopted making of thin­walled cast iron mouldings, provided interchangeability of parts without their individual fitting, thus all requirements for an enterprise supposed to get a new specialization were met. Not surprisingly that in 1935 Peoples' Committee for heavy industry decided to decided to set up mass production of motorcycles in the USSR choosing town of Podolsk namely, together with towns of Izhevsk, Leningrad, and Taganrog. It is worth mentioning that other sewing machines making factories of the world adopted production of motorcycles too, these are NSU, Durkopp and others. Although the story of the model A750 ("Army", 750cc) started in 1932 it was not related to the town of Podolsk at all firstly. It was for Izh steel plant (Izhevsk), where a team of enthusiasts run by Pyotr Vladimirovich Mozharov took on designing first five models of motorcycles in 1928­1929. These machines were built and passed vehicles tests, but did not come to mass production. An enormous industrial combine located in Izhevsk including metallurgical and machine building factories was not ready for mass making of new type of production. Mozharov and a part of his co-workers of designers' department moved to Leningrad, where they continued to work on L­300. A probe series of L­300 was issued thanks to co­effort of "Promet", "Tremass" and "the Red October" (former "Russian Renault"). By end 1930­s the machines L­300 passed vehicles tests successfully and were recommended for mass production. Mozharov decided his mission was completed and moved to Moscow, there at NATI (Scientific automobile­tractor institute), later know as NAMI (NATI), a designers team for motorcycles was formed by end 1931, a head of which became P. Mozharov. Having diploma in thermotechnics, he was a very experienced specialist. By that time he not only had had experience in motorcycle designing in Moscow and Leningrad, he could also ride and repair well a motorcycle himself. Mozharov visited Germany in 1928 and knew production organization on such factories as Neander, BMW, DKW and even worked there as a designer. He returned to home country with piles of design plans, books, brochures, crates of parts and samples of engines and motorcycles. We should step aside a bit here. In 1927 a small firm "Neander", Germany founded by designer and inventor Ernst Neander began to produce motorcycles with press formed frame made from sheet steel. Having studied this design carefully, P. Mozharov saw its great advantage for mass-production: it was not difficult to assemble than a frame made of welded tubes. By the end of 1920's many firms and primarily in Germany (Neander, Opel, Wanderer, DKW, BMW), Britain(Coventry­Eagle, Ascot­Pulley), France (Gnome­Rhone), Chekhoslovakia (Jawa) and admired and used same approach. Mozharov chose press­formed in his following machines: Izh­1,Izh­2,Izh­3, Izh­4, Izh­5, L­300 and used this for A750. Technical task for the last mentioned was formulated by the Main department of machine building industry of the Supreme Council of National Economy of the USSR: 4­stroke, two cylinder engine, 750cc capacity, adopted for road conditions of our country, capable of attaching a sidecar.After Mozharov and his team visited Harley­ Davidson factory in the USA, they set minds that 45 degree V­twin sidevalve engine should be used for the "A750". Though the concept took after Harley-Davidson, the resulting engine differed with a number of key design features: dry sump, two stage oil pump, oil tank was made a part of engine casing casting. As many motorcycles of that time had magneto ignition, Mozharov chose battery ignition with generator, which supplied electricity to ignition system elements and signals (lights and beep), headlight of the motorcycles was designed to have high/low beam. Among other innovative features A750 had a geared toothwheel engine to gearbox transmission (instead of widespread chain), interchangeable wheels with straight tyre sidewalls instead of clinchers, front fork had unusual design being in fact a short lever swinging arm type added by one quarter carriage spring and a vertical U­bar that provided good torsional stiffness and reliability, resembling slightly BMW front forks.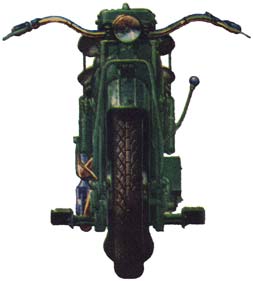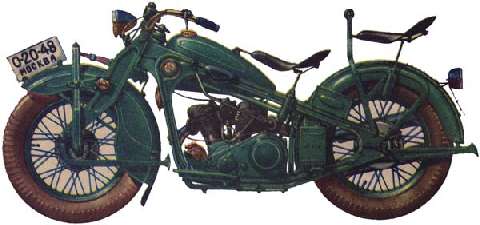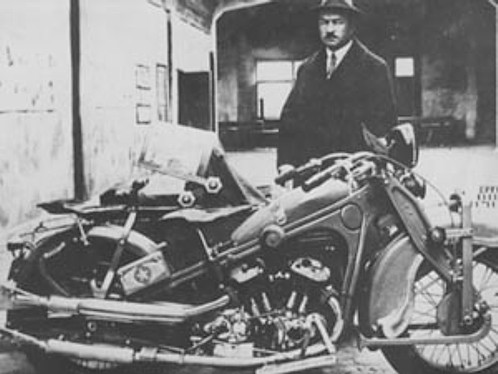 P.V. Mozharov with his new machine
Besides P. Mozharov some young designers took part also in creation of A750: Alexander Fyodorov, Igor Okunev, Boris Fitterman, Sergey Semashko and others. Later Fyodorov became a chief designer of Irbit motorcycle factory, then moved to "AZLK". And Mozharov? Vladimir Novikov, a vice­chairman of the Council of Ministers of the USSR, who started his career in Izhevsk as well, recalled that P. Mozharov worked on the machine vigorously. In May 1932 design plans were ready and sent immediately to Izhevsk. By 1 four experimental samples of the machine were ready and shipped to Moscow 20 August same year. Mozharov was looking forward to the motorcycle to be assembled at conveyor. Izhevsk plant could not have handled making of such an advanced machine at the moment, time passed and nothing made progress. People's Council of heavy industry could not have found another production base. And Nati did not perform well too, rumours about old designers arrests were circulating commonly. Many of those served their sentence in a "band" – a special designers' department of NKVD that was working on projects of automobile diesel engine "Kogiu"(Koba Giugashvili) and a power plant for submarine "Jagege" (abbrev. of Jagoda Grigori Genrikhovich). Mozharov was taking a rest in Sochi. Not receiving any news from NATI about his machine's fate and about designers' team he realized what would happen soon and took the situation over killing himself in March 1934 (*see Note below). And in March 1935 Peoples' Council of heavy industry decided to hand over technical documentation on A750 to PMZ with 11,000 workers there and not a bad machinery. There the design of the model was improved and NATI A750 turned into PMZ A750. First three mass­series motorcycles were assembled by 1 May 1935, when the plant was visited by G. Orgionikize, a Peoples' Commissar for heavy industry 9 machines had been assembled, a state plan for 1935 was 100 pieces, for the following year – 500 pieces.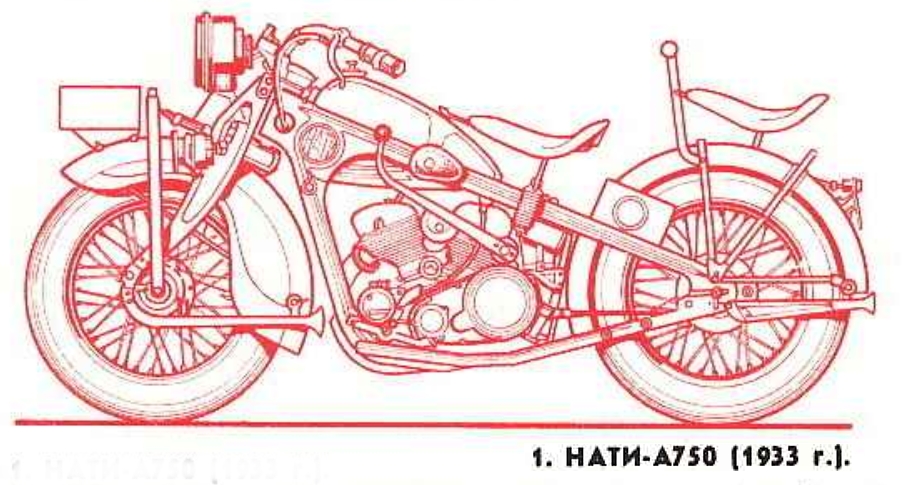 Nati A750, 1933: machine has archaic cylindrical shape headlight, no friction shock absorber on its front fork, battery is located not on the left but on the right side near rear wheel. Compared to experimental sample the frame is simplified and has different passenger saddle. Horn may be seen on the left of the front fork (later it was moved under column, between tubes). Gear shifting handle and two shoulder pedal were on the left, as with American motorcycles of those years. Same American style was rider's position: deep saddle, footrests far at the front, handlebars raised relatively high. Front and rear wheel design presupposed to have swinging props.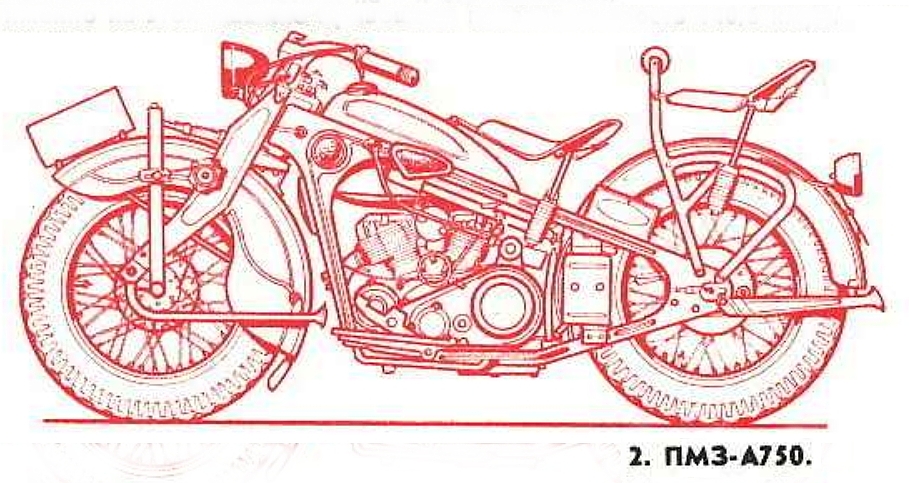 Left side of PMZ A­750.
Specification for PMZ A­750 are shown at the end of article. Production was going on with difficulties and there were typical for first models "glitch issues" resulting in versatile opinions about the machine. "The frame was designed to carry a sidecar is a perfect one, engine can be taken apart easily for repairs and parts replacement", said A. Filonov, a motorcycle sportsman known for record length jumps. A sophisticated rider S. Karzinkin of NATI argued that "the machine was a mishap all in all, lacked stability and had a faulty oiling system". The factory was improving the model in the meanwhile, introducing a more advanced electric equipment and for a rather heavy motorcycle (206kg dry weight) 15 hp were not enough, so it was planned to raise it to 17 hp in 1939. PMZ made an experimental sample with OHV engine (developed by I. Okunev). By the way, this motorcycle was put on test to races near Moscow, engine's power was estimated to be 35 hp and top speed – 160kmh, unfortunately PMZ did not have time to experiment further with motorcycles. In 1937 the factory had to work on design improvements of PMZ­125 model based on machine of Leningrade "Vulcan" plant (designers I.Ivanov, V. Berkman) with 18 pieces made, all technical documentation was handed over to motoplant in Serpukhov. In 1939 PMZ stopped production of motorcycles as it got an important order for defence production. The motorcycles A750 were not only used by the Army but sold privately too. A retail price for the motorcycle was 7760 rub – expensive if compared with other mass production machines of "the Red October factory" as L­300 (3360 rub) and Izh­7 (3300 rub). In use PMZ A750 had certain individual characteristics: equipped with "Scheller" carburetor clone its engine could not be started surely and motorcyclists had a joke: "try start me" (rus. free abbrev. of PMZ ). It needed some skills with warm or cool engine to find best combination of air choke (on the carburettor), ignition timing (left handlebar) and throttle (right handlebar). Nevertheless heavy machines from Podolsk were used by sportsmen: E. Gringaut, I. Krivosheev, A. Meshalova, L. Sviridova. Taking part in the USSR championship Kulakov and Krivosheev motorcycles had raised power to 25 hp/4500rpm that resulted in 145 kmh top speed. Interesting that Krivosheev mounted such engine into Izh­8 frame and raced it with top speed 140,6km/h.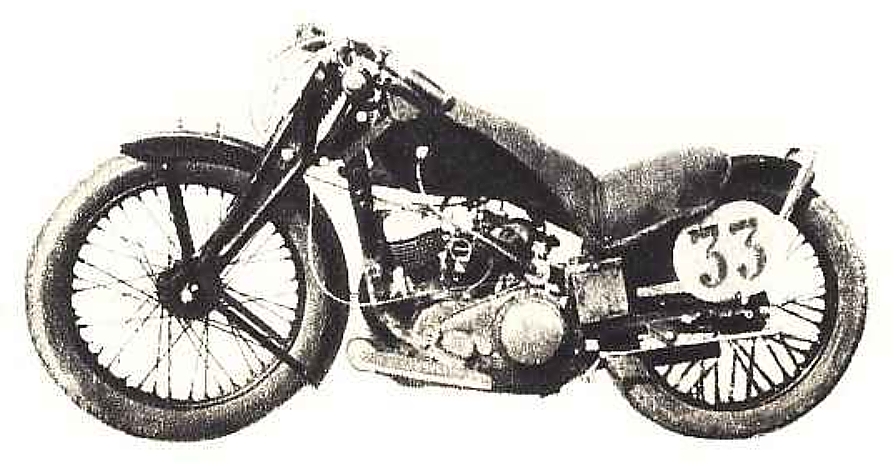 Sports motorcycle of I. Krivosheev: tuned engine 747cc, 23­25 hp/4500rpm, gearbox PMZ A750 in frame of IZH­8. Namely on this machine in 1938 Krivosheev's top speed was 140,6 km/h.
With more than half a century passed since production of PMZ A750 was stopped most part of motorcycles was lost, a few samples remained, though. Surprisingly a NATI A750 was found and restored by J. Zuzik, a member of Moscow club "SAMS". There is a PMZ A750 (in a good condition!) in State Polytechnical museum and as far as I know , there is one such machine in Estonia.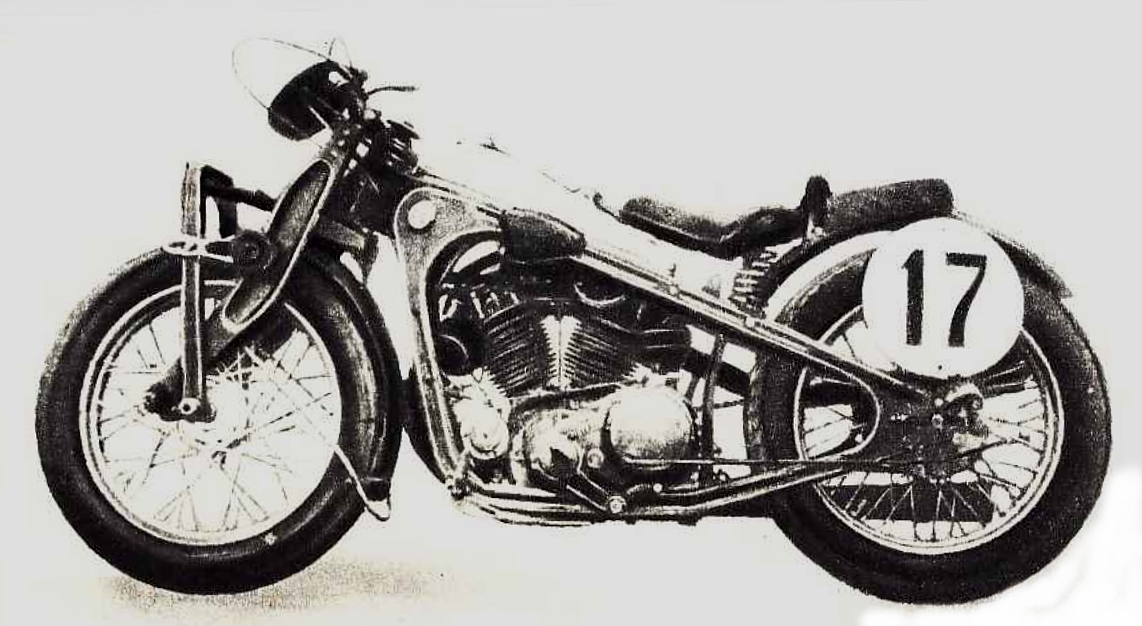 Race PMZ A750, 1939 year, with OHV engine 747 cc capacity developed 35­37 hp but further work on design was required.
MOTO ARCHIVE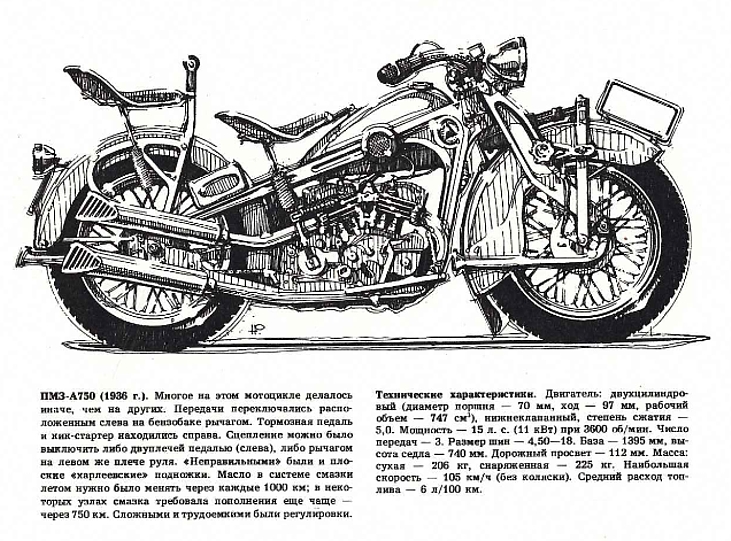 above: PMZ A750, (1936).
Many things were done differently than other motorcycles. Gears were shifted with hand lever on left side of fuel tank. Brake pedal and kickstarter were located on right side. Clutch could be switched off either with a two shoulder pedal on the left or with lever on left handlebar. "Wrong" were also Harley's flat footrests. Oil should be changed every 1000 km in summer, some assemblies required lubrication even sooner – every 750 km. Adjustments were difficult and labour­intensive. Technical specification: engine – two cylinder (cylinder bore ­70mm, piston stroke 97mm, capacity 747cc), side valve type, compression ratio – 5,0. Power – 15 hp (11 kWt) at 3600 rpm. Speeds ­3. Tyre size ­ 4,50­18". Wheelbase – 1395mm, saddle height 740mm, ground clearance 112mm. Weight: dry ­206km, unladen ­225km. Maximum speed – 105 km/h(without sidecar). Average fuel consumption 6 litres/100km.
Notes:
* Another account is that VP Mozharov died at a health resort under suspicious circumstances: "Pyotr Vladimirovich Mozharov died on holidays at a health resort in Sochi on 3rd November 1934, aged 46. He was buried in the Old Cemetery, Sochi. There is said to have been suspicious circumstances (suicide? shot? pro­German? spy? victim of political repression? assassins in sanatorium corridors? … It is easy to imagine the hereditary nobleman, relatives capitalists?)."
Addditional photos: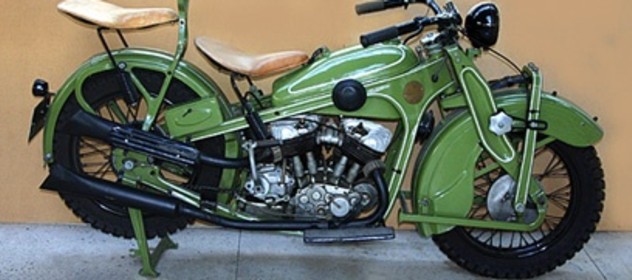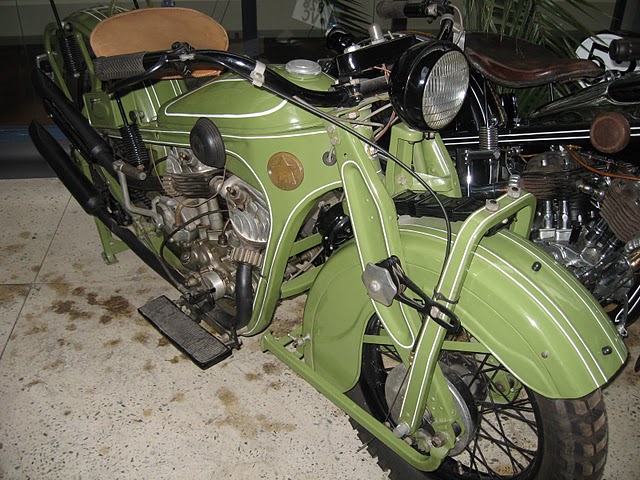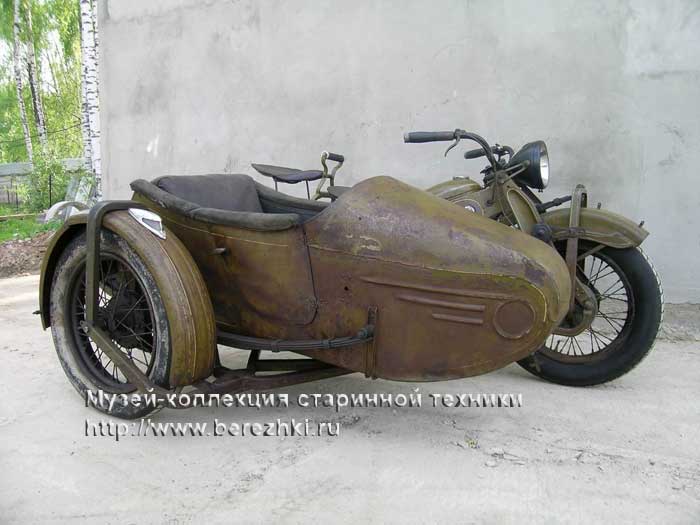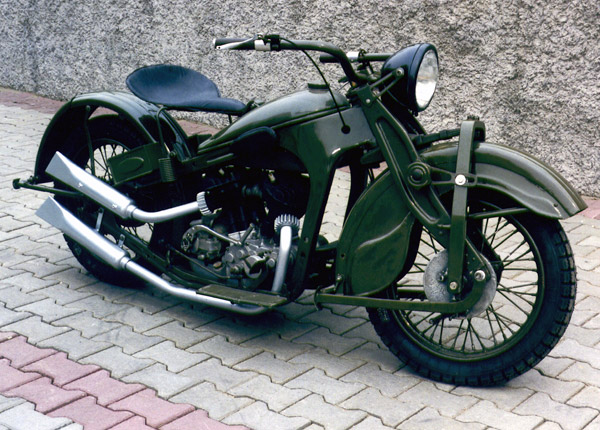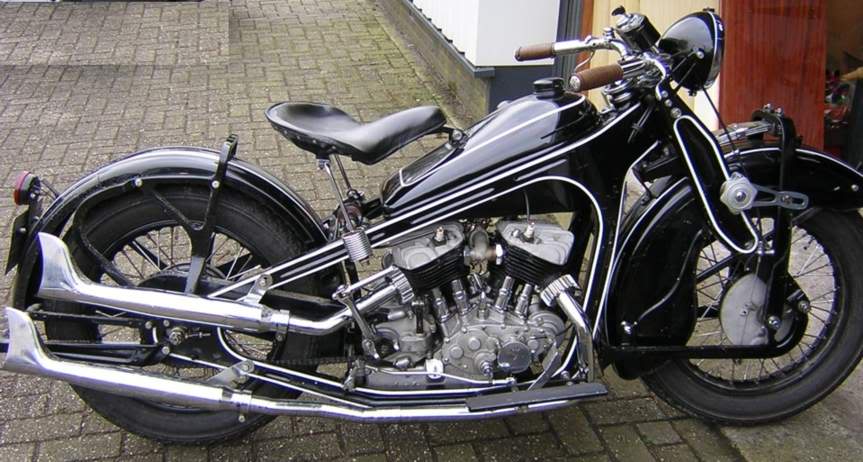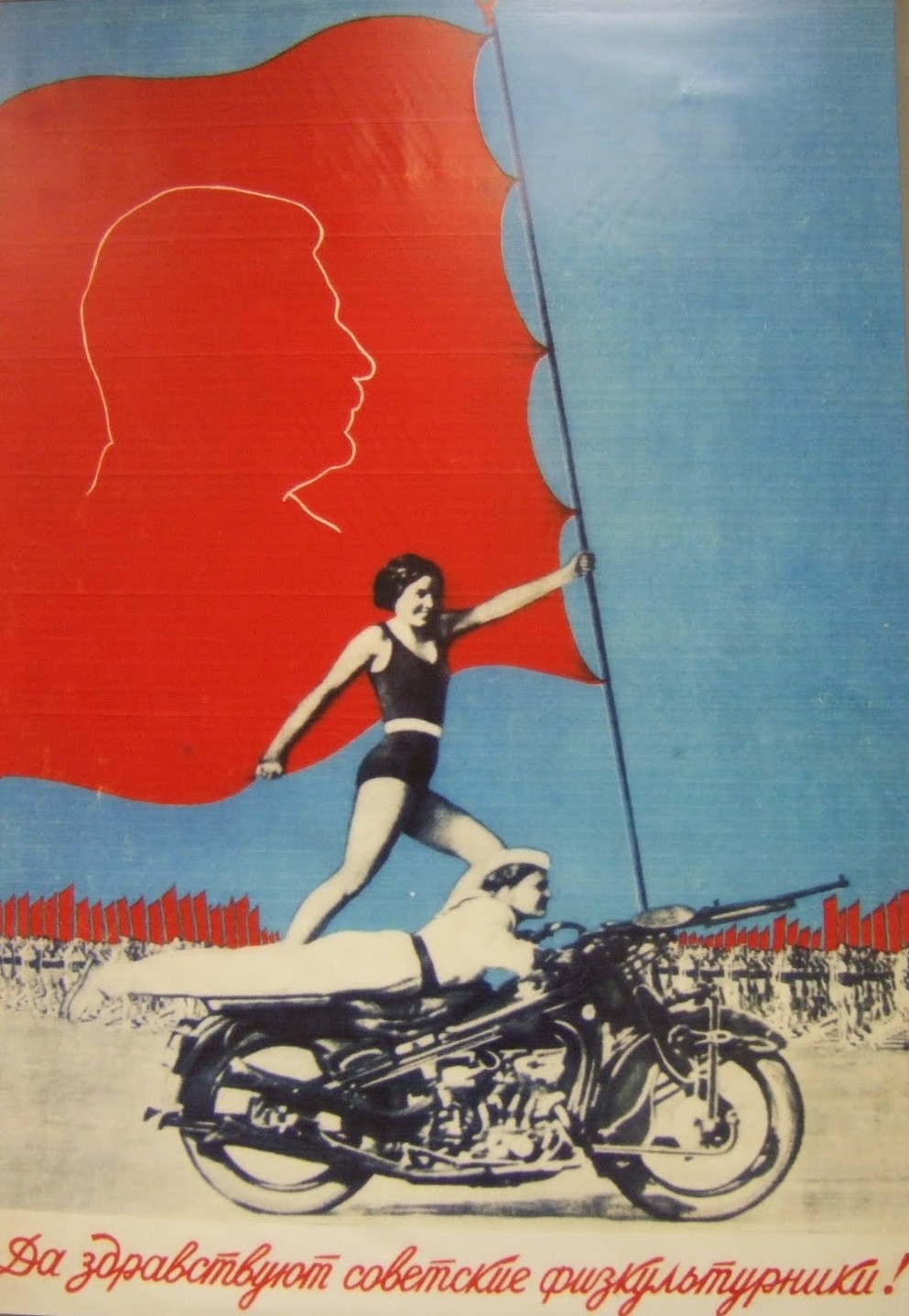 expanded from an article Moto Moscow Russia 1/1991 (first issue, USSR­Russia) Text by Lev Shugurov
©2015 English translation specially for Russian motorcycle admirers (b­cozz.com) by E. Radchenko, Chelyabinsk, Russia
Proofreading by JD
Final editor Catweazle
Other sources of information:
Complete History of Soviet Motorcycles
Russian Encyclopedia of Motorcycles
Team Grim
the Internet
B-Cozz archives