This article is by Alexey Popov, noted motorcycle historian in Riga, Latvia.
Alexey has given us permission to reproduce his article in English. Ten million thanks Alexey!
English translation by Eugene, another million thanks Eugene!
"Emki" with the unfortunate fate.
Alexei Popov on forgotten designs: M-52 and M53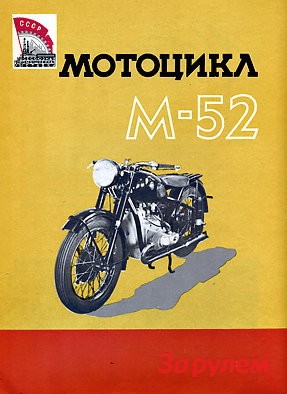 In the old motorcycle literature can be found mention of such models as the 500cc M-52 and M-53. Few however, saw them with their own eyes, and now they are almost forgotten. So, it's time to tell about these two fine machines, which have not been allowed to become legendary motorcycles.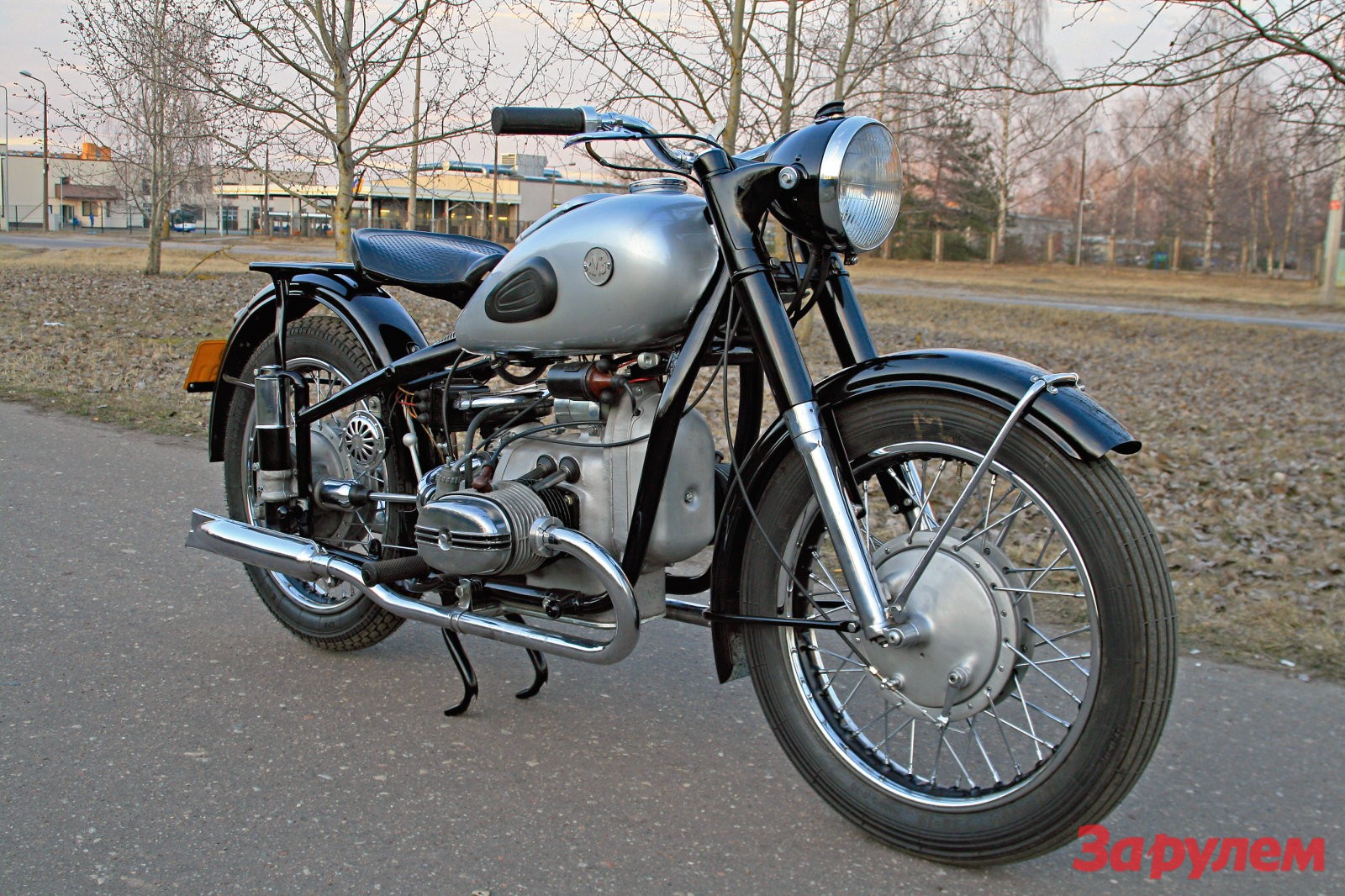 M-52 – one of the rarest Soviet motorcycles and perhaps the most beautiful.
Old motorcycle references mention a 500cc M-52 and M-53 but few witnessed them and hardly remember, they never turned to become legends of motoprom so we will pay their due now.
"Five hundreds" (500cc) have long been among popular categories in the world but it was not so fortunate in the USSR. L-500, TIZ-500 of prewar time, which was not mass-made, then by end of the 1940-s GMZ conducted research on 500c class, unificated in parts with assembled M-72, Izhevsk attempted exploring same 500cc in 1960-s but fruitlessly. My interest in 500cc machines started with accidentally found 3 rusty cylinders in a far corner under an apple tree of one of motorcycle veterans garden. They looked like usual Irbit cast iron pots, but seemed a bit smaller in size, so after cleaning I measured them, indication showed 68mm, then I became sure these cylinders were of Irbit M-52 model.
Long before this finding I had read some piece of information about M-52 and I liked and admired its beauty from photographs look. I searched through GAI (road police) I left hope to find any such in my country (Latvia). This was an unexpected luck to have found the pots, gradually I started collecting information about these machines and discovered one to be brought to Riga by motorcycle racers in the 1950's. It had never been used for races, but for many years of use it suffered modernization: cylinders swapped for M-63, front fork was changed after a crash, fortunately it was not thrown away. Most important, original factory plate remained, from which I realized I came into possession of M-52, No. 00468, 1958 production year. It took several years more to gather parts given away from it and when 70% of it was in my workshop I started to restore it.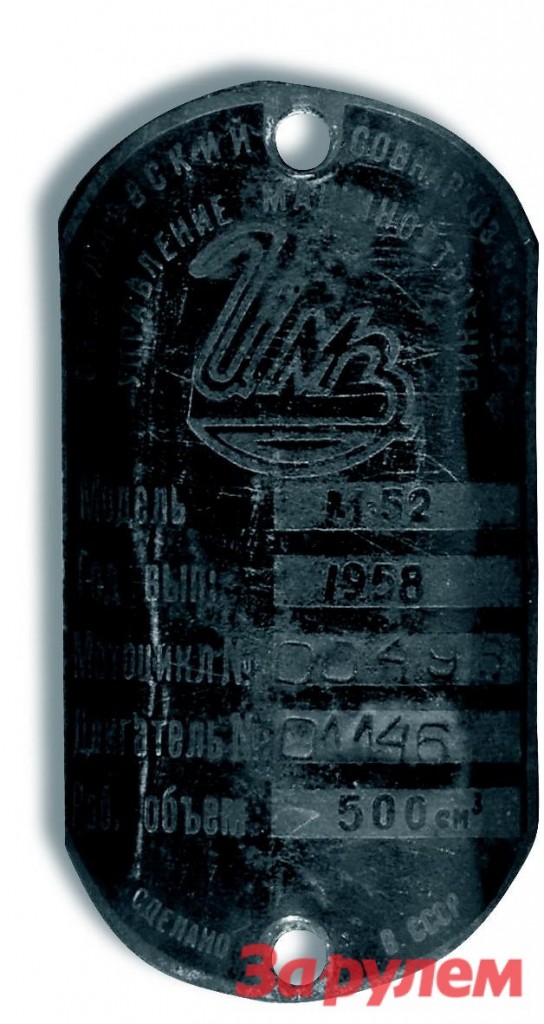 Data plate confirms authenticity.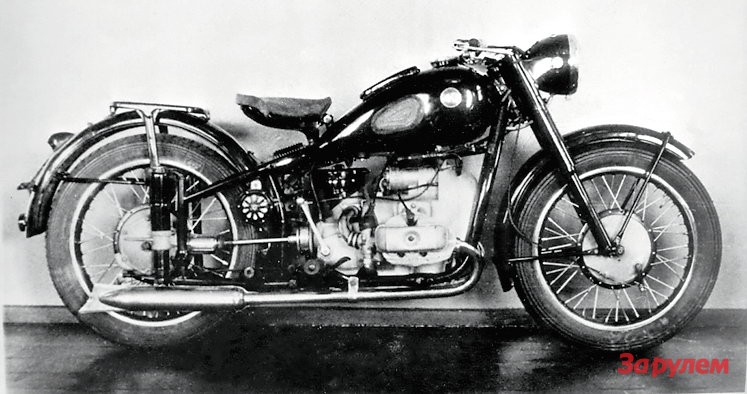 The first prototype M-52, 1954
In 1954 IMZ made first experimental M-52 with engine designed by Central Design Dept.(TsKB), Serpukhov, specifications of which are best described in the department's report: "engine made with maximum use of M-72 parts, for instance, engine casing is ordinary mass-made, but for final stages of metal processing, diameters of crankshaft axis journals, piston pins and rollers with separators are left the same as corresponding M-72's. Push rod valve mechanism is derived from proven designs and almost the same as in latest road model BMW R-51/3, while having some technological advantages in IMZ production circumstances. Cylinders are cast of aluminium alloy and house press-fitted cast iron sleeves…"
Besides engine, M-52 could boast a new front fork with wheel axis on short arms and springs
located inside fork tubes, unlike M-72, and it was planned to be fitted to modernized M-72M as well. Wheels of M-52 got aluminium alloy cast brake drums, frame of first experimental sample already differed in longer rear candle suspension travel, as due to 25mm longer springs and plunger shock absorbers. At sight the motorcycle seemed lighter with narrow mudguards and smaller fuel tank, 18 litre capacity. During 1955 the motorcycle went through full program of stand and field tests, including 15.000km marathon. Test results were used to introduce changes in design of first small probe series, timing mechanism received light al alloy pushrods and lighter valves, cam covers design changed, as one cast aluminium alloy was for each pair of valves, though experimental model had press-formed steel covers. Oil port was moved to upper part of engine casing, same was recommended for M-72M, domestic production adopted new carburetors for M-52 taking after in general design after BMW R51/3 "Bing", typical of which was a cast one piece compensator chamber with carburetor body.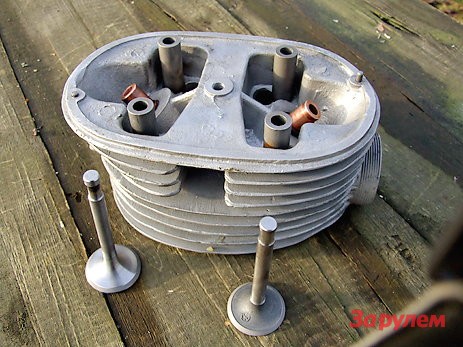 Stock engine cylinder head M-52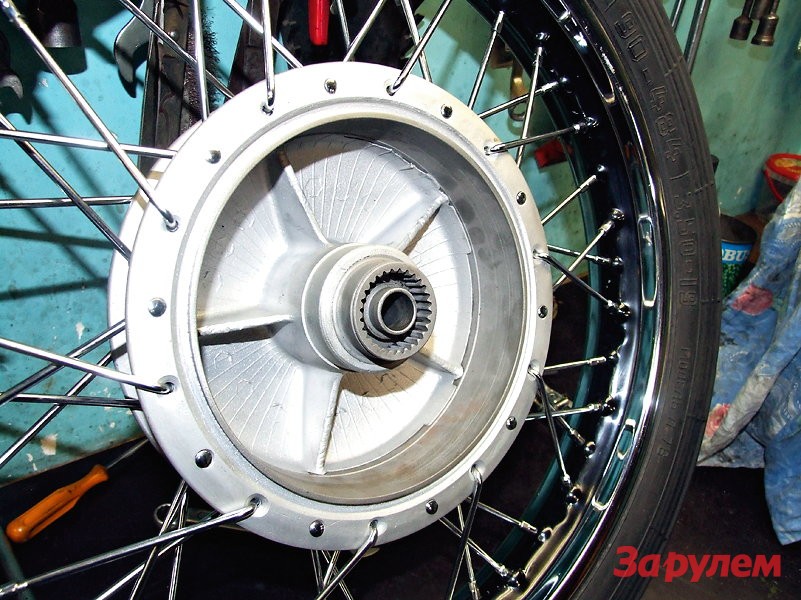 Aluminium alloy cast brake drum casing.
With corrected paper designs IMZ made test-series of M-52, after which mass production was started in 1957. First series had cast cylinders with tunnels one for both two pushrods, this design solution was used for Zundapp KS750 of war time, later series got familiar steel tubes with rubber sealings that were more technological and cheaper.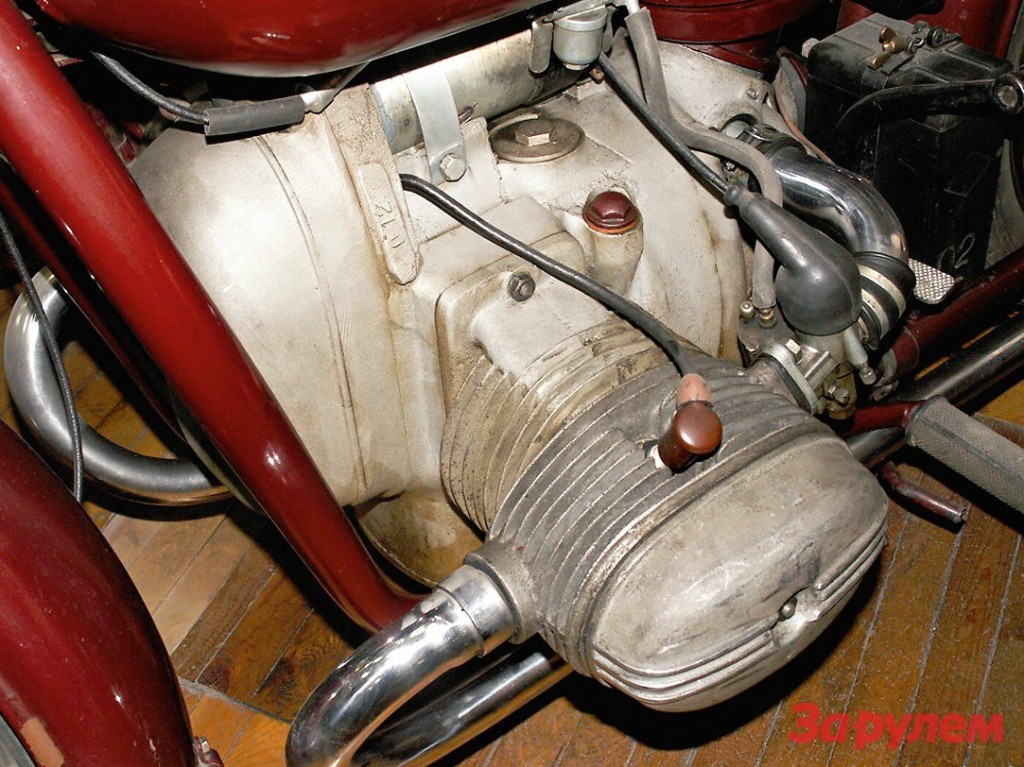 First series had pushrod tunnels cast with cylinders.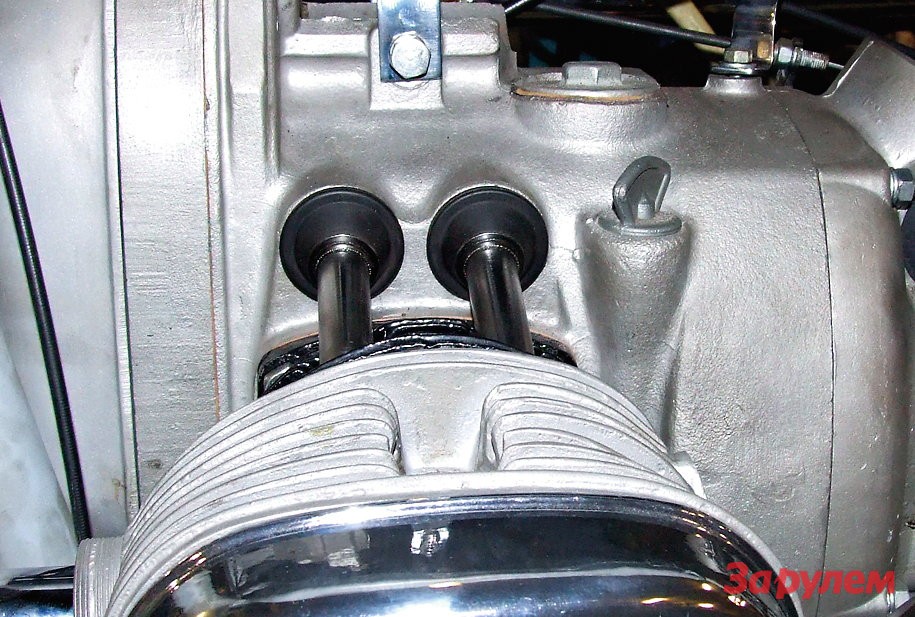 Designers switched to ordinary steel tubes.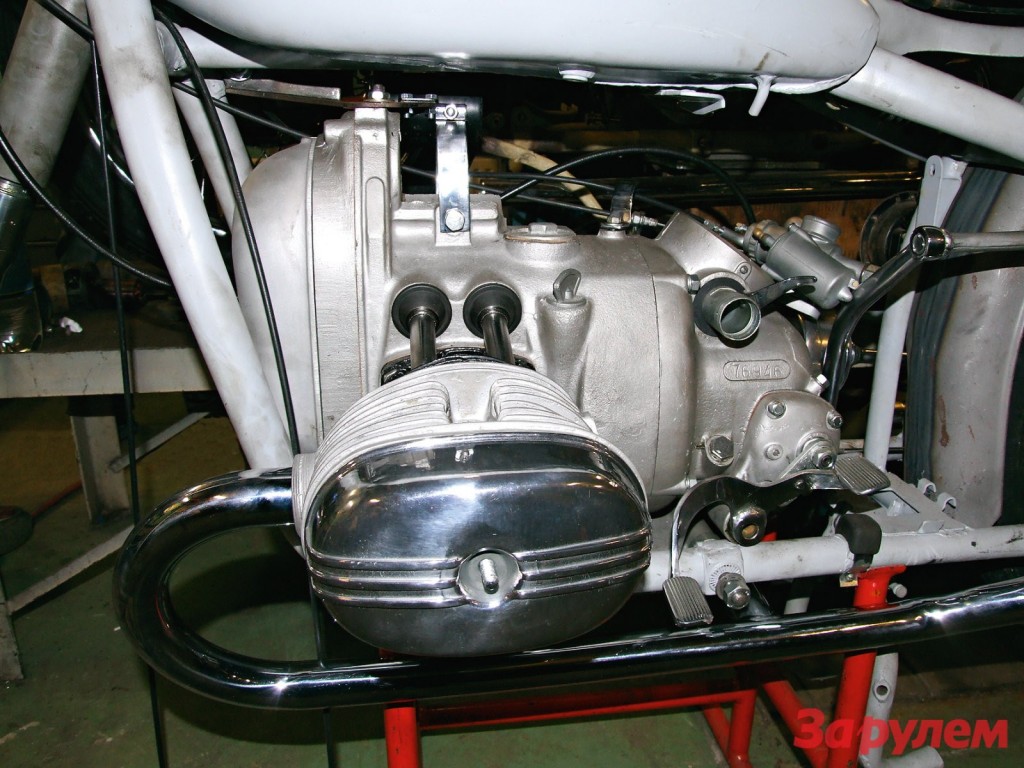 Exhaust pipes of M-52 first series were straight, later tubes were curved up so there was less risk of damage in case of tilt as solo, same approach was used by BMW, with my motorcycle I had to restore them from design papers. M-52 also had a new handlebars, then installed onto M-61. Newly designed switches and hand levers, high/low beam switch became electric, though M-72 had mechanical throttle handle was of coil type. First series was sold in close to the factory areas, which should have facilitated solving problems in case of defects and call backs. Same year, 1957, production of sports modification was started: M-52 C for road and M-52 K for cross races. The last machines were made in 1959, but from first series of sporty, light and glossy machines nothing left, in fact it was a M-72M equipped with 500cc M-52 engine. One of these survived and is owned by one of our Moscow collectors, though no official data was uncovered yet upon such hybrids. Possibly "the Great Plan" required report on output of these models and some M-52 OHV engines were fitted into M-72M frame.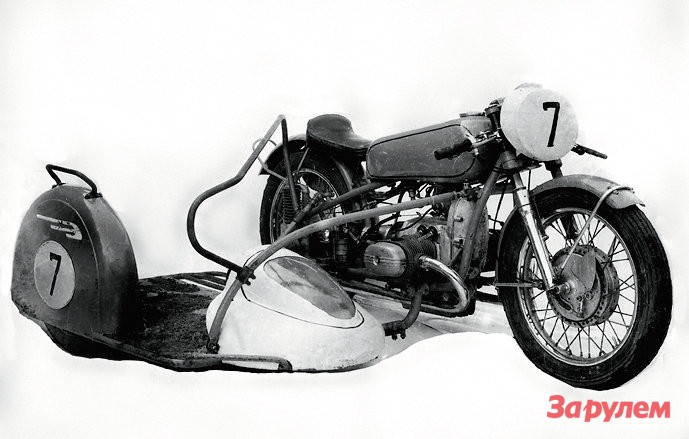 M-52C ( Rus. C or Eng. S = sport)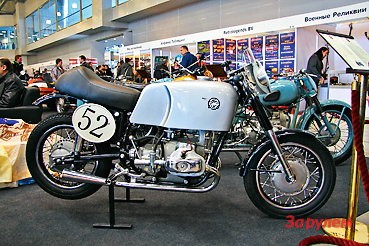 Very rare M-62C solo racer.
M-52 was changed/replaced by M-61 in 1959 and reasons for that should be explained separately. According to official sources, M-52 "had insufficient torque to be used with sidecar", many other sources wrote an interesting to my mind phrase that should have made clear that "M-52 drew sidecar with strain", which is hardly close to reality. Surely, official papers torque of M-52 was 3.25kgm and 4 kgm of M-72M, but let us imagine a M-52 with a sidecar deriving from german army model BW-38 of 1938 year, a heavy duty one and if we were stuck in a dirt pool it'd certainly "draw with strain" the outfit, but if it were for a lightened sidecar of touristic type going on a good road, the advantage would not be for M-72's party. Such logic of designers may be evidenced with with "Steib" german sidecar M-52 standing in Irbit Motorcycle Museum. So a lightened sidecar was first way to solve the problem, second was to mass-produce "low-torque" M-52 as solo, and you'd better believe me that such version is not bad with dynamics capabilities even in todays' terms. Finally, the very phrase or reference to small torque seemed to me ridiculous or inventive, given same laden was for 2-stroke 350cc Izhs, 250cc Panonias, 200cc and Tula motorollers, which were also at times joined to sidecars, seemingly these machines did better than 500cc 4-stroke makes. That not sufficient torque was only a formal reason is apparent now. Main thing was that the state had a heavy motorcycle with sidecar on conveyor which could be easily turned into a military unit in case of need, why produce an easygoing tourist M-52? According to data given by former main designer M. Isaev, 678 M-52 were made in total, including all sports modifications, which counted somewhere 159-200 pieces.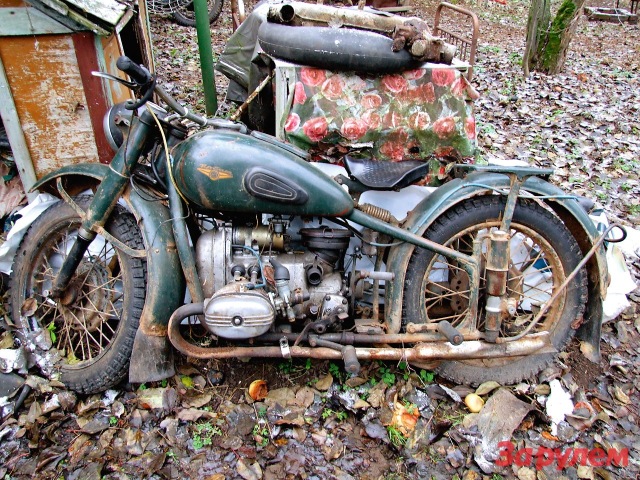 In such condition unique motorcycles are found sometimes
While working on M-52 Central designers department conducted research and created second type of 500cc technical order of 1955 for this said: "second design variant supposed modernization of the first variant (M-52) including transition to new chassis with rear pendulum swinging arm and then, new engine with bush bearing in main rod head, centrifuge oil filtering and other changes".
This resulted in creating one of most mysterious Soviet motorcycles of postwar period, much was heard of this and written, it did exist, but no one but no one saw M-53 it in metal flesh.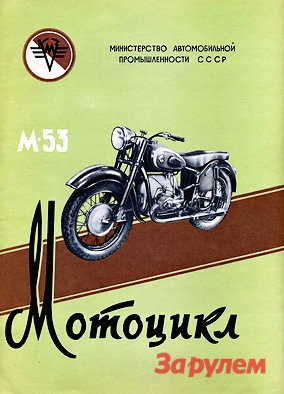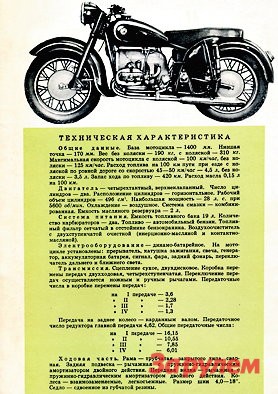 History of motoprom covers many interesting machines, that left as the only experimental sample, but M-53 stands out in that it was referred to as mass-made, while it was not in fact.
1960 "Motorcyclist's reference" by K. Dementiev and I. Umachev on page13 after description of M-52 (already not produced) has a brief notice of M-53 beginning "is made by Kiev motorcycle plant", while official data on output said only 5 machines were made.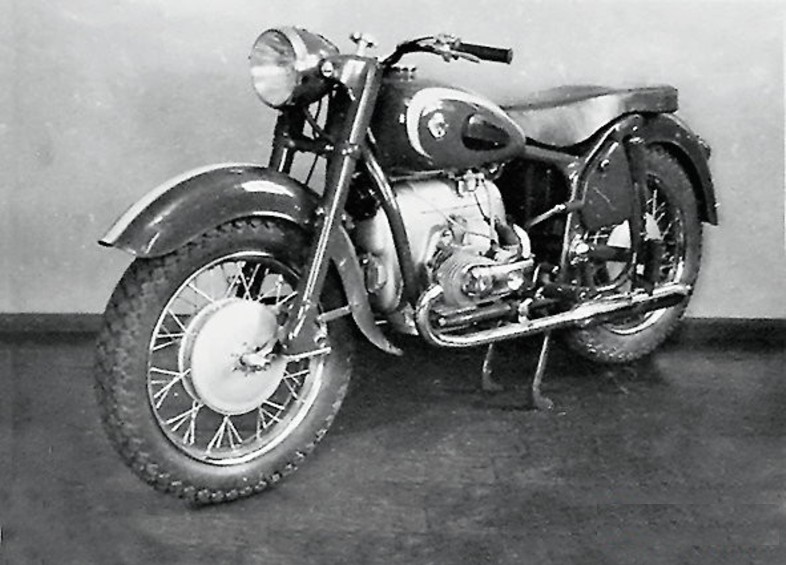 First experimental M-53 (from Central Design Department [CKB] report)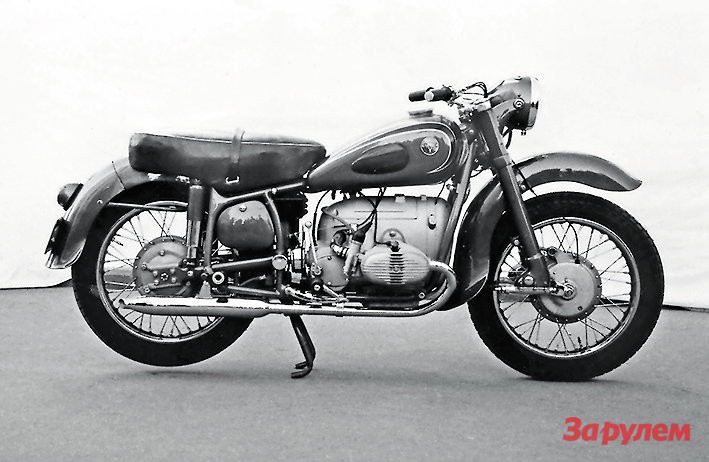 Later version of M-53
It's important to assume that both Ms were made at the same time, while M-52 was a modernized M-72 with different chassis and engine (new fork, mudguards, wheels could hardly be called "minimal changes"), M-53 should have been a totally new machine. It was developed by Central design department in cooperation with KMZ, "Kiev motorcycle plant" and "Central design department "finished developing and assembling of two engines for motorcycle M-53, additional improvements and adjustments were done on test stand…engine developed 29hp/5500rpm" This were tests of first engine type for M-53, it still had same cylinder heads as M-52, but this was external feature, internally there were centrifuge oil filtering, placed at front crankshaft end, generator and air filter covered with casings, a version had upper fetched air intake between fuel tank halves. M-53 engine became first Soviet motorcycle engine with main rod head bushings, valve clearance gapping was adjusted by means of oval shaft of cam levers rotated, this left out adjusting screws.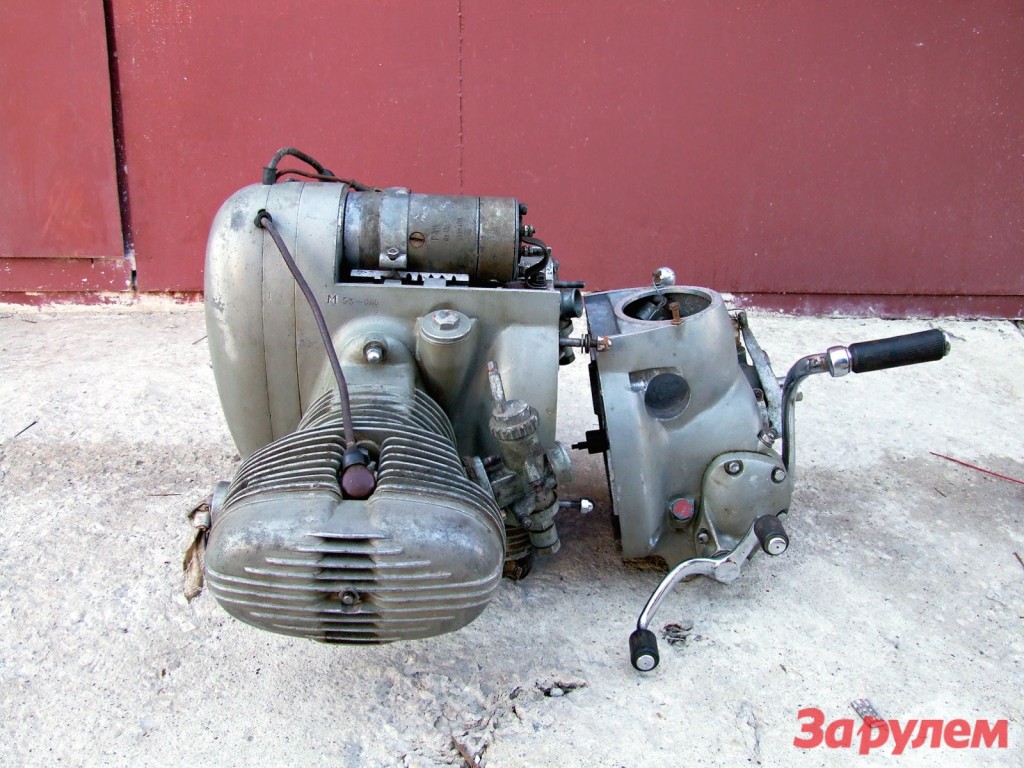 Rare find – M-53 with engine number 005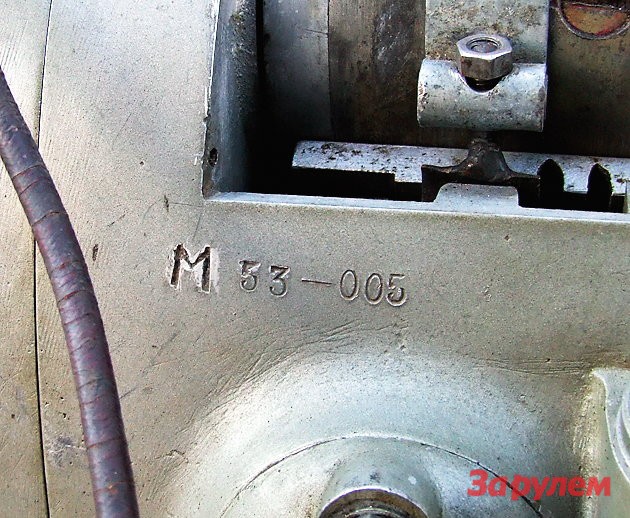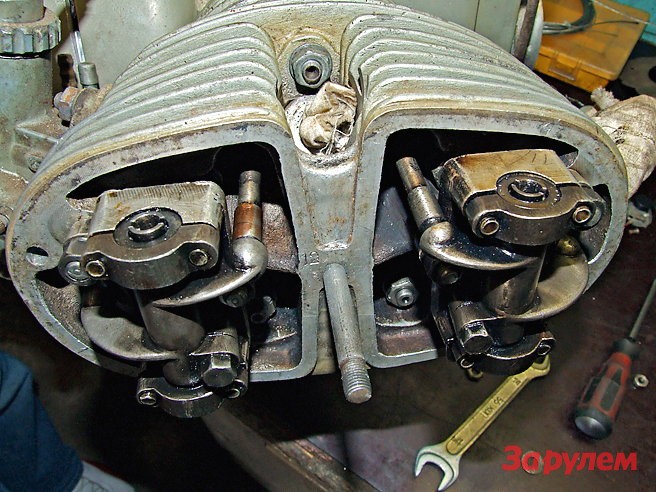 Adjusting the M-53 valve clearance was by adjusted with oval shaft rotation (rotating eccentric).
New engine was put into chassis with front short lever fork, rear swingarm pendulum with hydraulic shock absorbers, one-piece seat. First series of M-53 had smaller wheels – 18″, they 19″ returned, some archive photos have left demonstrating process of improvement of chassis, but the machine was doomed to same as M-52 end. Somewhere in upper circles it was decided that 500cc was not enough and both factories were ordered to produce motorcycles with bigger capacities, IMZ started with M-61, and KMZ exhibited new K-650, which was in fact same M-53 with 650cc engine resembling greatly outer look of M-53. OHV engine production in Kiev started only in 1967 but that was a different outfit, besides road M-53 KMZ developed and assembled a small series of sports modification M-53C for road racing.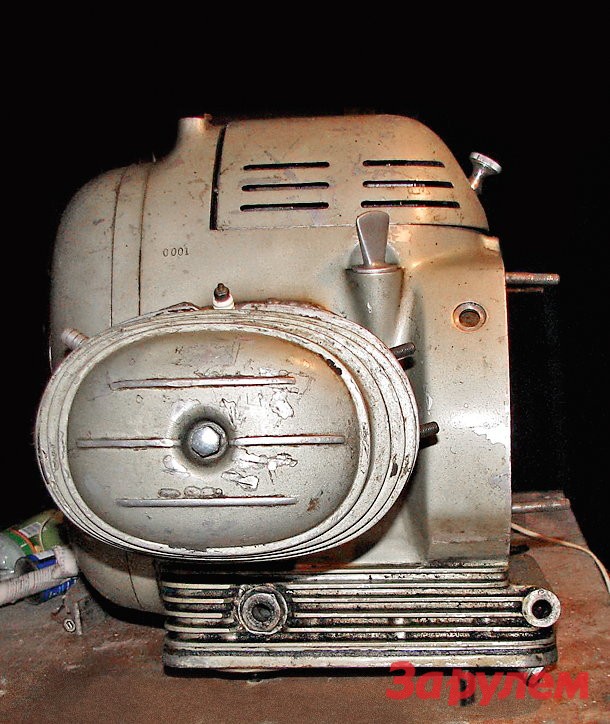 Experimental K-650 engine, 1960
That's how the story of "500cc" ends, though they may have become legends of motoprom inside the country and other Soviet republics, as most motorcycle-comrades, unsophisticated would have been pleased with this machine, the fate decided her own. I have finished restoring M-52, M-53 is about to be taken on. Work on M-52 took three years, first of all it was an examination of a heap of s wreck of iron for defects and estimate of future volumes of work, what I had was not quite pleasing with greatly worn out front fork with bent lower tubes and torn off headlight arms. It took me 2 months to restore the fork, front mudguard was of no good with strengthening elements rotten. I had to weld in new strengthening and mount it with exactly same points of welding as original was. It was also important to equip the machine with right "smaller parts": after some searches I found a generator of same production year as the machine was, handlebar got switches and hand levers, throttle and other handles are original as same were supplied for M-61, rear plunger suspension came together with the machine and factory stamp proves that the parts were of M-52, not M-72.
Gradually assembling the motorcycle it became ready for the first run, made on 30 Dec 2007 new years eve, then I had a small field test, some drawbacks were dealt with resulting from such volume of work to be done. Running in was on Dnepr wheels as original design spoke order was not ready, trouble I had with tires. Original size was 3.50-19″, front was a sports tire with parallel protector lines, rear was a soviet analog of "Barum". I tried it with Mitas, (Barum analog) and Avon sport on the front, but from sight these seemed smaller than original and I had to fit German Hidenau on rear and old Soviet sports on the front. Hidenau tires have same profile and ideally resemble those the machine had in its time, besides they have good road grip, while Mitas is rather soft for a heavy motorcycle in my opinion. 13 Sept. 2009 the M-52 had a first rideout for a rally in a town of Cesis, 300 km were ridden by my son Dmitri and the machine didn't fail, my son was delighted with the machine and colleagues and public also admired it. Now the motorcycle is standing in Riga motormuseum.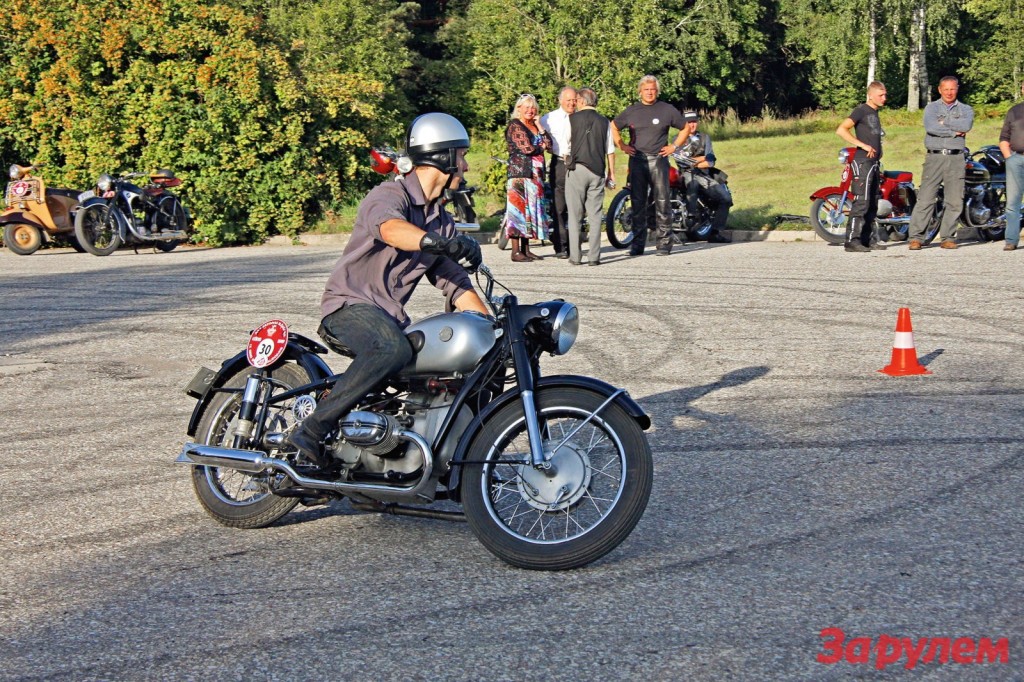 Motorcycle M-52 in action.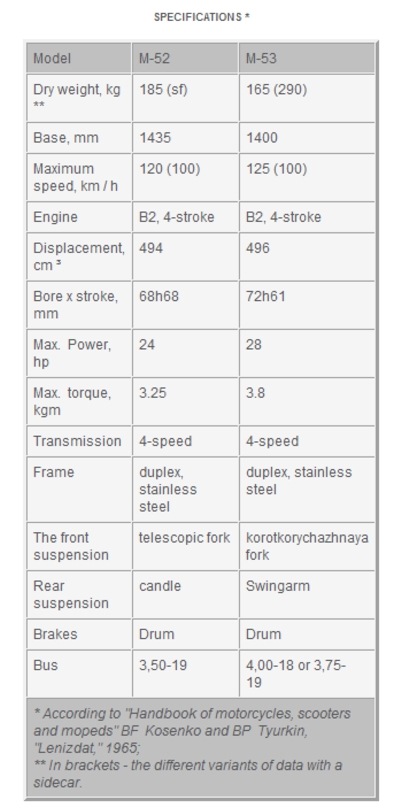 Translators notes:
«ЭMKИ» "Emki" with the unfortunate fate… "Emki" that fate did not favour… "Emki" with unhappy destiny…
«ЭMKИ» "Emki", (M), like emm or emme – "M" (52), a "familiarity" tint is there in such reference. Same I might have mentioned for Start-shoose Soviet bike referred to as Startukha, logically by those who would use them regularly or know well, 40 years ago, now veterans mostly, but this is "Emki" is more understandable." – Eugene
Reprinted in English language here at bCozz with kind permission from the author.
Special thanks Alexey!
Original text and photos: Copyright © Alexei Popov. Riga Latvia. © 2012 All Rights Reserved.
English translation Copyright © Eugene Radchenko.
Special thanks to Aneta in Poland for liason with Alexey. Thanks Aneta!
Additional photos: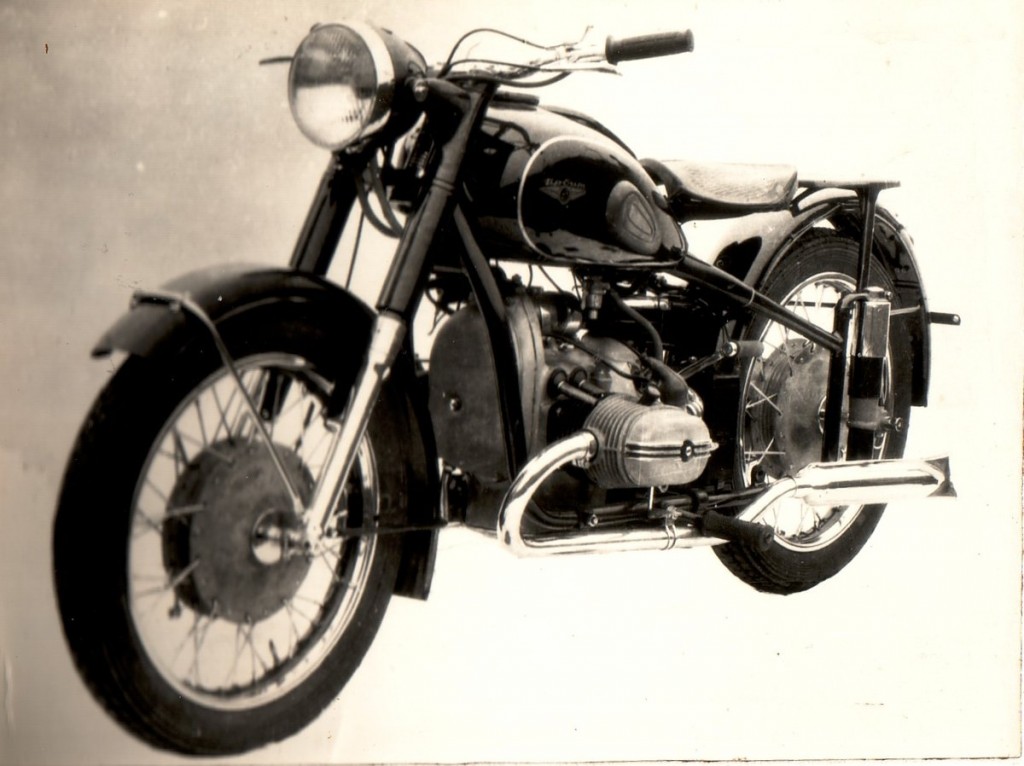 M-52 as shown on IMZ data card. Special thanks to Steve Wiggins for this photo.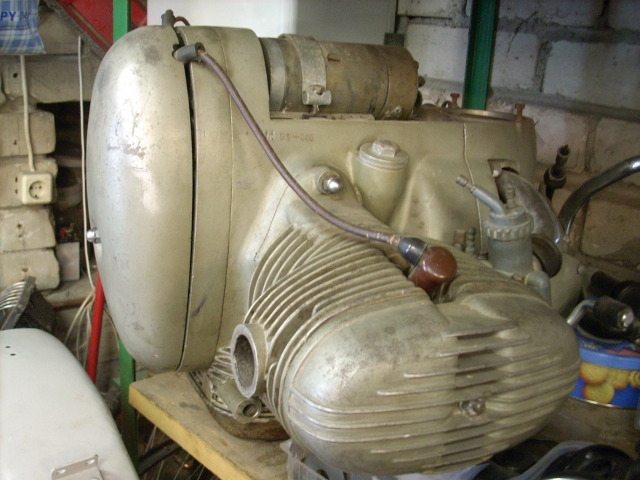 M-53 engine photo ©Aneta Myszor. Used with kind permission.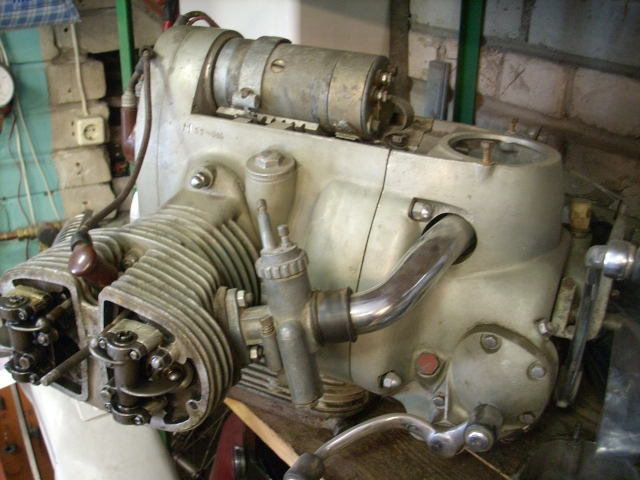 M-53 engine photo ©Aneta Myszor. Used with kind permission.