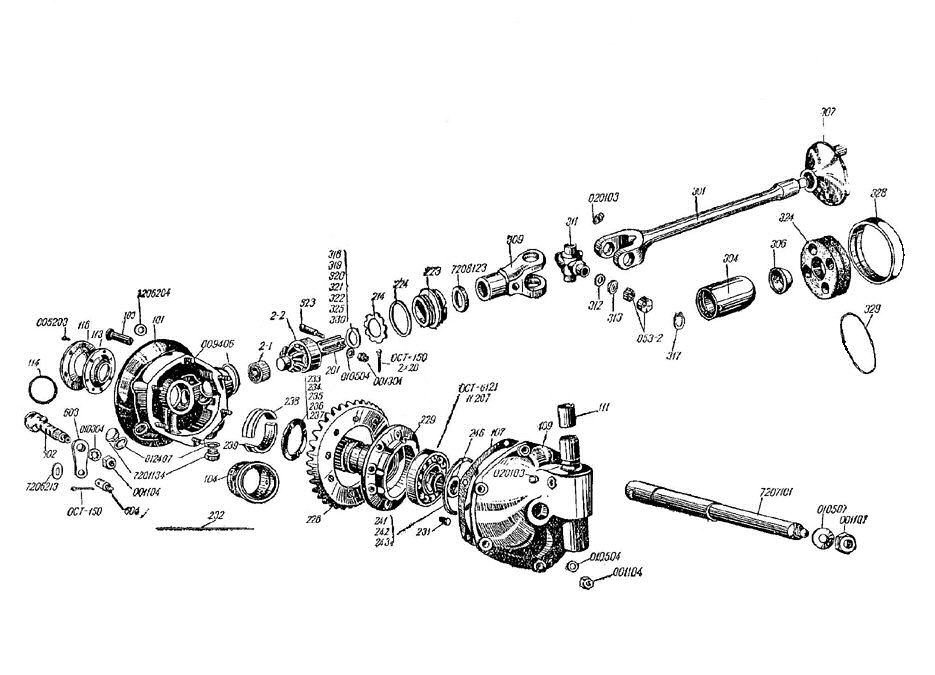 I'd bought this final drive in parts and made photo's to show you how I manage to put it all together. It might help you to refurbish an old and worn final drive. Or just that you guys have a notion how it all fits together and help you to decide to repair an old one, now that you have seen how easy it is 🙂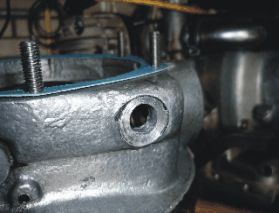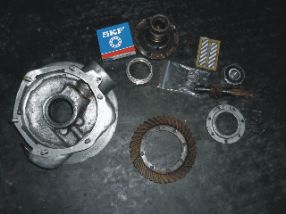 Housing, thread M14x1.5 was worn, had to cut new thread one size bigger, M16x1.5 and buy a new oil plug with the same size.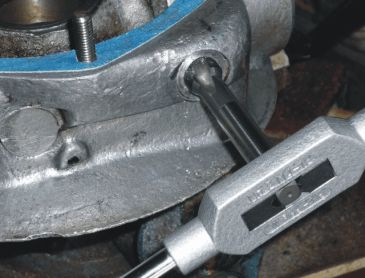 Crownwheel and pinion, 9 x 41 – 1:4.55 odd size!
Available gearing, 7 x 38 – 1:5.43
8 x 37 – 1:4.62 standard sidecar gearing
10 x 34 – 1:3.4
10 x 35 – 1:3.5
10 x 36 – 1:3.6
9 x 35 – 1:3.88 standard solo gearing
9 x 38 – 1:4.22
Oldtimergarage and Ural-zentrale for odd drives. China made ??
8 new bolts M8 x1 x15, washers and a bit of Loctite on each bolt.
(original, there should be double washers used in order to fixate the bolts)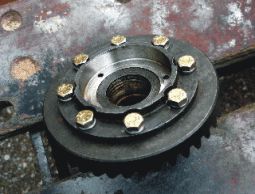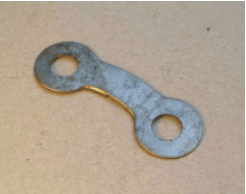 With the use of the axle you're able to tap ( gently ) the crownwheel in or out (on/ off the bearing ).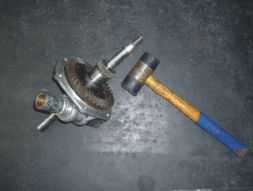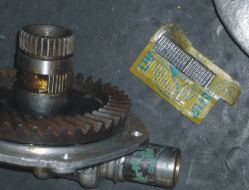 A bit of sticky grease will keep the needles in place while installing the crown wheel/rear drive cover into the housing.
Use a plastic cover to protect the seal from being damaged by the splines !!
A part of a Pet bottle will do the job !
Beware of the oil hole while placing the oil seal !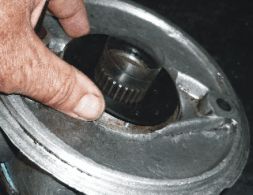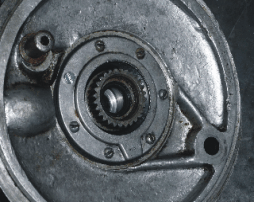 Pignon bearing:

1x 72052-1 Russian, 2.5×13.7 x 30 needles.
1x 72052-2 Russian, European, SKF 3304B 20x52x22.25 double row, ball bearing.

Crown wheel bearing:

1x 207 Russian, European,SKF 6207 35x72x17 single row, ball bearing.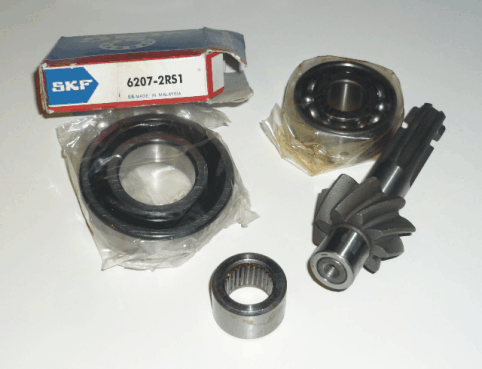 If you buy covered bearings remove the cover before use !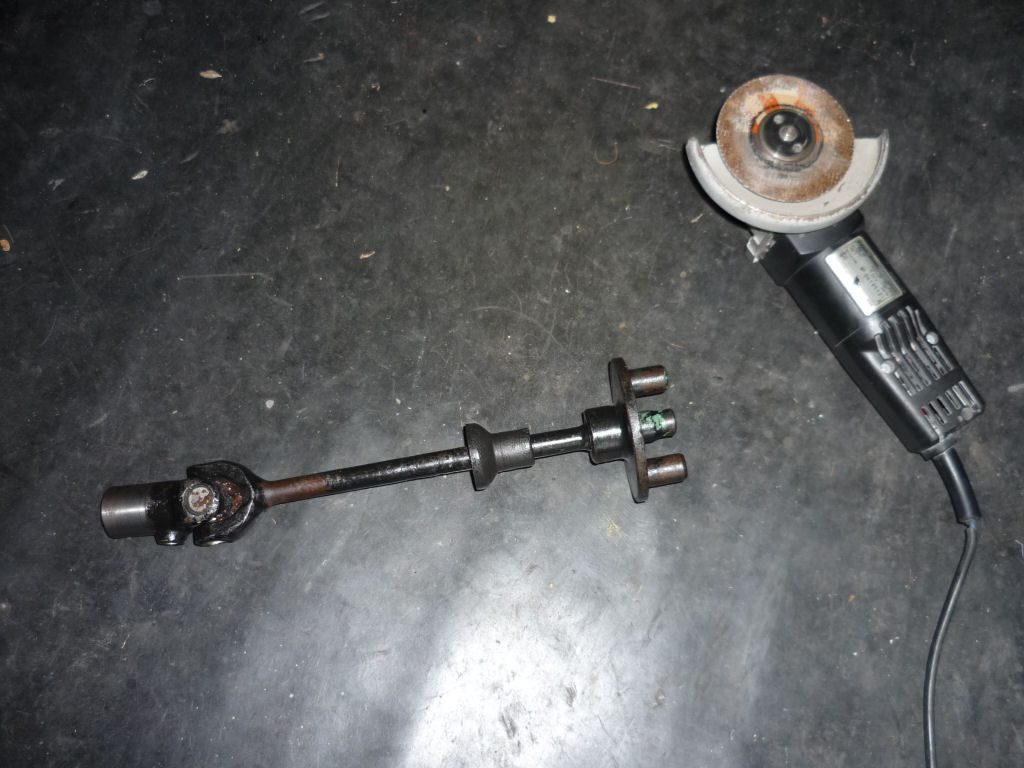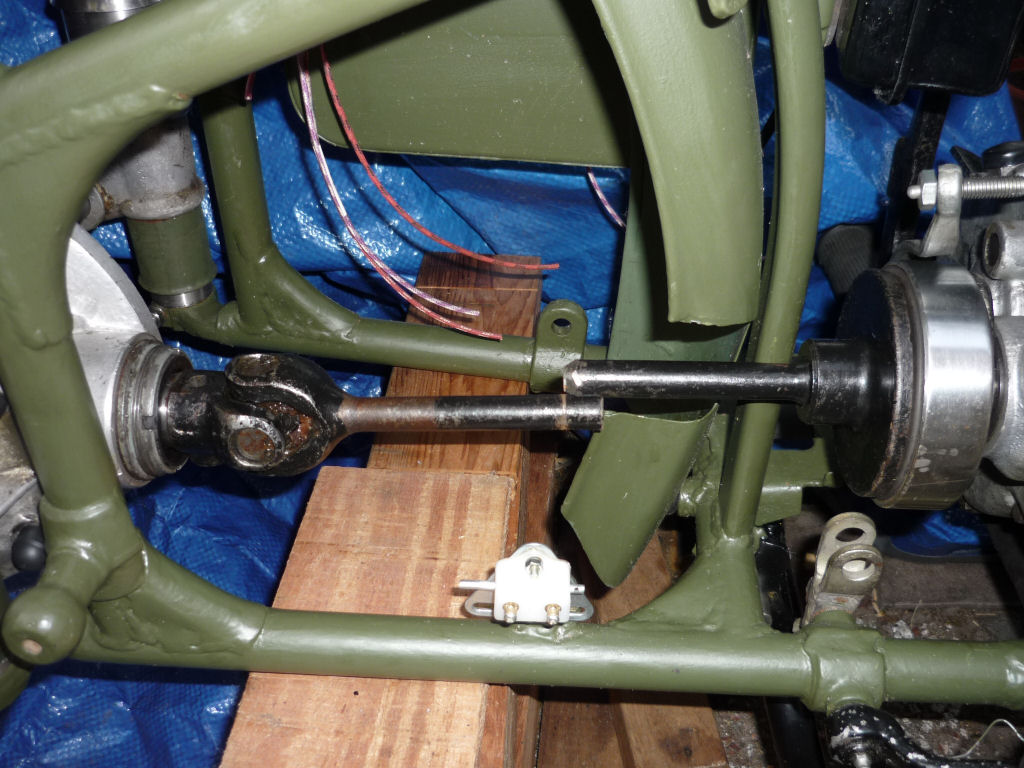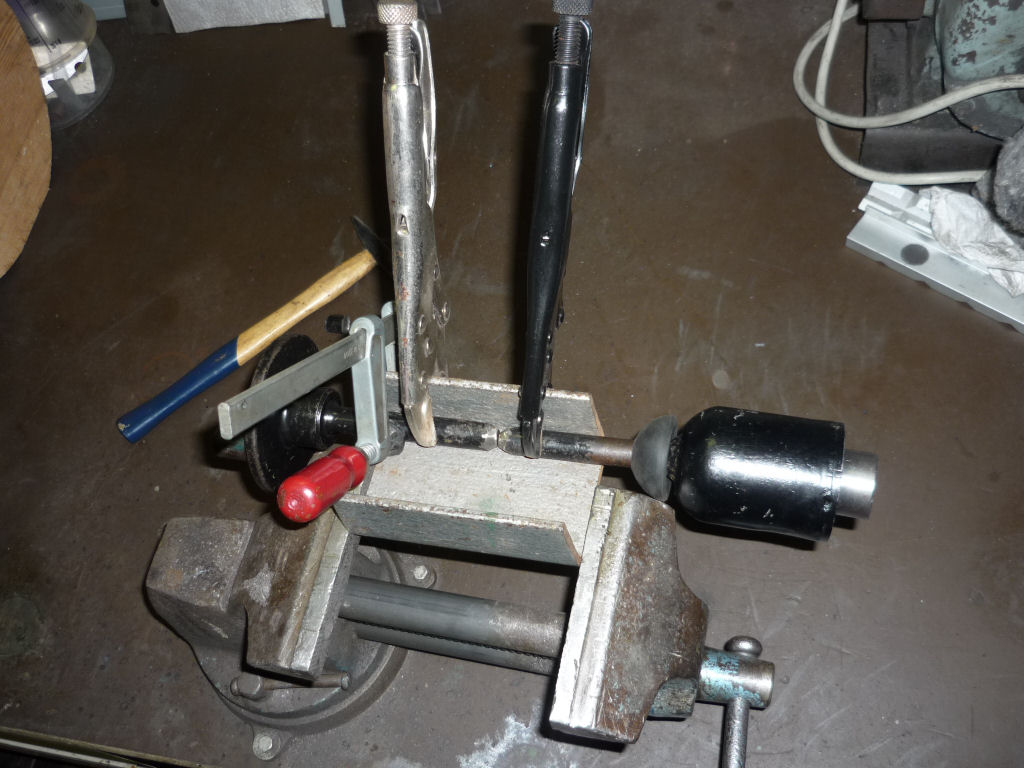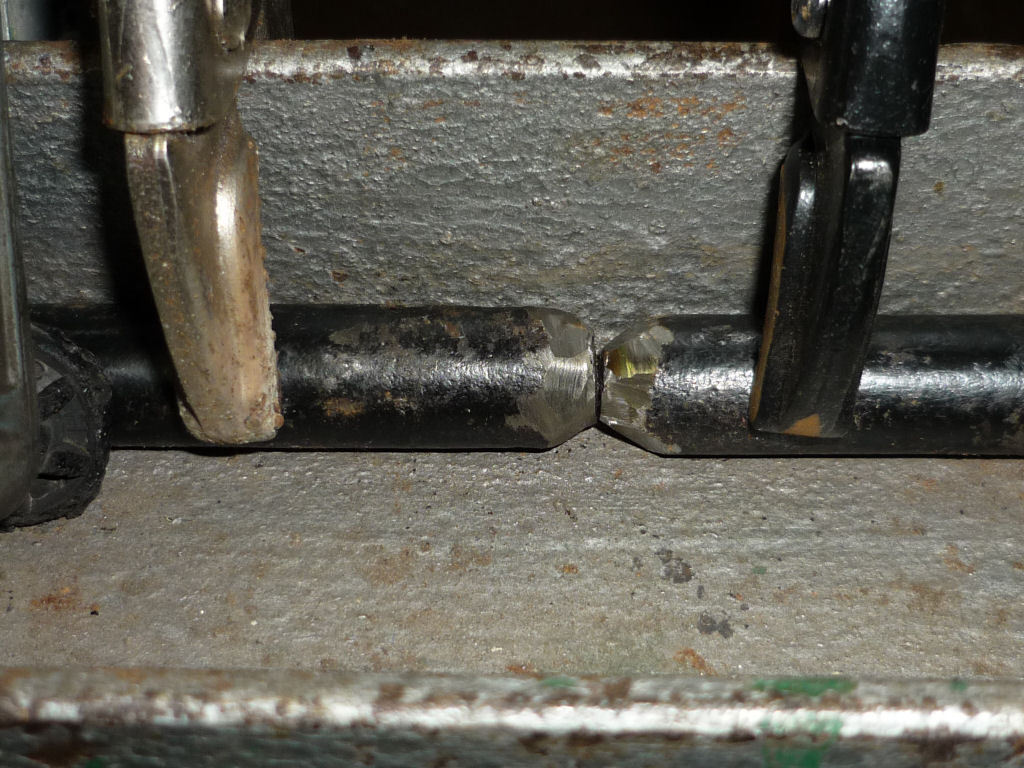 When you use a MT804 gearbox on a M72 frame you need to shorten the drive axle ! Also you don't have enough space to use an original drive axle, without replacing the vertical tube ! (Else it will cost you hours and brute force to get it in place !! What might do damage to the seal)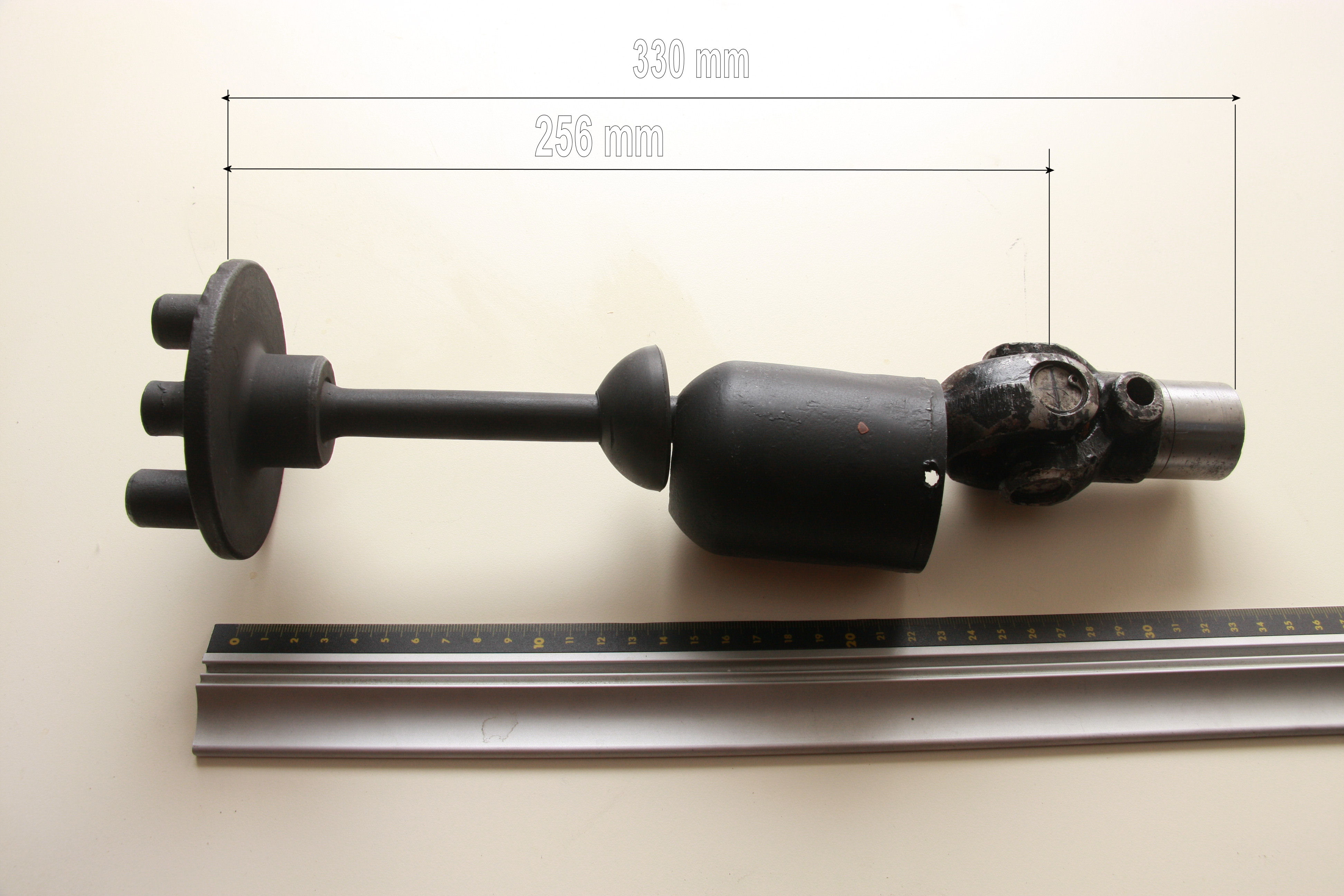 Shortened and welded final drive axle
Warning Turned out later that my welding skills were not very good, the welded shaft was broken ! I didn't take enough material off (in the middle, see photo) so the shaft had a weak spot ! A mate did the welding with special welding rod and warming up and slow cooling down !