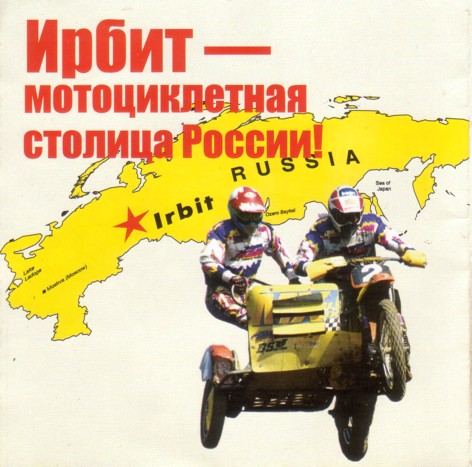 Many many thanks to Eugene for sending in this article and for translating this for us. Thanks Eugene!
Also thanks to Steve Wiggins for the Irbit poster above
Retroscope|Motocross Urals
by Alexander Bulanov: "It was on 17th November 1941 when first train with Moscow motorcycle plant arrived to Irbit and since that date the town has changed it destiny for motorcycles and motorsport. The War was going when Irbit held its first motocross competition…"
"MOTOCROSS SIDECARS OF IRBIT"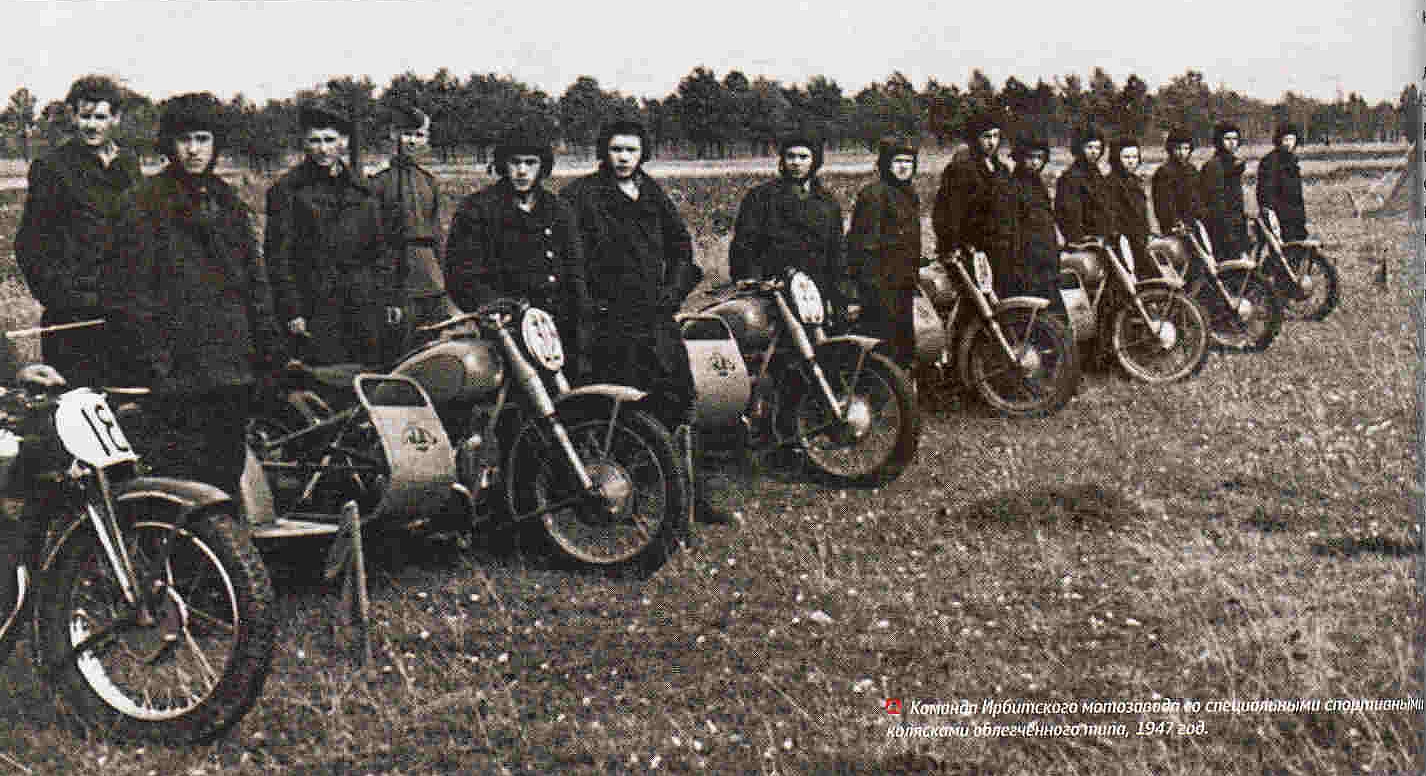 Factory team (IMZ) with special sport sidecars of lightened type.
The first official motocross competition was held in Irbit on 17 june 1945. Why official? Because its organizing among others undertook Soviet party local committee and the date is considered to be the "birthday" of motorsport in Irbit. Competitors started off with about 20 solos and there was only one M-72 with sidecar. With everyones pleasure the debut of V. Gubin and A. Duskikh showed an outstanding result, slightly less that of race winner. Why it was a "sidecar motorcycle", the legend says it was because Gubin was short and could hardly touch ground with feet sitting on motorcycle… The sportsmen also made first modification of the motorcycle by cutting off rear part with tool box from the sidecar "cradle" as the racing road had many pits and trenches in order not to scratch the ground.
For USSR racing of 1945 the Irbit team came with 5 "sidecar crews" , which took place near Moscow, on 23-M Minsk motorway, when pair I. Okunev/ A. Antropov won 300 km one-way race with special success. The Irbit pair set a record of speed of racing 300 km distance with specially prepared M-75, crossing finish line in 2 hours 56 minutes 9.9 seconds, beating previous record by more than 30 minutes. In cross the second place won the pair of Gubin/Dubskikh crew with M-72, to tell beforehand, later they will be champions and winners of USSR and RSFSR races.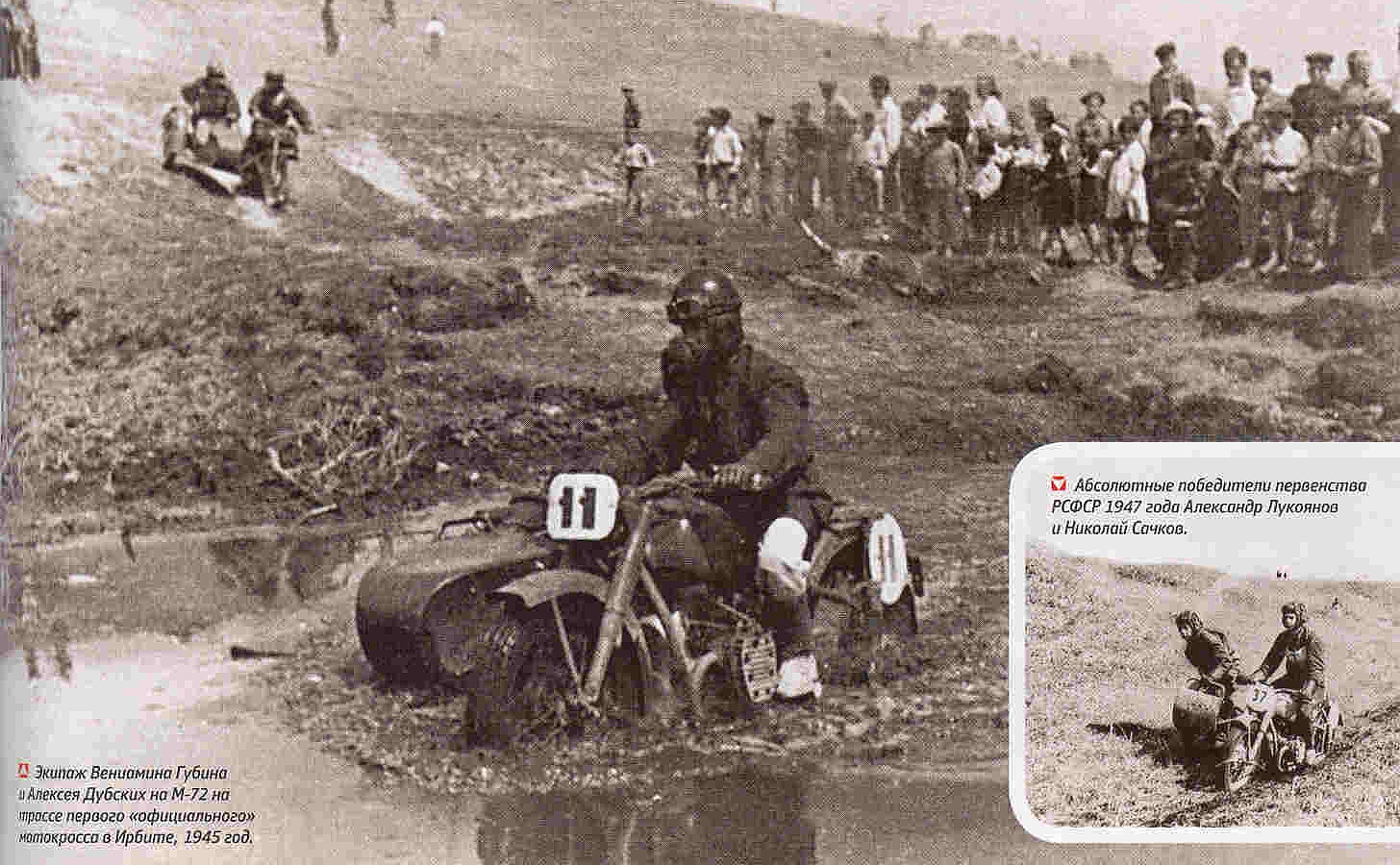 main photo: Competition of V. Gubin and A. Dubslikh on 1st official racing, Irbit 1945.
inset: Absolute champions of RSFSR A. Lukianov and N. Sachkov, 1947
In preparation for the country's championship the Irbit factory made specially designed sport "sidecars" for "cross" and "ring" – for the first time in the country's history with industry participation. Called "TT" on analogy with British isle of Man racing – "Tourist Trophy". The sidecars car was multi-purpose for both motorway racing and for "cross-country".
Before Championship of USSR, town of Serpukhov held RSFSR championship with 6 new sidecar type crews from Irbit. For motorway racing, a M-75 engine was put into a lightened chassis and M-72's for "cross". With these machines Irbit team were unbeatable and crew of A. Lukianov / N. Sachkov became absolute champions of RSFSR in one-direction motorway races and motocross. The crew had also a brilliant success on USSR championship held in Tallin, Estonia, winning motorway race and 2nd place in cross. Although "TT" sidecar was not perfect and had "hard suspension" of sidecar wheel (two-point mounted as it was referred to by racers), as torsional-type suspension appeared only at the beginning of the 1950's. Routes for motocross were sufficiently different from modern ones, as they were going through countryside, swamps and pools… One lap of such racing track was 25-50 km long with overall distance 50-100 km in several laps. Often racing crew had to pull their motorcycle put with hands help that where different devices, handles on front and rear mudguards came from.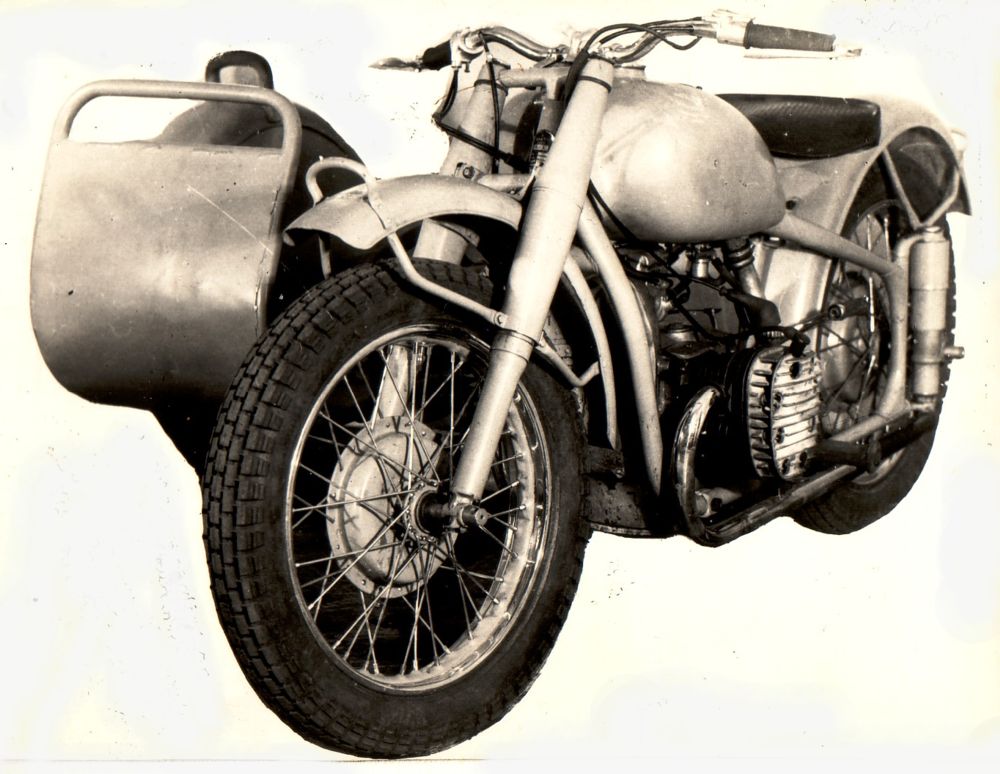 M-72K (Cross)
The sidecar had a special seat for passenger's work convenience when keeping at even parts of racing track "the passenger" could have a rest on this "pillow". Winter in Irbit is long, with snow cover from November to April, so Winter races for Irbit are the usual course of things. Racing track at this time went through the countryside with partial use of horse roads which had place enough only for the motorcycle itself, while sidecar went on "ground" and some sidecars had their wheel replaced with special ski made of metal.
The factory's main design department developed various improvements for sport events and since 1952 small series of M-72K for "[moto]cross" were produced for leading sport clubs of the USSR. Given that wade has been a part of any motocross racing of that time, air intake was raised higher to upper part of fuel tank. the production of M-72K continued for 6 years and 300 more machines were built.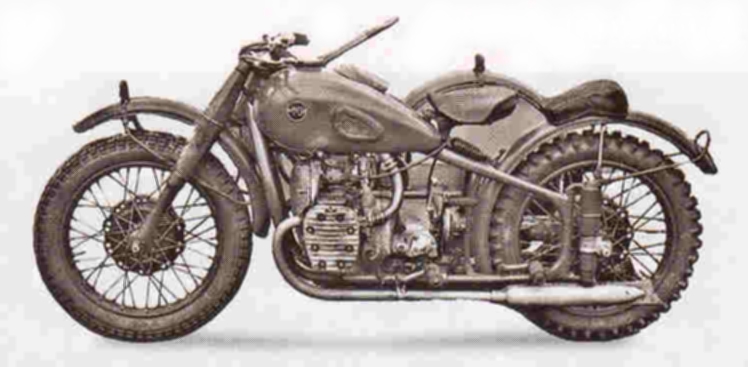 1952-1958 years of production M-72K for sport competitions.
Having received such a "machine", racers improved it themselves adding friction-type shock absorbers to rear candle (plunger) suspension and handle bar damper…
From 1959-1965 series of M-65K were produced in Irbit. M-72 chassis with increased by 20mm travel of rear candle-type suspension an overhead valve-type engine with 28-30 hp M-61 was equipped. The factory produced 855 motorcycles of this type not counting those made specially for local Irbit racers. By the end of the 1950's an M-52K based on mass-produced M-52 was made, with engine capacity 494cc.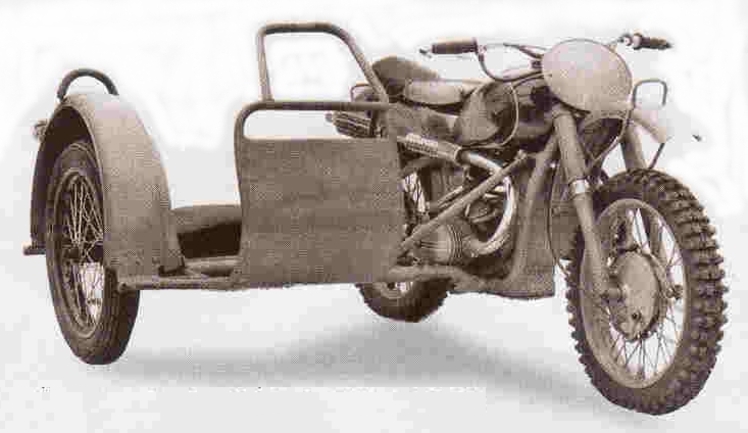 Overhead-valve M-61K – 1959-1965
By the beginning of 1960's Irbit became the acknowledged leading town of motorcycle sport in "sidecar" class. That is why it was not a coincidence that the town held Championship of USSR in 1962. By that time racing track had been changed radically from 100 km dirt cross-country to 2-4 km "rings" adapted for viewers with a set of natural obstacles. For factory teams IMZ developed and produced new "Cross-650″, with high revving up to 6000 rpm, 40 hp engine. Rear swinging arm and 15 kg "weight loss" made the racing machine up-to-date and fast. The seat from sidecar was removed as "sidecar passenger" did not have time to rest on it anymore.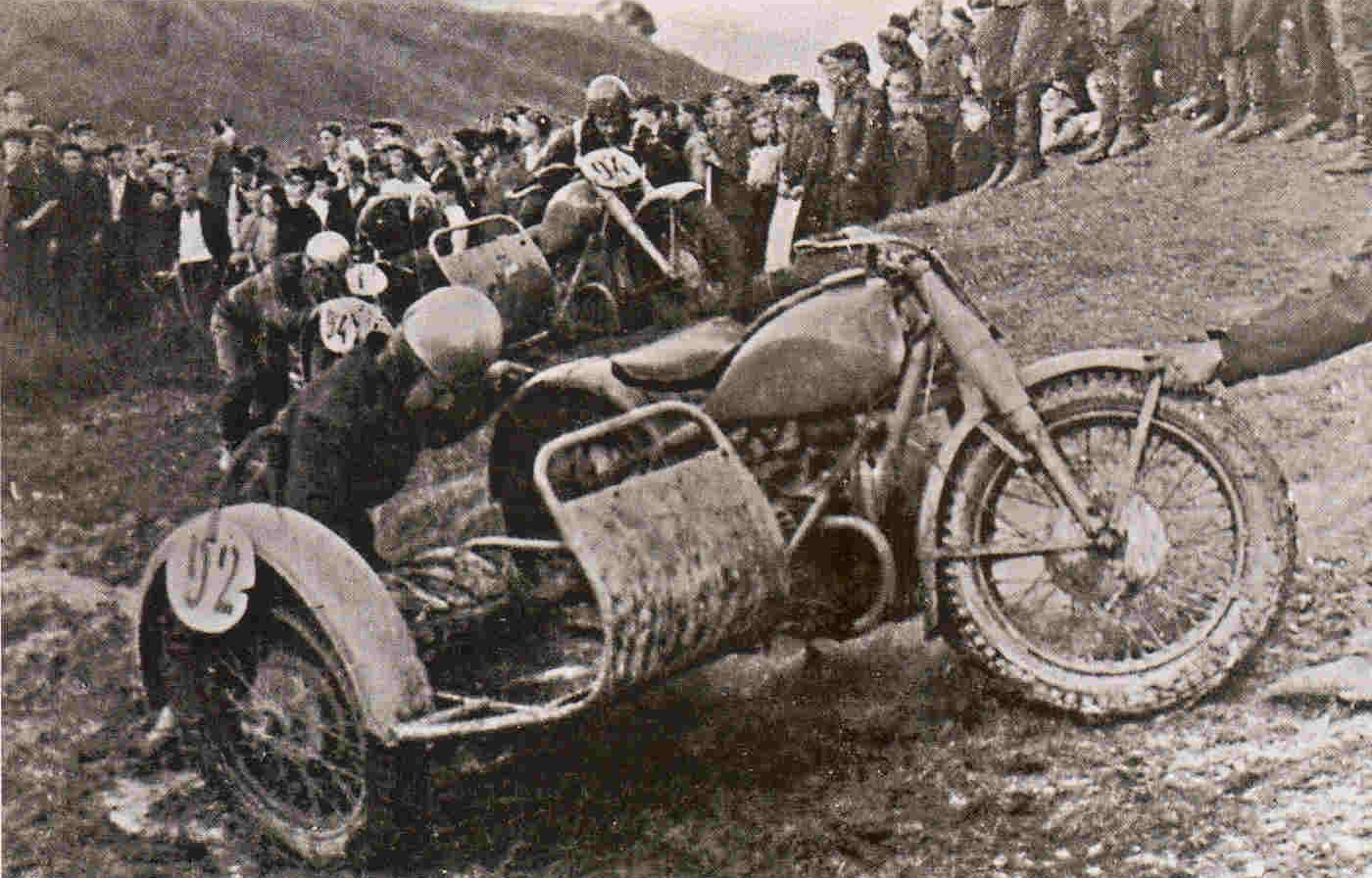 Sometimes hill climbs had to be assisted by the crew itself.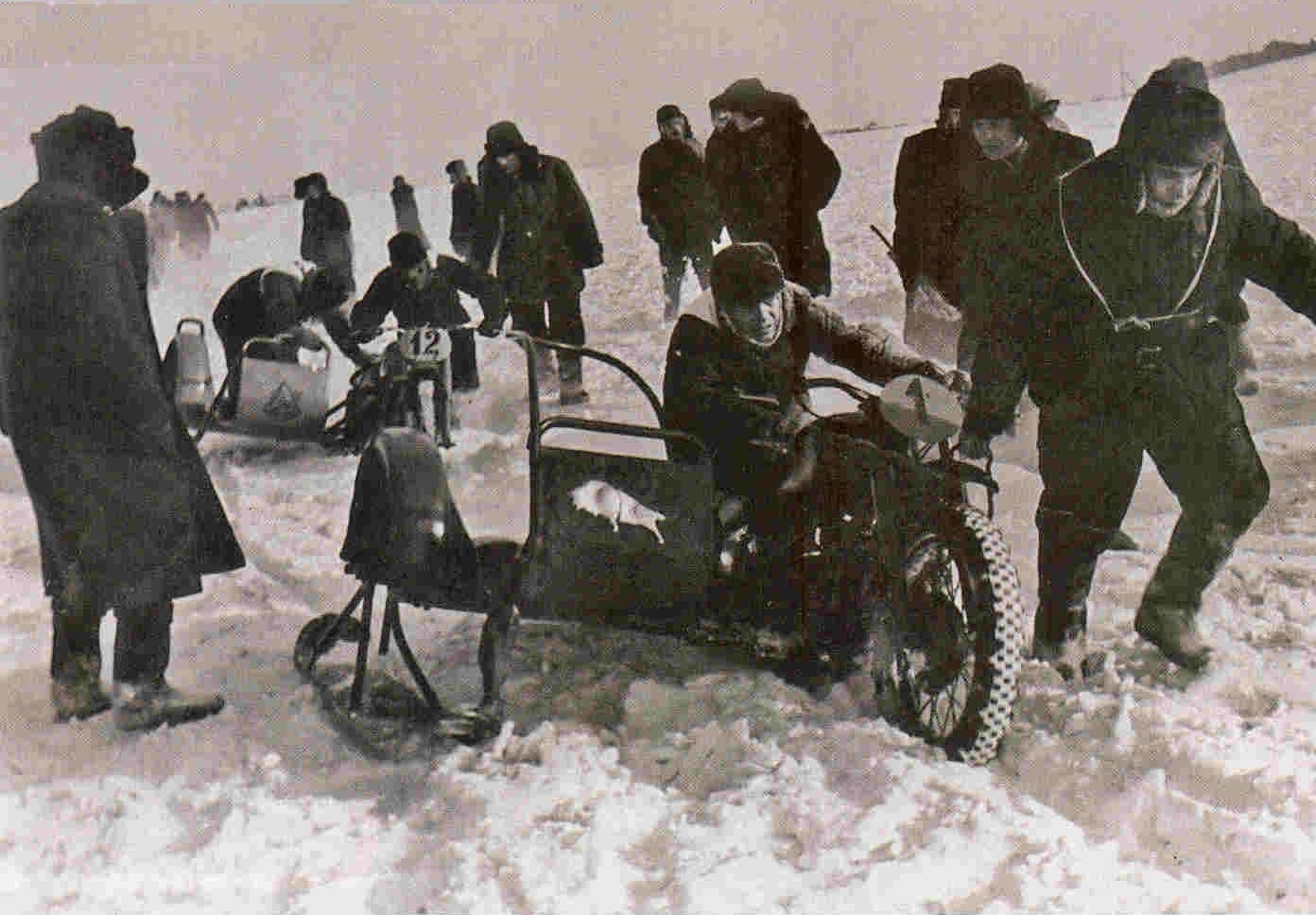 For winter cross a sidecar wheel was changed for ski on some machines
The USSR's championship had 38 crews with 9 of them had been champions already in different times (crew title is judge by driver's rank), among whom were E. Kosmatov (Moscow), A. Razorenkov an J. Sokolov (both from USSR Army sport clubs), V. Volkevich (Leningrade), from Irbit: G. Vartanian, V. Gubin, A. Bykov and others. The results were surprising to all, in free class "from 350cc and higher" all winning places took team of one motorcycle plant – from Irbit, the title of Champion of USSR won crew of G. Vartanian/ V. Krazhavin, "silver" taken by L. Leshkov/E.Korolev, "bronze" – V. Gubin/ G. Borodin. Yes, it was the same V. Gubin from far year of 1945!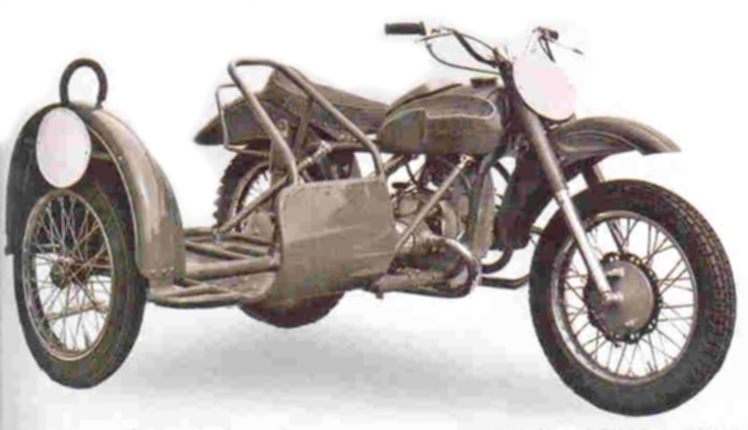 (above and below) Motorcycle "Cross-650" was prepared for factory race team of 1962
The next new model became M-64 K with 750cc engine, lever-type front suspension and increased fork column bearings, though these motorcycles were not acknowledged. The reason was all crews went off race in Vilnius, Lithuania, when occurred jammed fork columns.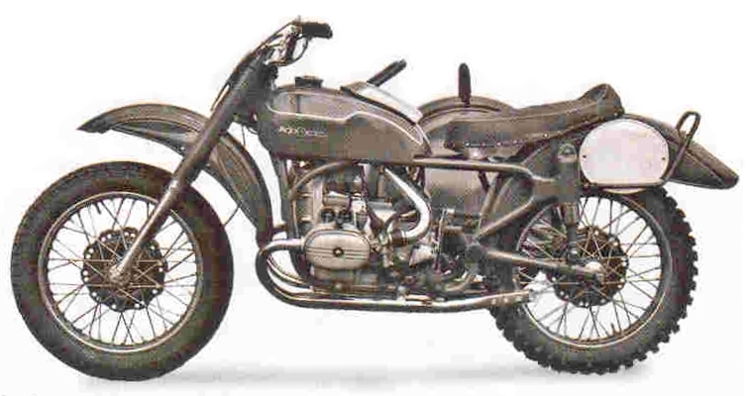 M-64K of 1969 was a a failure, though with 750cc engine and leading link lever front fork
It was not until the 1970's that Soviet sidecars went for foreign races. In 1971 they were at last let to take part in FIM cup – before European championship. The team had 3 crew pairs from Irbit: A. Sibirtsev / I.Nikonov, V. Telegin / P. Sosnovkikh, and a pair from Moscow: V. Alfeev / A. Kuzovkin. Machines for the race were 45 hp "Cross-750″, and though they regularly came in 1st dozen the struggle was not in equal, their competitors had lighter motorcycles by 30-40 kg and far more powerful than ours – 60-70 hp. But it was foreign sidecars that astonished the participants. They were more comfortable to work in and weighed less by 20-30 kg. P. Sosnovskikh / I. Nikonov (craftsmen from the God) with foreign competitors' consent studied their machines in great detail and took certain measurements.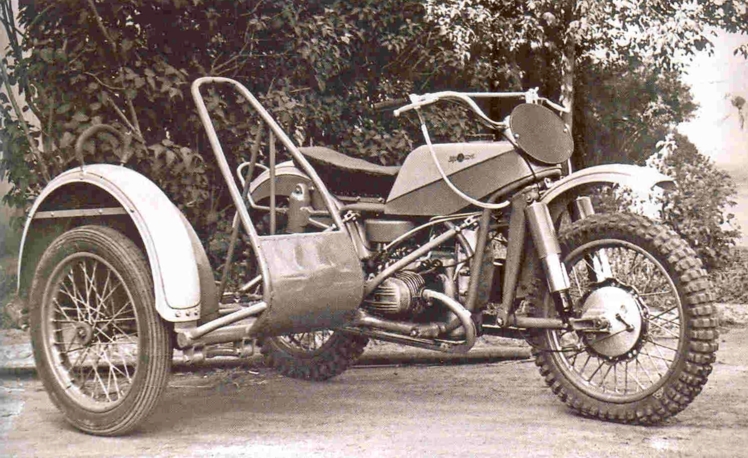 Russian racer gets aqcuianted with foreign racing motorcycles of competitors.
The next year Europe was struck by the "tank-likeness" of Russian motorcycles and saw "civilized" machines. At the first race the crew of A.Sibirtsev / I.Nikonov became winner and V. Telegin with P. Sosnovkikh came 3rd!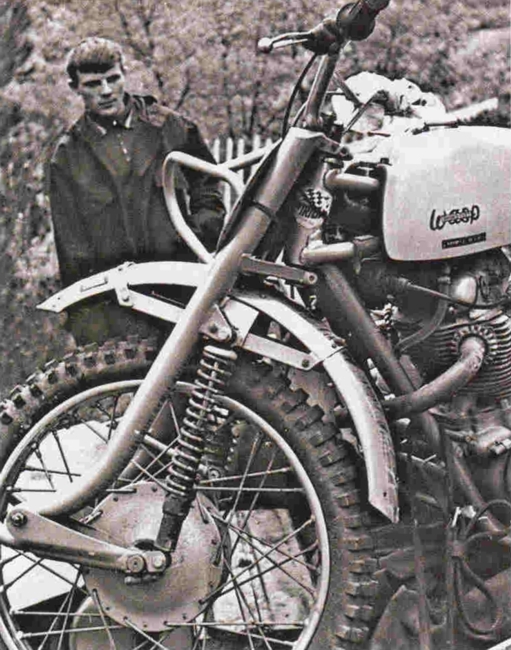 "Cross-750" – with these machines Russian racers participated in FIM championship for the first time in 1971
Since that moment Irbit "Cross" sidecars came to be called "Swedish", as their advantages compared to old type sidecars were indisputable, the author worked with both types himself. It was safer and much more comfortable to help driver in jumps and turns, to the right turns especially. Old type meant to load rear wheel and help driver move front wheel to the direction needed, which was not easy physically, while with "Swedish" type of sidecar front part is loaded and rear wheel is considerably unloaded (with slight skidding) and with centrifugal force it is much easier to make fast right turn as well as a loop in lower part of guarding tube/handle helped to hold with foot, doing left turns.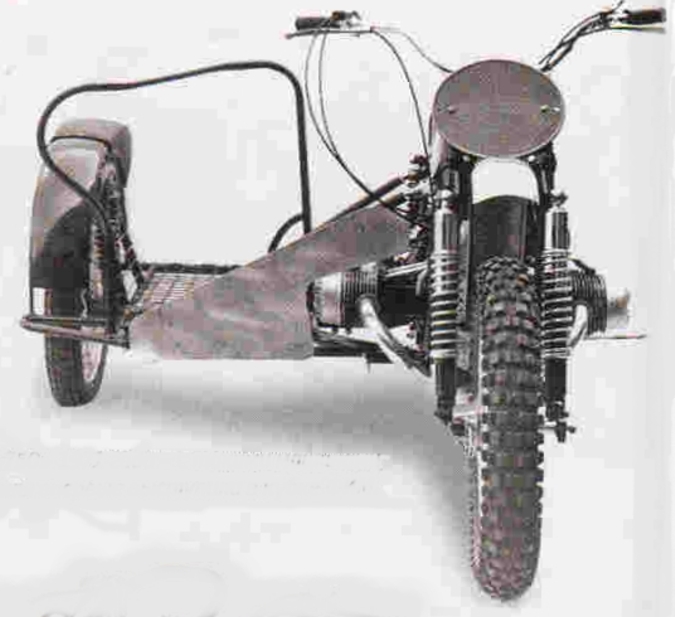 Sidecar passenger helps as he can to load sidecar wheel at racing.
An employee of the experimental section, a former motorcycle racer and a fan of this sport L. Boyko, on his own initiative, remade the old crankcase chill molds of the "old" (even with the G-414 generator) of the MT-801 serial engine and cylinder heads according to the drawings of the 750SK01 engine for replication to athletes factory. There was no match, the alteration was approximate, but the manufacture of engines was simplified. Chief designer V. Yarmak ordered to produce a couple of dozen 750SK01 motors for motor sportsmen and this command was executed. Factory motocross  testers, remembering the problems with the KShM of the MS-1 prototype motor, the 750SK01 prototype, were very careful about this motor "from the designers", they note that although it is powerful, but (for them) too high-frequency, specific comments and suggestions did not arise, and after more than a year's operation of the manufactured one and a half dozen sports motors with such a lubrication system (centrifuge), confirmed the correctness of the decisions taken during the modernization: there was no jamming of the connecting rod of the right cylinder in any motor. Subsequently, V. Solovyov, the head of the laboratory for testing sports motorcycles of OGK KMZ, invited the leading motorcycle racers and crews of the country: V. Vvedensky, E. Nechiporenko-B. Poganovsky, S. Filinkov-V. Gromazin, – he provides them with 750SK01 motors and they successfully perform at republican, departmental (military) and all-Union motocross competitions, and became champions and prize-winners of the USSR Championship.
Since 1977 the USSR championship was to be held in two classes: "free up to 1000cc" and "National up to 650cc". "1000cc" did not suppose any design restrictions, while "650" made terrific action, all were required to take part with serial "cars" – M-63K without any changes. This was a step back. By that time leading racers competed with "Swedish" type sports sidecars, with reinforced back transmission, closer gearbox ratio, Czech carburetors.. Why was it decided so? This was determined by DOSSAF (Voluntary Association for Assistance to Army Air force and Navy): let all compete at equal conditions with serial machines. So the results of Country championship 1977 were disappointing. All strongest racers came off race with technical issues, while crews with "soft", stroll-style riding and without engine's overloads, chassis's and race track risks so much required to win finished.
The next year there came some omitments of restrictions: "Swedish" sidecar, lever fork, reinforced rear transmission were allowed, while closer gearbox ratio was not. Some racers overtook this restrictions unofficially: the drawback of serial produced gearbox was done away with replacement of standard final drive from "8" to "7" (counting by driving gear teeth). In "1000cc" class some overcame the restrictions as well – with parts from capitalistic countries, for instance, excellently working gas shock absorbers Billstein were cunningly disguised as self-made.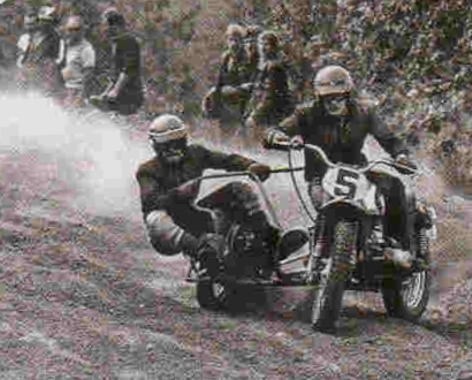 In the second half of the 1980's realizing that Soviet racers are too far from European and World level, sport authorities took off all limitations and class "650" changed at once: serial frame was replaced with new, lightened (author of this article was among developers of this frame and successfully completed a graduation project in Irbit motorcycle college at the beginning of 1980's). Rear and sidecar wheels got "long travels" and later rear mono-type suspension and disk brakes of both wheels, etc. Experimental factory department produced 10-20 of these motorcycles per year and superiority of Irbit racers from 1987 championship became unbeatable and only from time to time representatives of other teams won.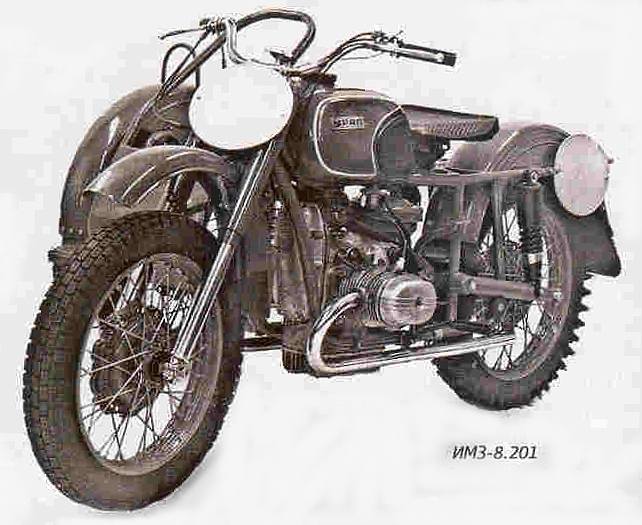 Mass production IMZ8.201 for cross was produced till 1992.
In 1970-80's the IMZ factory made special machines for leading motocross racers of the Soviet Union with engines 750cc and 1000cc, built in limited numbers by TsAMC order in the experimental department. With these machines USSR sportsmen raced not only at country's championships but also at European and World level. While the conveyor of IMZ continued to "stamp" awful IMZ 8.201 – a heap of obsolete metal. DOSAAF was wondering openly why the factory producing modern cross motorcycles supplies them such "wreck and back" machines? In the meanwhile the plant tried to step up production of more advanced machines, that could be used without fear of injury, but all Ministry correlations, limitations, resolutions and well-known paperwork made Irbit factory's initiatives stuck in red tape.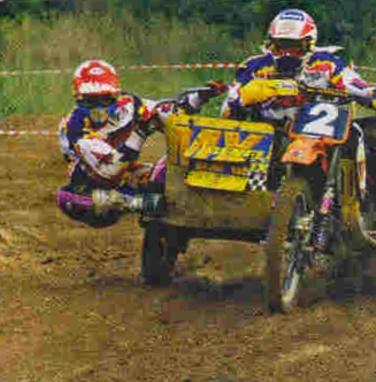 Every year from the assembly conveyor left 500-1000 actually obsolete sports motorcycle types. The last IMZ 8.201 were completed in 1992. With the fall of the USSR the last "unsinkable" "cross bike" left, more suitable by that time for extreme rideouts to nature, for fishing and hunting, not for racing even of a neighbourhood level.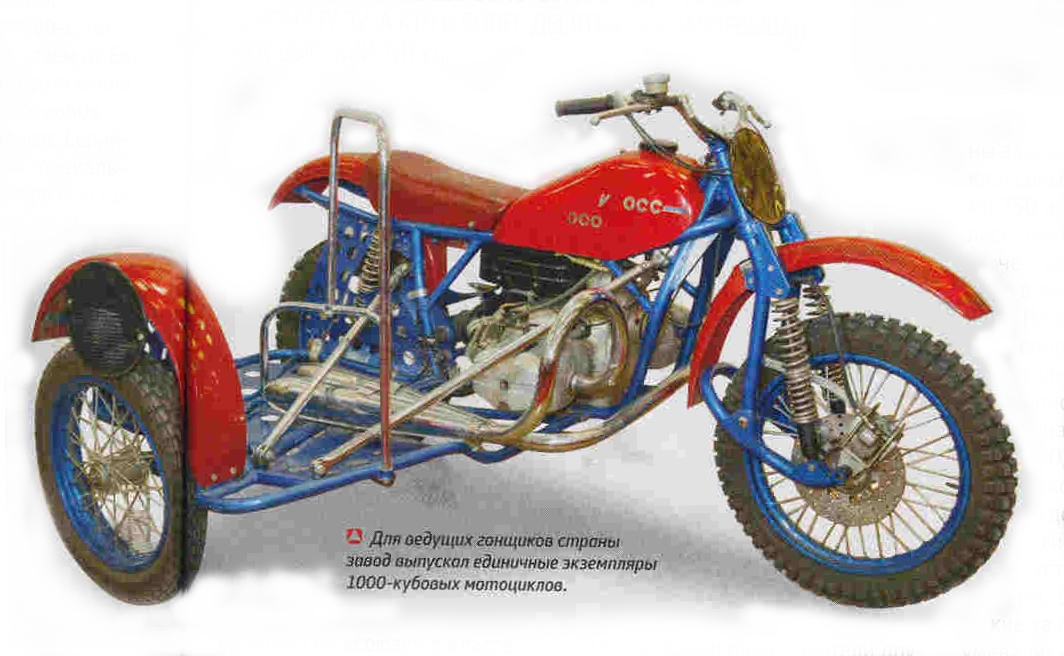 For leading sportsmen of the country(Russia) the factory produced 1000cc cross motorcycles in small numbers.
Translation © Evgeny Radchenko 2010 specially for b-Cozz.com.
first posted on b-Cozz 29 December 2010, retrieved from the archives.