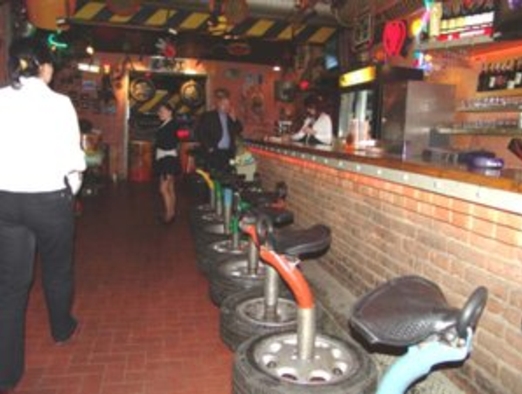 Latest Message:
3 weeks ago
JD :

This bar is CLOSED..., until the next customer wants to sit at the bar 🙂

JD :

Hey Hohn, maybe rename this place from "chat" to "here you can enter the Cossack bar" on the homepage? Might attract some drinkers! Proost mate.

JD :

I'll buy you all a beer. LIMITED TIME OFFER! 🙂

JD :

It's lonely in here sometimes but at least the bar is always open 👌

JD :

Just to note another milestone. Today the Site Meter passed the 1.38 million mark. That's just the count for the Homepage, the total page views is likely 50 times (or more) higher than that. Time for another beer! 🙂

JD :

Be aware of the fact that images to the blog are limited to 900 pixels!

JD :

There's been a glitch causing blogs from January to August 2022 to go missing. Efforts are underway with the ISP to restore them. Good luck John.

JD :

Tip for posting a message here in the bar - pressing the arrow or ENTER key will not start a new line, your post will be immediately posted. That's way some of my posts here end mid word or sentence. Big fingers on a tiny phone it's all to easy to press the enter key. I'm saving up to get another pc

JD :

Be aware! Seems this bar is no different than others, full of bullshit. Sadly. another reason for a secure members login to prevent name cheating by others.

JD :

Be aware! Sermsy

Cat :

That must be me :-,

Cat :

Who the fark is Vert?

JD :

Re the previous message, you Impersonating me now john? That's crossing the line mate. Let's see...

Vert :

Impersonating me John? That's crossing the line mate. Let's se.e

Vert :

Very fu ny

JD :

this for breakfast... Bongs sunrise John 😜

JD :

Anyway where I come from, we eat places like that for breakfast

JD :

and I'm not even pissed, yet.

JD :

dammit, I'm just trying to let you know I can't resize pics down to the 900 size required here. For the last 20 years I have tried to post regular interesting content. So sorry for the lack of submissions from me until I get a computer that works

JD :

dammit this is near impossible to write on my tiny Nokia. My hear

JD :

Dear friends/readers, just to n

JD :

Sadly my PC has died along with my photo editing software, so I'm sorry my posts might not be lost

JD :

You can also upload one (1) image to your post. But note that the image size must not exceed 900 pixels.

JD :

Here you can start a new post https://b-cozz.com/posts/

JD :

Im just lost.... but we know there is a very nice intoxicated dnepr cave in Lithuania. 🙂

Catweazle :

I'm lost on the road to nowhere on my iron horse 🙂

guest_7917 :

If you don't know where you are going, then any road will do. Long live Dnipro.

JD :

Hey guys don't forget the bar is always open

JD :

Time has run out for our book offer for the moment due to the uncertainty of postage from Russia during the current conflict and possibly beyond.

JD! :

Hurry! Time is running out where we can expect this limited special offer to last.

JD :

The book MOTORCYCLES OF THE USSR MOTOPROM AND THEIR FATE by Alexander Bulanov is still available, but this is a limited time special offer of this limited edition book. You won't find this offer anywhere else! If you like books about motorcycles this is top shelf, even if it is in Russian.

JD :

We have an anniversary coming up on 02.02.2022 withe the b-Cozz celebrating 20 years since Version 1 on the internet, now with Version 3 thanks to Cat!

JD :

It's a beautiful book. If you're interested in buying a copy, which includes a small donation to the Irbit Motorcycle Museum and our "elf" in Irbit for posting it to you, leave a message or send an email to cossackpower@gmail.com

JD :

When details are finalized you will see it here, and in the Blog.

JD :

to you. This is an exclusive offer. Limited edition. We are trying to keep cost as low as possible.

JD :

Whilst the book MOTORCYCLES OF THE USSR MOTOPROM AND THEIR FATE is in Russian, there may be a few people who would like a copy, possibly autographed by the author Mr Boolanov himself! The cost of the book is reasonable but the postage is ridiculous. Anyway, plans are underway to make it available to

JD :

See it on the book page https://b-cozz.com/books/ Irbit State Motorcycle Museum MOTORCYCLES OF THE USSR MOTOPROM AND THEIR FATE

JD :

There's a new book out.

JD :

There's a new book out.

JD :

We knew you are a busy man Cat, but I really appreciate all your hard work mate.

JD :

Lester Morris! It's all starting to happen... AGAIN!!!

JD :

HELLO WORLD!

Catweazle :

Loud and clear

JD :

🙂 🙂 🙂 🙂 🙂 🙂 🙂 TEST

JD :

Hey Cat, sent a message to your phone. Might have to give you a wake up call 😉

JD :

and our dear Dr Pogo, think might be Professor Pogo by now. So many years....

JD :

Ehee Mr Cat, figured you were just having a good 'ol catnap 🙂

Cat :

guest_7423, all is been taking care of !! Have more things to do, impatient person !! hehehehehe Naztrovje my friend, long time no seen:-)

JD :

Giday Dr Pogo. Good to see you here. It's a nice surprise. If I remember right your first computer was run by a cassette tape!!! Ah, the memories! Hope you are doing well my friend. Cheers!

Pogo :

Hi JD. Just poking around to see how the site works.