Here are some possible updates to do on the engine ! I can only relate to M72/K750 SV, I don't have an OHV engine, so no expierence with that engine.
Bigger oilsump
High Volume Pump
Oilfeed left to right
Increase level of oil in distribution casing
Oilfilter internal or outside the sump
Flowing of cylinders (porting)
Flowing of valves
Bigger valves
Improved valvesprings, valve locking washers and wedges
Heatshield Carbs
Improved single clutchplate
Spring on Mufflers
The bigger sump speaks for itself, more oil, a bit cooler and these sumps are from aluminium and have a better flat surface than the original tin pan. 3 types of which you can choose from, a flat one of aluminium, not deeper, a Ural pan, a bit deeper 0.6L or a Ural, very deep oilpan which has 1.5L more than the tinpan.
HVPump, presses more oil through the engine so it will stay cooler, it also improves the lubriation of all moving parts.
Oilfeed, the right cylinder has splash oilfeed by "slingerplate" and the left by the pump via a small canal and holes through the cylinder. You can make an pipeline from one cylinder to the other to feed the right cylinder the same as the left side.
Increase oil level in distribution casing by putting a copper pipe in the bottomhole, improved lubrication and less noise.
Oilfilter, there's no oil cleaning on the SV's, some people made a system with an external oilfilter. I try to make a simple solution with an internal filter. Advantage of an filter, "slingerplate" stays clean and debri is filtered so engineparts have less wear ! Internal filter can only be done on "deep sump" Downside, changing the filter is a lot of work and cost you a sealing! Choose a filter with "bypass", in case the filter is completely blocked by dirt this will make sure the oil still flows through the engine !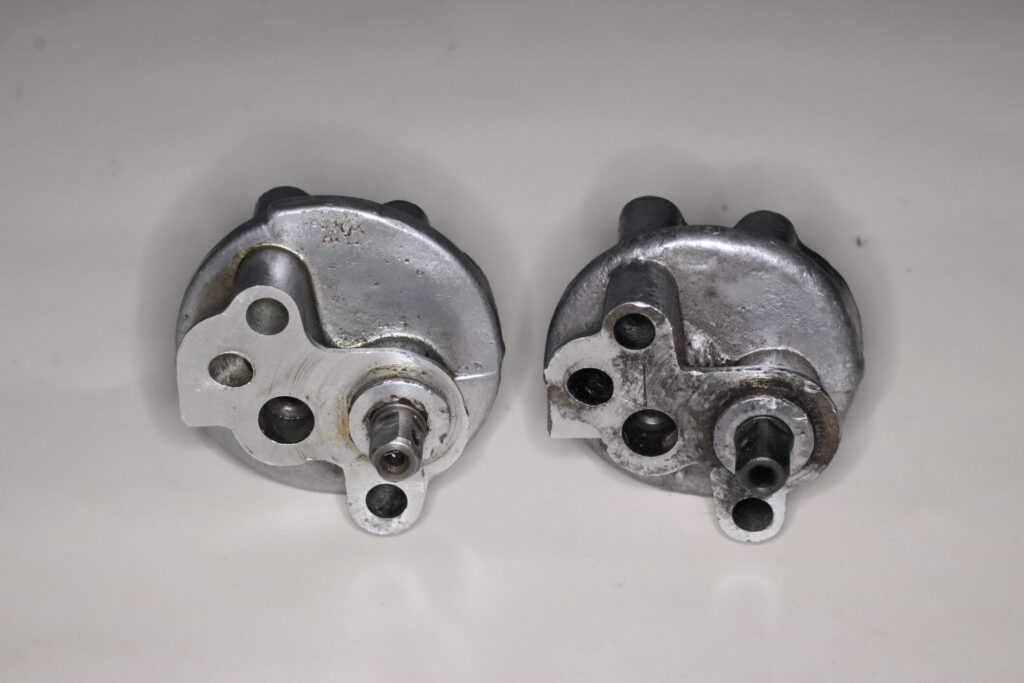 Original M72 pump and a latter Ural pump, 6mm an 8mm cogs. The last one increases the oilflow with about 1/3, I guess.