Dnipro Motorcycles: Yesterday, Today…Tomorrow?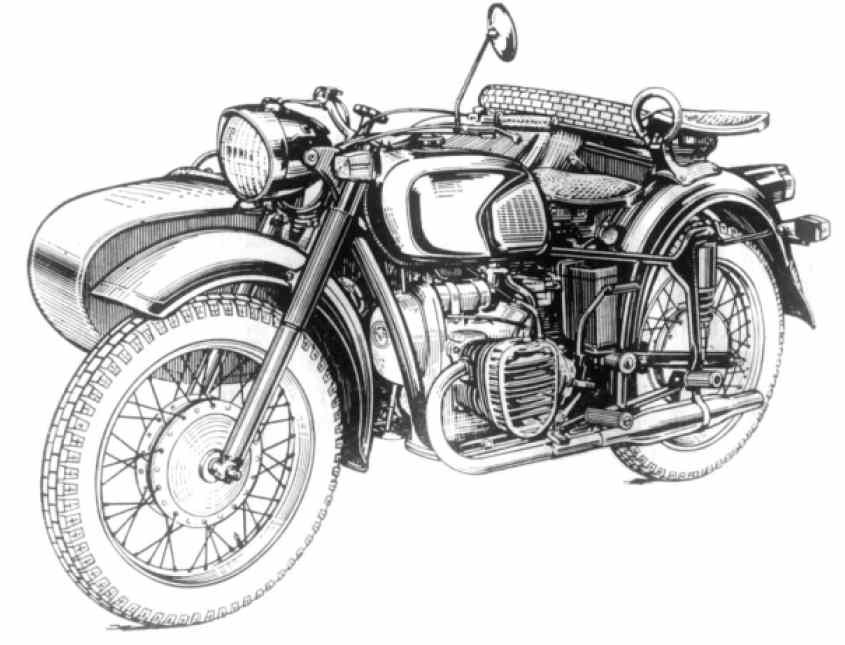 A Dnipro MT (also referred as a Dnepr MT) is a heavy motorcycle produced in Kyiv since the middle of the XX century. During the times of the Soviet Union, those bikes were sold to many countries by the Satra Corporation and were known as the Cossack Motorcycles. You can get more details about this bike and its models in the Dnepr story article.
Yesterday
It all started when the Soviet Union decided that they desperately needed a heavy motorcycle for their military forces. Just like in many other cases, soviets did exactly what they could the best – they took the existing motorcycle (BMW R71)…and added a number of bugs into its construction, probably to make the bike 100% "soviet-styled". At first the bikes were far from perfection. Just imagine having a 750 cc bike that has 26 HP. Fortunately, some improvements were made and Dnipro motorcycles became good enough to be owned. Despite being created for military forces only, later these motorcycles became available for civilians and even became part of the Soviet Union export list and were pretty popular abroad. When the new century came, Dnipro bikes still had their exotic charm, but were a bit outdated from a technical point of view. That's why the KMZ (Kyiv Motorcycle Plant) in association with the development bureau "Sokol" designed 2 brand new engines (4- and 2-stroke ones) with greatly improved characteristics. Those engines were meant to be used to update Dnipro motorcycles and make them meet modern requirements. Unfortunately, those plans never panned out.
Today
The bad news is that the KMZ no longer produces new Dnipro motorcycles. In fact, the factory is almost dead. It's said that the factory was made bankrupt to be sold to one local b*stard for cheap. He was interested not in the factory itself, but in the area that the factory occupies (several hectares almost in the middle of Kyiv). As a result, the only thing that is left is a small shop that sells the parts they still have in stock. The world of Dnipro bikes today is limited to reselling used bikes and spare parts. The only thing related to Dnipro motorcycles that continues its development is the culture of building custom bikes based on Dnipro motorcycles. There have been created lots of interesting Dnipro projects that are definitely worth your attention.
Tomorrow?
Despite all the problems there is still hope for Dnipro motorcycles. The most important factor here is people. There are those who spend much time and efforts on reviving this bike: they design and manufacture new improved parts for these motorcycles, create custom bikes of different styles based on Dnipro MTs, etc. These motorcycles have great potential and who knows, perhaps, one day some millionaire will decide to invest funds into the KMZ to revive the production of these 100% exclusive, unique and reliable motorcycles. There is always hope!
Take care,
Alex White